It's hard to believe the holidays are already here! Luckily, I've got all of my gift shopping out of the way. All except one that is! You see every year it never fails. I always wind up with one or two people that I've absolutely no clue what to give them! Well this year I am not going to let it stress me out. This year, I'm going to give them a gift they really want: a 5 Back Visa Gift Card!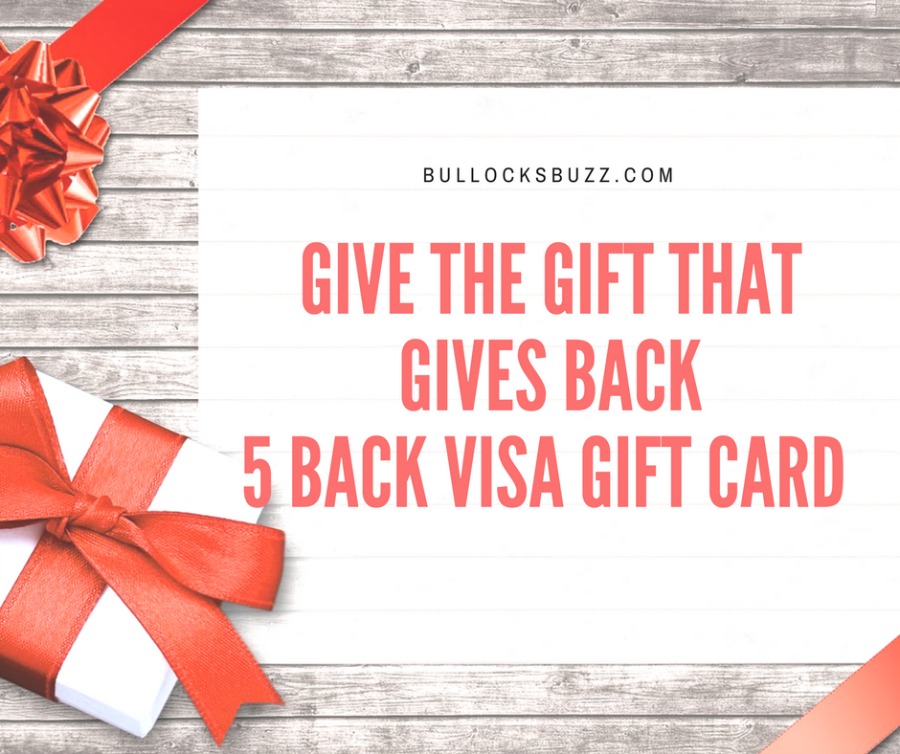 Earn Cash Back with the 5 Back Visa Gift Card
Now I know what you are thinking: giving a gift card as a gift? How impersonal! But actually, it's not! I mean, come on, what better gift is there than one that lets you pick out whatever you want?! Plus the 5 Back Visa Gift Card is a gift that keeps giving back! How? Let me tell you…
When you give someone a 5 Back Visa, they can earn up to 5% back to their card when they shop and dine at prefered retailers and restaurants! And there are tons of great retailers on the list. I'm talking places like AMC Theaters, Old Navy, Sephora, Bass Pro, Nike, Gap Brands, Williams Sonoma Brands, Outback and many MORE! You can find a full list of participating retailers and restaurants when you visit fivebackgift.com! Plus, the 5 Back Visa is accepted everywhere Visa debit is accepted.
The Five Back Visa gift card can be found at Office Max, Giant Eagle, Publix, Lowe's Hardware Stores and Albertsons Family Stores including: Albertsons, Safeway, Vons, Pavilions, Tom Thumb, Shaw's, Jewel and ACME. Or you can buy it online at giftcardmall.com. There is a one-time purchase fee that will be added at the register or time of purchase.
Simple Ways to Personalize a Gift Card Gift
Remember how we were talking about how some people feel giving a gift card is a bit impersonal? Well there are lots of ways you can make it more personal! For example, you could make your own gift card holder to present it in, or you could design your own holiday card, print it up and stick the gift card inside. A simple Google search will turn up all sorts of cute ideas for gift card holders, too!