A year ago today, I had to say goodbye to the man who was more than just my Father;  he was my friend, my 'mother', my confidant, my guide, my teacher.
A year later I light a candle in memory, and for 24 hours my dad's soul will fill my home.
Jewish custom dictates this flame of remembrance is to be lit on the departed's yahrzeit [the Yiddish word for "anniversary (of a person's death)]. The reason given for the lighting of a candle to mark this day comes from the book of Proverbs 20:27 where it says:
"The soul of man is the light of God." Just as a flame is never still, the soul also continuously strives to reach up to God. Thus, the flickering flame of the candle helps to remind us of the departed soul of our loved one.
Judaism recognizes that death is a part of life, and it is the duty of the living to remember the dead. We honor the memory of those no longer with us in life.
"As this light is pure and clear, so may the blessed memory of the goodness and nobility of character of my dear father illumine our souls".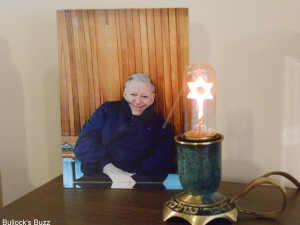 זכרונו לברכה
Zich-ro-no li-ve-ra-cha.
His memory is a blessing.