This post may contain affiliate links. Regardless, all opinions are my own!
Okay all you make up lovers, it's that time again! Time to show you what came in November's Beauty Box Five! But first, Christmas is just a few short weeks away. Beauty Box Five would make an awesome gift to give to any beauty-lover on your list, as well as a great way for teens to learn what products work best for them! For less than $12 a month, she would receive four to five samples of the latest beauty products by the hottest brands! And though they are called samples, every box I have received so far has had at least one full size item, and I have gotten several weeks, if not months worth, of use out of the other travel-sized samples! To learn more about this great subscription service, visit the Beauty Box Five website, but first check out what came in this month's box!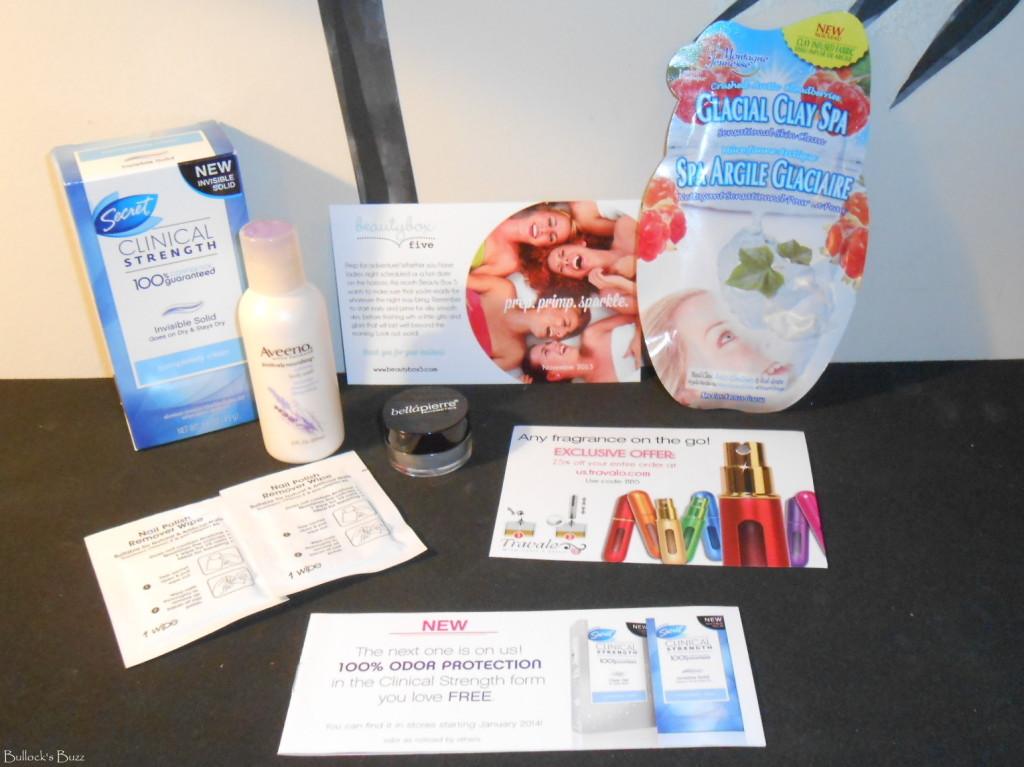 Aveeno Positively Nourishing Calming Body Wash $6.99 16 fl oz
Aveeno Active Naturals Nourishing Calming Body Wash has a light, refreshing and calming lavender scent that relaxes your body and senses, while chamomile and ylang-ylang leave your skin soft and moisturized. I like that it only takes a small amount to get a sponge full of thick, creamy lather that thoroughly cleans my skin and leaves it feeling soft and hydrated.
Montagne Jeunesse Glacial Cooling Face Mask $2.49 for one
Anti-oxidant rich Red Grape and Arctic Cloudberry juices from the glacial heights of Scandinavia work to maintain and strengthen your skin's natural barriers while the cooling Glacial Clay clean pores deep down. I love how easy it is to use. There is no using your fingers to smear the mud all over your face, instead you just open, unfold and place on skin for 10 to 15 minutes, remove, then rinse with cool water. It leaves my skin feeling extremely soft and looking healthy, clean and radiant!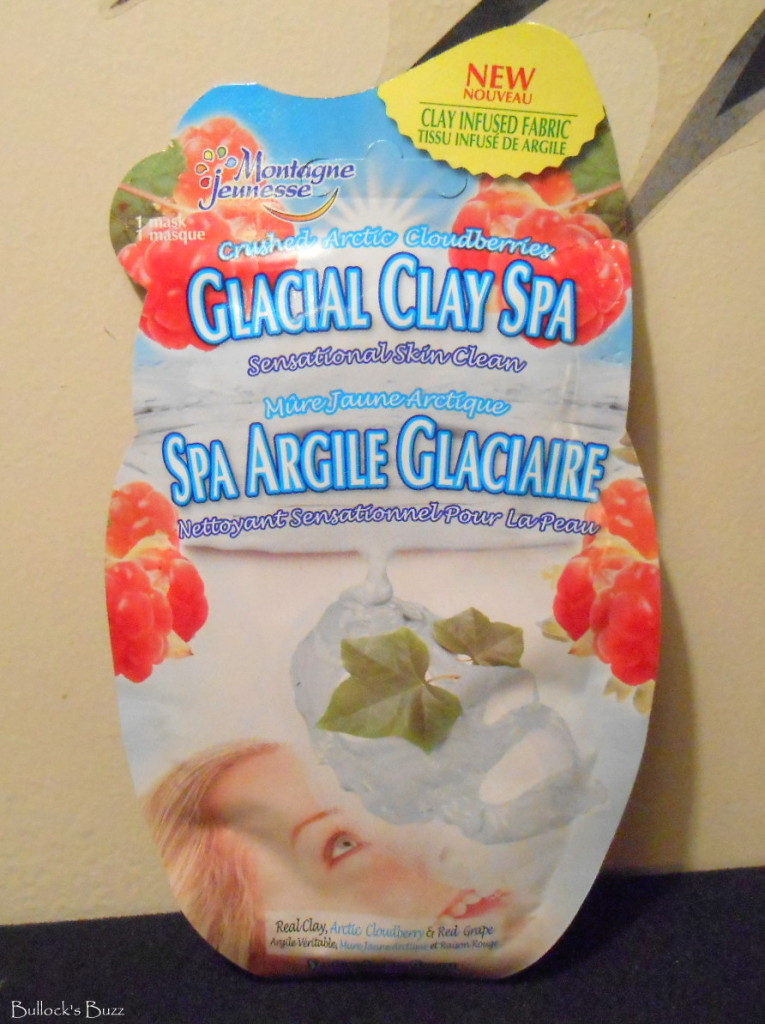 Jean Pierre Cosmetics Nail Polish Remover Wipes $3.99 10 Wipes
How many times have you looked down at your nails and realized the polish has chipped off, and you are nowhere near home? Maybe you are at the office or on a vacation, either way it sure would be nice to have a handy way to get rid of that cracked and peeling polish! These nail polish remover wipes by Jean Pierre Cosmetics can save the day! Like all of Jean Pierre products, these wipes are made only with the finest ingredients. Each individual packet contains one towelette that has enough remover to completely remove the polish from all ten nails! The wipes are acetone-free, so they are suitable for use on both natural and artificial nails, and they also contain Vitamin E and pro-vitamin B5 to nourish and moisturize the cuticle. These single-use packets are the perfect size to carry with you where ever you go!
Bellapierre Cosmetics Shimmer Powder Tin Man $14.99 0.08 oz
Bellepierre Cosmetics makes 100% natural mineral cosmetics that leaves your skin looking and feeling great! This Shimmer Powder Eye Shadow, Tin Man, uses 100% pure Mica powder to provide long-lasting, vibrant color. It is 100% Hypoallergenic and is suitable for all skin types, even the most sensitive. You will not find any of the fillers that often cause make up smear, crease, fade and can even cause allergic reactions.Perfect for a night out, this silver-colored eye shadow provides plenty of sparkle and shine! It smooths on easily and feels silky soft. I couldn't believe how long it lasted! Just a little bit goes a long way!
Secret Clinical Strength Antiperspirant and Deodorant $7.99 1.6 oz (FULL SIZE!)
The latest in the Secret line, this clinical strength formula provides 48 hours of protection against all three types of sweat: stress, activity and heat. It goes on dry without any sticky feeling, and is available in Invisible Solid or Clear Gel. Secret has always been the brand I use, and I love this new formula. It really does work to keep you dry and fights odor against any type of sweat.
Book of Free Product and Money Saving Coupons
This book of coupons is full of great savings! Coupons included are:
-1 free Secret Clinical 1.6 oz Invisible Solid or Clear Gel
-$3 off two Pantene Expert Collection products
-$2 off any Cover Girl Clump Crusher Mascara
-Buy 1 Venus cartridges pack, get a Venus razor Free
PLUS, a coupon code to get 25% off my entire purchase at Travalo.com was also included!
My Verdict
Another great Beauty Box Five where not only did I get two full size products (the Montagne Jeunesse mask and the Secret Clinical), but I get another full size Secret Clinical for free! Just those two deodorants are more than the $13 you would pay for a month of Beauty Box Five! Had I gone to a store and purchased everything in this months box, I would have spent over $40 to buy products I may have never tried before and have had no idea of how they would work for me. Pretty neat, huh?
How Do You Join?
Easy. Sign up for Beauty Box 5!
Be sure to check back next month to see what comes in December's Beauty Box Five! And you can connect with Beauty Box Five on both Facebook and Twitter to keep up with all the latest in beauty tips, new products, promotions and more!