This post may contain affiliate links. Regardless, all opinions are my own!
It's that time again! Each month Beauty Box Five sends me one of their boxes to share with my readers, and now it's time to see what came in September's box! For those of you not familiar with Beauty Box Five, each month for around $13 you will receive four to five samples of beauty products from top brands such as Blinc, Blum, Ferro Cosmetics, Model Co. and many more! \
It is the perfect way to try new items and see how well you like them before you go out and pay full price. It completely erases the possibility of you spending money on a product only to discover it doesn't work for you. To learn more about this great subscription service, visit the Beauty Box Five website.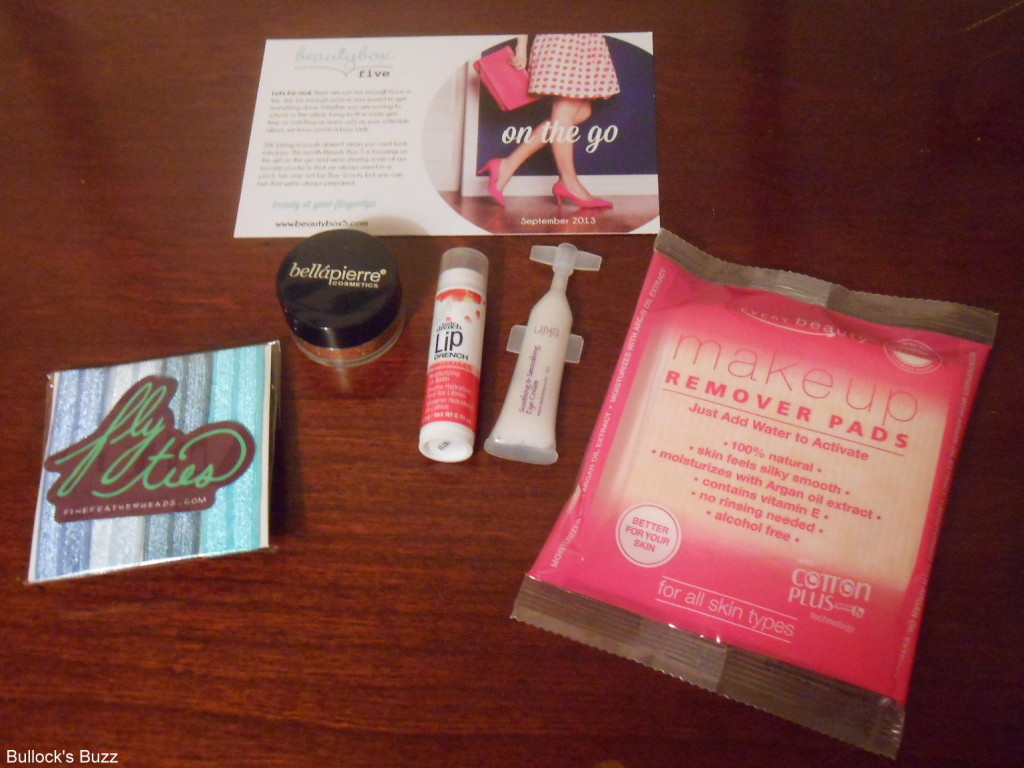 If you missed August's review, you can always check it out HERE, but first check out what came in this month's box! September's Beauty Box Five was a bit unique in that it was based around a theme, one we are all familiar with, 'On the Go". This month's box contains some examples of items that you can carry in your purse so you are always prepared to look your best. So for all of you who are always running here and there and everywhere, this box is for you!
Bella Pierre Cosmetics Celebration Shimmer Powder $15 8.oz
Belle Pierre Cosmetics makes 100% natural mineral cosmetics that leaves your skin looking and feeling great! This Shimmer Powder, Celebration, uses 100% pure Mica powder to provide long-lasting, vibrant color. It is 100% Hypoallergenic and is suitable for all skin types, even the most sensitive. You will not find any of the fillers that often cause make up smear, crease, fade and can even cause allergic reactions.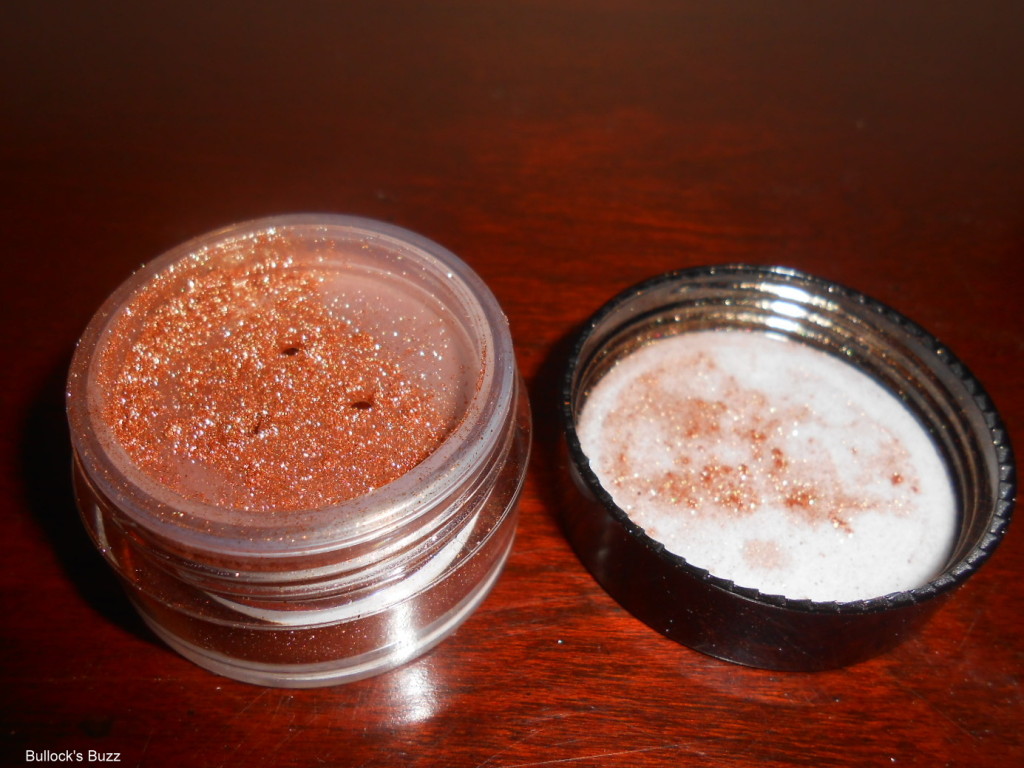 Perfect for a night out, this bronze-colored powder provides plenty of sparkle and shine! I like to use it as an eye shadow to highlight other colors, but you can use it anywhere you feel needs a bit of sparkle! It smooths on easily and feels silky soft. I couldn't believe how long it lasted! Just a little bit goes a long way!
Body Drench Lip Drench $4.99 .15oz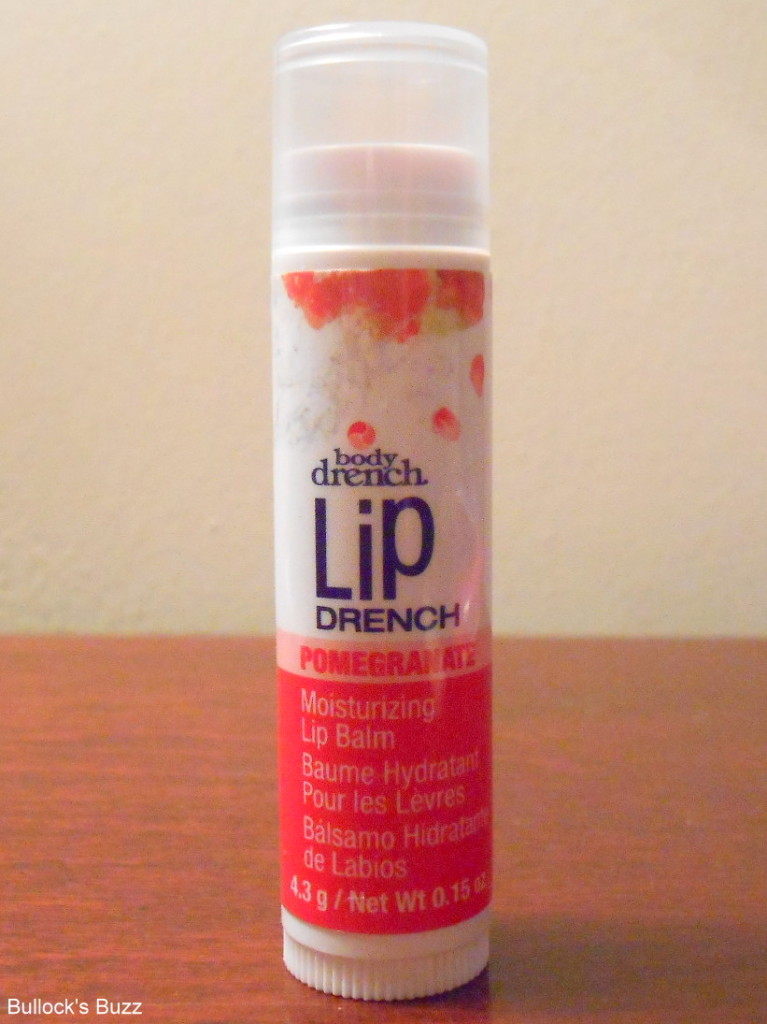 Body Drench makes a complete line of tanning products and body care products including lotions, oils and lip balms that are packed with vitamins and moisturizing ingredients. Their Lip Drench Moisturizing Lip Balms are also packed with vitamins and free radical-fighting moisturizers including Rosemary extract, Vitamin E and Beeswax. They are available in many delicious flavors, including the one I received, Pomegranate.
This lip balm smells amazing, and goes on silky smooth. There is no sticky or tacky feeling. Your lips are left feeling hydrated and soft! I love that it lasts a long time, and you only have to use a little bit. It even has a bit of a sweet 'taste'.
Fine Featherheads Fly Ties $7.95 4 pack
The perfect ponytail holder, Fly Ties are elastic hair ties will not snag, pull or tug on your hair, nor will they leave a crease in your mane. They are made of a satiny-smooth material, and come in many different colors. Once you get tired of having your hair up, take it down and wear these stylish holders on your wrist.
I recently cut my hair very short, so I gave these to my pre-teen niece who has lots and lots of hair down to the middle of her back. She told me these are her favorite holders ever as they really do not snag her hair. They also do not slide out easily like you would think they would being made of the satiny, ribbon-like material.
Skin Shop Skin Smoothing & Soothing Eye Cream $49.95 .5oz
The skin around your eyes is the most thin and delicate skin, and it is often the first to begin showing signs of aging. The Skiin Shop's Soothing and Smoothing Eye Cream instantly improves the appearance of fine lines and wrinkles by using a light diffusing mineral ingredient called Mica to fill in the wrinkle gaps and soft-focus the definition of wrinkles around the eye.
At the same time it works to reduce dark circles and puffiness by using whey proteins which increase circulation in the fine capillaries around the eyes. A vitamin C derivative provides Collagen stimulating and skin whitening benefits for a smooth and even complexion.
Thankfully I do not yet have too many lines around my eyes, but for the few I do have, after just one use of this I could actually see a marked difference! You apply it once in the morning and once at night. I like that it is instantly absorbed, and leaves your skin soft. Be careful not to use too much because it can leave a light film around the eyes.
Every Beauty Makeup Remover Pads w/ Argan Oil $6.99 50 count
The perfect size to fit in your purse, these innovative and handy Makeup Remover Pads only need water added. Infused with Argan oil extract these 100% all natural cotton pads are ideal for removing make up. They are alcohol-free, and also contain vitamin E to moisturize and leave skin clean, soft and smooth. Simply add water and wipe, no need to rinse. Safe for all skin types.
These pads are my favorite item that came in this month's box. I love how easy they are to use! It doesn't matter where you are, as long as you have access to water, you can remove your make up. Since they are made of cotton, they are gentle and smooth against your skin, and they really work well!
My Review of September's Beauty Box Five
Another month, another great box! This one had several items by brands I had never tried, and other from brands I love. Had I bought all of these items, I would have spent $84.88 on items I would not have been sure if I liked. Instead, with Beauty Box Five, the cost would be as little as $13 to try these items and see if I like them. Not a bad deal!
How Do You Join?
Easy. Sign up for Beauty Box 5!