2014 Holiday Gift Guide
Still looking for that perfect gift for someone of your list? How about giving them the gift of time with a brand new watch from the Discount Watch Store. Founded in 2002, the Discount Watch Store offers a huge selection of top-brand watches for both men and women at great low prices.
The DiscountWatchStore.com
While we all want to save money, no one wants to sacrifice quality. At www.DiscountWatchStore.com , you not only get great deals, but you get top quality too.
"… we are a small family owned business that focuses on providing values to our customers. Value to us is not just about having low prices, although we have that too, but rather the satisfaction from the entire buying experience. This starts with us hand inspecting over 95% of our products twice (once before the items go on our shelves and once before shipment) to ensure that you only receive items that are in perfect condition. We process and ship most orders within 24 hours so you can enjoy your purchase quickly. And finally we stand behind our products with either manufacturer and/or our store warranty. …Currently we carry over 4500 styles of watches from over 65 watch brands including Bulova watches, Casio watches, Invicta watches, Citizen watches, Michael Kors watches, Orient watches, Luminox watches, Seiko watches, Movado watches, and many more."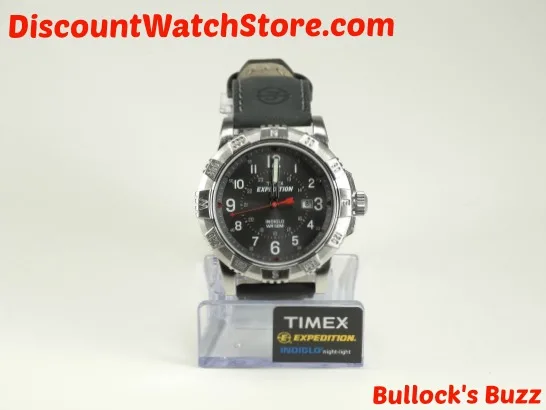 Timex T49988 Men's Expedition Indiglo Watch at the Discount Watch Store
While looking through their site I came across the perfect watch for my husband, Timex T49988 Men's Expedition Indiglo Night Light Watch. This stylish analog watch is powered by a precise quartz movement, and has a silver-tone brass case and a stationary silver-tone brass bezel marked with compass points. With its wide, black calfskin leather band, a sharp-looking black dial with white accents, silver tone luminous skeleton hands, a red second-hand and Arabic numerals, this stylish watch works perfectly as an everyday watch to wear to work or out and about. The watch also features a date-display function, the Indiglo night-light with night mode, a scratch resistant mineral crystal, and it is water-resistant to 100 meters.
Being that the watch a Timex, I know it's a good, dependable, durable watch that my husband is going to love! In addition to it having a nice masculine look and feel, its strap is thick and soft on the inside, and the numbers on the dial are easy to read.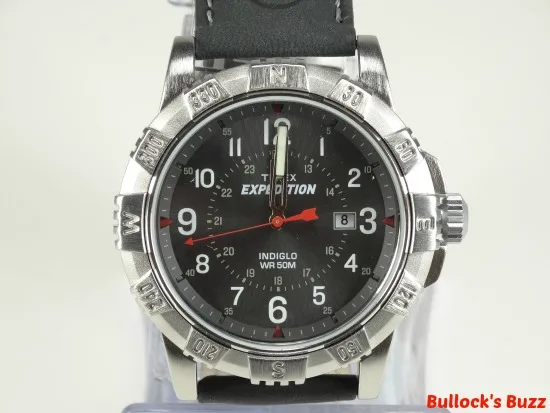 Men's Watches, Women's Watches and More at the Discount Watch Store!
Have a Disney lover on your list? Make sure to check out their selection of Disney Watches! In addition to watches, the Discount Watch Store also has everything you need for a watch you may already own including watchbands, batteries, boxes and tools. And if you still are not sure a watch is what you want to give, they also carry top – name sunglasses, Invicta bracelets, running accessories, Swiss Army knives, Zippos, handbags, perfumes and even designer pens – all at discounted prices.

My Shopping Experience with the Discount Watch Store
This was my first shopping experience with the Watch Discount Store and it won't be my last! The site itself is very well-designed and user-friendly, and it is a Google Trusted site. Plus, there is live online assistance available if you need it. All of their products are 100% authentic and new, and each one is hand-inspected. In addition, all of their orders come with a 90 day money back guarantee and free return shipping. Speaking of shipping, the do offer free shipping within the US, and they offer international shipping at low rates. Best of all, once you find what you want, the check-out process is quick and easy!