Summer hasn't come to an end just yet, but we can still fantasize about Autumn with this new giveaway!
Are you a blogger?
If so, here's a great free opp for you to join!
If not, be sure to check back on Monday August 19th when this fabulous Fall giveaway hosted by Beautiful In¢entives begins! 6 winners, over $200 worth of goodies!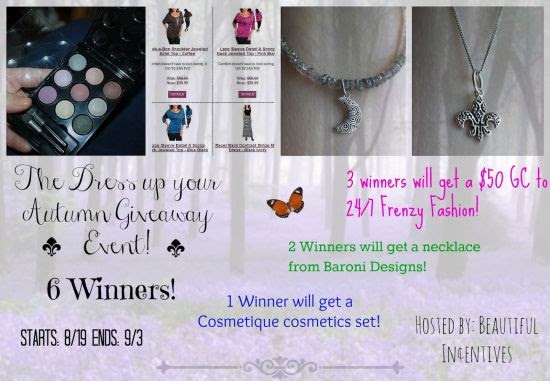 To sign up to be part of this giveaway, keep reading!
I am looking for those with over 3k followers between social networks.
You get 1 FREE Link that is Twitter and it costs $1 if you'd like another, Facebook or Pinterest.
$2.50 if you would like to be a Co-host. I am looking for 2 or more, as I will be mailing one of the prizes out!
This is what we will be giving away! Over $200 worth of goodies to choose from on separate RC's !
Giveaway Starts Monday -August 19th and runs for two weeks.
To join in the fun, click HERE.