This post is sponsored by Global Influence. Regardless, all thoughts and opinions are my own.
Two seasons back I began watching The Voice, and ever since then it has become one of my favorite shows! Now I can barely stand to miss a single episode! After all, what's not to like about it? It has great music, new voices, comedy, entertainment and it always leaves you wanting more!
I really enjoy seeing all of the different men and women who get up on stage to sing their hearts out – showing the world their amazing talent (or their lack thereof) and giving it their all! I admire their courage, their effort and with many of them, their voice! I also love hearing the wide variety of music played, especially when an old favorite is sung in a new voice. But my absolute favorite, is when the most incredibly beautiful voice comes out of the most unlikely person, and the entire studio audience plus those watching at home – myself included – are left with astonished expressions while the chill bumps run up our arms! And while it is sad that not all of them can make it, I bet they leave the show with feelings of pride, joy and accomplishment!
I also love watching the one's who really can't sing at all, try! While it makes me laugh and keeps me entertained, at the same time I am so impressed by their courage and the fact that they got up there and tried! I personally can't sing a single note, and there is no way I would even think about getting up on that stage! But as for the one's that do, I truly admire them!
And then there are the judges. While quite a few of them are not too hard to look at – okay, who am I kidding? Adam Levine is HOT – I also love the way they work together! They all really seem to enjoy what they are doing, and each one brings something special to the show, from their own unique talent and knowledge of the industry to their humor. And when the next season starts on September 22nd, two new judges will be joining Adam and Blake, Gwen Stefani and Pharrell! This I cannot wait to see!
I am so excited for season 7 to begin! Not only will we get two new judges, but we will also get to see new faces, listen to more great music and hear some truly amazing new voices! And of course, we will get to see who the newest winner of The Voice will be!
Get Two Free The Voice Downloads from Rite Aid and Clear Scalp & Hair Therapy

™
While we are all waiting for the next season to begin, let me tell you how you can enjoy listening to some of your favorite The Voice performers for FREE! From now until July 31, 2014, you can get two FREE song downloads from your favorite The Voice performers when you purchase any Clear Scalp & Hair Therapy™ product at Rite Aid!
If you want strong, shiny, gorgeous hair, start at the scalp with CLEAR SCALP & HAIR THERAPY™! With enriched Nutrium 10 technology, vitamins and nutrients, the CLEAR SCALP & HAIR THERAPY™ system deeply nourishes your scalp helping to give your hair what it needs to grow strong and healthy!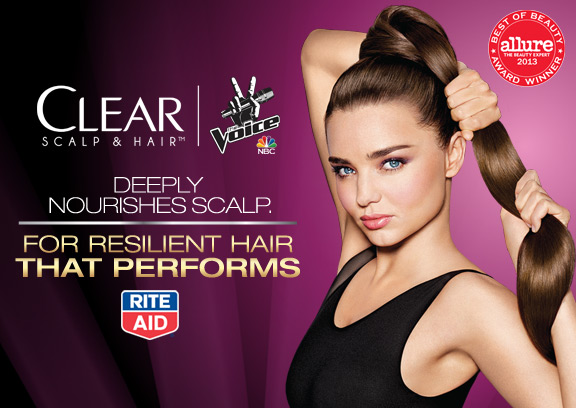 So head into your local Rite Aid and find the Clear Scalp & Hair Therapy™ product that is right for you! And don't forget to get your two free The Voice song downloads when you purchase any two CLEAR SCALP & HAIR THERAPY™ products between now and July 30, 2014!
What are some of your favorite songs from The Voice?