I have always been a believer in giving back to the community. As a teen I would volunteer to help out at our local soup kitchens, and would donate what I could to charities. Now, as an adult, my family and I try to help those who are less fortunate whenever we can. That's why I am thrilled to be working with SocialMoms and SUBWAY® Restaurants on a sponsored campaign to share about a great way that you can give back to your city with the "You Share. We Share." charitable program.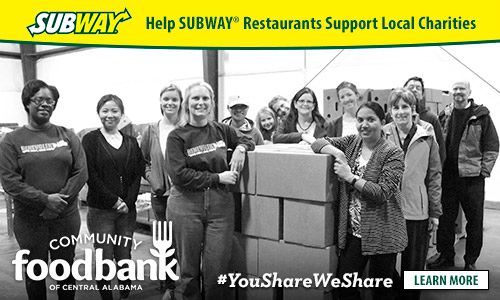 SUBWAY® Restaurants' "You Share. We Share." Program
This summer SUBWAY® Restaurants has launched the "You Share. We Share." campaign where families can get together, enjoy a meal, and give to a worthy cause all at the same time! Now through August 31, 2015 (dates may vary in your city), over 7,800 SUBWAY® Restaurants across the United State and Canada will be donating a percentage of their weekend sales directly to a local charity in each of their respective cities. What an amazing way to help our communities!
As locally owned and operated franchises, SUBWAY® Restaurants is excited to be able to further its commitment to the local community. Here in Birmingham, from now until September 30, for every 1% increase in weekend sales, SUBWAY® Restaurants will donate $6,000 – up to a total of $30,000! – to the Community Food Bank of Central Alabama, a wonderful organization that has been helping people in need since 1982!
Not Familiar with the Community Food Bank of Central Alabama?
This wonderful organization serves individuals and families in need across 12 central Alabama counties by providing food and other necessities. The Community Food Bank operates as a central clearinghouse where the food is collected and then distributed to over 240 local partnering non-profit agencies and religious organizations. These agencies and organizations directly serve the needy through their own programs, helping the homeless, the elderly, and people with disabilities, abused women and children, and many others receive the food and essentials they need to survive. Last year alone, the Community Food Bank of Alabama and their partnering agencies distributed 11.3 million pounds of food to over 520,000 families and individuals.
If you want to help, you can donate, volunteer, and take part in the "You Share. We Share." campaign. You can also learn more about their mission by connecting with them on Twitter and Facebook, using hashtags #YouShareWeShare and #Birmingham.
If you're not in Birmingham, you can find your local SUBWAY® Restaurants here. This summer, get out and share your weekends with SUBWAY® Restaurants, and SUBWAY® Restaurants will share right back!
How do you and your family give back to charitable causes in your community?
Connect with SUBWAY® Restaurants: Website | Facebook | Twitter
This blog post is part of a paid SocialMoms and Subway blogging program. The opinions and ideas expressed here are my own.