Try Marco's Pizza All New Grilled Chicken Florentine Pizza! Limited Time Only!
This is a sponsored post on behalf of Marco's Pizza from The Niche Parent Network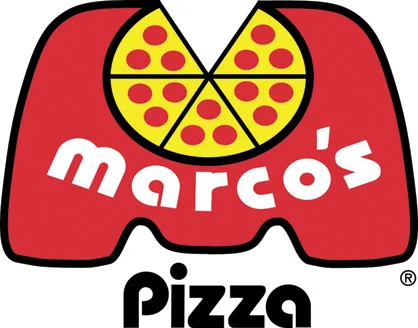 For more than 35 years, Marco's Pizza has been creating a name for itself by producing fresh, authentic, handmade artisan pizza that uses fresh never-frozen dough made daily in stores, a proprietary cheese blend that is also fresh and never frozen and a secret pizza sauce recipe that is bursting with flavor. Right in time for National Spinach Day, March 26th, Marco's Pizza, the Ah!thentic Italian Pizza company introduced their newest menu topping, fresh spinach. And as a way to showcase their newest topping they created a delectable new pizza that combines authentic Italian and Mediterranean flavors, the Grilled Chicken Florentine pizza. I was given the opportunity to try their newest topping and specialty pizza, and here's what I had to say.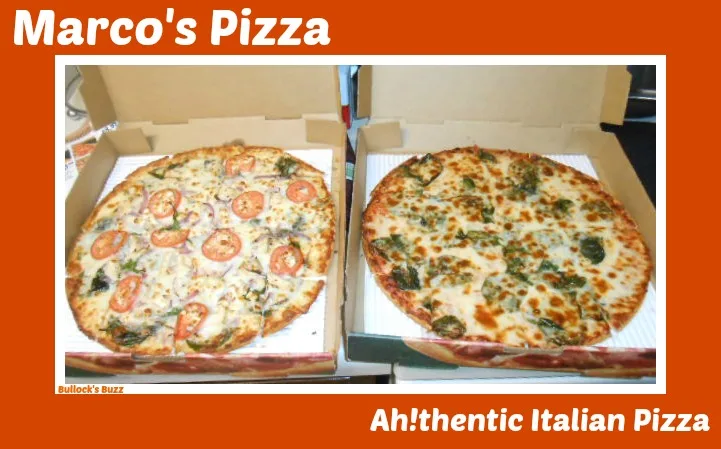 Having never had Marco's Pizza – they recently arrived in Birmingham, Alabama – I couldn't wait to give it a try. My very first job as a 14-year-old was working in a Mom and Pop pizza joint, then later working in two other Mom and Pop pizza joints that have a combined total of 110 years in business, so I consider myself pretty knowledgeable when it comes to what makes a truly fantastic artisan pizza. I couldn't wait to see how Marco's compares!
A good pizza always starts with the dough and Marco's has this one down pat! From the first bite I could tell this dough was fresh, not frozen. My husband and I are both fans of thin crust, so this is what we opted for on both pizzas and it was a great choice! Aside from a great flavor, the dough had the perfect amount of crispness and flakiness. It was cooked to a beautiful golden brown, and each bite had you wanting more. The next most important pizza part is the sauce – in my opinion, if the sauce is not good, then the pizza is not good. Marco's has nothing to worry about on that front as their secret pizza sauce recipe is a delectable combination of imported spices and three types of vine-ripened tomatoes. Next comes my favorite part, the cheese. I don't know what cheeses they use in their proprietary blend, but the best way to describe it is as a mouthful of ooey-gooey deliciousness! Last, but not least, the toppings. Unlike many pizza places, Marco's uses fresh ingredients, from the tomatoes to the spinach, and as far as the amount of toppings, Marco's does not skimp…every piece is covered in toppings.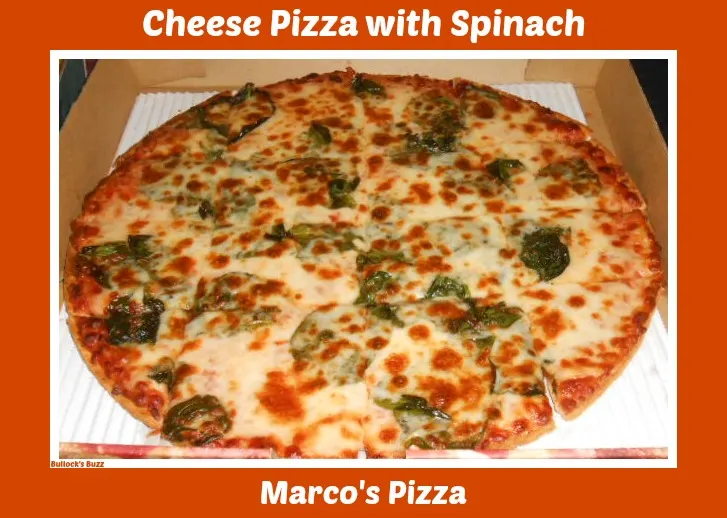 The two pizzas we tried were as different as day and night and provided a great opportunity for me to sample their menu. Starting with the Cheese and Spinach pizza, first let me say I have never been a huge fan of spinach, especially by itself on pizza. I don't mind it if it is mixed with other toppings, but a plain cheese pizza with spinach as its only topping is not the first thing I would order. That being said, I can honestly say that my trying this pizza was remarkable in itself, but what was even more remarkable, was that I liked it! A lot!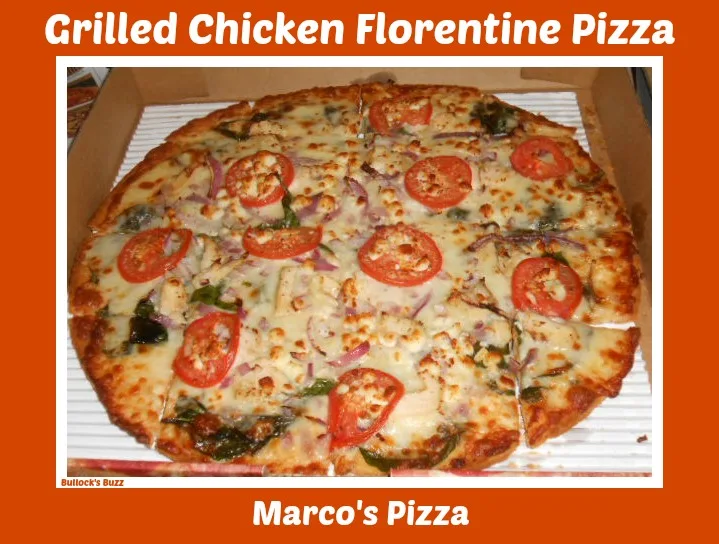 Now for my personal favorite, the new Grilled Chicken Florentine Pizza. This culinary delight is a delicious combination of tender grilled chicken, parmesan garlic sauce, fresh sliced red onions, fresh sliced tomatoes and fresh spinach all topped with four tasty cheeses including feta! I have to admit, this was my absolute favorite! The parmesan garlic sauce complements the chicken and vegetables perfectly, and each bite has me wanting more. Not only does this pizza taste great, it looks great too with the bright colors of the fresh tomatoes, onions and spinach peeking through a layer of pale gold cheese all framed by a ring of golden-brown crust. This pizza is definitely a winner, but if you want to try it you need to hurry and order as this pizza is only available for a limited time!
In summary, I give Marco's Pizza five stars!
To find a Marco's Pizza near you visit Marco's Pizza online. And be sure to connect with them on Facebook and Twitter for the latest deals and promotions!