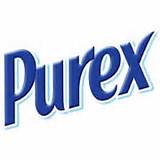 As any one who has ever done laundry knows, the entire process can be quite the chore and often both product and time-consuming. My typical routine has several steps starting with separating all of the laundry by color and water temperature, then putting a load in the washer, adding the detergent, then listening for the rinse cycle so I can go back and add the fabric softener.
Then, once the cycle is finished, I have to switch them over to the dryer, add fabric softener sheets, set the dryer and start the cycle. Then there is the folding, hanging and putting away. And I didn't even mention the additional steps and products involved if you have to remove stains or need to add some bleach to brighten those whites!
So any chance I can get to simplify this routine, I will jump on it; especially if it involves cutting down on the amount of products used and, in turn, saving not only time but also some money.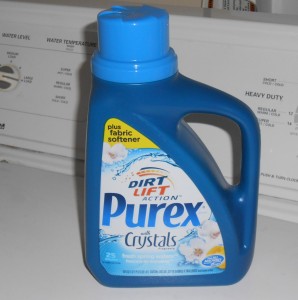 Thankfully, ever since I began using Purex products, I have been able to use omit a few products, and save some money since their products are so affordable! And now, I can save even more time and money with the new Purex with Crystals Fragrance plus Fabric Softener!
This new laundry detergent combines the wonderfully clean scent of Purex Crystals with fabric softener and the stain-removing, deep cleaning power of Purex DirtLift Action to give you incredibly clean, fresh-smelling laundry!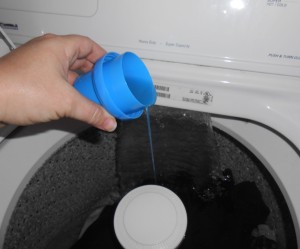 The first time I used Purex with Crystals Fragrance Plus Fabric Softener I was impressed with the amazingly fresh, clean scent that remained with the fabric even after drying. All of the laundry came out bright, clean and amazingly soft! I especially love using it on sheets and towels!
And the best part of all, I no longer have to use a detergent and a fabric softener and the occasional bleach and/or stain remover, and then a dryer sheet in order to get clean, fresh smelling laundry without any color fading or dull whites; instead I just add some Purex plus Fabric Softener right when I start the washer, and that is it! The perfect time and money saver!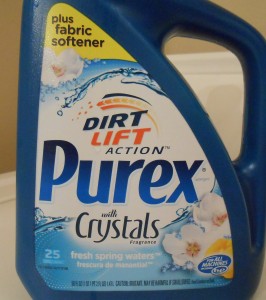 Purex products can be found at any mass merchandiser, local grocery or drugstore, as well as through many sites online.
One lucky Bullock's Buzz reader will win a Purex with Crystals FREE product coupon! Simply enter using the Giveaway Tool below, and remember, the more entries you do, the better your chances to WIN! This giveaway will begin today, May 1, and will end May 9th. It is open worldwide.
The Purex brand provided me with a sample in exchange for a review. Regardless, all opinions are my own!
GOOD LUCK!