There are so many options when it comes to finding sleeves and pouches for your portable devices that it is hard to find one that really stands out. Recently, however, I was offered the opportunity to review a brand that does just that, a brand whose products are made for one purpose and one purpose only, and they do that purpose well! RichWorks, hand-crafted accessories.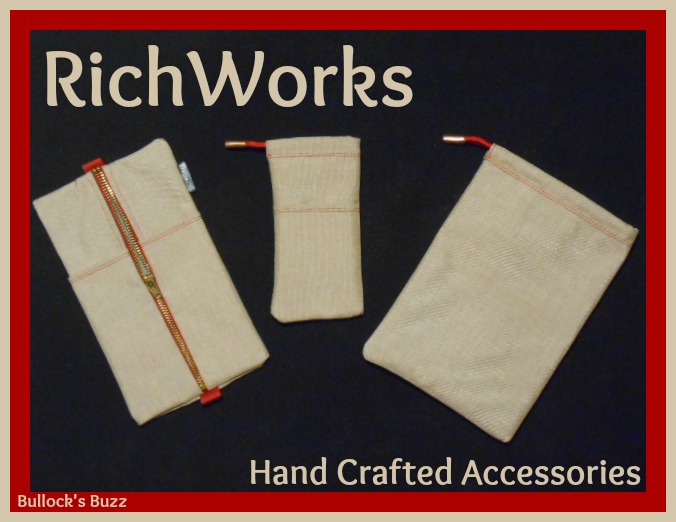 RichWorks creates high-end, hand-crafted sleeves and accessories for your cell phone, tablet and laptop, all of which are designed and constructed right here in the USA. All of their products are made to order, which gives you the option to change even the smallest of details; from the color of the interior microsuede to the color of the exterior stitching used to hold it all together. They have a great selection of colors, so you can get your own unique combination. You know you are getting a truly handcrafted product when you get to choose exactly how you want your item to look!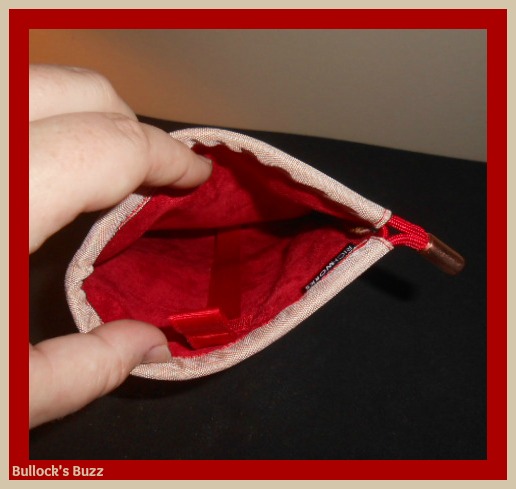 All of their products are made with a nylon exterior, a microsuede interior, and a clean, simple design that not only looks good, but fits your devices perfectly. The heavy-duty 500D Nylon used on the outside of the sleeves and pouches is waterproof and very durable, while the Microsuede on the inside is ultra-soft and serves to protect your device's screen from scratches, dust mites and smudges. These sleeves are perfect for people who do not want to store their devices in heavy, bulky protective cases.
RichWorks Phone Sleeves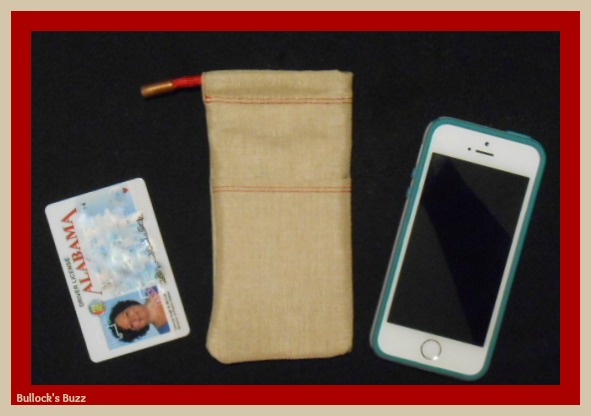 The first item I picked is a RichWorks Phone Sleeve for my iPhone. In addition to getting to select the colors of the interior Microsuede, the exterior canvas and the colors of the exposed stitching and paracord (for the drawstring closure), you also get to choose whether or not to add an outside pocket. I choose to add one and I am glad I did because the pocket is the perfect size for carrying a bit of cash or a card or two! Now, I don't have to drag my purse with me with I run out for a quick cup of coffee because I have everything I need together with my phone. I also opted to add a pull cord, which I am glad I did because it makes removing your phone from the sleeve a lot easier.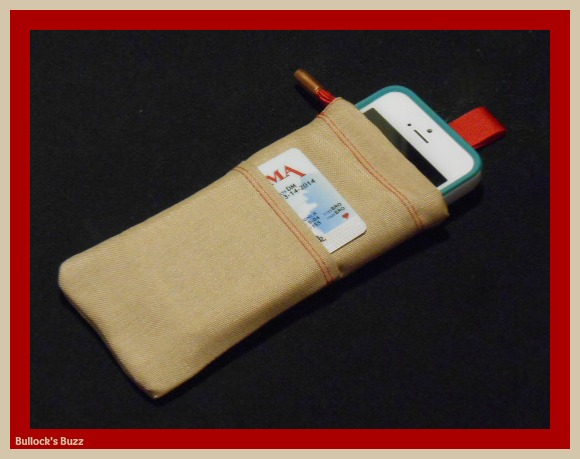 When you order your phone sleeve, you will be able to choose from a pre-set selection of phones, but if you do not see yours in the list, you will be given a place later in the ordering process where you can specify your phone type. Also, RichWorks has been known to work with people if more specific dimensions are needed, such as if you keep your phone in a protective casing and want the sleeve to fit over it. These awesome sleeves start at just $25.00.
RichWorks Tablet Sleeves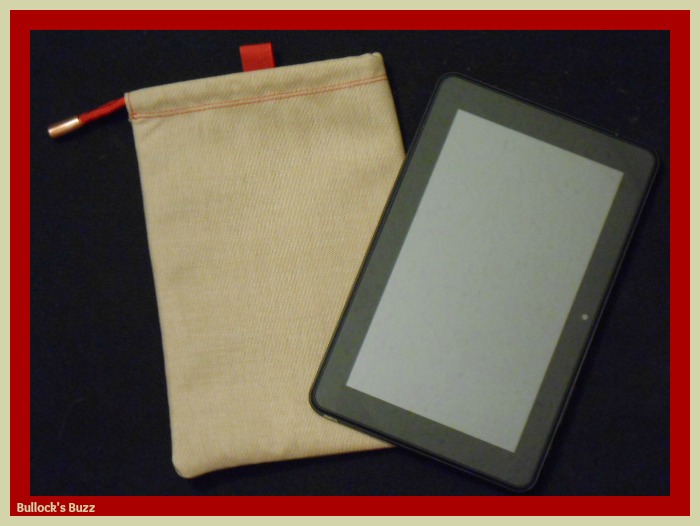 Next up is the RichWorks Tablet Sleeve which also uses a drawstring closure. Like the other RichWorks products, you get to choose the interior and exterior colors, as well as the color of the exposed stitching and paracord. You also get to choose whether or not you want to have a pull cord sewn in to help remove the tablet from the sleeve.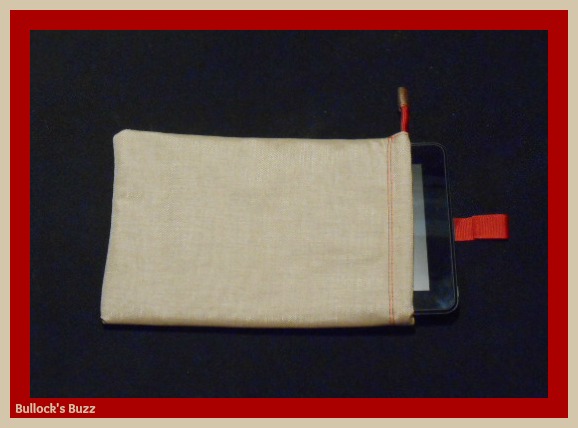 The durable exterior and soft interior help protect your tablet from getting banged around when carrying it in your backpack or purse. When you go to order your tablet sleeve, you will be presented with a series of questions that will help determine the exact dimensions you will need so your case will fit your tablet like a glove! RichWorks tablet sleeves start at $35.00.
RichWorks Accessory Bag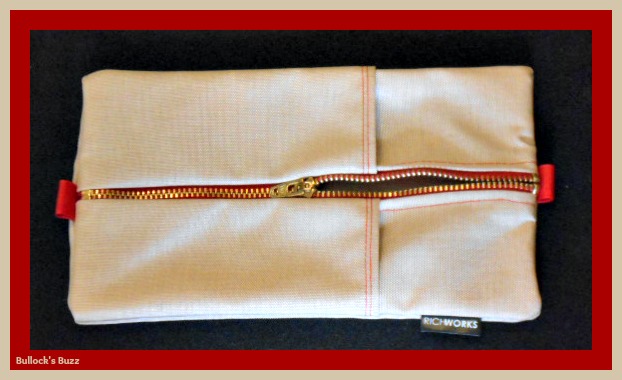 Finally, my personal favorite, the RichWorks Accessory Bag. This cute little pouch is perfect for holding all types of items. I use mine to keep all of the cords to my various devices together in one place, but you can use it for all kinds of things from holding pens and pencils to a sewing kit. It has two narrow, yet deep pockets on the outside, and a zipper closure to secure whatever you store on the inside. Unlike the phone and tablet sleeves, the Accessory pouch does not have the microsuede inside, but it is still made with the same durable nylon. RichWorks Accessory bags start at $25.00.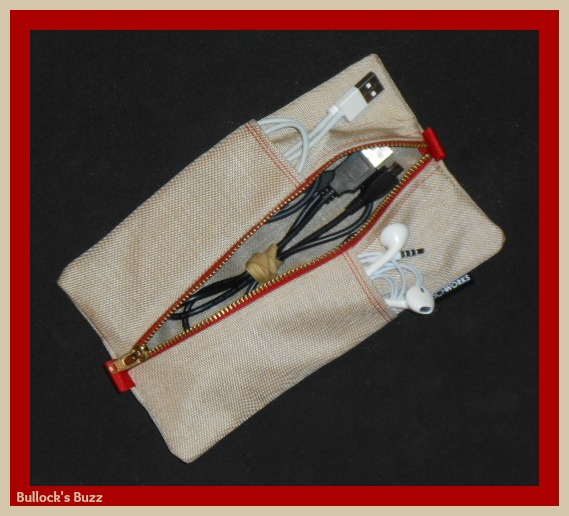 My Verdict of RichWorks HandCrafted Sleeves and Pouches
If you are looking for a simple, yet durable sleeve or pouch for your portable devices, then I highly recommend RichWorks. I have been using my sleeves for several weeks now and they are holding up extremely well. In fact, I have received several compliments from complete strangers whenever I have pulled the phone sleeve out of my purse or pocket. And why not! There is so much to like about RichWorks' products including their clean design, their durability, their affordability, and the fact that you can have your sleeve made the way you want it. Another great thing is that these sleeves and pouches are washable, so if they get dirty, you can easily wipe them down with a damp cloth. Most of all, I like simplicity of the product – it does what it is supposed to do and it does it well – without all of those extras qualities that more often than not have replaced the quality in these type items, especially the mass-produced ones!
Visit RichWorks online today and discover for yourself why RichWorks products are so easy to like. And remember, you get to order the sleeve you want, the way you want!
Which color-combination would you choose for your favorite RichWorks product?