This is a sponsored post is brought to you by Skintrium. All opinions stated are my own.
Skintrium Esthetic Blend of Oro Amplified Corrective Facial Moisturizer Giveaway
When shopping for skin care items I always look for the best as skin care is one thing I will not skimp on. Like most women, I want soft, beautiful, and flawless skin. I prefer to use products that help fight the signs of aging, keep the skin glowing and at an even tone – and do so without the use of harsh ingredients. I especially like it when I find skin care items that not only work great, but leave me feeling pampered and spoiled. Skintrium is one of those!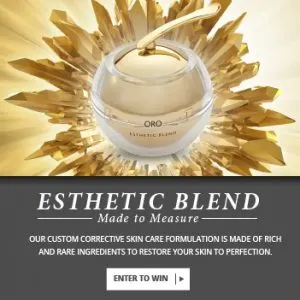 Skintrium offers a full line of luxury skin care products for your face and body that help renew and restore the skin at the cellular level – without the use of harsh chemicals or other harmful ingredients. Unfortunately, as we age, freckles, skin spots, scarring, and discoloration increase. Skintrium's products can help lighten and brighten problem areas restoring them to normal. One of their most popular items, the Esthetic Blend Oro Amplified Corrective Facial Moisturizer, uses a blend of rich botanicals, polypeptides, mitochondria and micronized 24K gold (talk about pampering!) to repair old damage, erase the signs of aging, and restore the skin to glowing health all in record time. This quote from the product page describes it best:
The antioxidant power of micronized 24K gold and a unique complex of polypeptides renew skin at the cellular level. Mitochondria sourced from pure white cauliflower energize cells. Rich botanicals sourced from the Amazon moisturize, nourish, and soothe to pamper your complexion. With more concentrated brightening ingredients than Esthetic Blend Teal, Esthetic Blend Oro rapidly eases away hyperpigmentation while it repairs old damage to rejuvenate the skin. Erase blotches, spots and fine lines, add resilience, and restore glowing health, all in record time.
A little bit goes a long way with this Corrective Facial Moisturizer, too! A dime sized amount applied to your face and neck each morning and evening is all it takes to achieve the deep hydration that soothes and nourishes your complexion.