This year my husband and I made a promise to each other to start living healthier. In addition to eating better and getting more exercise, we also are continuing to take steps towards living a more green lifestyle. In keeping with this promise, I've been looking at a lot of health-related sites and products, and in doing so I came across a company called Be Fit, Live Fit whose goal is to share their love for health, fitness and life with as many people as possible; and who makes some beautiful bamboo cutting boards!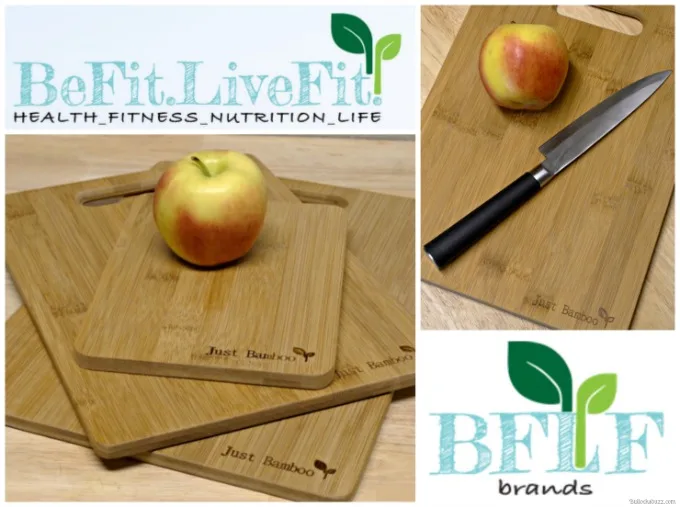 In addition to their main site and their health and fitness blog, Be Fit, Live Fit also has an expanding line of brands under the name BFLF brands which includes Graphic T-Shirts and Just Bamboo. I, of course, love all things bamboo not only because of their durability and natural beauty, but also because bamboo is one of the most green materials around. When I saw the Just Bamboo Cutting Board Set, I fell in love!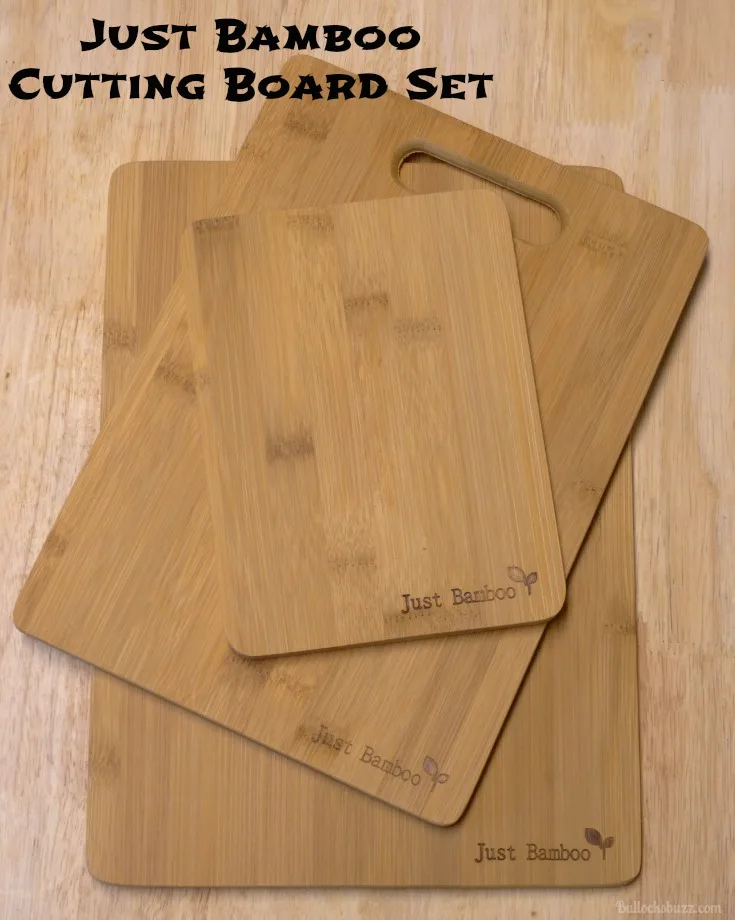 Just Bamboo Cutting Board Set
Those of you who read this blog often know that I love all sorts of kitchen tools, gadgets and gizmos – especially when they are made of bamboo. I have everything from a bamboo dinnerware set to bamboo serving spoons – and now I have a set of bamboo cutting boards!
Made from premium bamboo, Just Bamboo's cutting boards are FDA-approved, non-toxic and, of course, eco-friendly. Each set comes with not one, but three separate lightweight cutting boards; each of which is a different size, making them practical and convenient! The largest board measures 13″ by 9.5″, the medium board measures 11″ by 8.5″, and the smallest measures 8″ by 6″. They are all around 3/8″ thick. Now I not only have a cutting board for all different size jobs, but I also no longer have to stop in the middle of meal prep to wash the board when switching between cutting meats and cutting vegetables!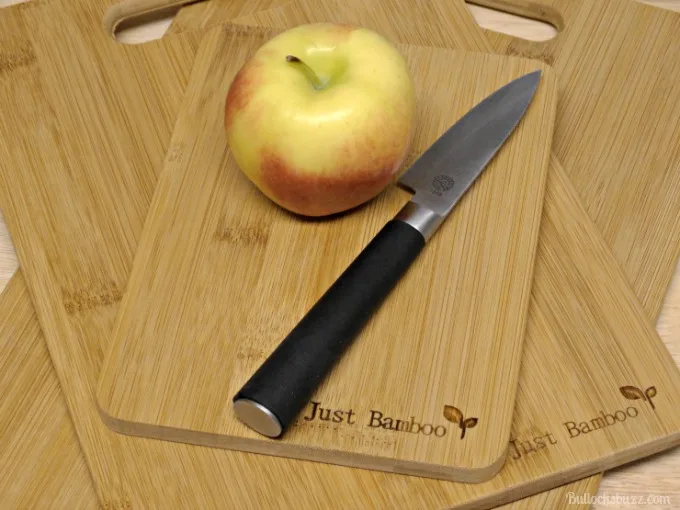 The Benefits of Bamboo Cutting Boards
Bamboo cutting boards have several benefits aside from their beautiful appearance. For example, did you know that bamboo is naturally antimicrobial, making them very resistant to bacteria? Plus, it is hard enough to prevent those deep, bacteria-breeding knife grooves that you get with other wood and plastic cutting boards, yet it is not so hard as to dull your knives. Bamboo is also not as porous as other wood so it will not swell or shrink, nor will it not warp, split or splinter, as long as you follow the simple care instructions.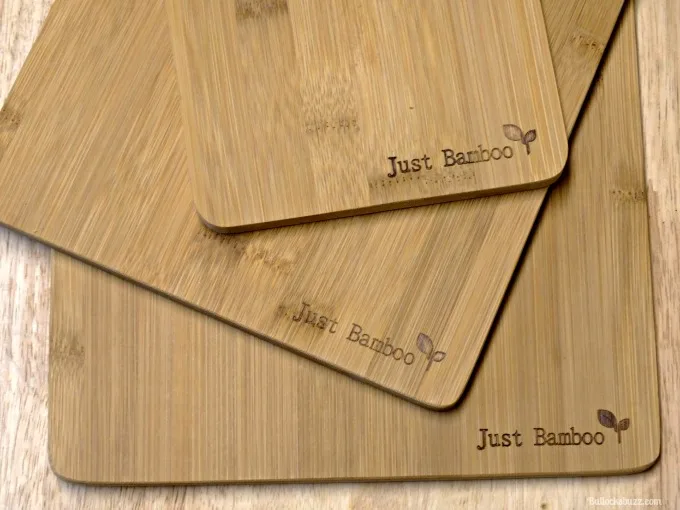 Caring for Your Bamboo Cutting Boards
Speaking of care, it is recommended that you season your boards at least 3 times before use with either a coconut oil or food-safe mineral oil. After that, you just use warm water and a mild detergent to clean, making sure to dry the board completely once done. Never put your bamboo cutting boards in the dishwasher! To extend the life of the board, simply repeat the seasoning process once a month, or when the board begins to get a 'dry' appearance.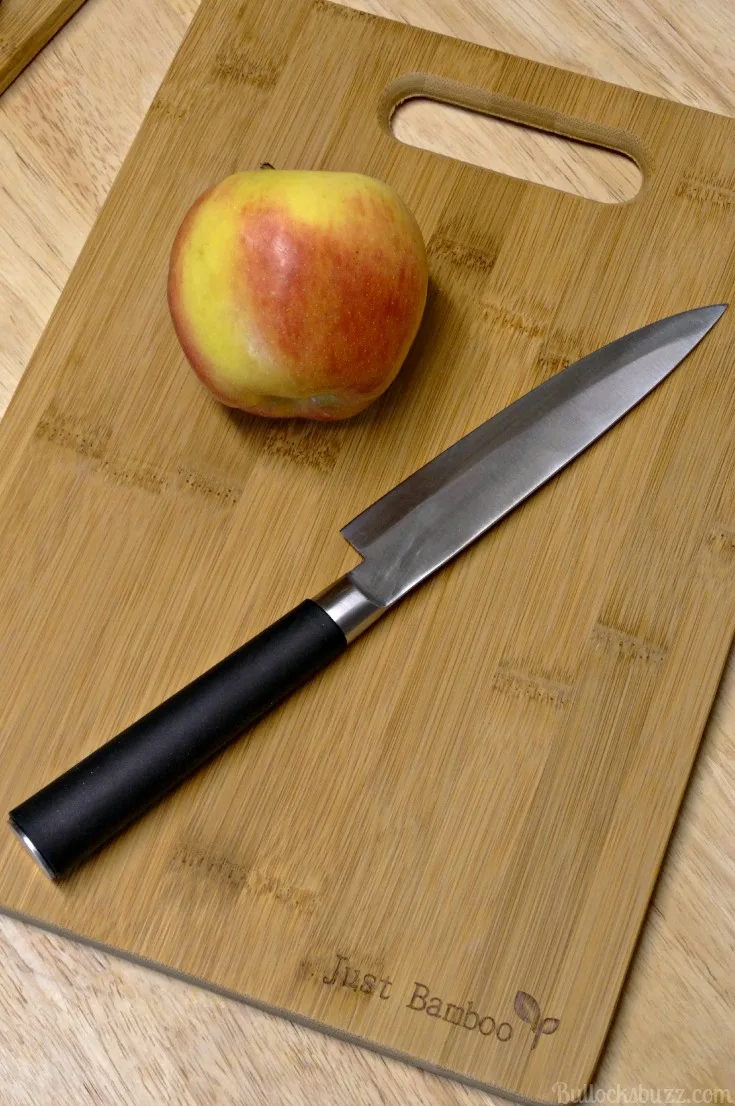 My Verdict of Just Bamboo Cutting Boards
I have been using my boards for a couple of weeks now, and so far I am quite pleased. They not only work great, but they look nice, too, with their warm, honey color. I have even used the largest one for serving foods several times. I even like the way they smell – a fresh, woodsy scent. The only thing I wish was different, was that they had placed something on the back of the boards to keep them from sliding on the counter. However, a few of those small, round rubber dots stuck on the back side of the board easily – and inexpensively – solved that issue!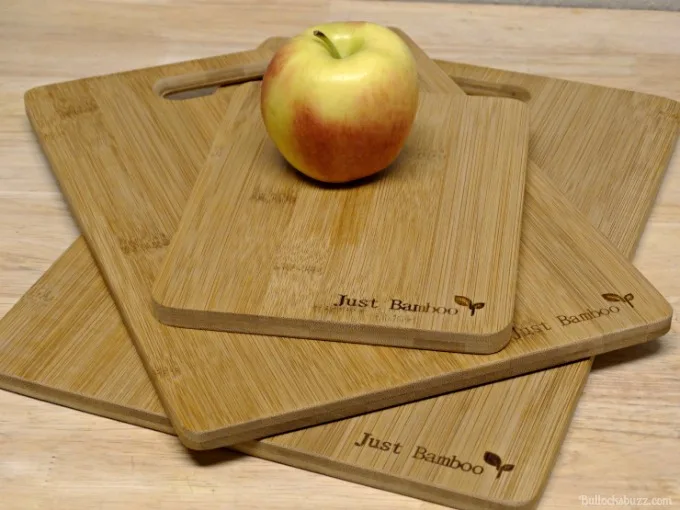 If you are looking for an eco-friendly, beautiful cutting board, look no further than Be Fit, Live Fit and the Just Bamboo Cutting Board Set.