I love crafting and DIY projects, but I cannot stand it when I get started on a project only to discover that I don't have one of the tools I need! Have you ever started a project only to discover you were missing the one tool or gadget you needed the most? If so then you are going to love this subscription box I recently discovered called The Handy Box.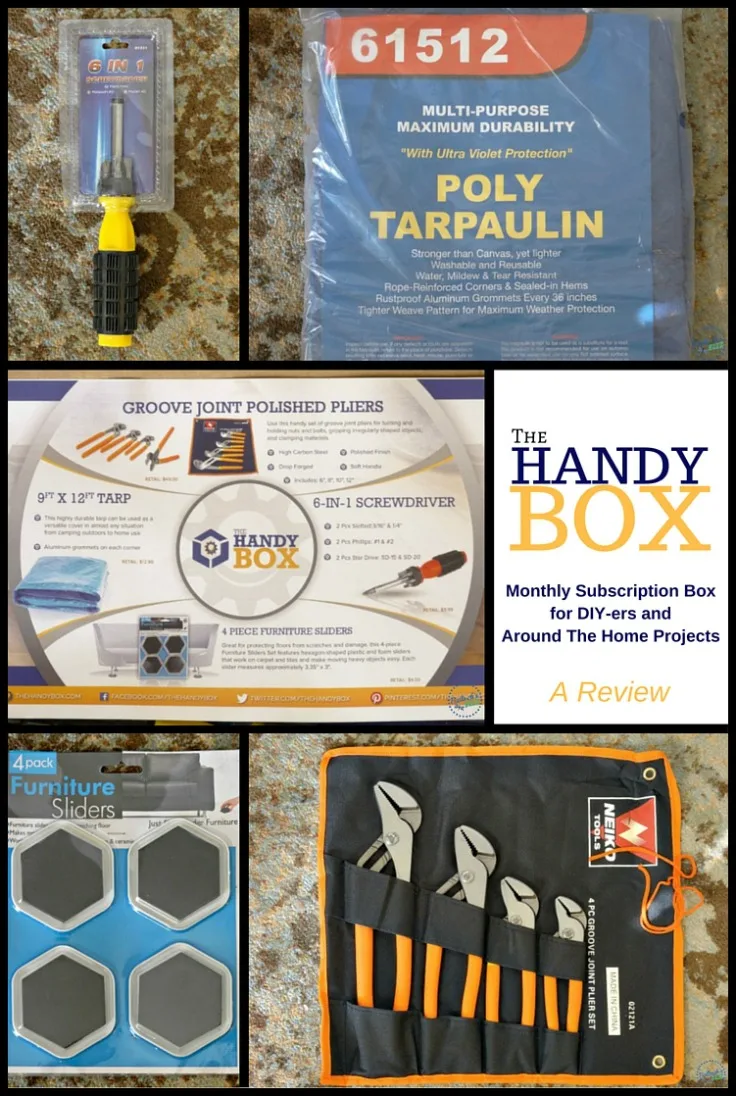 Each month, The Handy Box sends subscribers a carefully selected assortment of useful tools and handy gadgets to help you complete your DIY or around-the-home projects of any size. It's perfect for those who are wanting to build a simple home-use collection of tools and gadgets.
The boxes are shipped around the middle of the month in a sturdy brown cardboard box stamped with the company's name. Inside you will find 3 to 5 different tools and/or handy gadgets. You will also find a product information card that includes a description of the items inside that month's box.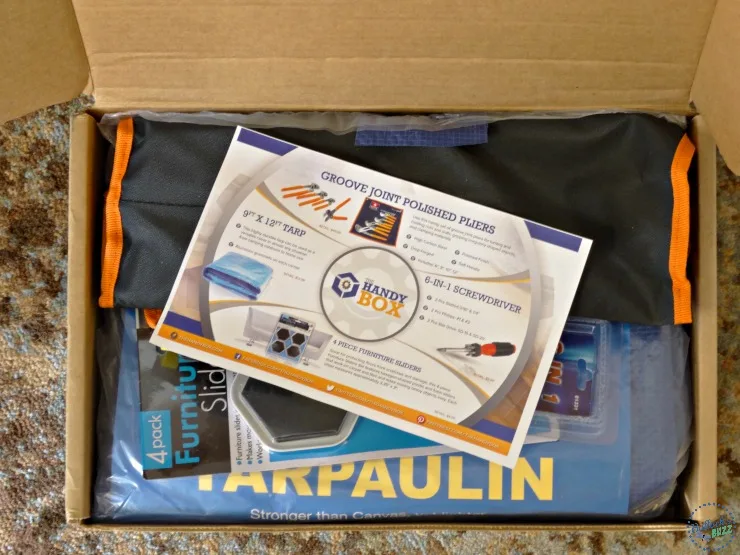 Inside The Handy Box
There were 4 items inside the box I received.
1.4 Piece Groove Joint Polished Pliers, Retail Value: $40.00
This handy set of Neiko groove joint pliers are perfect for turning and holding nuts and bolts, gripping irregularly shaped objects, and clamping materials. Each pair of high carbon steel pliers has an ergonomically shaped handle with cushioning to make working with them more comfortable. There are four different sizes including 6″, 8″ 10″ and 12″, each of which has its own pocket in the included foldable tool case.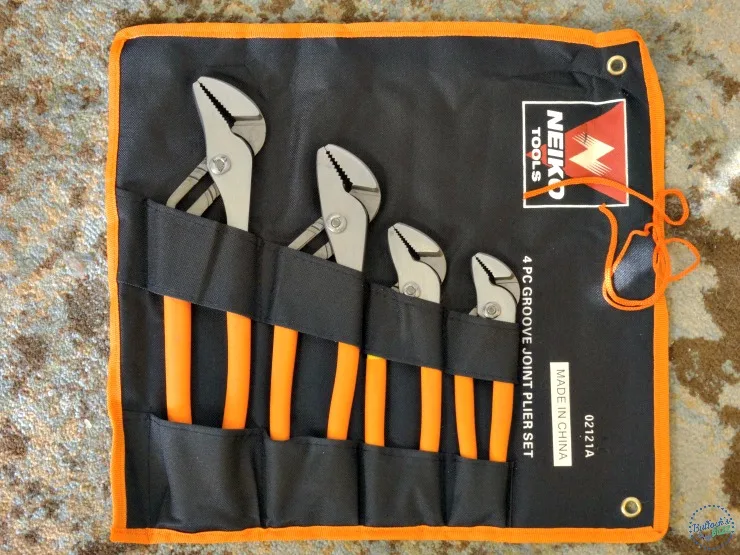 2. 9 ft X 12 ft Tarp, Retail Value: $12.99
This highly durable tarp is ideal for all sorts of uses and situations. Use it as a floor protector when painting, take it with you on your next camping trip, or use it to cover your firewood. It has rust-proof aluminum grommets on each corner for extra durability when tying it down, and it is washable, reusable, water, mildew and tear resistant.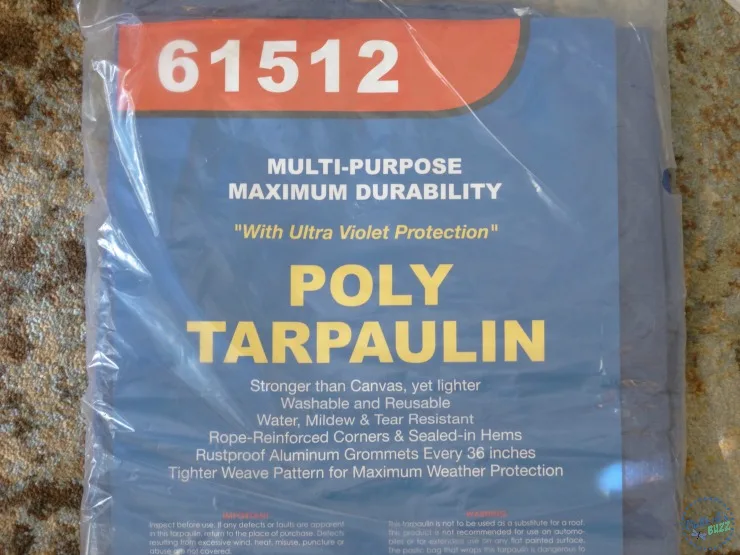 3. 6-In-1 Screwdriver, Retail Value: $9.99
This extra handy 6-in-1 screwdriver comes with 2 star driver heads (SD-15 and SD-20), 2 Phillips heads (#1 and #2), and 2 slotted heads (3/16″ and 1/4″). A textured handle enables you to get a good grasp on it that won't slip.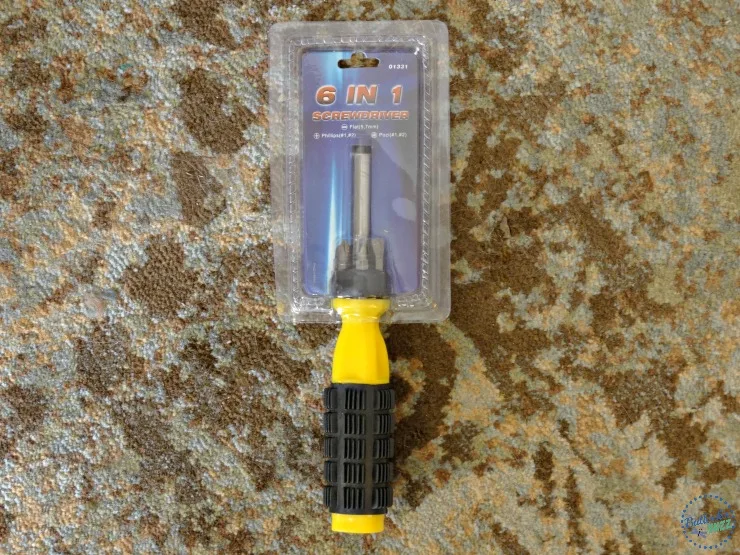 4. 4 piece Furniture Sliders, Retail Value: $4.00
Perfect for protecting floors from scratches and damage, this 4-piece Furniture Sliders Set comes with both hexagon-shaped plastic and foam sliders that work on carpet and tiles and make moving heavy objects easy. Each slider measures approximately 3.35″ x 3″.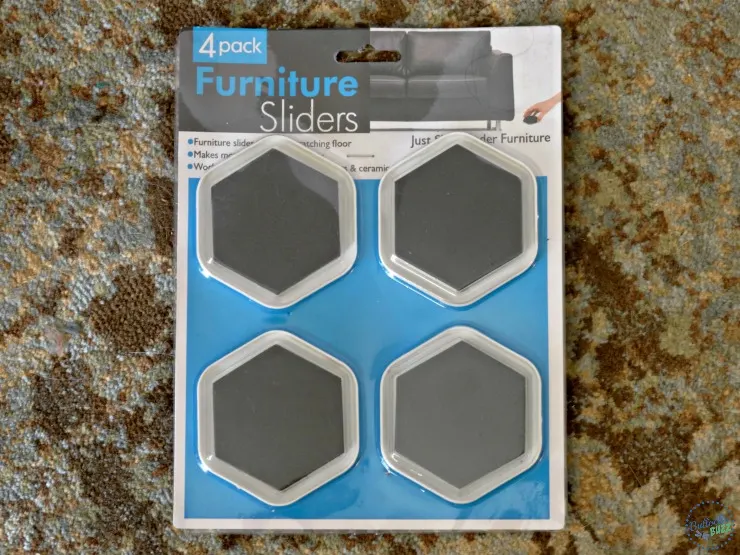 My Opinion of The Handy Box
Overall I was quite impressed with The Handy Box I received. It was nice to see that it wasn't filled with a bunch a stuff that I won't ever use. Instead, each of the items are of good quality, and are perfect for DIY and around-the-home projects. Everything inside will definitely come in handy.
Whether you are a man or woman, moving into your first apartment, working on a home project, or just looking for a gift for a handy person, The Handy Box is definitely worth trying!
Know someone who could use The Handy Box? Gift them a subscription to The Handy Box or pickup The Handy Box Gift Card which can be used to purchase a subscription or anything from The Handy Box Shop.
To join The Handy Box and to start receiving a new box every month, simply pick the plan that works best for you. They offer month-by-month, three and six month subscriptions. Keep in mind that orders placed before the 10th of the month will receive that month's box. Orders placed after the 10th will receive the following month's box. So, for example, if you place your order on July 12th, your first box will be shipped in August. Boxes are usually shipped the last week of the month.
Get Social with The Handy Box! Facebook | Twitter | Pinterest

Who in your life would like to receive The Handy Box? Have you ever started a project only to discover you don't have a much-needed tool or gadget?