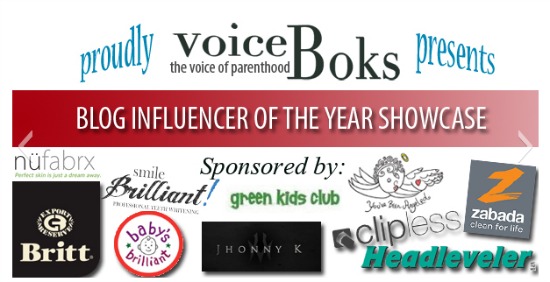 So the final results are in, and Bullock's Buzz has placed as one of the 10 Top Blog Influencer of the Year!! And I couldn't have done it without YOU, my readers!
A lot goes into a setting up and running a competition like this one, and everyone from the hosts to the sponsors deserve a HUGE thank you! First I want to thank the entire VoiceBoks team! They have put so much time and effort into this competition, and into everything else they do that makes VoiceBoks such an amazing company! So Lexie, Becky, Kathy and everyone else, THANK YOU!!!

And of course, there would be no competition without the amazing sponsors, so now, I want to thank each and every one of them for supporting the VoiceBoks Top Blog Influencer of the Year awards! Because of them, there are some incredible prizes for the Top 10 Bloggers! If you wish, take a moment to visit their sites where you will find some of the most wonderful services, education, products, and entertainment! Just click on the picture to be taken directly to that sponsors site.
Johnny K and Krew!
Smile Brilliant!
Cafe Britt!
Headleveler Pillows!
Baby's Brilliant!
MilkSplash!
Adora Dolls!
You've Been Angeled!
Green Kids Club!
Nufabrx!
Kid Awesome Learning Power!
Zabada!
Santa Sent Me a Letter!
Clipless!
So again, a HUGE thanks to my readers, the voiceBoks team and all the incredible sponsors! And a GIANT congratulations, not to just the Top 10 Bloggers, but to all bloggers who were nominated! I am honored to be included with such an amazing group!
Happy Holidays to you all!