Love your cat, but hate cat litter all over the house? Check out these 6 simple ways to cut down on cat litter tracking.

As a cat lover I have very few complaints. However, I do have a couple of pet peeves. One of the biggest of which – and one of the most common complaints cat owners have – is that no matter where you keep the litter box, cat litter still winds up getting tracked all over the house! My cats make an olympic sport of digging and burying. And despite the fact that I sometimes wonder if they are looking for buried treasure or just trying to find a shortcut to China, I know they cannot help the litter sticking to their paws. So instead of getting mad, I use some of the following simple ways to cut down on cat litter tracking.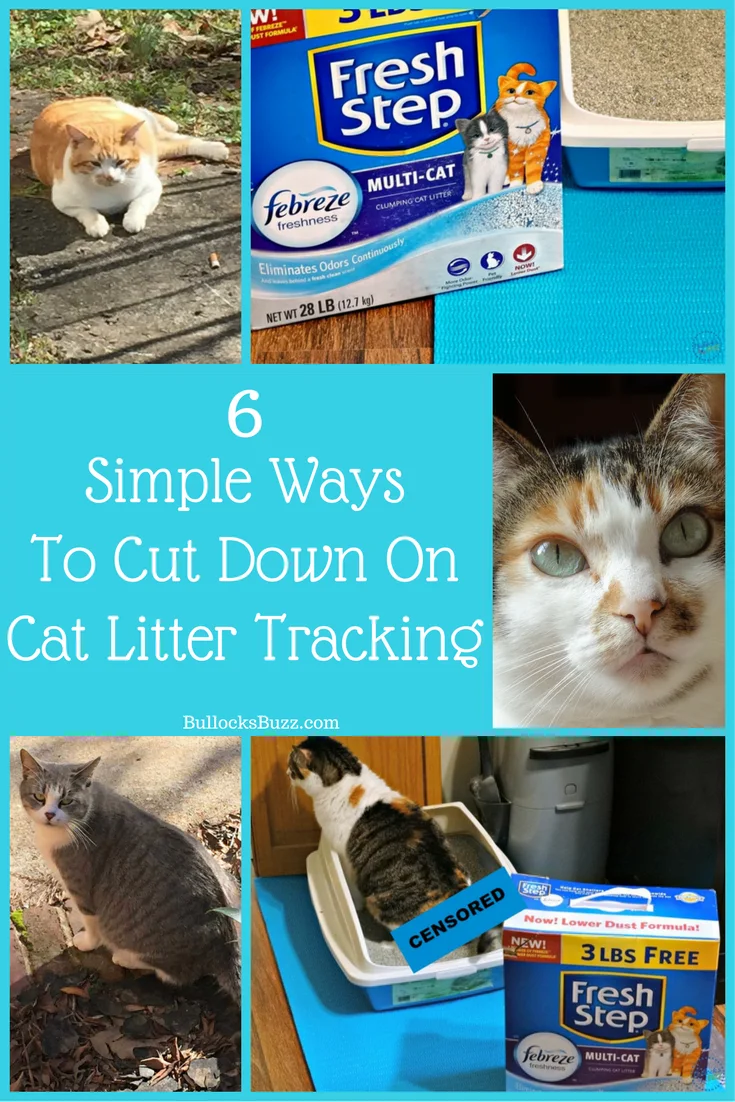 6 Simple Ways to Cut Down on Cat Litter Tracking
1. Choose the Best Box
There are all sorts of litter boxes on the market today, but which one is best depends on your cat. For cats that love to dig deep, then the best choice may be either a covered box or a high-sided box. However, some cats won't even consider using a covered box. And if you have an older arthritic cat or a small kitten, then a high sided box is not the best option. Extra large litter boxes can give your kitty plenty of room to dig, while litter boxes with built-in pads can help trap the litter as your cat exits. Top-entry litter boxes work well to eliminate the scatter problem as well as the tracking issue, as can simply putting a regular sized litter box inside a larger box, a kiddie pool or even an unused shower stall. Again, the key here is to find what works best for your cat.
2. Don't Overfill
For some reason, some people feel the need to fill the litter box almost to the rim. Why, I am not so sure. It doesn't make the litter stay cleaner longer. Nor is it necessary. If anything, it adds to the mess outside the box and costs a lot of money in wasted litter. Filling the box will two to three inches of cat litter is plenty.
3. Add a Tracking Mat
Placing a tracking mat in front of the litter box is another effective way to control scatter and tracking. The mat will help remove excess litter left on your cat's paws, and it reduces the amount of litter that gets tracked through your house. While you can purchase rubber or plastic litter mats at most stores that sell pet products, you can save some money by using other items. I personally use an old yoga mat and it works great! Not only is it comfy on our cat's paws, the grippy nature of the mat helps any hitchhiking litter stay where it belongs. If you don't have an old yoga mat, there are plenty of other options. Welcome mats, bath mats (with deep pile), old beach towels, carpet remnants, and even that rubbery shelf liner with the holes in it will all work to capture much of that excess litter. Whichever you choose, make sure it is a large enough piece to surround the litter box on all sides.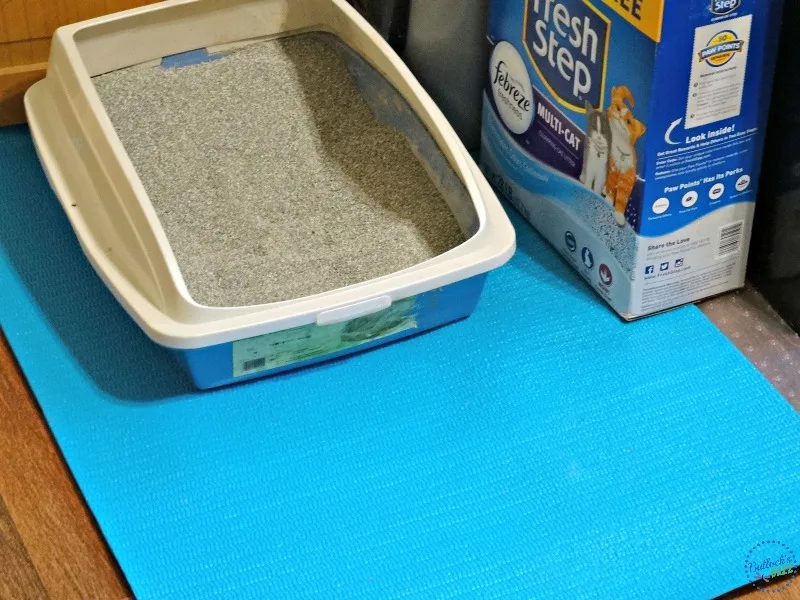 4. Keep a Handheld Vacuum or Broom Nearby
Another of the simple ways to cut down on cat litter tracking is to keep on top of the scattered litter that is right around the box. This will help keep it from spreading. I have a small handheld vacuum and a broom and dustpan in a closet nearby. Make a point to either sweep or vacuum the excess litter several times a day and you will have much less of a problem.
5. Scoop Daily
Scooping out the litter box on a regular basis does a lot more than just keep it from stinking, it also helps prevent litter scatter. When the litter box is dirty, your cat is going to have to dig and scratch and search for a clean spot to go. Litter will be tossed everywhere! But if you keep the box clean, then your cat will do a lot less digging and scratching. And don't forget to clean and sanitize the litter box itself on a regular basis to get rid of odor-causing bacteria!
6. Reconsider the Litter
It is a well-known fact that some cat litters track more than others. I personally have found that many of the lightweight litters tend to track much more than heavier ones. Of course, cats can be very picky about the type litter they use, so just make sure you find one your cat likes and stick with it.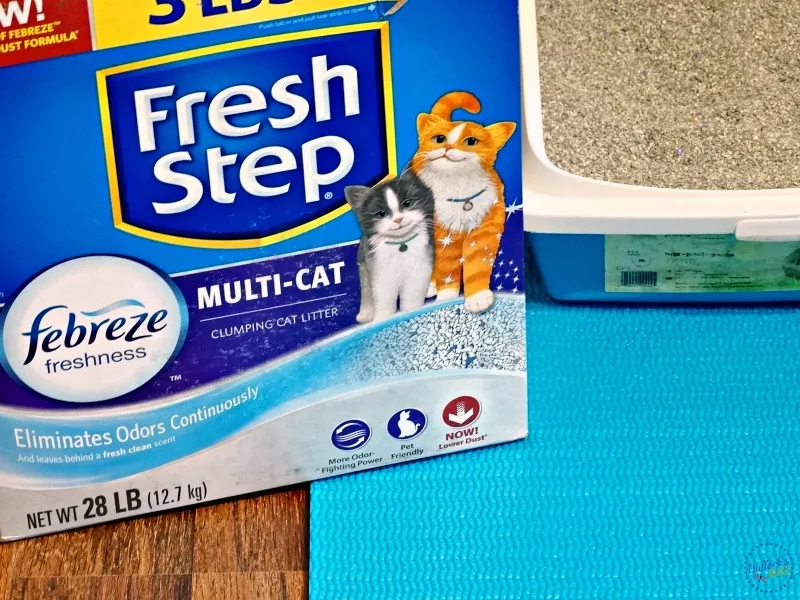 My cats prefer Fresh Step® with the power of Febreze™. Not only is it a bit heavier than some of the other scoopable litters I've tried (less tracking!), it also does an amazing job of controlling odor. You see, unlike other odor control litters, Fresh Step with Febreze Freshness actually works to eliminate odors instead of just masking them. Plus, with ClumpLock® Technology, both liquid and odor get locked in on contact forming tight clumps that are easy to scoop away. In fact, Fresh Step with the power of Febreze works so well, it comes with a 10-day odor control guarantee! Our litter box is practically #unsmellable!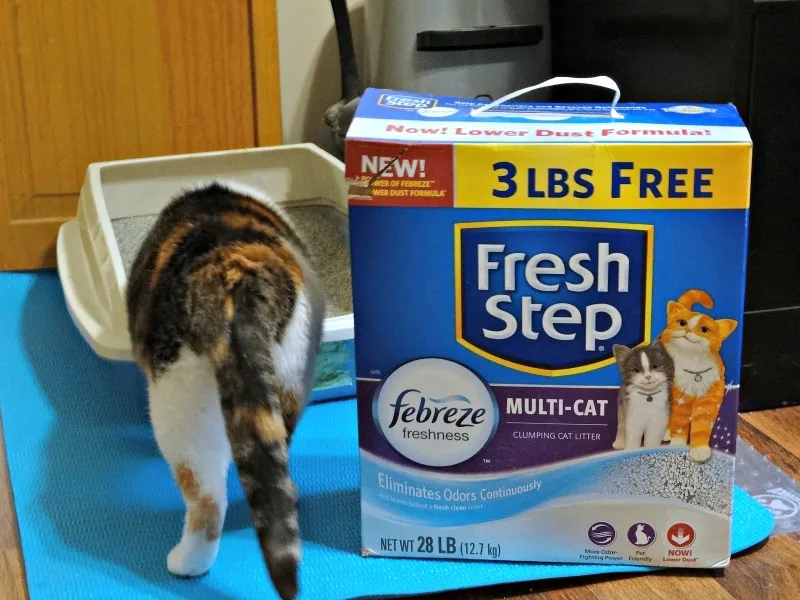 The next time you are at your local PetSmart, pick up some Fresh Step with the Power of Febreze and see how well it works for you! Need to find a store near you? Use the handy PetSmart store locator!
Although there is no way to keep 100% of that litter in the box where it belongs, using any one or a combination of these simple ways to cut down on cat litter tracking will definitely help reduce the amount of litter scatter and tracking in your home. Let me know which one(s) work for you!

Get Social with Fresh Step: Facebook | Twitter | Instagram
What are some of the ways you cut down on cat litter tracking? Share with us below!
This is a sponsored conversation written by me on behalf of Fresh Step. The opinions and text are all mine.