Decorating the interior of your house is an exciting prospect but what about the exterior? Just as your bedrooms and living room require proper lighting and decoration, your backyard, garden, and patio also need the same attention! With the right lighting, your patio or deck can become a gorgeous extension of your indoor space. Here are 7 patio lighting ideas to take your outdoor space from meh to wow!
If you're confused about what kind of lighting to choose from, don't worry. The global outdoor lighting marketing size is expected to reach $22.6 billion by 2031. So, you'll have no problems finding tons of options to discover the perfect lighting.
And today, I'm sharing all the amazing patio lighting ideas that can completely change your home decoration game!
1. Recessed lighting
If your outdoor space is covered, recessed lighting can be a good alternative if you're not willing to install lights that look too prominent.
These lights not only look minimalist and neat, but they also provide a warm glow to your porch or patio. In addition, you can install recessed can lights built right into your porch or deck's ceiling.
White high-hat recessed lights look great on white shiplap ceilings, and you only notice the lights when switched on. This is perfect for soft, romantic candlelight dinners on the patio.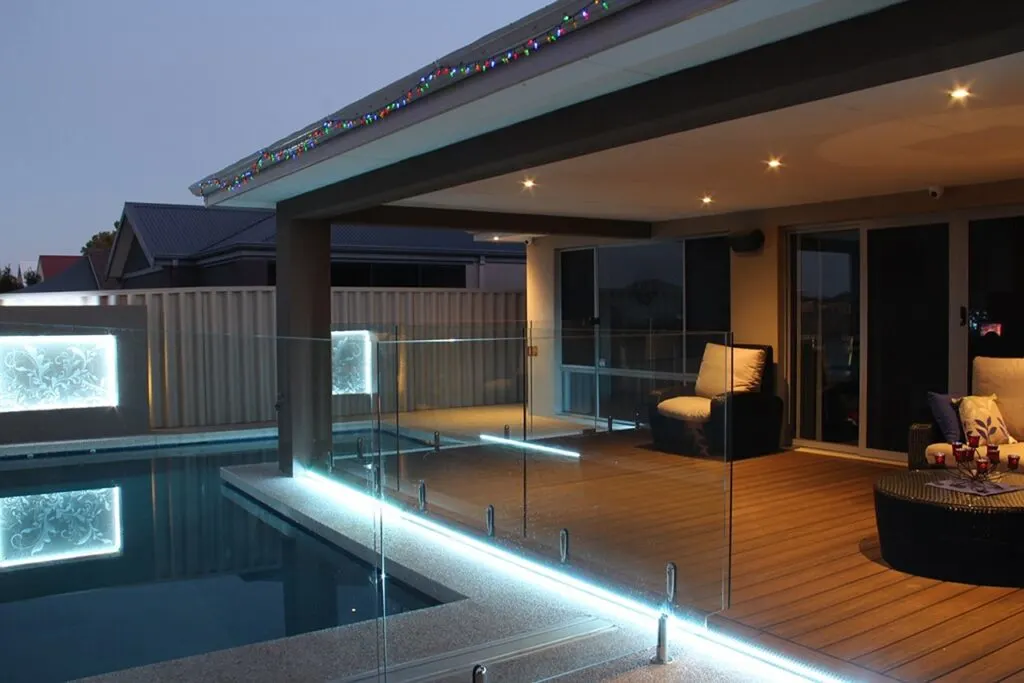 2. Chandelier
On the other hand, if you want to go all out on your patio lighting, there's no better way to do this than by hanging a beautiful chandelier.
The chandelier's shape and shimmer will, of course, depend on your preferences, but most of them will be enough to give off a strong glow, especially if your patio is medium-sized.
You could even hang it from a tree branch and decorate it with small pendant lights to make your patio look dreamy.
If you want to find the perfect type for your patio, try to shop pendant lights and small-to-medium-sized chandeliers at online stores first.
3. Globe string lights
Globe string lights are the ideal choice if you want to go for a budget-friendly option. Not only do these lights look amazing at night, but they're also quite soft on the eyes.
Be sure to measure the strand's length properly before you hang them. For example, if you plan to install the globe lights in a zigzag fashion, you'll need a much bigger strand.
Alternatively, you can buy LED-powered lights that can be hung from the strings. LED lights are more affordable and last longer than conventional ones.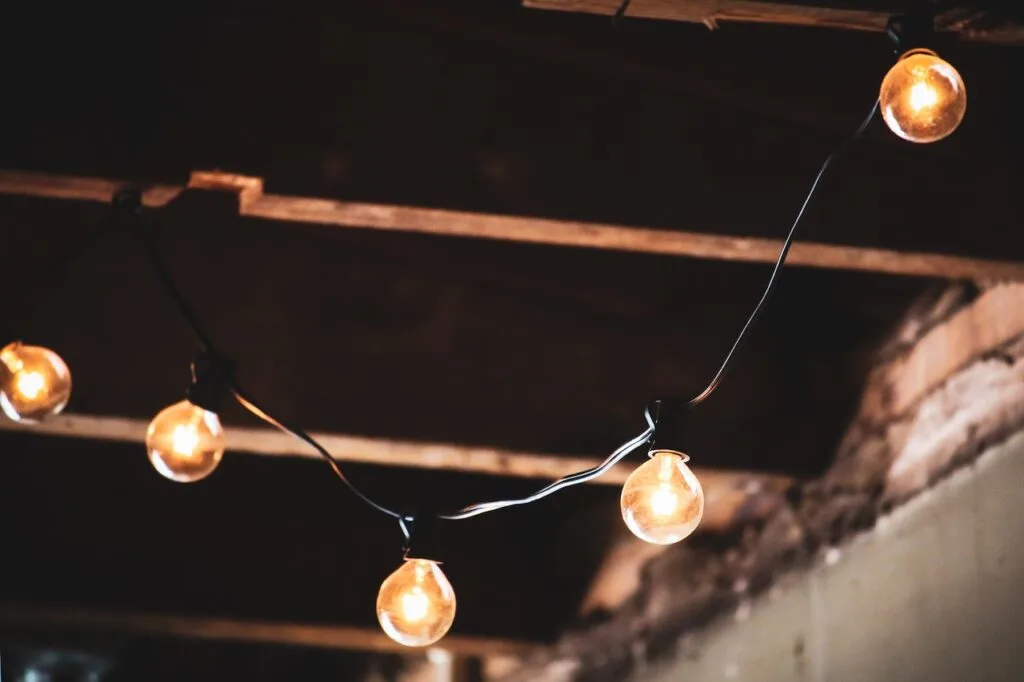 4. Paper lanterns
For the ones who feel whimsical and adventurous at the same time, paper lanterns can be just the right pick.
These lanterns cost less; if you're good at craft-making, you can even make paper lanterns at home.
Whether you're planning to entertain your guests with quirky ideas or host an evening barbeque session, paper lanterns can add a different charm.
Hang these lanterns on the branches of trees and make sure that different lanterns have different sizes.
5. Overhead track lighting
Overhead track lighting is mainly installed in patios with a large outdoor space connected to the house.
This lighting is integrated into the ceiling so the entire patio space lights up.
Alternatively, if you have a large decorative pillar on which you want to lay focus, then consider placing the track lighting in a nook next to the head of the pillar.
You may even place a dimmer so the outdoors is always lit up aptly.
6. Hurricane candles
If your outdoor area has an outdoor kitchen counter or a cute little gazebo, you must go for hurricane lanterns.
These candles scattered all around the patio, especially on the kitchen countertops, deck rails, or tables, bring forth a burst of light and fresh energy even when it's quite dark outside.
For the ultimate effect, buy small hurricane candles and lay each one on the steps of the stairs leading from your patio to the house or from the main gate of your house to the patio.
7. Layered lights
No matter how much thought you put into your patio lighting, you never know which lighting will look best at what time.
For example, soft lights go well during sunset, but you'd want the light to be stronger when it's completely dark.
So, having a variety of options is useful. For example, put a sconce outside the patio door for safety purposes and install motion-activated spotlights in the darker areas of the yard. You can even install dim torches at the edges of the patio.
Over to you…
These beautiful patio lighting ideas are sure to make your outdoor space look irresistible. So go ahead and try these tips out for yourself!