Can you believe Summer is already halfway over? It seems as though the kids just got out of school, and now it's already time to start thinking about going back! Back to School is not only the second largest shopping season of the year, but it's also one of the most expensive! Here are eight simple ways to save on Back to School shopping!

How to Save on Back to School Shopping
Shopping for school supplies seems like it is getting more and more expensive every year. It also seems like school are requiring more supplies the higher grade level your kids go. To help you out, here are 8 ways I use and have found effective to save money on back to school shopping.
1. Make a List and a Budget
I find it helps me to make a list of exactly what we need. First, gather any back-to-school supply lists from your kids' schools, and make sure to add the clothing and any extras they'll need. With this list in hand, it'll be much easier to see exactly what you need and how much budget to set for each category.
2. Shop at Home
Look around your home and round up all of the school and office supplies you already own. Make sure you look in the kids' rooms, last year's backpacks, closets, desk drawers, and storage bins. Put everything on the kitchen table or some other central location so you can see exactly what you have. Don't forget to mark off everything you no longer need to buy from your shopping list.
3. Use Coupons
Back-to-school clothing and supply sales usually start appearing in mid-July through the end of August. This is also when most brands begin offering coupons on their back to school items, and the best place to find them is your local Sunday paper. Be sure to use those coupons in conjunction with sales to get the biggest and best bang for your buck.
And don't forget about your mobile device. Sometimes stores offer a 'Text to Get Coupon' promotion where you can receive coupons on your mobile device.
For even more savings opportunities, "like" and follow your favorite stores on Facebook and Twitter to learn about sales, coupons, and contests.
4. Shop Multiple Stores
Another great way to save on back to school shopping is to avoid falling into the trap of buying everything you need at one store in one shopping trip simply for convenience. While you may save on some items that are on sale, you are going to wind up paying full price for a lot of other stuff. Instead, plan on starting early and begin watching the sales flyers right now. When you see items on your list go on sale, go buy them. Since you started early, you'll have plenty of time to make purchases when the price is right.
Additionally, some of the best back-to-school deals you'll find are not going to be at Walmart or Target. Surprisingly, office supply stores like Office Depot, Office Max, and Staples have some amazing back to school deals. So keep a close eye on those sales flyers from office supply stores.
5. Price Match on Sold Out Items
Keep in mind that many stores offer price matching. Let's say you're shopping at Office Depot and they are sold out of their 35-cent boxes of crayons. Simply take their ad to your local Target or Walmart, and as long as it's a brand they also carry, they will price match the deal.
6. Buy in Bulk
Buying in bulk is another great way to save on back to school shopping. When glue, pens, and crayons go on sale in the late summer, buy enough to get you through the entire year. If you have a membership to stores like Sam's or Costco, consider buying the supplies in bulk and then dividing them up between two or three families. You can all pool your money to buy the supplies, then divide them equally.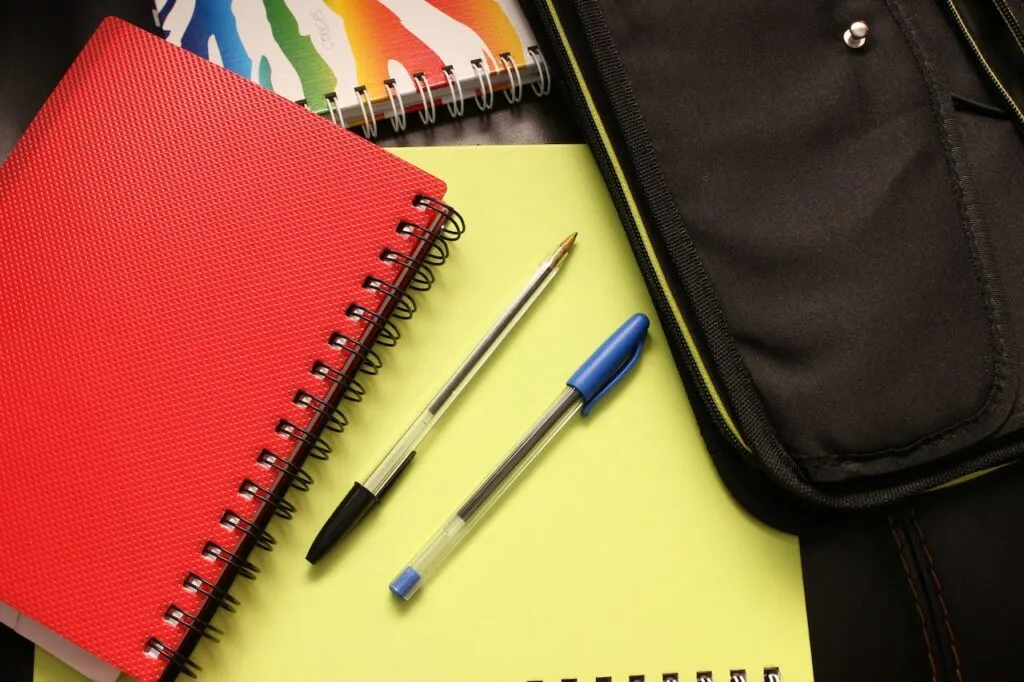 7. Shop During Your State's Tax Holiday
Many state and local governments offer special tax-free shopping periods with back-to-school shopping in mind. Check this list of tax-free shopping dates to find out when your state is participating and links for more information such as which items are exempt.
8. Use Gift Cards or Cash Instead of Credit Cards To Shop
One little-known way to save on back-to-school shopping is to use gift cards or cash instead of credit cards to pay for purchases. This ties in with number one on our list, making a list and budgeting.
When you pay for supplies with credit cards, it's harder to keep an eye on your funds and keep up with what you are spending. Plus, you will have to pay interest on your purchases if you are not able to pay off your card every month.
By paying for supplies with gift cards or cash, it's easier to keep an eye on your funds and stay within your budget. Plus, since most gift cards don't have an expiration date, you can stock up now and use them for all sorts of things later!