May is a celebration of all things Mom. A celebration of all she does to keep her family together, healthy, and happy.
And what better way to celebrate than with Superior Source Vitamins.
Vitamins are an excellent source for keeping Moms and us all healthy!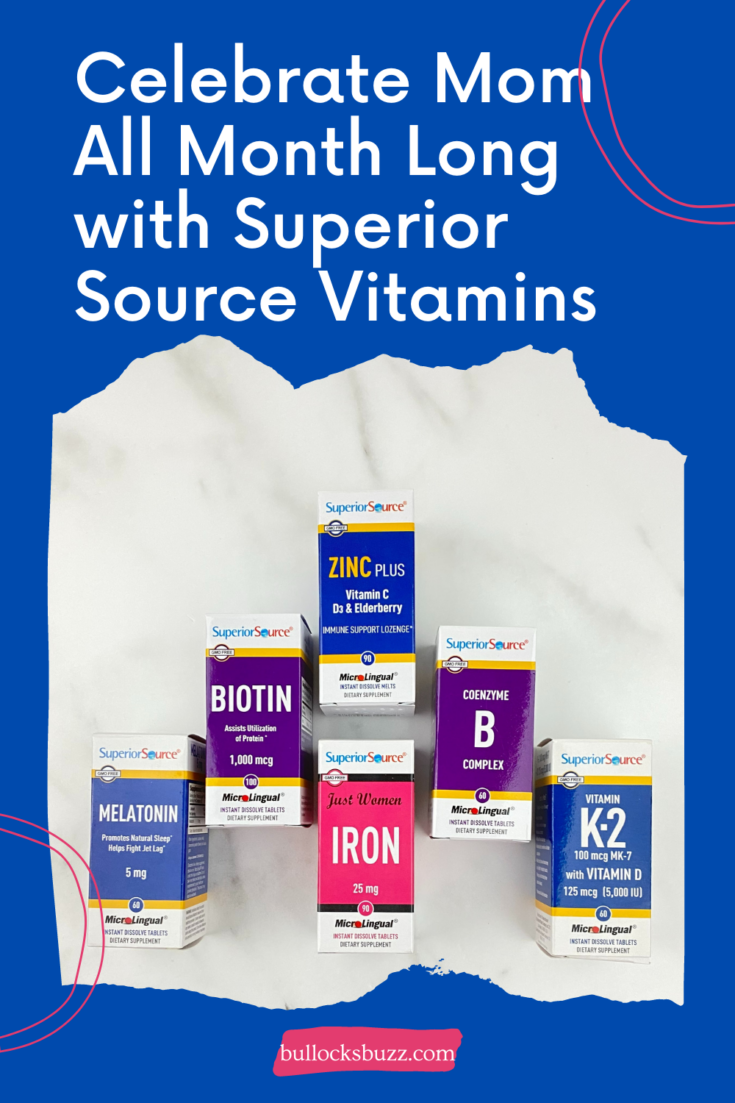 Superior Source Vitamins are an excellent vitamin choice to do just that….keep you healthy!
Last month, I shared about how I've been taking Superior Source vitamins and how much I like them. Unlike other vitamins, Superior Source are MicroLingual® – also known as "Under the Tongue Technology" – which basically means these TINY vitamins dissolve under the tongue.
They dissolve in seconds and are quickly absorbed into the body.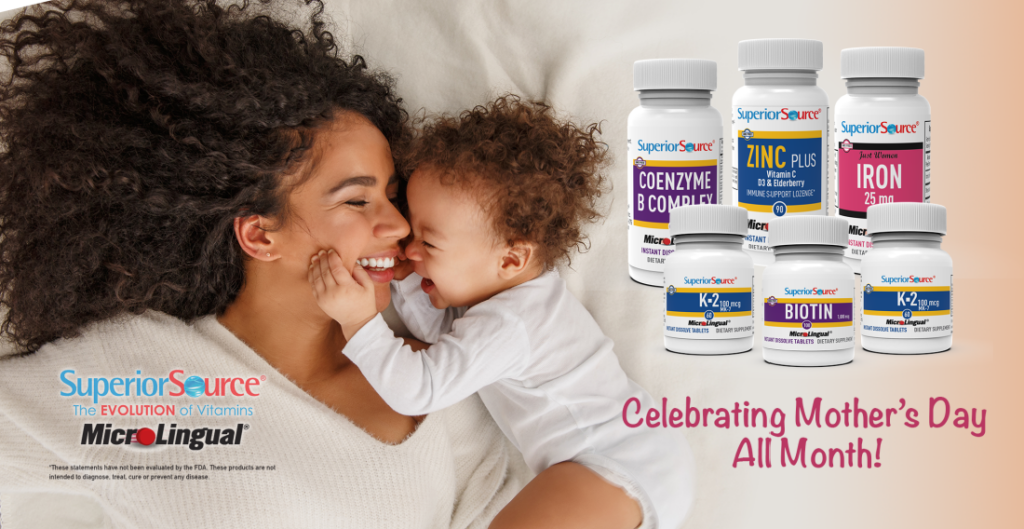 What Makes Superior Source Vitamins Unique
Having to swallow a huge pill is one of the reasons I avoided taking vitamins for the longest time. Plus, supplements that are consumed lose as much as 50% of the potency in the stomach's high acid environment of the stomach.
With Superior Source, the vitamins dissolve in seconds and are quickly absorbed into the body without losing their potency. But that's not the only thing that makes them so unique. They are also:
Non-GMO, Gluten-FREE, Sugar FREE
90% smaller than regular vitamin
Contain NO chemical binders and NO excessive fillers
Preservative FREE, Dye FREE
Have no coatings
Contain NO additives
Have NO magnesium stearate or silica
Clean and pure – the way nature intended!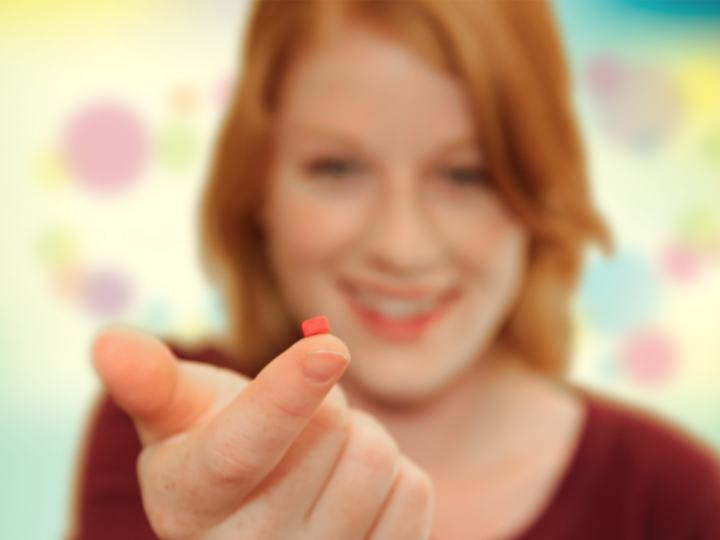 Superior Source Vitamins Offer Variety
Superior Source offers a wide variety of vitamins and supplements. So if you're looking to put something special together for Mom, you'll have plenty of options to work with.
Some of my favorite include:
Zinc Plus
Zinc is an essential mineral required by more than 300 enzymes for the support of multiple functions and systems in the human body. In addition, studies have indicated that zinc promotes recovery from the common cold and supports immune health. Superior Source Zinc Plus tablets are formulated with vitamin C and Elderberry as added protection for your health.*
Just Women's Iron
As us women know, Iron is an absolute must for our health. Superior Source Just Women's Iron helps maintain optimum levels of iron in women. Ferrous fumarate helps restore iron levels in the body when levels are low. The ferrous fumarate salt may help reduce the chances of getting gastro-intestinal problems which are sometimes associated with other iron salts.*
Coenzyme B Complex
Superior Source Coenzyme B Complex provides the nutrients that support energy production and optimal health. Folate promotes the production and maintenance of new cells and supports nervous system health and energy metabolism. The combination of Vitamin B-12, Vitamin B-6 and Folic Acid works synergistically to support healthy heart function and provide essential nutrients for the cardiovascular system.*
Melatonin
Did you know that your brain can have a melatonin deficiency due to jet lag, anxiety, depression, blue light exposure, or stress? Melatonin acts as a natural aid for healthy sleep regulation and the promotion of normal sleep cycles during travel. Chamomile is an herb that works together with melatonin to promote calmness and restfulness. Our melatonin sleep formula primes the mind and body to relax and drift back to a natural calm.*
K2 MK7
Vitamin K is what helps support normal blood clotting and the formation of prothrombin.*
Biotin
Biotin helps to maintain healthy blood sugar levels, promotes nail and hair strength and supports cell growth.*
*These statements have not been evaluated by the FDA. These products are not intended to diagnose, treat, cure or prevent any disease.
Where Can I Find Superior Source Vitamins?
Superior Source MicroLingual® vitamins and all other Superior Source Vitamins can be found at many of your favorite retailers both online and in-store including Amazon, iHerb, Vitacost, and Lucky Vitamins, as well as the others listed below.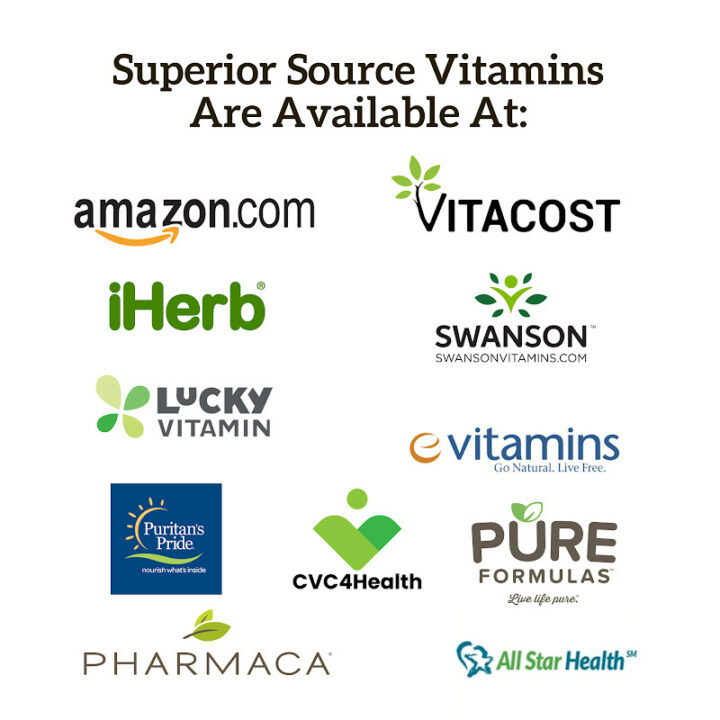 You can also use their handy store locator tool to find a retailer near you.
GIVEAWAY
Enter to win a One SSV Vitamin 6-Pack! ($75 Value). Enter using the giveaway tool below. This giveaway is open to USA residents ages 18 and up. Giveaway will end on June 1st, 2021, at 12 am Central Time.
Prize includes:
Zinc Plus
Just Women's Iron
Coenzyme B Complex
Melatonin
K2 MK7
Biotin
GOOD LUCK!