2012 Holiday Gift Guide Selection
The Dead Sea. For hundreds of years people have been drawn to this natural spa to take advantage of its salt and mineral rich waters. Waters that are proven to be effective in treating skin disorders such as psoriasis, rheumatism and acne, waters that are known to have healing, beautifying and rejuvenating powers. Why are the waters of the Dead Sea so healing? It has to do with the amount of salt and minerals. Minerals which provide protection and strengthen cell membranes against dehydration and environmental hazards.
As people age, the level of minerals in the body is depleted, and since the body no longer produces minerals on its own, they must come from an outside source. The Dead Sea has 21 minerals, 12 of which are found in no other sea, minerals that are extremely beneficial to the body such as Magnesium, Bromine, potassium, Calcium, Sodium, Zinc, Sulfur and more. These minerals have been scientifically proven to contribute largely to your feeling and looking your best. Since there is no outlet for the water in the Dead Sea, when it evaporates it leaves behind all of these mineral rich salts on the shores and the bottom, and these are what are found in Dead Sea Spa Care products.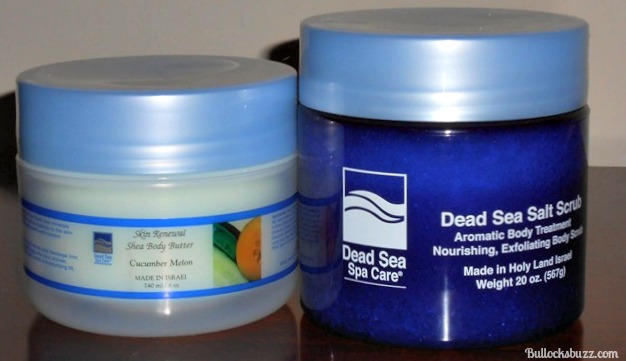 Dead Sea Salt Spa
Recently, I had the opportunity to try two of their wonderful products, the Skin Renewal Shea Body Butter in Cucumber Melon and the Aromatherapy Dead Sea Dry Salt Scrub, both of which are sold together in a Home Spa Pampering Set or separately.
Skin Renewal Shea Body Butter
What They Say: Shea Butter has been known for ages as being the world's best moisturizer, especially for extremely dry skin. It will leave even the roughest skin silky soft and smooth. Some benefits are: the prevention of redness, dryness, peeling and cracking skin; melts instantly on contact to soothe and moisten; minimizes signs and reactions of sensitive skin, won't leave a greasy feeling; Shea Butter is recognized to reduce stretch marks, soothe eczema and psoriasis. Available in 5 wonderful scents, and a variety of sizes.

What I Say: This extremely thick and creamy body butter has a fresh, clean melon-like scent. It is a light green in color, and it takes just a tiny amount to go along way! I find that if you put it on right after your shower, while you are just slightly damp, it works even better! It is instantly absorbed, and does not leave a greasy or oily feeling. Instead skin is soft, soothed and silky. Since I began using this product, I have noticed a huge improvement in the dryness of my skin. Areas that used to be dry and rough feeling, are now moisturized and feel smooth and soft.
Aromatherapy Scrub: Dead Sea Dry Salt Scrub
What They Say: This jar of Dead Sea Salt is formulated with minerals from the Dead Sea which exfoliate and soften skin. These salts are very dry and absorb essential oils with ease which allows them to be released when they dissolve in water. We use Sweet Almond Oil, Vitamin E, Grape Seed Oil, Avocado Oil and Sesame Seed Oil to infuse the skin with much needed minerals and nutrients while exfoliating the top layer. This Salt Scrub will not only exfoliate and hydrate your skin, but will leave it with a healthy, youthful glow, and a wonderful scent.
What I Say: These salts are simply heavenly! When I first opened the jar, I caught a whiff of a very earthy, ocean-salt aroma, which I love. I like to use this once or twice a week while in the shower, or whenever I feel like spoiling myself or wanting to look my best for my husband. It is very easy to use, just take some salts in your hand and gently rub over your skin in small circles, then rinse! Be careful not to rub too hard! Since this is salt, it will start 'melting' while you rub it on your wet skin. Be very careful not to let any water get into the jar or you will have a melted mess. The salts rinse away quickly, and leave my skin incredibly soft and silky. They are available in 5 different scents, and a variety of sizes.
My Opinion
Both of these products provide all I need to pamper and care for my skin so it is left feeling and looking soft and healthy, just like I came back from a day at the spa! I highly recommend them, together or separate, for any one who loves treating their skin and their self to a wonderfully relaxing and rejuvenating experience! These would be an deal gift for the upcoming 2012 Holiday Season! As I mentioned, you can get these as a Gift Set for only $46.95, or separately at various prices depending on the size.
Dead Sea Spa Care sells many other wonderful beauty products which allow you to have your own spa-like experience in the privacy of your home. They also sell products for hair care, nail care, facial products and other bath and body products, and they ever offer a line of Judaica gifts such as Menorahs and Mezuzahs. With the holiday season fast approaching, Dead Sea Spa Care would make a perfect addition to your list of gift ideas for that special person, or even as a treat to yourself! Their products can be purchased directly through the site at https://www.deadseaspacare.com.
GIVEAWAY HAS ENDED
One lucky Bullock's Buzz fan will get to indulge herself or a friend in a luxurious treat, thanks to the generosity of Dead Sea Spa Care! Enter the Rafflecopter below to win a Home Spa Pampering Set just like the one I have! You will be so glad that you did! PLEASE make sure to do all mandatory entries or you will be disqualified. These will be the first 4 entries on the Rafflecopter. Remember to do the others as well, because the more your do, the better your chance to win! This giveaway will begin tonight at 12:01am EST and will end at 12:01am EST on October 15.
GOOD LUCK!!