This shop, featuring a DIY Fabric Covered Tray, has been compensated by Collective Bias, Inc. and its advertiser. All opinions are mine alone. #WorryFreeMessFree #CollectiveBias
Bright & Cheerful DIY Fabric Covered Tray
Have any old cookie sheets lying around? Instead of throwing them away, why not get more use out of them with this super simple DIY Fabric Covered Tray!
I've been wanting to do something with my old cookie sheet for several months now. I've gotten many years of use out of it, and hated to just throw it away. As it turns out, this bright and cheerful DIY Fabric Covered Tray is the perfect solution! And it was such a fun and easy project that I am kicking myself for not doing it sooner!
Ready to see how to make this bright and cheerful fabric covered tray?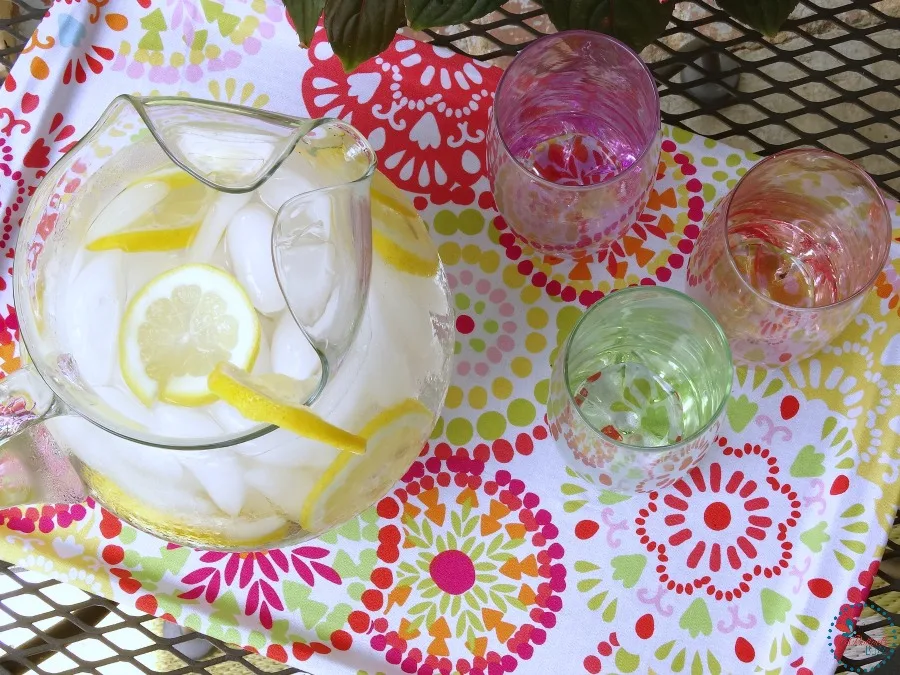 How to make DIY Fabric Covered Tray
To make this DIY Fabric Covered Tray you will need:
old cookie sheet
Scotchgard™ Fabric & Upholstery Protector
brightly colored fabric
spray adhesive
scissors or pinking shears
plastic knife
Mod Podge (optional)
sponge brush to apply Mod Podge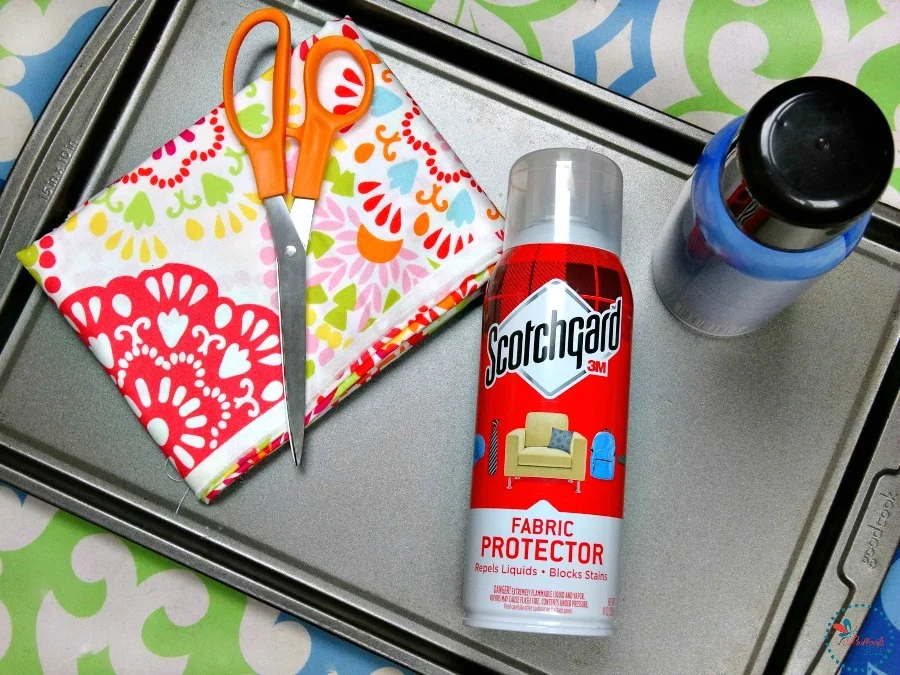 Directions to make the Fabric Covered Tray
Begin by cutting a piece of fabric large enough to cover the front of the tray and wrap around the back. When cutting, don't forget to account for the dip around the edges.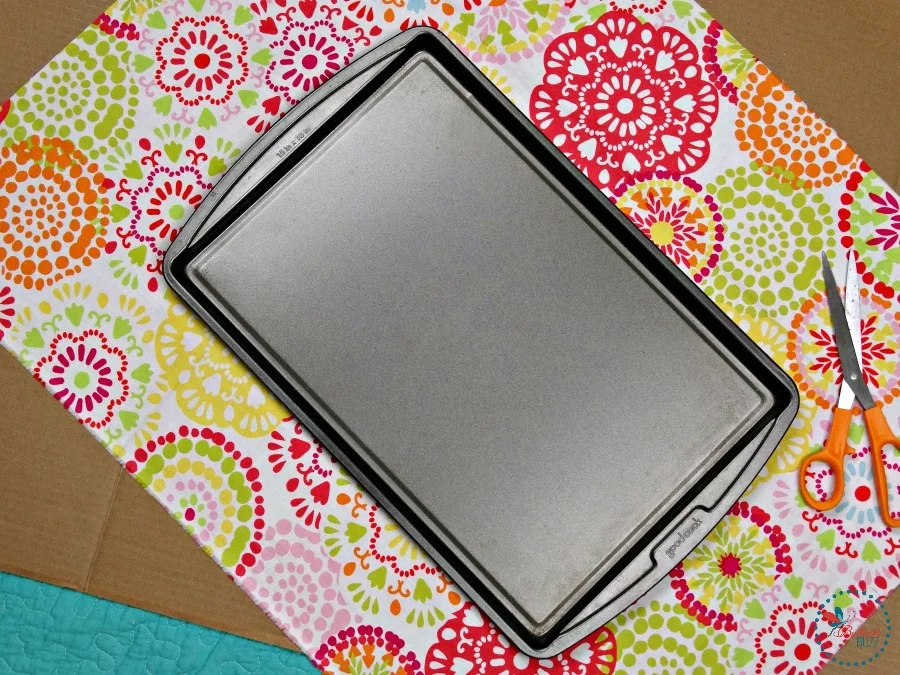 Next, cover the front of the tray with a light coat of spray adhesive. Carefully lay the fabric in place, smoothing out any wrinkles or air bubbles as you go. Make sure to get the top edge and outer sides of the pan as well, wrapping the fabric around, pulling tight and smoothing into place.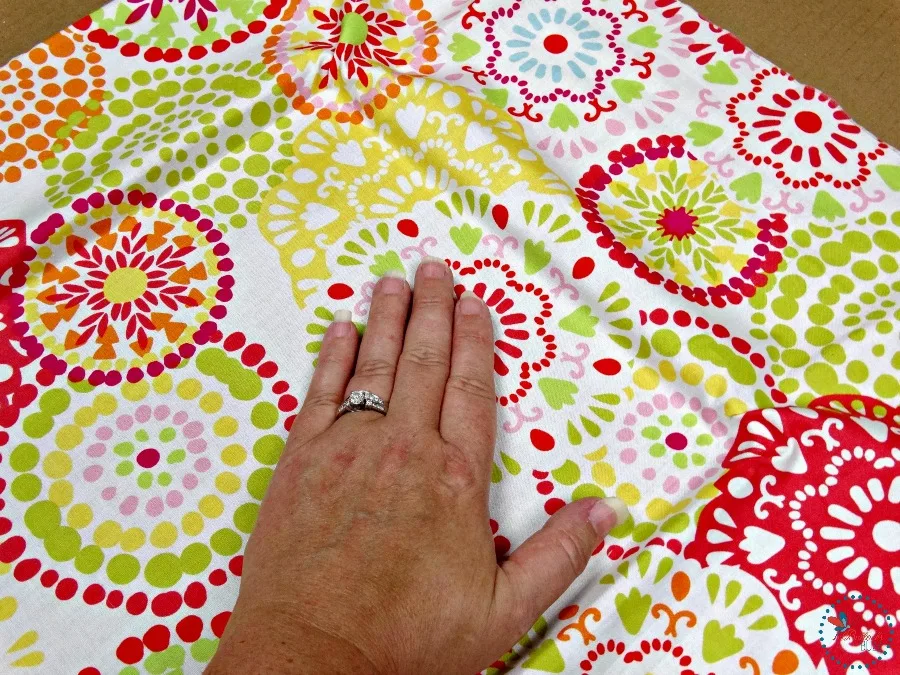 Now that the front is done, it's time for the corners and the back. Flip the pan over, and trim away any excess fabric on bottom. Coat the bottom of the pan with spray adhesive, and then smooth the fabric in place. Don't worry if the edges of fabric don't meet. You can always measure and cut another piece of fabric to cover the entire bottom, or even glue some felt on to make your tray slip-proof.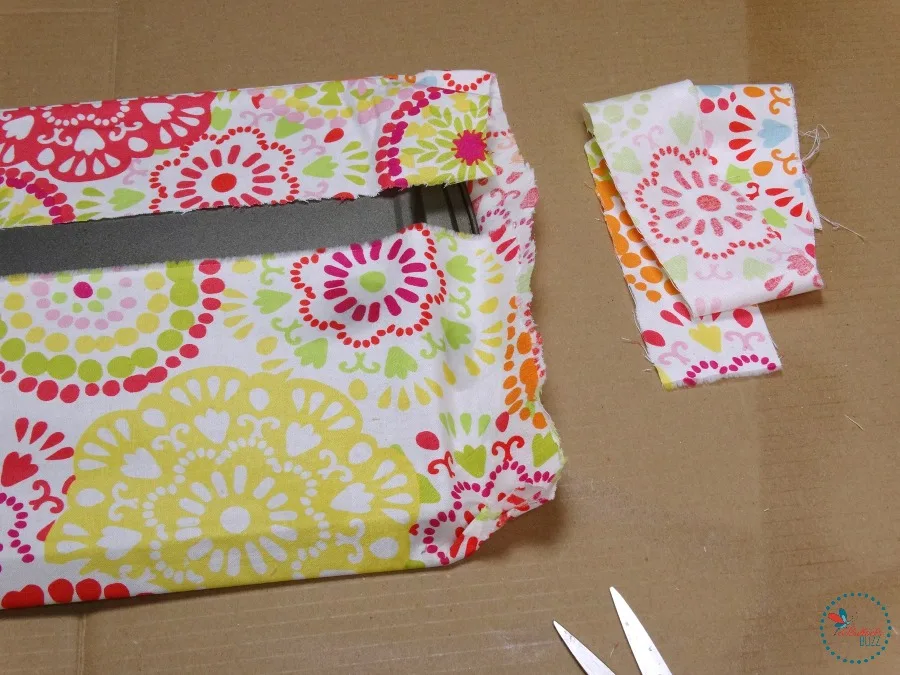 For me, the hardest part of this project was the corners. While there are plenty of ways you can do this, I chose to fold them like you would with wrapping paper. Figure out which way works best for you. You may have to cut excess fabric; I did. Use the adhesive to glue the corners down.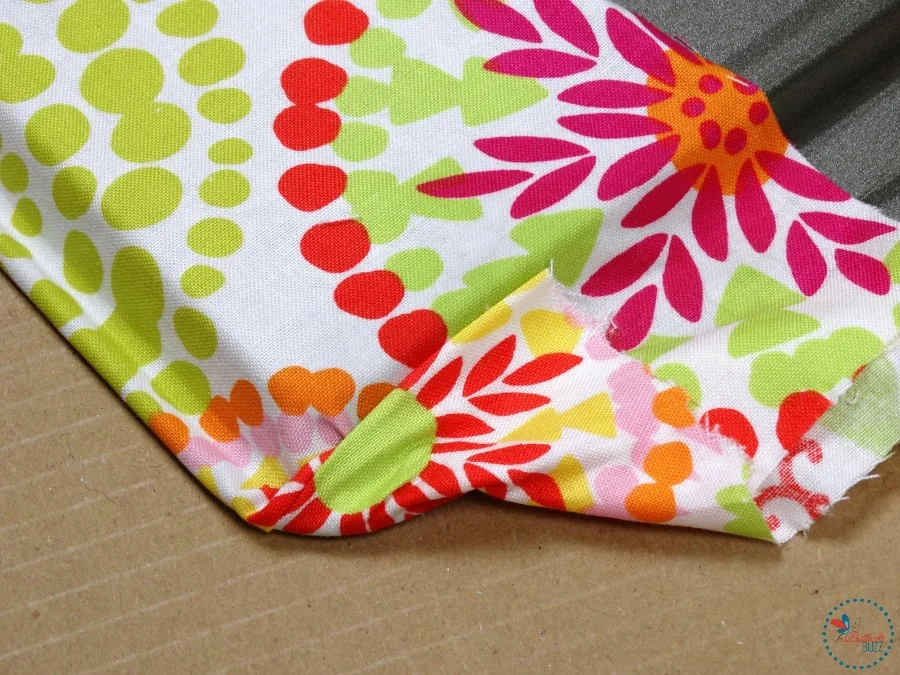 Although this next step is optional, I chose to apply a bit of Mod Podge to the back side and the corners for a little extra stick. It worked perfectly! After applying, let dry completely.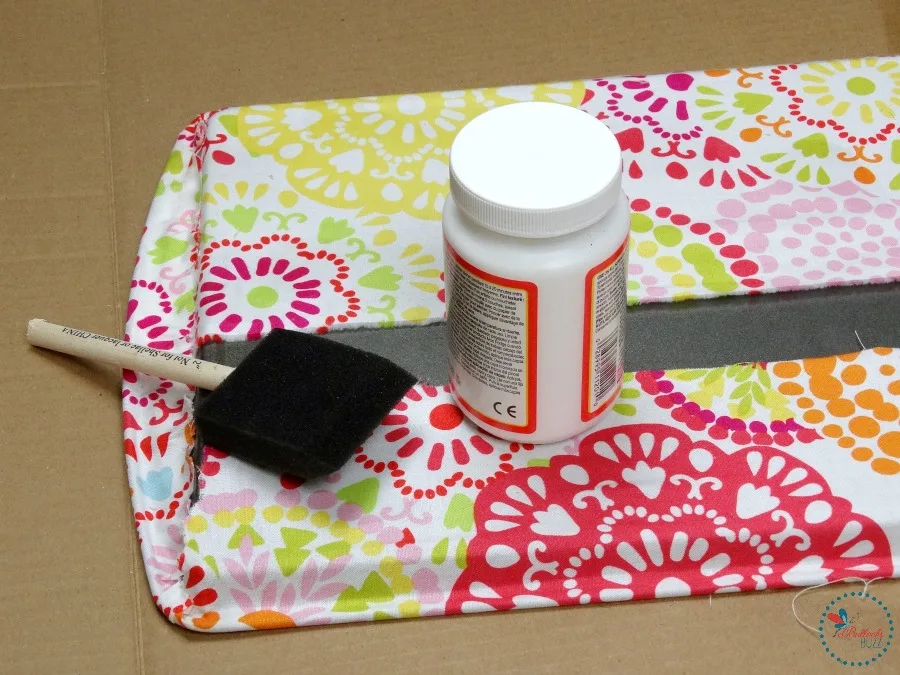 Now, there is one more important step to do – protect the fabric from accidental spills and stains by giving it the full Scotchgard™ Upholstery & Fabric Protector treatment.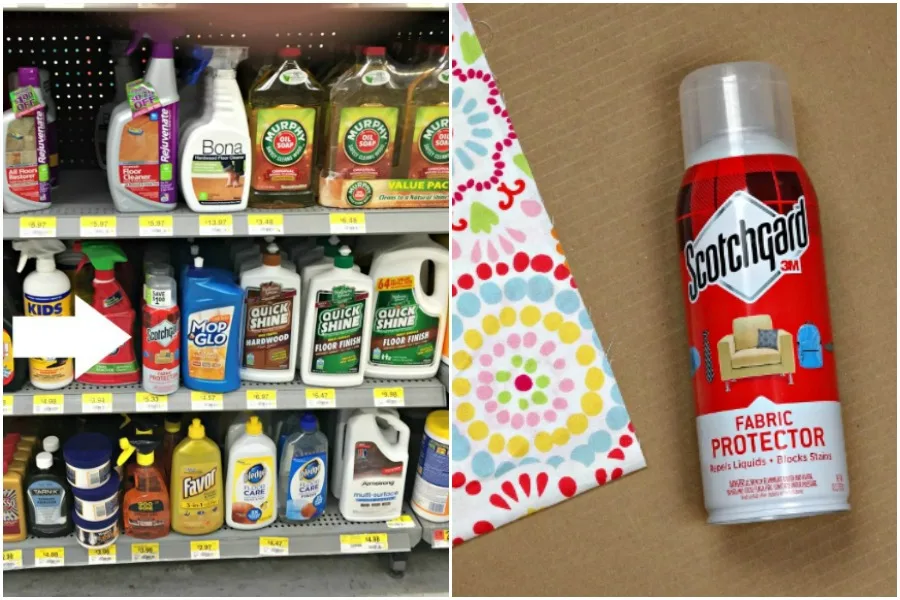 You can use it to protect your furniture and almost any fabric that is in your home. Curtains, furniture, backpacks, clothes, table clothes and throw pillows are just a few of the items you can use it for. It blocks stains and doesn't change the look or feel of the fabric.
How to Use Scotchgard Fabric Protector
To use Scotchgard™ Fabric Protector, you first want to protect any non-fabric materials from any over-spray (if it does get on any hard surfaces such as wood or plastic, simply wipe it off before it dries.). I used a large piece of cardboard. Shake the can well, then do a spot test on a hidden area by spraying until wet, then wiping vigorously with a white absorbent cloth. If no color comes off, you are good to go!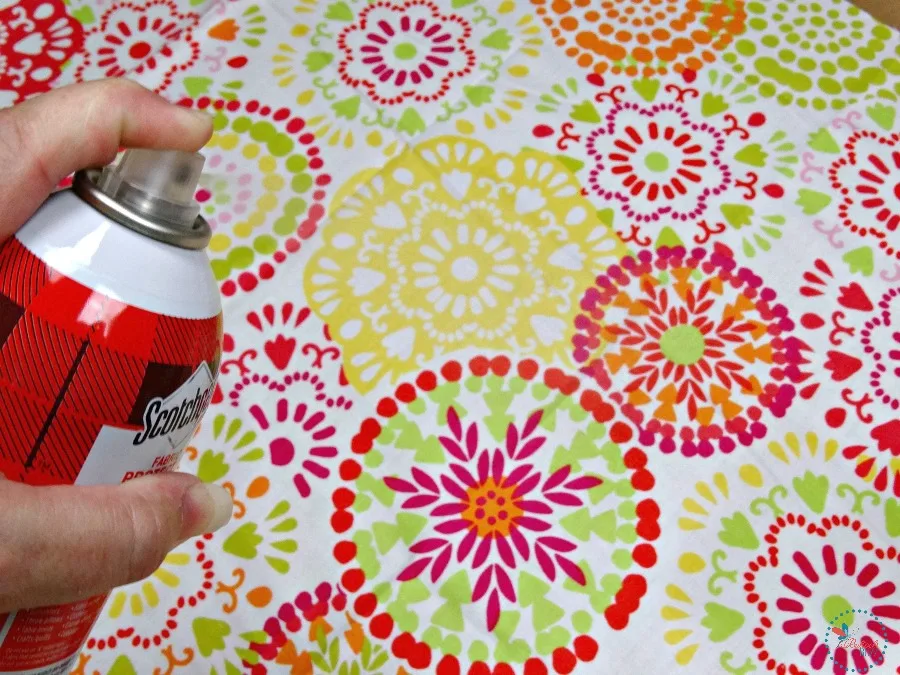 Treat the fabric by spraying about 6″ from the surface with slow, overlapping sweeping motions. Give the first coat a few minutes to dry, then add a second coat. Two light coats are better than one heavy coating. Allow it to dry completely before using your new tray, and remember to reapply seasonally or every couple of months if your tray is frequently used.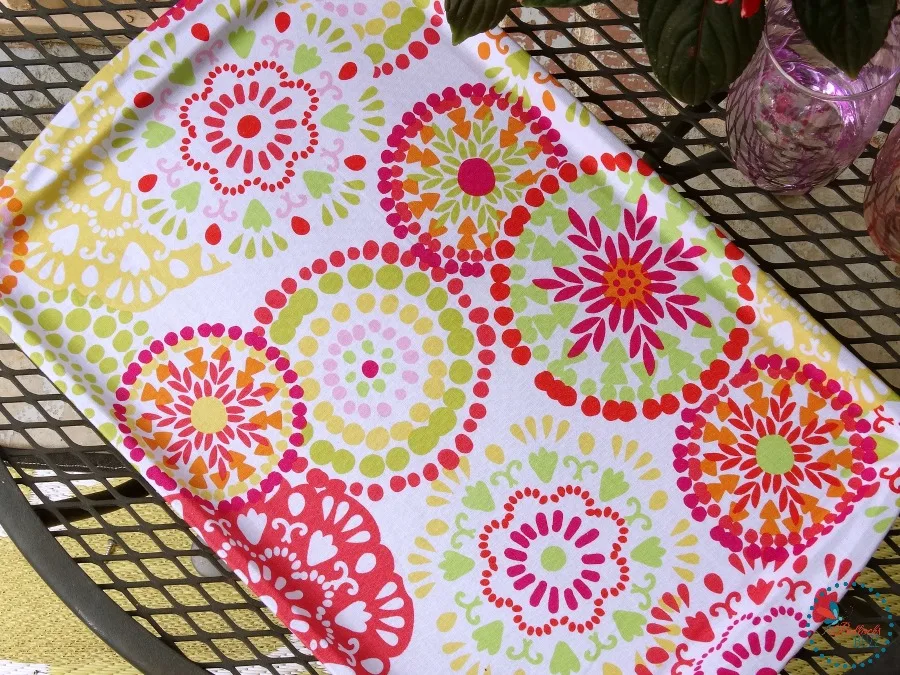 And that's it! Now you have a fun Spring tray that can be used for serving drinks and snacks, as decor or even for a relaxing breakfast in bed!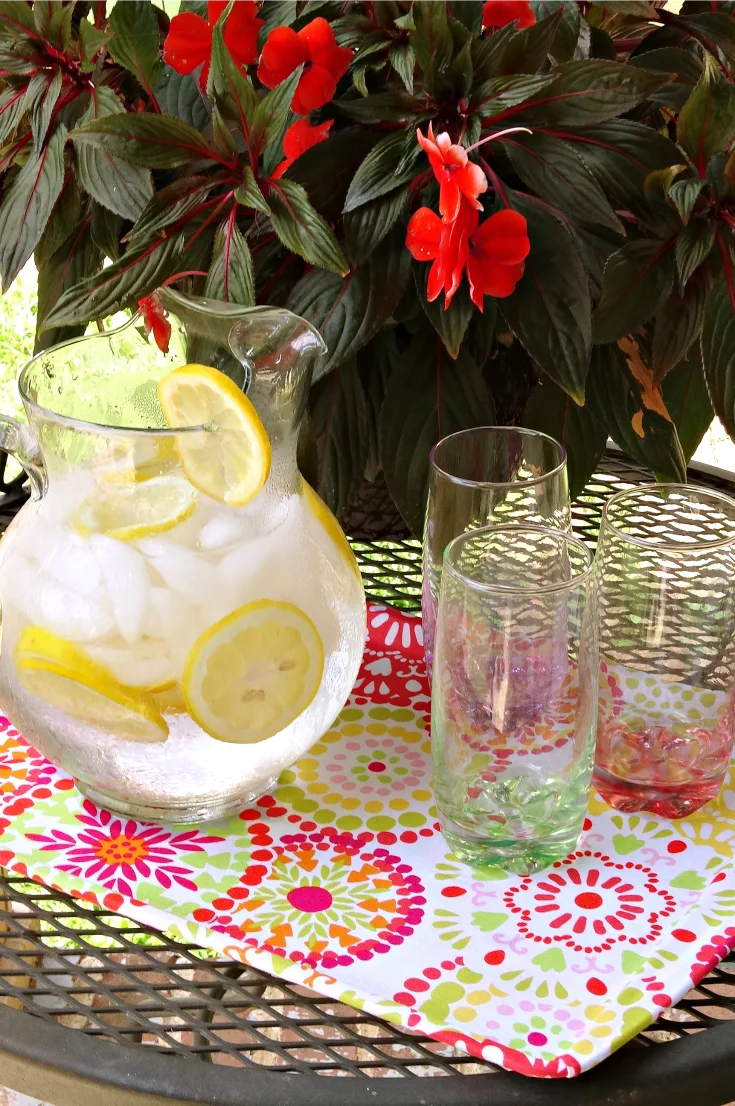 What will you use your DIY Fabric Covered Tray for? Share your ideas in the comments below!