Have you been thinking about remodeling your kitchen but have no idea where to start? Updating your kitchen is a daunting task, and it often comes with a hefty price tag. To help make the process of designing your kitchen easier, here are some creative and easy kitchen updates that will transform the look and feel of any kitchen without breaking your budget!
From trendy tile designs to inventive storage solutions, we'll explore fun ways to update your cooking hub into something special – so get ready for an exciting home improvement project with these 7 simple and affordable tips!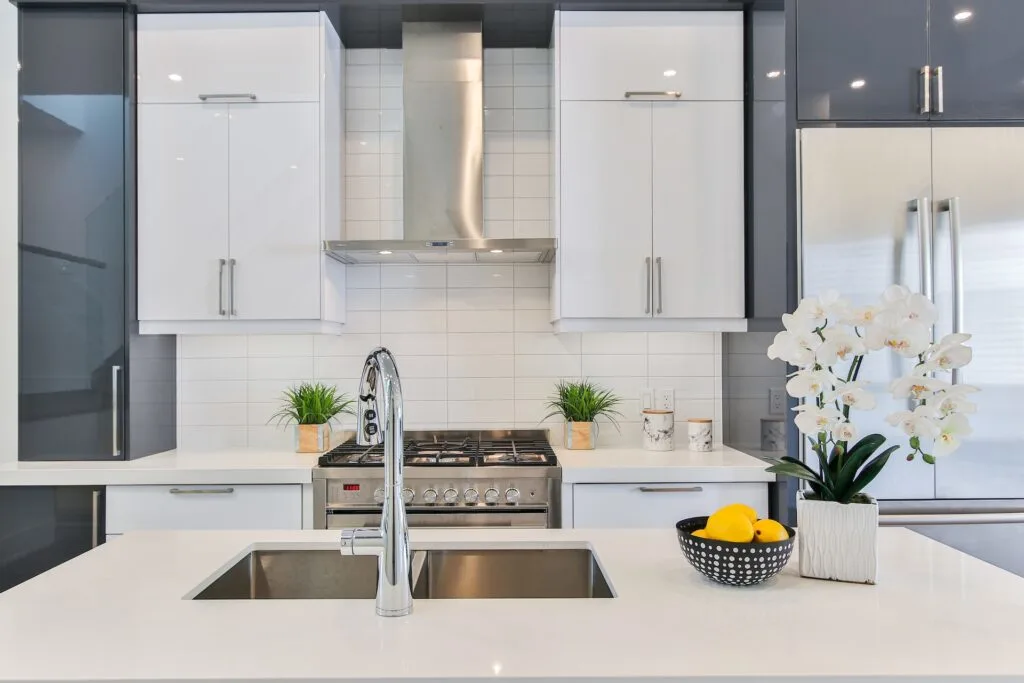 Do some online research to give the kitchen more personality
The kitchen is often considered the heart of the home. It's where family and friends gather to share meals, stories, and laughter. However, sometimes our kitchens can feel a bit dull or lack personality. Fortunately, there are plenty of ways to spruce up your kitchen with just a few clicks of your mouse.
Before buying, do some online searches so you can find inspiration on easy kitchen updates including new decor ideas, unique kitchen gadgets, and even creative ways to organize your space. Whether you prefer a cozy farmhouse vibe or a sleek modern aesthetic, there are countless resources online to help you make your kitchen a space that truly reflects your personality.
1. Hang prints that match the theme of your kitchen
Since your kitchen is the heart of your home, it's where you spend most of your time, cooking, chatting with family and friends, and sharing delicious meals. One of the quickest and easiest kitchen updates is to add some prints that match the overall theme.
By adding some artwork that compliments the overall theme and style of your kitchen, you can elevate the space and give it a unique character. Whether you prefer bold and colorful prints or vintage and rustic pieces, you will surely find something that suits your taste.
Hang them above your dining table, on the wall next to your stove, or on a blank space above your countertop. With the right prints, your kitchen will become an even more inviting and warm place to spend time in.
2. Install fresh new wall tiles in your kitchen
Renovating your kitchen can feel like a daunting task, but adding fresh new wall tiles is one of those easy kitchen updates that will make a huge impact. Your choice of tiles for walls can completely transform the look and feel of the space, whether you want to go for a modern, sleek look or a more classic, rustic vibe.
With so many different styles and colors available, your possibilities are endless. And once your new tiles are installed, you can enjoy the added benefits of a practical and easy-to-clean surface that will brighten up your cooking and dining space.
When it comes to choosing the perfect wall tiles for your kitchen, there is an almost endless array of options to consider. One classic choice is white tiles, which can help brighten up your kitchen and create a clean, timeless look. White tiles come in a variety of shapes and sizes, from traditional subway tiles to larger format tiles or even textured tiles to add depth to your walls.
Mosaic tiles are another popular option for kitchen walls, with their intricate designs and colorful patterns adding a bold statement to any kitchen. Mosaic tiles can come in various shapes and sizes and can be arranged in different patterns to create unique designs.
Fish scale tiles are a newer trend in kitchen wall tiles, featuring a scalloped shape that adds an organic feel to your kitchen. These tiles come in various colors, from neutrals to bold shades, and can create a stunning feature wall or backsplash in your kitchen.
Round tiles are another unique option for kitchen walls, adding a modern and playful twist to your space. They can be used to create eye-catching designs or to add a subtle touch of texture to your walls.
From classic white tiles to bold mosaic patterns, organic fish scale tiles, or playful round tiles, the choices are limitless. Take your time to explore the different shapes, colors, and textures available, and choose the ones that suit your style and personality best.
3. Change out the hardware on your cabinets and drawers
Another of our easy kitchen updates is to consider changing out the hardware on your cabinets and drawers. This easy DIY project can make a big impact on the overall aesthetic of the room, whether you're going for a sleek and modern look or a more vintage vibe.
With so many styles and finishes to choose from, it's easy to find hardware that will fit your personal taste and complement your existing decor. Plus, swapping out old or worn hardware for new pieces can also improve the functionality of your cabinets and drawers, making them easier to open and close.
So why not give your space a quick and affordable update with some new cabinet and drawer hardware?
4. Replace countertops with durable materials
If you're tired of looking at those old and worn-out countertops in your kitchen, it may be time to consider a replacement. But instead of opting for something cheap and temporary, why not invest in a material that will last for years to come?
Granite, marble, and quartz countertops not only add a touch of elegance and sophistication to your space, but they are incredibly durable and easy to maintain. With their natural strength and resistance to scratches and heat, you won't have to worry about constantly replacing them in the future.
Plus, their timeless look will never go out of style, making them a wise investment for any homeowner.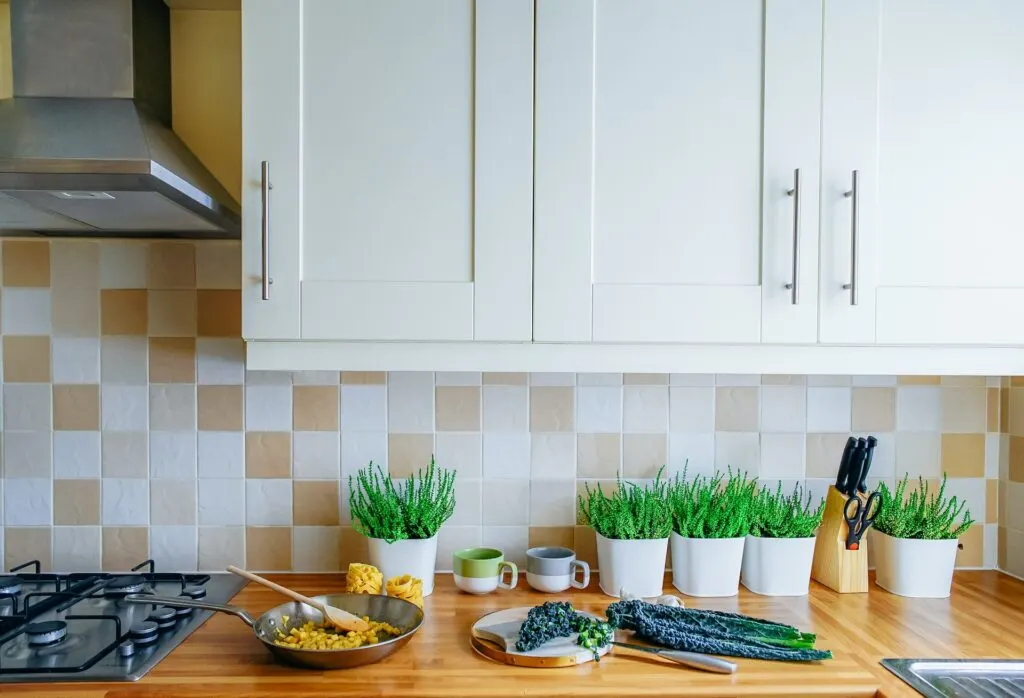 5. Add an island in the middle of your kitchen
Looking for easy kitchen updates that will also add some functionality and style to your kitchen? Consider installing an island! Not only does this provide additional counter space for food prep and cooking, but it can also serve as a hub for dining and socializing. Imagine pulling up a stool at your new island while your loved one whips up a delicious meal, or gathering with friends over drinks and appetizers.
Plus, with the right design and materials, an island can truly elevate the look of your kitchen. Whether you're a seasoned chef or just looking to add a touch of luxury to your home, an island is a smart choice.
6. Repurpose or Add New Rugs
When it comes to easy kitchen updates that have a big impact, consider changing out your old kitchen mats for new ones or repurposing a rug from another room. This is a quick way to add color and pattern to what could be an otherwise plain palette.
7. Brighten with Lighting
Changing out or adding new lighting can take your kitchen from pretty to OMG! Replace those outdated can lights with new LED recessed lighting. Get rid of that 1980s fluorescent tube lamp and put a modern ceiling light in its place.
Add new pendant lights over the sink and kitchen island with beautiful shades. Or if you already have pendant lights, changing out the existing shades can give your kitchen a whole new look.
You could even add under-the-cabinet lighting for cheap by using LED light strips.
Final Thoughts on Easy Kitchen Updates
The possibilities to add personalizations and give your kitchen some new life are just about endless. Even with a limited budget, increasing the personality of your kitchen is possible. From hanging up prints that you love to changing out hardware or countertops, there are many different easy kitchen updates you can do without overhauling the entire room.
By considering these seven easy kitchen updates, you'll have a great start in making more improvements on one of the most important rooms within your home.