Most of us want to keep our cars looking (and smelling) brand new. Want to know the best way to do that? Detail it! Detailing a car goes beyond just a basic wash and vacuum. It means paying attention to every little detail so it all adds up to make your car look amazing. And the good news is that you don't have to spend a fortune to have it professionally detailed, because you can do the exact thing right at home. All you need is a few special tools, a little bit of know-how, and time! Follow the tips below to learn how to detail your car and keep it looking like the day you drove if off your dealership's showroom floor.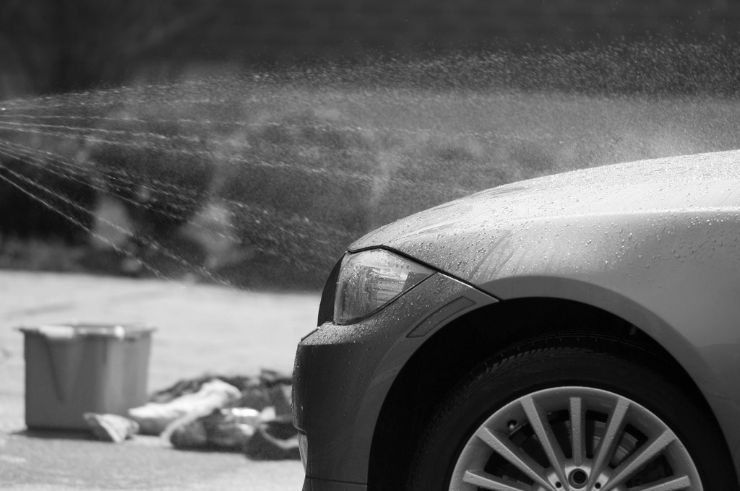 Use the Right Tools  
Believe it or not, many common products you already have around your home can be used to detail your car. Cotton swabs, q-tips, a soft toothbrush, some microfiber cloths and other soft rags, and an artists' paint brush should all be on your supply list. The little items will come in handy when cleaning those little nooks and crannies inside and outside of your car. In addition, you will also need plastic spray bottles, a buffer, a clay bar, canned air to blow dirt and dust out of hard to reach cracks and crevices, upholstery cleaner, carpet stain cleaner, all-purpose cleaner, and a surface protectant for vinyl and leather surfaces.
Keep mind, while most of these may seem like easy tools, how you use them can make all of the difference. So be sure you follow the directions and tips for use provided on the manufacturer's website and watch videos when provided. 
Order  
While people will disagree on the exact order that must be followed to detail your car, everyone agrees it is best to begin with the interior. This includes removing the floor mats, wiping down and and dusting all interior hard surfaces, then vacuuming and cleaning (shampooing) all fabrics including the floor, seats, trunk, rear parcel shelf, and the mats themselves. Don't forget to clean the inside of the windows, the door jambs, the non-cloth parts of the doors, the steering wheel and column, the center console, and the dashboard too. Be sure to get any ashtrays or change and cup holders, too.
Use the compressed air and detailing brushes to get out any dirt and dust from around the buttons and crevices on the doors, in the consoles, and the dash. Once all of the interior is dusted, cleaned and vacuumed, follow-up with protectant for the upholstery, and any leather or vinyl.
After the interior is cleaned, it's time to take care of the outside. This includes the engine, undercarriage, and tires. This is where it is extra important to make sure you only use cleaners meant for cars, as well as soft clothes, and a brush on the tires. Also, never wash or wax the car in the sun as it can dry the soap and water too quickly leaving unsightly water spots as well as swirls in the wax.
Work on one outside area at a time. You don't want the soap drying on the hood before you finish the trunk. After rinsing, dry the car thoroughly using a water absorbing towel/chamois to dry the car. Then follow-up with buffing and waxing. Last, but not least, add protectant to the wheels.
Pro Detailing Tips:
Vacuum
Vacuuming your vehicle's carpet and upholstery in a car can be a bit of a challenge which is why a vacuum with different attachments works best. Be sure to move or remove the seats so you can vacuum under and around them thoroughly. Also, vacuum in different directions to help fluff the carpet and effectively reach between all of the fibers. 
Using carpet cleaners, baking powder, or freshening products work well to remove stains and odors, just make sure you are following the directions provided with these products.
Paying Attention to the Details
Despite how well a car is detailed, there are still several places on your vehicle that often go untouched. Some of the most common include:

the edges of the windows. To clean, roll down the windows just a bit and clean this area from both sides.

Door jambs are famous for collecting dirt and grease over time so don't forget to wipe these down as well.

the interior air vents are often overlooked. Use the artist's paint brush to easily remove dirt and dust from the inside air vents, then follow closely with the vacuum.

The gas cap area is another one of those overlooked areas. To clean, simply open the flap, check to be sure your gas cap is tight, then clean during your initial wash using soapy water.
Paying attention to these simple details while cleaning your car will have your vehicle looking and smelling like it did the day you drove it home from the dealership! 
Image courtesy Bikephotomusic via Flickr