Managing work, the kids' school and everything else can be exhausting. The last thing a parent needs is to come home to a disorganized, untidy home that makes their brain scattered. Instead, it's far better to have an efficient home that works like a well-oiled machine. But how do you organize your home with young kids?
Want to know how to organize your home and keep it that way? Here are some essential tips and rules to follow to help you keep an organized home when children are part of the equation. From storing cute children's clothes in a kid-friendly dresser to keeping a calendar, there are many ways to keep an efficient-running home.
Room-by-Room Organization Tips to Organize Your Home with Young Kids
Let's first go room by room and discuss some ways how you can organize your home with young kids quickly.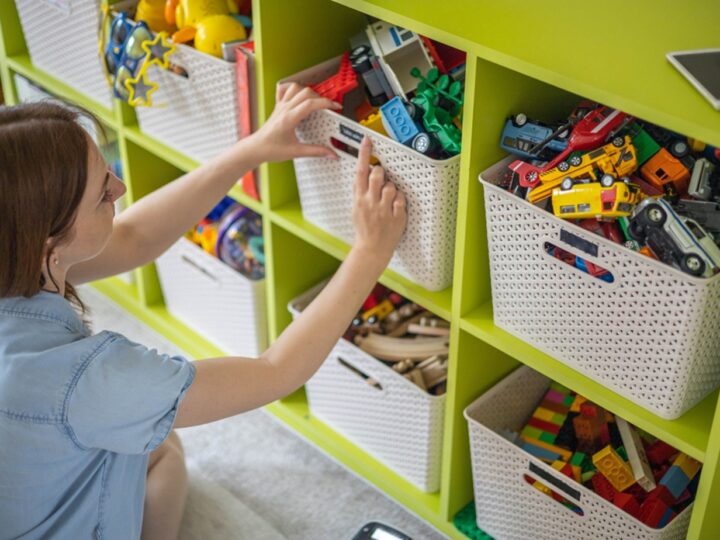 The Kids' Bedrooms
Keep all their cute little boy clothes and cute toddler girl clothes hung neatly in the closet with kid-size velvet hangers, sorting them by size, clothing style or even by season. For example, once summer arrives, you can rotate their coats and boots to the far side of the closet and bring out the shorts and tees.
Use kid-friendly furniture like open storage systems and eye-level coat hooks that invite kids to store away their toys, books, etc. Bins and boxes are also easy for kids to throw items back into.
Create a space dedicated to your child's work. Instead of drowning in never-ending piles of art and schoolwork, choose a corner "workspace" to store homework and artwork. If you have a home office space, your child will love the idea that they also have their own designated work area.
Rotate their toys instead of leaving out everything. This ensures their room doesn't become a toy barn.
Maximize the empty space beneath the bed with rollaway under-bed storage. Kids are bound to stuff things under there anyway. If you prefer a cleaner look, get them a platform storage bed with drawers and a bookcase headboard or footboard too.
The Kitchen
Keep a family planning station where parents and kids can check in on the day's activities, chores and more. Purchase a customized magnetic chalkboard from Etsy with your family name, some magnets and tack up things like planned dinners, school events and more to keep everyone on the same page.
Dedicate a drawer for kid-friendly plates, utensils, sippy cups and the like. Choose something close to the floor that they can reach without needing assistance. This way, they can also help you place them back after washing. Stock up on pantry staples. Instead of wasting time figuring out what to make for dinners, have basic staples in the pantry for quick, easy meals.
Arrange everyday items to the front of cabinets and push back the fancy dishware.
The Bathroom
Let little kids help keep the sink and other areas tidy. But make sure they can do so with a footstool. Slip it beneath a vanity or nearby so they can grab it easily.
Keep baskets and bins for bath toys and other bathroom clutter.
The Family Room
Keep a media cabinet for CDs, DVDs, etc., sorting kid-friendly movies and music separately and within easy reach.
Organize digital files and media, too. Sort through digital photos and files, deleting and archiving what you no longer need. You can also upload photos to one of the many cloud storage options.
Choose furniture with hideaway storage like a storage ottoman to toss toys in at the last minute or a console table behind the sofa to hide games and more.
Tidy up electronics like remotes and other gadgets with their own lidded storage box on the coffee table.
The Entryway or Mudroom
Designate a basket or space for mail, magazines, etc., cutting back on paper mail and junk mail when you can.
Utilize a bench or cubbies to store shoes. The last thing you want is to trip over a bunch of dirty shoes while walking in with the groceries. If you're a shoes-off household, having a space to store shoes will also help your kids remember to take them off after coming in from outside.
Set up an area or table to store items, like raincoats, backpacks, the dog's leash or the house keys.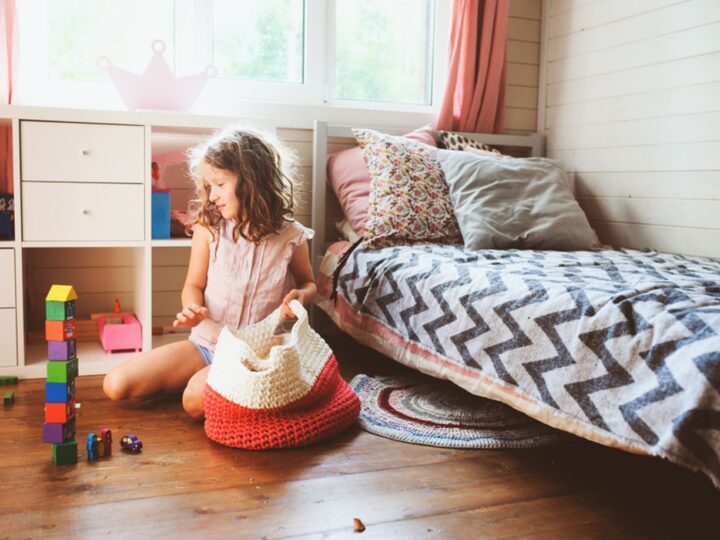 Additional Tips on Organizing a Home with Young Kids
Keeping a home organized when you have young kids mucking about is a feat. But when you set your mind to it, your home can be tidy, clean and, yes, even organized. Here are a few basic rules on how to organize your home with young kids.
Take Baby Steps
Don't expect to tackle an entire home or even room in a day. With the demands of young kids, this is impossible. Instead, take baby steps. Start with a single bathroom drawer or the coat closet, starting small and working your way to larger areas. The sense of accomplishment can even give you an energy boost.
Minimize What You Have to Organize
As you organize your home with young kids, declutter areas and donate items you no longer need. Getting rid of sentimental items from when your kids were babies is challenging, but try to limit yourself to a few special mementos that mean the most. Sort what is left behind and, without buying fancy organizing systems just yet, store them away in drawers, closets and wherever seems the most logical. Stick to simple cardboard boxes, especially if kids tend to break items.
Spend 30 Minutes to Organize Each Day
Another way to organize your home with young kids is to spend a set amount of time doing so each day. Create a daily routine of decluttering and organizing. While this seems hard to do with young kids in the house — and it is! — it's up to you to establish a weekly routine amongst the chaos. For example, create a reminder on the calendar or simply organize while waiting for dinner to finish cooking in the oven. An organized home doesn't happen overnight — it takes commitment. But if you commit to the idea of an organized home and stick with it, it will eventually come effortlessly and be part of your family's lifestyle.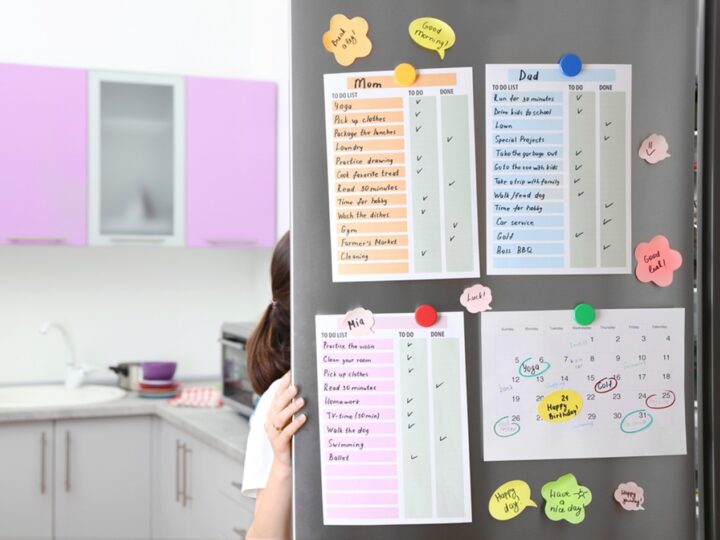 Teach Kids How to Help Organize
Lastly, teaching your children how to help organize will make it easier to organize your home with young kids Sometimes, they will see parents cleaning and organizing, wanting to help but not knowing how. Instead of letting them know you'll take care of it, show them how it's done. Teaching kids organizational skills offers many benefits, instills good values and teaches them to perform basic tasks.
An excellent place to start is by creating a chore chart that asks them to put dirty clothes in the hamper or to put their homework into their backpack to prepare for school the next day. Eventually, they learn how to do tasks themselves.