Don't miss out this Sunday, March 15th when the HSN presents the World's Largest Cooking Lesson which will run for 24-hours and is hosted by Celebrity Chefs Curtis Stone, Lorena Garcia, Ingrid Hoffman, Eduardo Garcia, Robert Irvine, and more.
In addition to learning amazing new recipes, viewers will also be able to:
Access Exclusive Sales on Kitchenware – HSN Cooks will give viewers a one-stop shop for all of the cooking needs with compelling special offers on kitchen and food products.
Chat LIVE with the Chefs – Viewers will have exclusive access to celebrity chef personalities and the creators behind the products with the ability to call in and discuss products while on-the-air.
Cook Alongside the Chefs – Make recipes with each chef as they give you insider tips and their favorite recipes.
Want a sneak-peek of what's to come? Give delicious Curtis Stone Seared Pepper Steak recipe a try! You won't be disappointed!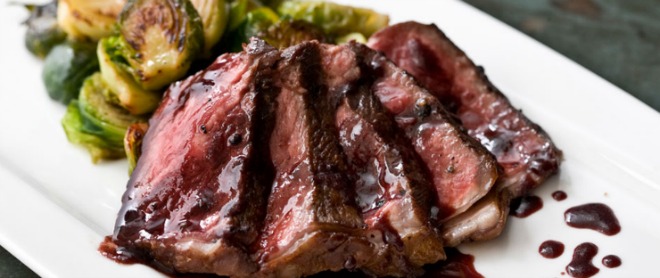 Seared Pepper Steak with Caramelized Brussels Sprouts
Serves: 4
Prep Time: 20 minutes
Cook Time: 22 minutes
Ingredients
1 tablespoon black peppercorns
Six 6-ounce center-cut beef tenderloin steaks (1½ inches thick)
1 tablespoon grape seed oil
3/4 cup dry red wine, such as Cabernet Sauvignon
1 pound fresh Brussels sprouts, halved lengthwise
3 tablespoons unsalted butter
Directions
To cook the steaks:
Using a mortar and pestle, coarsely crush the peppercorns. Season both sides of the steaks generously with salt and sprinkle the coarsely crushed peppercorns over both sides of the steaks, patting to adhere.

Preheat a Curtis Stone 12-inch Frypan over high heat. Add the oil and swirl to coat the pan. Add the steaks. Cook the steaks for about 4 minutes per side for medium-rare doneness.

Add the wine to the pan and simmer 30 seconds. Transfer the steaks to a cutting board and let rest. Continue simmering the wine until it is reduced to 1/4 cup, about 4 minutes.
Meanwhile, to prepare the Brussels sprouts:
In another Curtis Stone 12-inch Frypan, bring 1/2 cup of water to a boil over high heat. Add the sprouts, cover, and steam for about 3 minutes, or until bright green. Add the butter and cook uncovered over medium-high heat, tossing occasionally, for about 5 minutes, or until the Brussels sprouts are golden brown. Season with salt.
To serve:
Place the Brussels sprouts on plates. Slice the steaks across the grain and arrange the steak slices alongside the Brussels sprouts. Drizzle with the wine reduction and any accumulated juices from the steaks.