Living in an older house has its benefits, but it also has a lot of drawbacks. Especially when it comes to the kitchen. While my kitchen is not small, the way it was designed leaves a lot to be desired. There's a lot of wasted space, especially when it comes to kitchen storage. I love to cook and bake, but with the lack of storage space, I've had to learn to be creative. YouCopia offers all sorts of great kitchen organizers that have helped me make the best of my kitchen storage. (Pssst…don't miss our YouCopia giveaway at the bottom of this post!).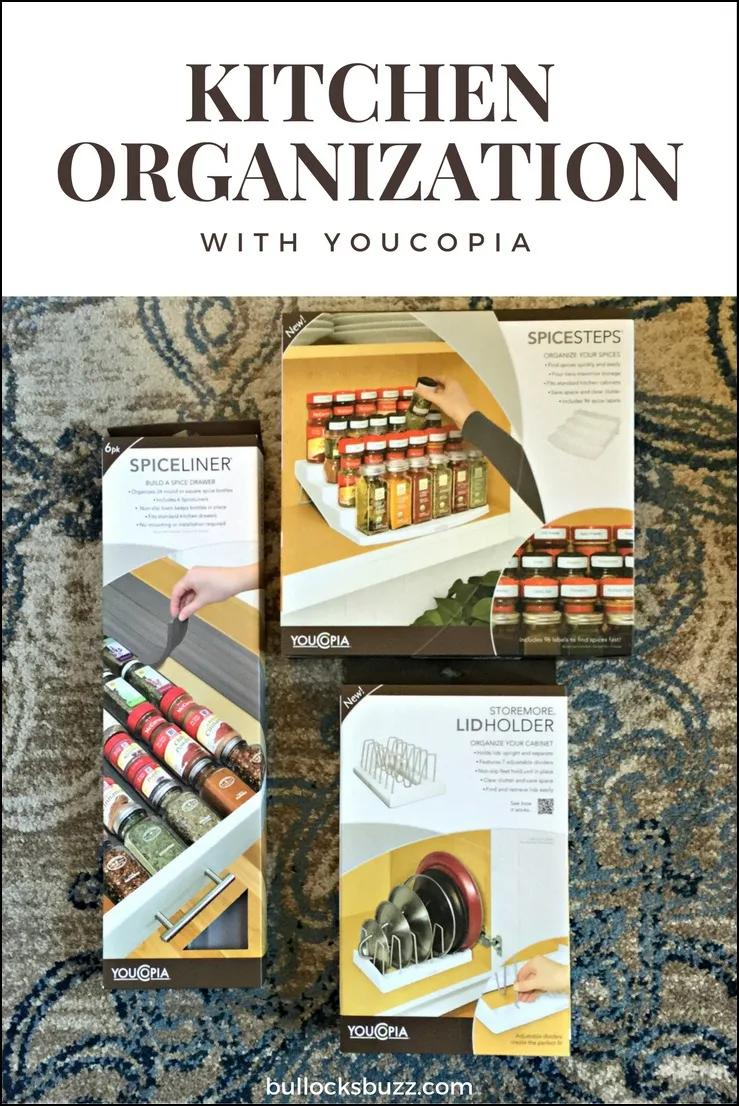 YouCopia Spice Liner (6 pack)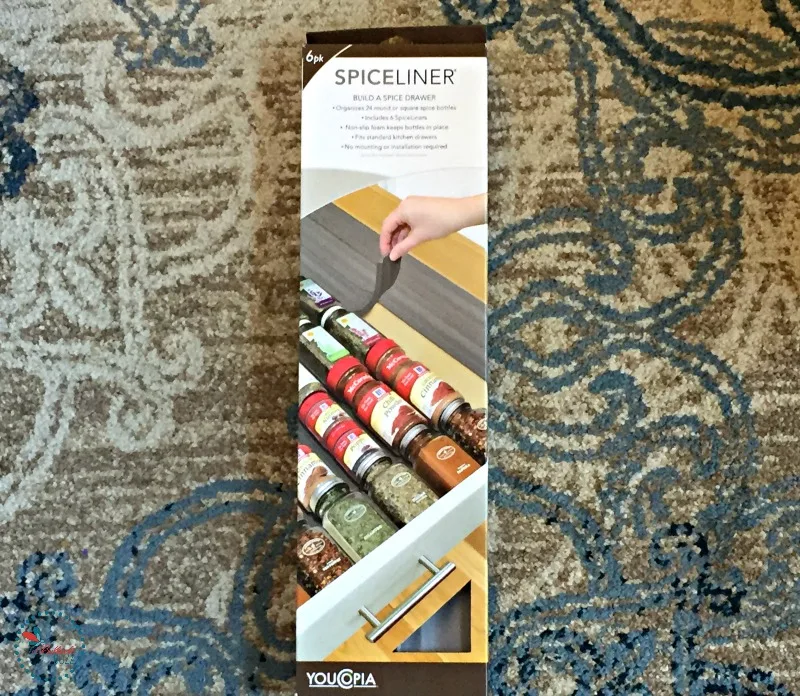 A few years back, when we were still living in an apartment, I had even less storage than I do now. One of my biggest pet peeves was not having a good way to store my spices. The YouCopia Spice Stack gave me a wonderful way to access those spices without having to pull everything out of the cabinet just to get to the bottle I needed. And while I still use that spice rack, I have even more spices now. To make it worse, I only have 1 cabinet that I can dedicate for all the rest of spices. And it's a cabinet that I really need to use for other things. I needed more spice storage bad, and the YouCopia Spice Liner worked perfectly!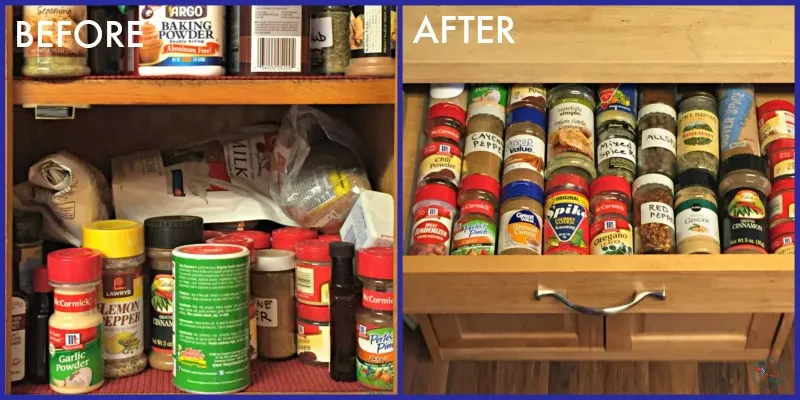 To help make up for the lack of storage and counter space, I bought one of those rolling kitchen carts that has both cabinet space and a drawer. Unfortunately, that drawer is so shallow I can hardly put anything in it. However, it is the perfect size, width and depth for spice jars! Using the YouCopia Spice Liners, I now have plenty of space for my spices. The Spice Liner is not one single mat. Instead you get six individual, non-slip foam strips that work to keep each bottle in its place. Designed to fit standard kitchen drawers, each strip measures approximately 2.5″ in width, 0.4″ in height and 18.0″ in diameter. You don't need any tools, glue or sticky strips to install. Simply lay them out in your drawer, add the spices, and that's it. Using all six strips, I can put 24 spice bottles in that one drawer, helping to free up another cabinet for my other kitchen tools!
YouCopia Spice Steps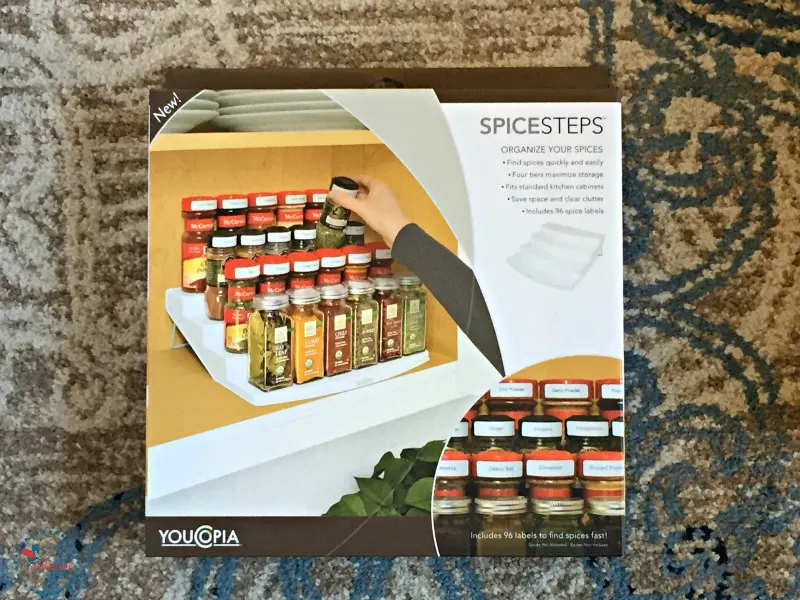 Another bad storage issue in my kitchen is the pantry cabinet. While I am thrilled to actually have a pantry (I didn't have one in our apartment), like the rest of the kitchen, it is poorly designed. The shelves are so large and deep, I have to dig around and pull stuff out to access what I need. So I decided to use the YouCopia Spice Steps for pantry organization. The Spice Steps are exactly what their name suggests: a spice rack with four tiers to help maximize storage. Made of a strong plastic, the Spice Steps can hold up to 24 spice bottles. Each tier is a bit higher than the last which makes it easy to find the exact spice I need, quickly and without having to move things around. And to help keep spices even more organized, the Spice Steps come with 96 easy-to-read, pre-printed spice labels and blank labels.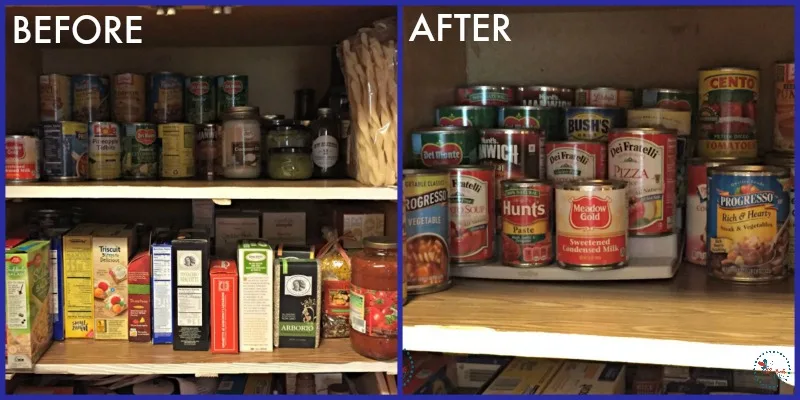 With the Spice Steps, there is zero installation required. You simply stick it inside the cabinet, add the spices and your done. And, at 11.4″ wide, 3.7″ high and 10.8 inches in diameter, it will fit in pretty much any standard kitchen cabinet. While the Spice Steps make a great spice storage solution, they also work wonders in a pantry for holding cans and jars. I can now see everything I need to see, and can just reach in and grab it instead of rearranging the entire cabinet to find one can or jar!
YouCopia Lid Holder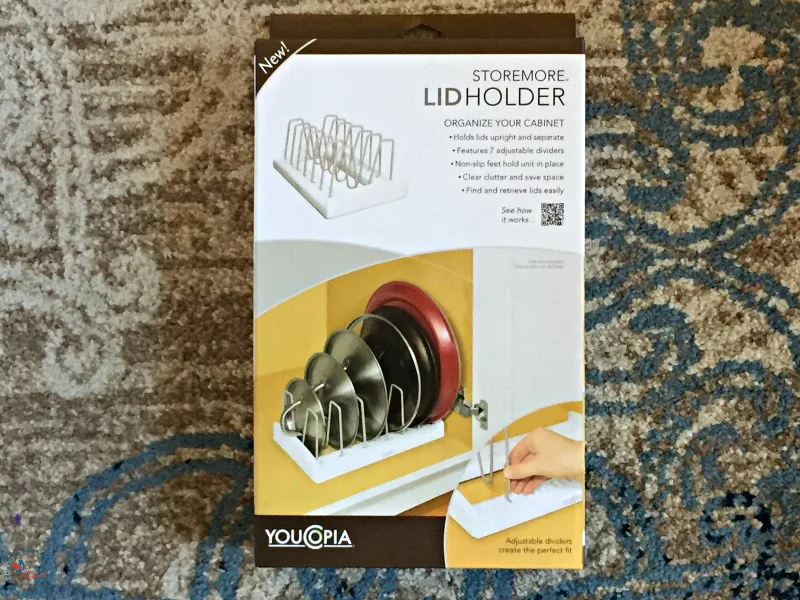 As I am sure you've guessed by now, when it comes to storing my pots and pans, there's just not enough room. My dream cabinet would allow me enough space for each pot to sit with its lid on it. Instead, my pots are stacked inside one another, and the lids are next to them. So whenever I need a particular lid, I have to dig through them all. And as I am sure you know, pot lids do not stay nicely stacked together in one neat pile.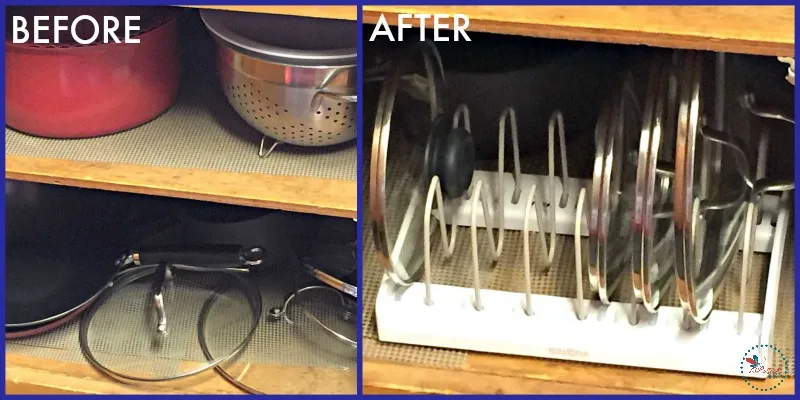 And that is where the YouCopia Lid Holder comes in to save the day. Ideal for keeping your lids upright, separate and easy-to-find, the Lid Holder is made of a durable plastic with 7 adjustable, coated, steel wire separators (is that even a word?). Four non-slip feet hold the unit securely in place, and no mounting or installation is required. Measuring 11.5″ in diameter, 7.3″ in width, and 5.0″ in height, the Lid Holder will fit into a standard kitchen cabinet.
Where to Buy YouCopia
You can find these and many other YouCopia products either through their website or at Target online. To make it easy on you, I've listed the links for each below.
YouCopia Spice Steps: website
YouCopia Spice Liner: website | Target
YouCopia Lid Holder: website | Target