A box room can present a real challenge to people doing interior redesigns. If you are making a box room into a child's bedroom, you'll need to ensure that you find ways to maximize the space available while still making the room fun and comfortable. Kids need room to grow and play, and never more so than in their bedrooms – it is crucial to ensure they feel comfortable and happy in their space.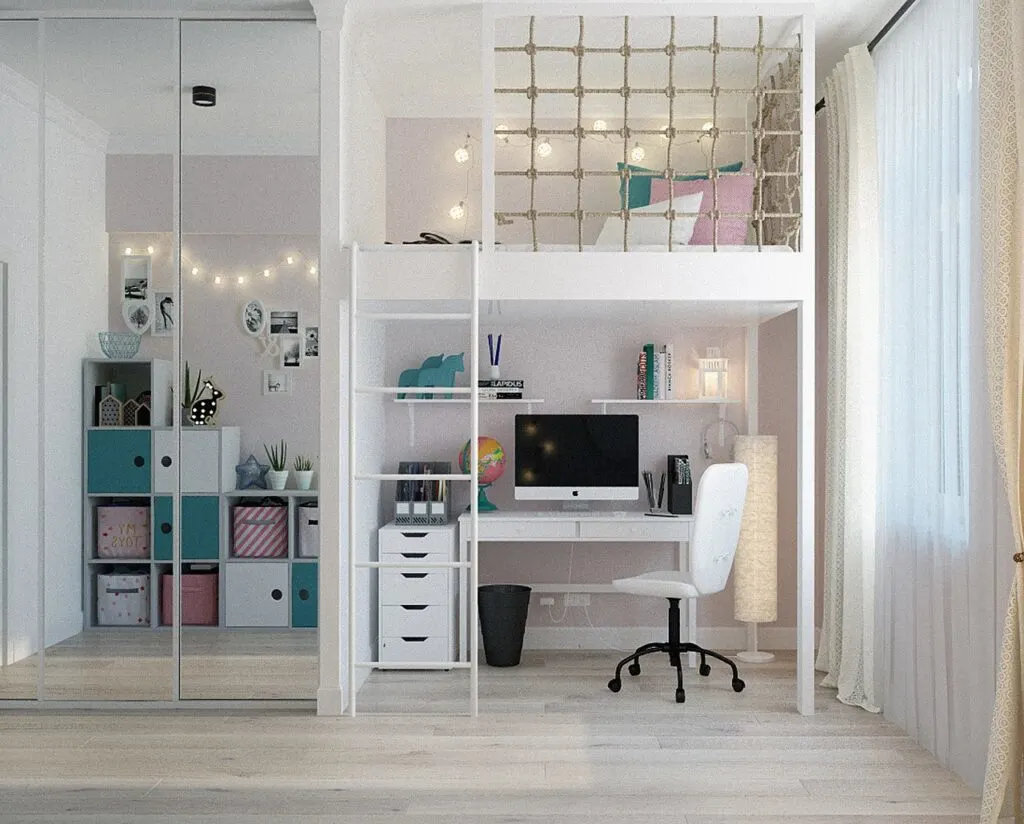 Fortunately, there are plenty of things you can do to ensure that your child's bedroom is the best it can be; bespoke furniture, smart storage solutions, and interior design techniques are invaluable for making the most of a smaller space. You should take some time to consider the design of the room – coming up with a theme can be a good starting point. You'll also need to take precise measurements to ensure that the design will work with the space you have.
Teach Them About Keeping Clutter To A Minimum
Clutter is one of the easiest ways to make a small space feel even tinier; not only that but clutter can increase stress levels and make getting a good night's sleep harder. It's never too early to start teaching your child about how to keep their bedroom clean and tidy. In fact, the earlier you begin, the more likely they are to become ingrained and form lifelong habits.
You could also consider making decluttering a daily chore for your child. For younger kids, you could start with a short period – five to ten minutes each day. You can also remind them to put back their toys and other belongings once they're done with them. Be consistent with your reminders, and over time they will remember to tidy away after themselves on their own.
Use Mirrors To Create Light And Space
Mirrors can be an excellent tool for creating the illusion of space and light in a room. A strategically placed mirror will reflect natural light to make a room feel brighter and bigger – vital for making a box room into a child's bedroom. There may not be too many places a mirror could go in your box room, particularly if you're utilizing the vertical space for storage, but it is well worth carving out some space for a stylish mirror when you can.
Hire A Carpenter To Build A Cabin Bed
A cabin bed is an excellent choice when making a box room into a child's bedroom. Especially for rooms that contain stair bulkheads. Stair bulkheads are common features in rooms directly above staircases, and they are used to allow appropriate head space on staircases.
For box rooms with stair bulkheads, this can make your interior design task even harder – part of the room is already taken up by a non-functional quirk of design. Smart interior designers will incorporate the bulkhead into the design of the room – it could function as a table or shelf.
Even better could be a bespoke cabin bed that slots over the top of the bulkhead, making the best use of space. A cabin bed has the dual benefit of providing a space underneath for storage or even to make into a den for your child to enjoy.
Get in touch with a reputable carpenter who can build a functional, safe cabin bed that uses the staircase bulkhead as support. MyBuilder has an excellent search engine to help you find the perfect professional for the task.
Get Smart With Storage
Storage is another challenge when making a box room into a child's bedroom – the last thing you want is to take up too much space with toy chests and cupboards. This is where multifunctional furniture can be a massive asset, allowing you to add more storage along with some essential furnishings.
You could look for nightstands, chairs, and desks with storage built in and make use of spaces like under the bed for slide-away storage. Using vertical space in a box room is also vital – shelving and cupboards up the walls can help your child maximize floor space when playing.
Decorate In Lighter Tones
It wouldn't be most parents' instinct to use darker tones for their kids' bedrooms, but it is doubly important to avoid dark colors when making a box room into a child's bedroom. Lighter tones can give the illusion of extra space and make the place feel lighter and airier. Neutral tones like white, grey, and beige can be an ideal base color scheme for a child's bedroom, which can then be livened up with the use of accents and accessories in your child's favorite colors.
The Takeaway
Box rooms can be tough to make into bedrooms, but by no means impossible. You'll need to plan carefully and make the most of the storage solutions available to ensure the room has enough space for your child's belongings without feeling cluttered or cramped. When making a box room into a child's bedroom, you should also invest in quality, bespoke furniture that will help you maximize the space available, particularly for rooms with stair bulkheads or other things that restrict the amount of space you have to work with.