Today's post featuring a review of the Medisafe app was made possible by Mom Spark Media. Although I received compensation for my work on this campaign, all thoughts and opinions are my own.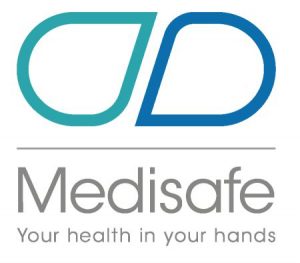 Peace of Mind with Medisafe
If you or someone you care for takes medication on a regular basis then you know how easy it can be to forget a dose – especially when taking multiple medications. Both my husband and I take various medications and supplements daily, as does my stepson. Medisafe helps me keep up with not only my medication but my entire family's as well – all in one easy-to-use app!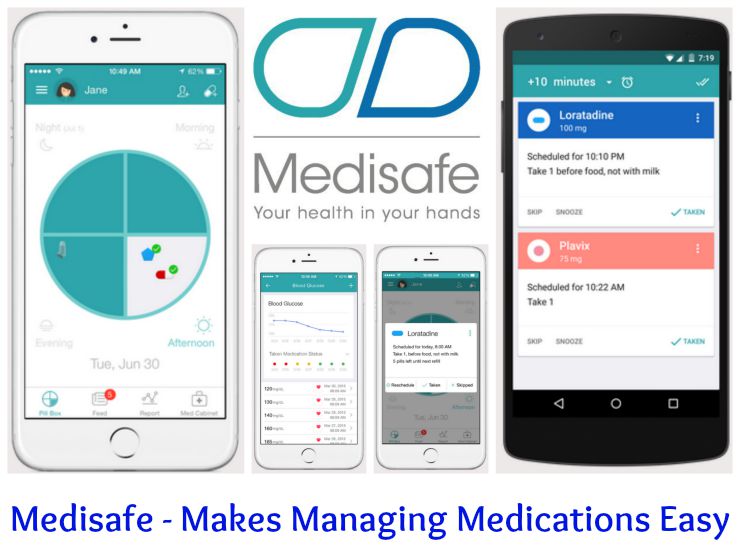 Medisafe is a free app available for iOS and Android devices that was designed to help patients and caregivers keep track of medication schedules and dosing. This easy-to-use app enables you to keep track of all of the medications you take, schedule doses, remind you when it's time to take a dose, and even allow other users to give you a gentle nudge when you need it. It's just like having a virtual pillbox, calendar and alarm all-in-one!
Medisafe was created by two brothers after their diabetic father suffered an accidental insulin double-dose. Since its inception, the Medisafe app has helped millions of other people manage their own and their loved ones medication. It's a simple and convenient way to keep track of medications, and it gives you peace of mind that the people you care about are taking their medications on time and in the correct dosage, even when you cannot be there.
Using the Medisafe App
Medisafe is quick to download, uses very little memory and has a clean and simple user interface. Once downloaded, you simply fill in your information, and then start setting up each person's profile and adding their medication. This can be done either by scanning the bar code on the medication's packaging, or by entering it manually. One thing I really like is that Medisafe uses a database of medications so whenever you enter a common medication it immediately begins pulling up names as you type. No more worrying about misspelled or incorrect medication names!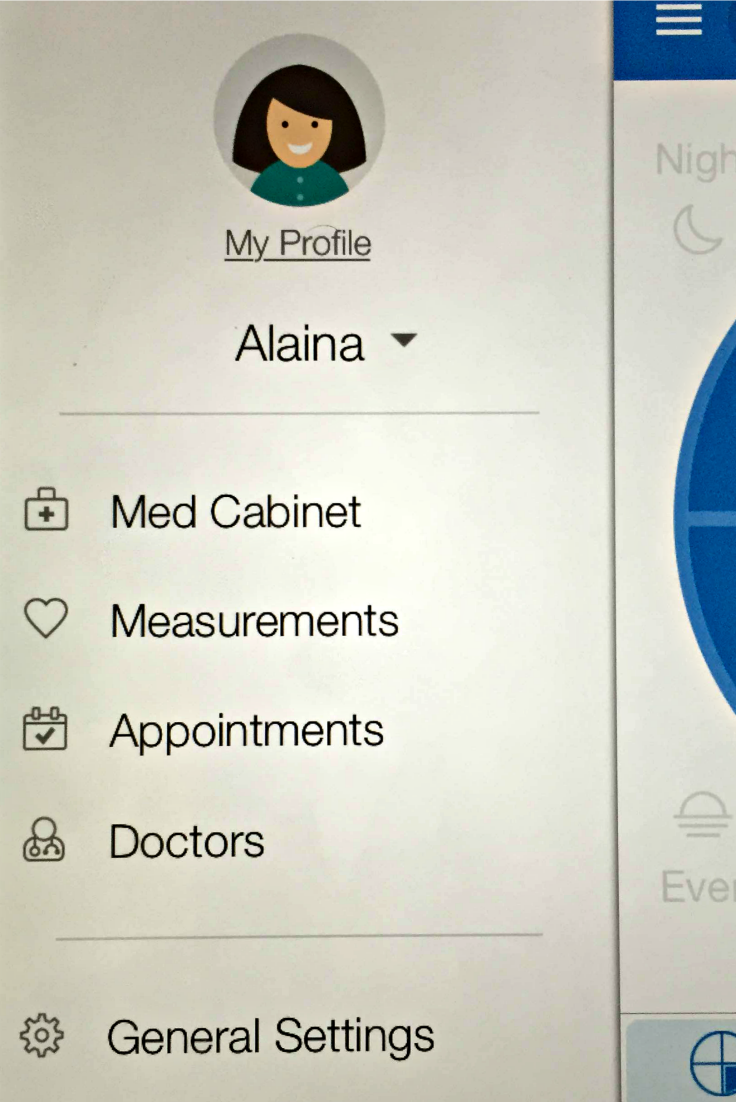 Once you enter the medication name you can then add the medication information including the dosage (including whether its pill, liquid or injection), whether or not it's a continuous course, the time(s) it needs to be taken, and any other special instructions such as whether or not it needs to be taken with food. The app also allows you to enter other medication information including the prescribing doctor, the prescription number, how many pills you have, and how many pills are left. You can even set up refill reminders.
Another thing I love about Medisafe is that it can sync between family members' apps therefore giving those who care peace of mind when worried about their loved ones (such as an elderly parent) taking their medications correctly; as well as allowing them to send a gentle reminder or nudge when a dose is missed.
The Medisafe app can also be set up to automatically alert you when it is time to take your dose. A text alert will pop up on the screen of your device, regardless of any other apps you may be using, and you then have the option to "skip", "take" or "snooze" the medication. You can also set up audio alerts as well, and the app has all sorts of cute sounds you can use!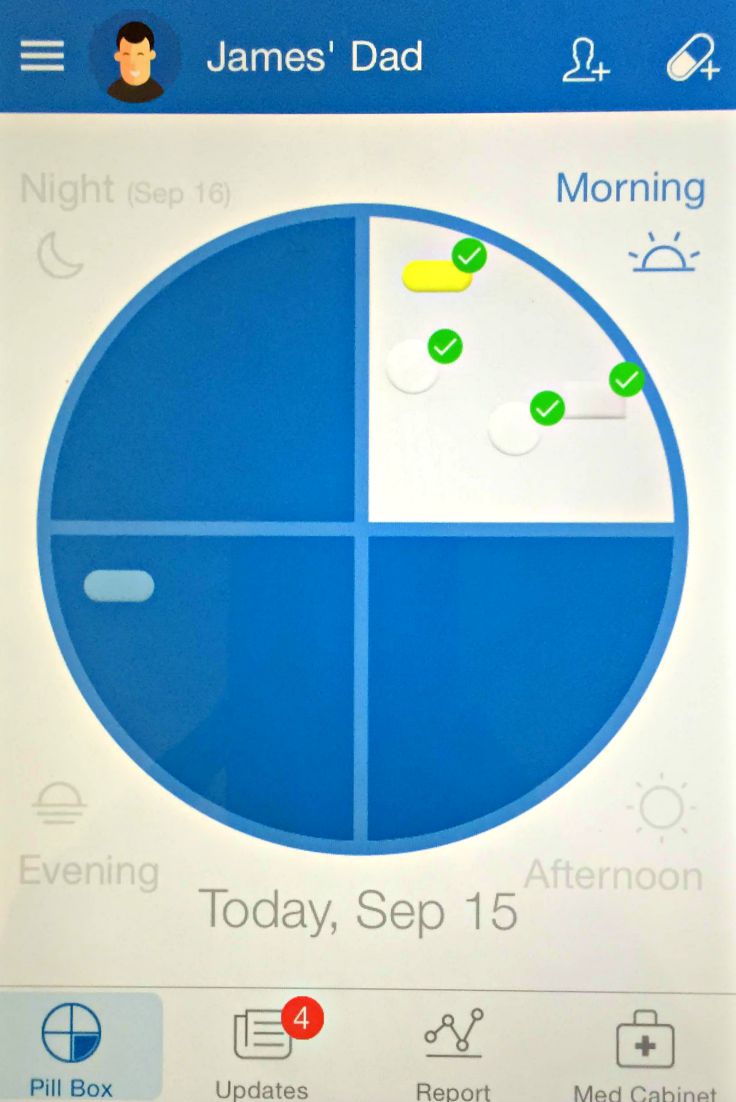 The main page of the app, called the 'Pill Box' is where you can find all of your medications and dosing information in one location. On this page you will see a pie shape graphic that is cut into quarters for morning, afternoon, evening and night. This pie graph shows you your daily medication schedule, what medications you have coming up, and whether or not you have taken your medications on time for the current day. At the bottom of this page is a menu where you can access reports on daily medication dosing, each person's medicine cabinet, and updates for reminders, notifications and more.
More About the Medisafe App
Many other awesome features are included with Medisafe. One of my personal favorites is the fact that you can add in your blood pressure, glucose levels and other health information that will help you see how well the medicine is or is not working for you – and you can even send that information to your doctor! Medisafe has even joined together with GoodRx to help you find money-saving coupons for your medications.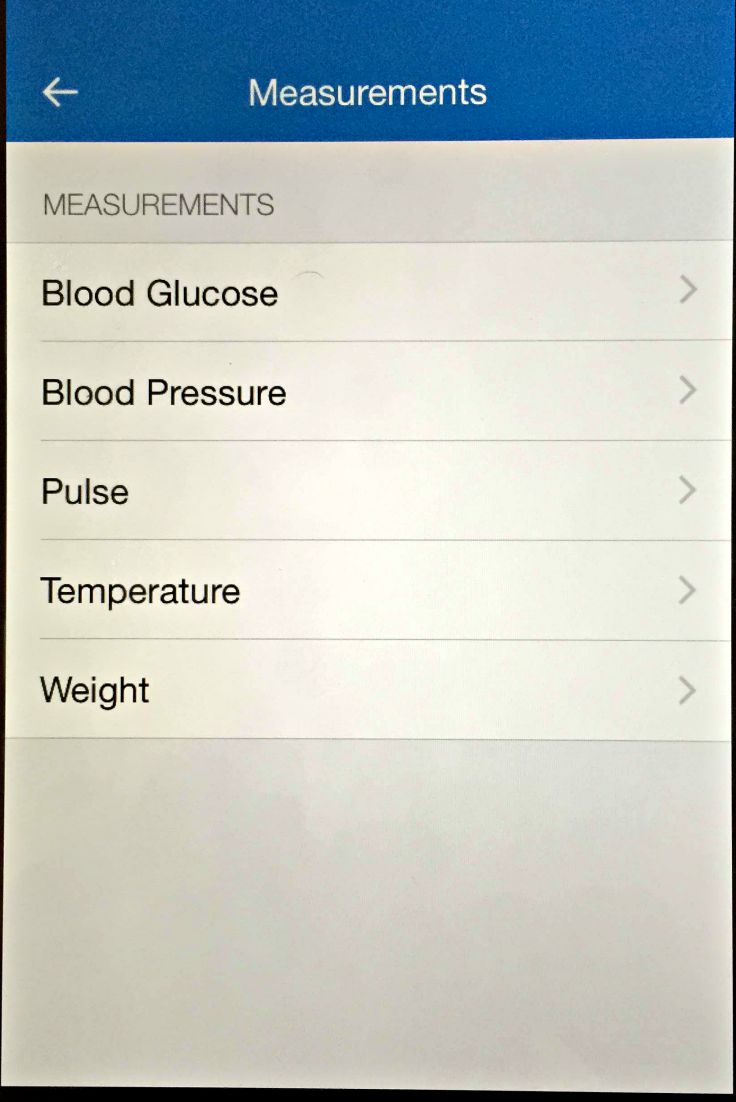 Still not convinced Medisafe is for you? Why not check out these stories from actual users' David Julian (appeared in the LA times) and Grace Hayes (from the Medisafe blog).
Whether you have an elderly parent who takes multiple medications at different times throughout the day, a child whom you're concerned about taking the medications he or she needs, or you just need reminders for yourself, Medisafe can help give you the peace of mind you need.
Download the Medisafe App Now!
Medisafe is available for free download for Android and iOS devices. Join the 2 million people who use it – as well as the people who care about them – and enjoy some peace of mind.
Connect with Medisafe: Website | Facebook | Twitter Be sure to use hashtag #mHealth when sharing!
How can the Medisafe app help you and your family ? Let us know your thoughts in the comments below.
Today's post featuring a review of the Medisafe app was made possible by Mom Spark Media. Although I received compensation for my work on this campaign, all thoughts and opinions are my own.