When you dream of sitting out in the sun over the summer months, the last thing you expect to imagine is sitting amongst mounds of clutter and feeling anything but calm. Gardens are known as that personal plot of greenery which are intended to bring an aura of relaxation and calm. As well as being a space where you can invite your friends and family for a day of fun, chilled-vibes and most important: memory-making.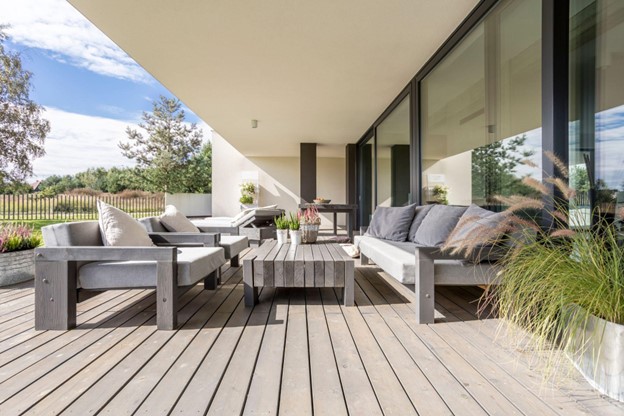 But how do you create that perfect minimalist space you've always dreamed of? We've assembled a list of minimalist garden ideas to help you build that simple, stress-free backyard you've been longing for.
A Calming Color Scheme
When thinking of minimalist garden ideas, the first thing you need to consider is your color scheme. Just like minimalist interior design, the key to a simple outdoor look is to go with simple, neutral colors or blocks or monochrome shades. Using a simple color scheme works best with greenery when creating a zen space. Too much color variation with bold, bright shades can be distracting to the eye and can welcome unwanted feelings and moods.
It has been scientifically proven that colours can evoke different emotions. Including greenery in your garden design gives you that little dose of nature on your doorstep, which evokes the feeling of peace and tranquility. To give that de-stressing, decluttered feel, pair the greenery with light wooden decking or wall features, and white or black monochrome feature walls and spaces.
Keep Your Lawn Neat
It's important to keep on top of your grass and shrubbery, if you're opting for that minimalist feel to your back-yard. The idea is to have a sharp definition between any patio and grassy areas, and to keep each section looking modern, neat and simple.
If you're not a great at gardening yourself, you may wish to consider the pros of hiring a gardener to do the work for you. If you're factoring in the cost of a gardener, it's beneficial to think about the time and energy saved when enlisting the help of a pro, and the quality of the work compared to a DIY job.
Professional gardeners are amazing at working their magic and getting that lawn looking crisp and perfect, which is exactly what you're going for when opting for a minimalist design.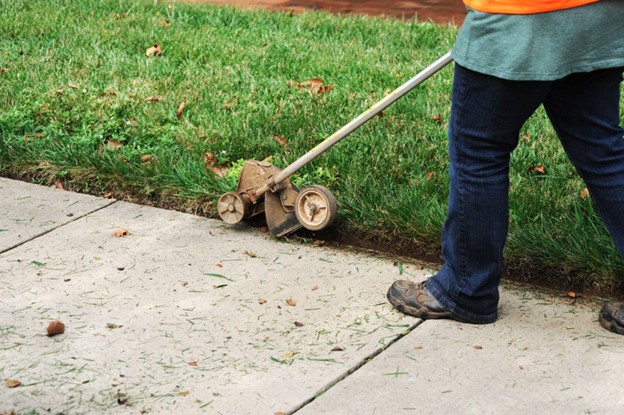 Keep Your Furniture Simple
Next on the list of minimalist garden ideas is to look for simple pieces which match your wooden, or monochrome aesthetic. Look for timeless pieces which will work well with any changes you make to your plot in the future – this will save your pockets and minimise stress when redecorating.
Choose quality over quantity when buying garden lounge pieces and decor. The idea is to keep the area tidy, clear and open, giving the illusion of a larger space. Whether you have a large, medium or small garden, you really want to keep the space basic and stress-free.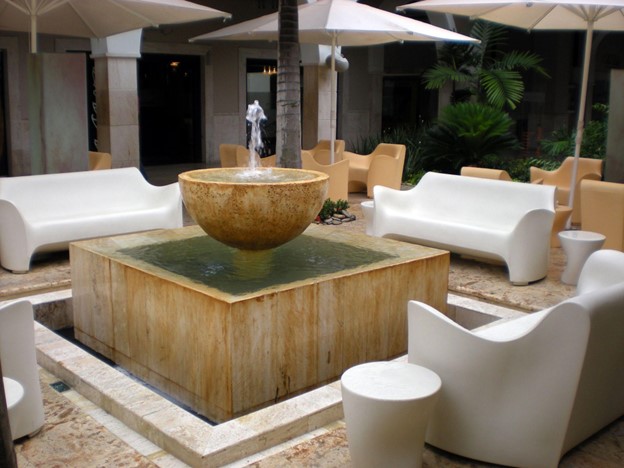 Add A Water Feature
Our final minimalist garden idea is to add a water feature. If you're looking to go to the ultimate zen, adding a water feature to your garden is the way to go. Water features are highly known to bring that minimalist garden to a whole other level when it comes to design.
The sound of water brings that extra step of calm and relaxation, that adds a little bit more of the natural world into your backyard. Opt for a water feature such as a small pond, or a running water fountain as a main focal point in your garden. To keep the simple, minimal feel, you want to ensure that the pipes and workings are well hidden when installing a water feature. Ponds and fountains are also a fabulous way of calling nature to your doorstep, attracting the likes of birds, butterflies and other beautiful creatures.