Who wants to grow old gracefully? Not me! While many associate wrinkles with aging, I am here to tell you that is not all there is to it. At 40, I haven't yet noticed many wrinkles (thank goodness!), but what I have noticed is an increasing unevenness to my skin tone, and some enlargement of the pores around my nose. Having had this blog for almost two years now I can honestly say I have tried quite a few skin care products that promise to minimize the signs of aging. While many of these products were effective at giving my skin a more supple, healthy look, this latest one is by far my favorite.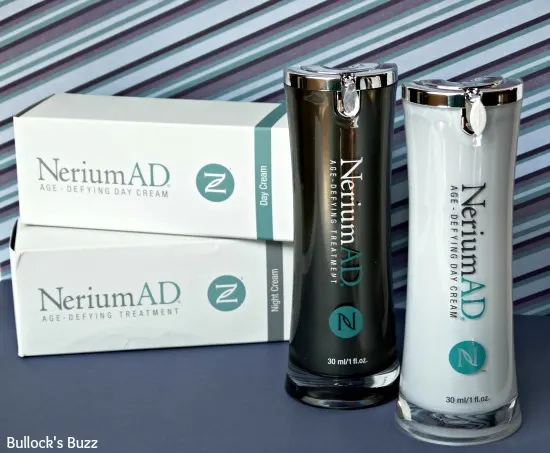 Nerium International skin care products are based on nature, scientific research and high impact ingredients including the patented, antioxidant NAE-8 extract. This extract comes from the Nerium Oleander plant, and according to the site, it has been clinically proven to help skin appear youthful and tight. Nerium International's products include NeriumFirm, and their flagship product NeriumAD which offers both a day and a night cream. With continuous use over time, NeriumAD is said to dramatically reduce the appearance of fine lines, wrinkles, discoloration, uneven skin texture, enlarged pores and aging or loose skin. Third-party clinical trials have even shown that NeriumAD Age-Defying Treatment provides an average of 30% reduction in the appearance of signs of aging! I couldn't wait to give both the NeriumAD Day Cream and Night Cream a try!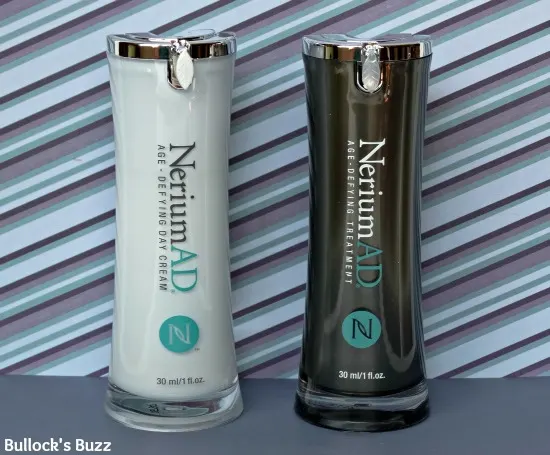 Before trying any new product I always look at the ingredients first. With NeriumAD, I found that the products are non-comedegenic, dermatologist tested, and are free from oil, parabens and gluten. Even better, they are also completely cruelty free. Both products are fine for all skin types. Since it clearly states that NeriumAD works over time, I wanted to use the product for a full month before sharing my findings – today marked a few days over a month.
NeriumAD Day Cream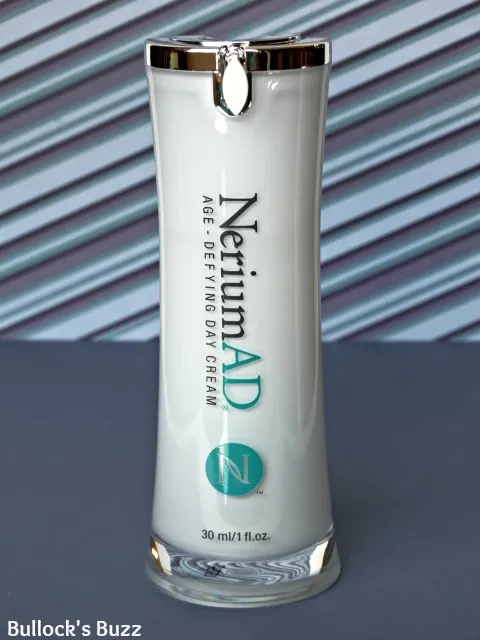 NeriumAD Day Cream is white in color and has a light, thick and creamy texture. In addition to containing the patented NAE-8 extract, it also contains a tripeptide blend, Vitamin C complex, green tea extract, four moisturizers and hyaluronic acid – all of which work together to keep skin moisturized while helping to fight the signs of aging during the day. It's scent is different from the floral scent that seem to be associated with many products containing natural ingredients. Instead, I found it to have a pleasant, almost earthy or grassy scent. The directions tell you to apply 4 pumps after cleansing the face in the morning, although for me, 2 to 3 pumps provides enough cream to cover both my face and neck. I like that it quickly absorbs into your skin, and leaves it feeling very soft and smooth.
NeriumAD Night Cream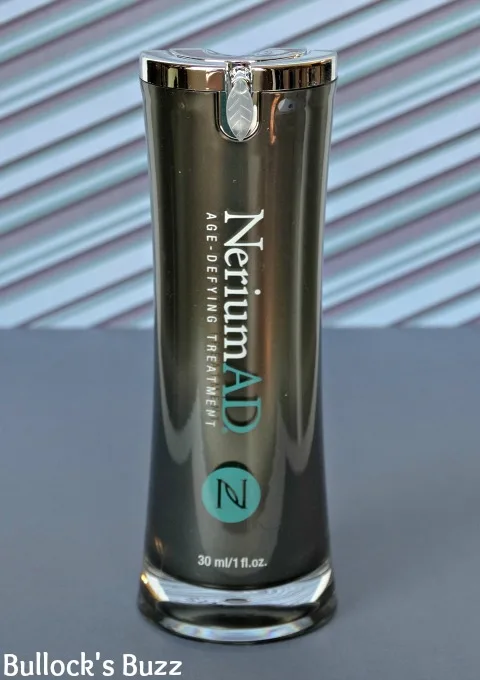 NeriumAD Night Cream was quite different from the Day Cream and from what I was expecting! After using the Day Cream in the morning, I figured the Night Cream would also be similar to a moisturizing cream. It is, and it isn't. While you apply it after washing your face like you do the Day Cream, that is where the similarities end. First of all, the Night Cream has a much stronger scent, one that is also much more plant-like. It also has a more yellowish tint to it, and is thinner than the day cream – until you begin applying it. That is when it becomes a bit tacky or almost sticky. I actually have to use the recommended 4 to 5 pumps in order to cover both my face and neck. I can definitely see why the directions tell you to apply the Night Cream to damp skin, although it also helps with absorption. Once absorbed, it leaves my skin feeling a little tight, almost like a thin, light-weight masque feels. Don't let this deter you though, I got used to it quickly! And if you already have issues with dry skin, you can use an additional moisturizer along with the Night Cream if you need to. In the morning, you rinse it off, wash and apply the Day Cream.
My Review of NeriumAD Day and Night Creams
After a full month of usage, I have noticed a definite improvement in both the appearance and feel of my skin. My skin tone is also beginning to appear more even, and the texture more smooth. And those enlarged pores I mentioned? They are definitely getting smaller! I really like how soft and moisturized my skins feels, and it stays that way the entire day without my having to use anything else. Even my husband says he can tell a difference in both the way my skin looks and feels.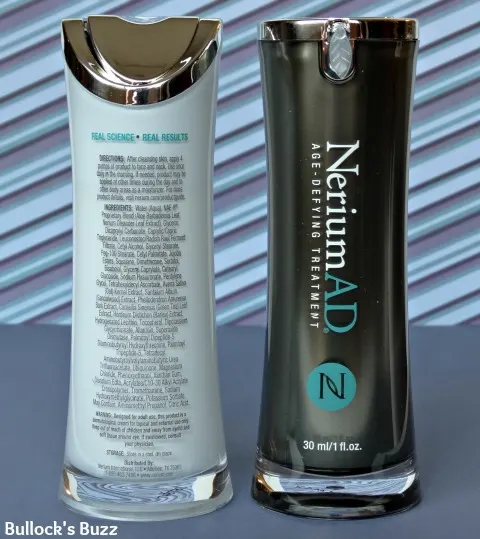 Where to Purchase NeriumAD
As each bottle lasts a little over a month, I am very close to being out. I would love to see how my skin would look after several months worth of use! I actually liked it so much, I am considering getting some more. While NeriumAD is not cheap, it is also far from being the most expensive product out there as you can see from this price comparison list I found on their website. I also read that the prices will vary depending on whether or not you are part of the preferred customer plan. NeriumAD also comes with a 30 day money-back guarantee. To find out more about the products and pricing, visit the Nerium International website.
Have you used Nerium? What did you think?