Automotive technology is improving at an incredibly rapid pace. And features that were once considered luxuries are now starting to appear on mainstream cars. In addition to being tech-forward and handy, many of these features also dramatically improve safety. Regardless of whether you are looking to buy a new car or a new-to-you car, here are some of the latest in new technology in cars that are worth checking out!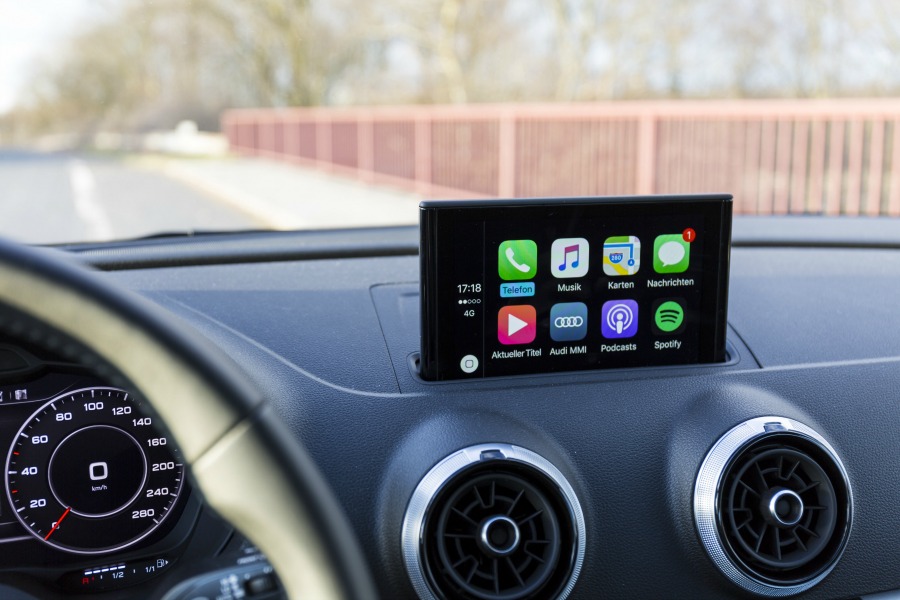 Heads Up Display – New Technology in Cars
Heads-up displays, or "HUDs" as they're better known, are designed to help keep a driver's eyes where they belong: on the road and looking forward. To put it simply, a HUD is a digital transparent image that is projected onto the windshield of a car. It displays pretty much the same information you would get from your dashboard, including everything from your current speed to your RPMs, and even various temperature gauges. Newer head-up displays are customizable so you can choose what you want to see and get rid of what you don't.
Apple Car Play and Android Auto
Second on our list of new technology in cars worth looking at is Apple Car Play and Android Auto. Apple CarPlay and Android Auto are two handy phone mirroring systems that work together with a vehicle's infotainment system. This allows drivers to connect their phone via Bluetooth or a USB port and access driver-friendly apps on your vehicle's display screen. This enables you to do things such as making phone calls, sending voice-to-text messages, listening to your favorite playlists and podcasts, and more — all without having to touch your phone.
Adaptive Cruise Control
Almost every driver is familiar with the concept of cruise control. You reach a certain speed on the highway, hit a button, and your car will maintain that speed until you turn it off or hit the brakes.
Adaptive cruise control is another new technology in cars that is quickly becoming a must-have feature. It takes things one step further by using radar to detect if there's another vehicle in front of you. If it senses a vehicle, adaptive cruise control will automatically reduce your car's speed in order to avoid hitting it.
This feature is by no means an autonomous system. A driver needs to pay attention and keep their hands on the steering wheel. But it does help to reduce driver fatigue on long drives and in some cases can even react to vehicles that cut you off in stop-and-go traffic.
Other names this feature goes by include intelligent cruise control and dynamic radar cruise control.
Automatic Emergency Braking
Automatic emergency braking is exactly what the name implies: a system that is capable of hitting the brakes without driver input if it senses an impending collision. However, since the feature is so new, there is no set standard and different manufacturers offer different availability. For example, some automakers only make it available at highways speeds, while others have it available at city speeds.
Additionally, it goes by many different names. You might know it as automatic emergency braking, autonomous emergency braking, forward collision mitigation, city braking, or even forward collision avoidance.
One thing is for sure though. It saves lives. In fact, both the National Highway Traffic Safety Administration and the Insurance Institute for Highway Safety have made it clear that this particular feature is paramount when it comes to safety. In fact, the IIHS even includes it as a must-have feature in order to win a Top Safety Pick award.
And apparently many automakers agree as so far around 20 of them have said they'll include it as standard fare on all vehicles by 2022.
Automatic High Beams
Automatic high beams are exactly what they sound like. Nothing is worse than driving down a dark road at night only to be blinded by the high beams of an oncoming car whose driver has forgotten to turn their brights off. Automatic high beams easily solve this issue.
Using sensors, the system detects when lights are headed in your direction — other vehicles, for example. The system will then automatically turn off your brights so you don't have to do it yourself. Once the other car has passed, the system turns the brights back on, enabling you to have the most illumination possible at any given moment.
The Bottom Line
New technology for cars is getting better all the time. And these are just a few of the latest new technology in cars that's definitely worth looking into! When you are ready to buy your next car, ask your salesperson to show you which cars offer the lastest in new technology in cars.