Ease into the Day with the Philips Wake-up Light
Please note, this post may contain Amazon affiliate links to make shopping easy. If you make a purchase through these links, I'll make a small bonus at no extra charge to you.

How Does the Philips Wake-Up Light Work?
The Philips Wake-up Light (Model HF3520) has been designed to provide a calm, gentle way to wake you from sleep by using your eye's natural response to light. By emulating the sunrise in the mornings, the brain is stimulated to release certain chemicals that tell the body "it's time to get up." It's a more natural, and much less jarring, way to wake up in the morning.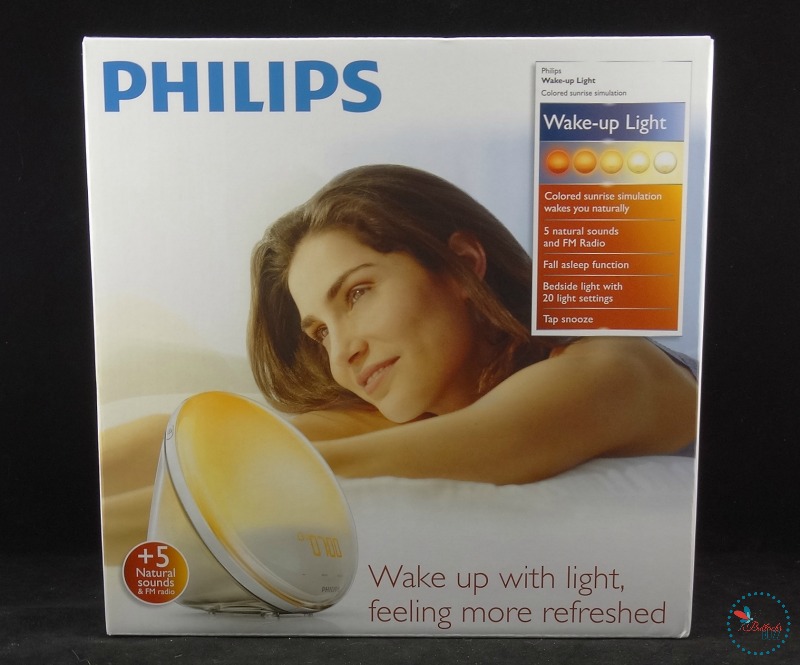 Set Up
Setting it up was easy. At around 10 inches in height and fairly round, it's a little larger than a standard alarm clock. When you first take it out of the packaging, it resembles a featureless, thin white globe. To set it up you simply plug-in it using the included AC adapter. Once on, you'll see the clock numerals displayed in reddish-orange on the white surface. The brightness of the display is adjustable, and unlike many clocks this one's display won't light up the entire room. One cool feature is that the wake up light will automatically adjust the contrast level as the room brightens so you can see the display.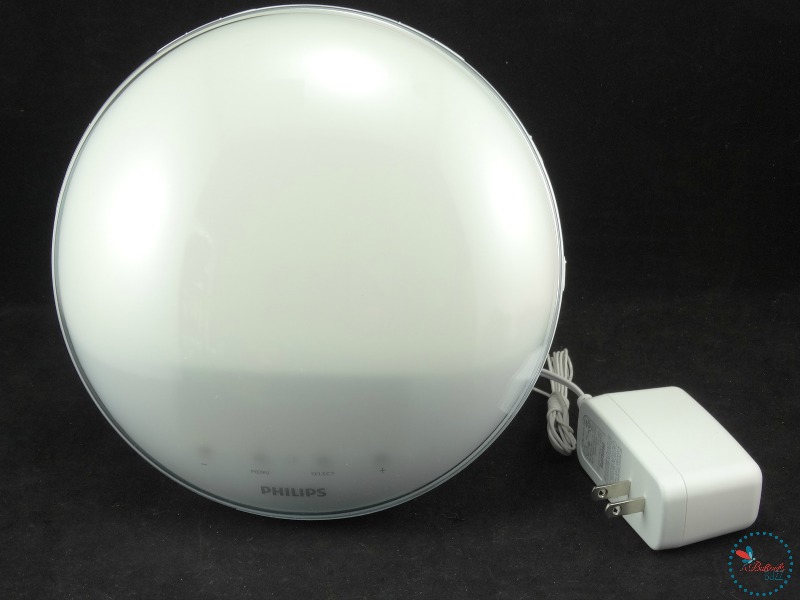 From there you set the clock and the alarm time. You can put in two different wake-up times, each of which are controlled through separate buttons on the very top of the unit. This is also where you select the type of wake-up sound you prefer. You can choose either the FM radio, or pick one of the five wake-up sounds including New Age music, birds chirping, wind chimes, jungle noises, and piano. No horrid alarm buzzer on this clock, yay!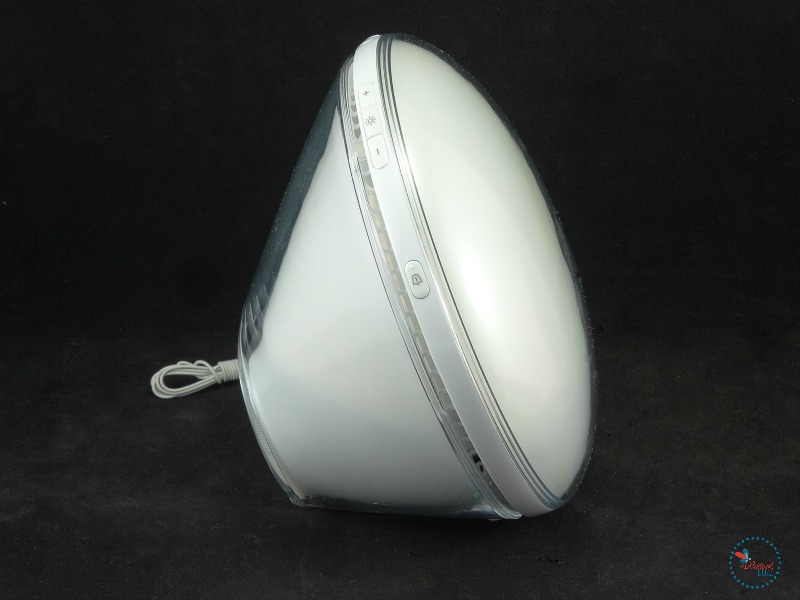 The Wake-Up Light will start glowing thirty minutes (you can adjust this as well) before you set the alarm to sound. Simulating a sunrise in both color and intensity, the brightness starts off with a warm, reddish glow, and then gradually brightens to a bright, white glow at 200 Lux. The idea is that you'll already be well on your way out of REM sleep by the time the alarm goes off. And yes, there is a snooze function.
Great features
There is a lot of great features with this light, but one of my favorites is the fact that it can also be used as a bedside lamp. You can adjust the intensity of the light, and with the touch of a button on top, the light fades in with plenty of brightness to read by. There's even a handy a "Fall Asleep" mode, which simulates the sunset, again in both color and brightness. To use this feature you set a time between 5 to 60 minutes. It will start with the light on (and sounds, too, if you want) and will gradually fade out to darkness over your set period of time. Since I read to fall asleep, this is a handy feature to have. My husband especially appreciates it because I tend to fall asleep with the light still on. 🙂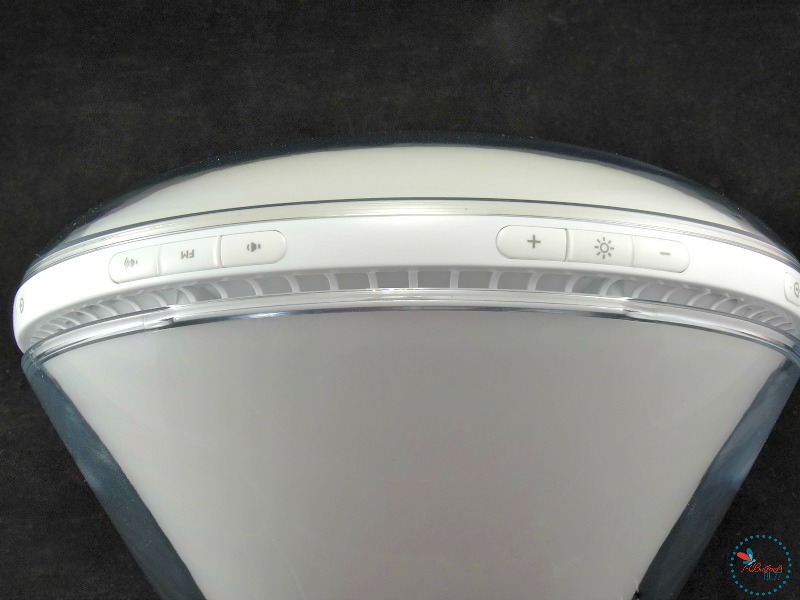 My Week Long Experience with the Philips Wake-Up Light
The first night, my husband and I still set our phone alarms for a few minutes after the Philips Wake-up Light, just as a backup. The next morning, 30 minutes before our 4:30 a.m. alarm, the lamp began its slow illumination. Unfortunately, I was already up, having awoken due to nature calling – don't you hate when that happens! I laid there in bed and watched the gradual, artificial sunrise slowly fill our room with a soft light. About 24 minutes later, my husband woke up. When the wind chimes started tinkling from the Philips Wake-up Light's speakers, he enabled the snooze function. The sounds turned off, but the light remained. By the time the chimes began again, the room was lit up like daytime. I loved not having a sudden, blinding light further startle me into wakefulness!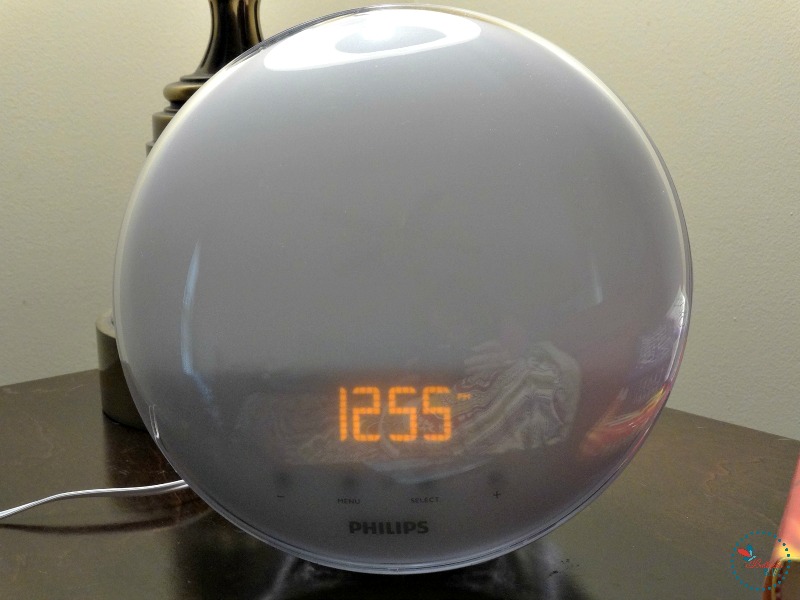 We continued to use the Philips Wake-up Light for the rest of the week. Each night falling asleep to sunset, and waking the next morning to our own personal sunrise; gradually adjusting to our new "alarm clock". For some users a wake up light makes a difference over night. For my husband and I, it took a few days to adjust.
By the end of the week, I had noticed a definite difference. I'm not going to lie and say that I now hop out of bed, 100% refreshed, smiling, ready and willing to take on the day. But being gradually awoken helps put me in a better state of mind. And I do wake up feeling more energized and happier than I ever have using traditional alarms.

Ease into a New Day
The Philips Wake-up Light is a very different and much-preferred way to wake up. It's a calm, gentle reminder that a new day has begun, as opposed to the heart-stopping scream of a smartphone ringtone or alarm clock. I absolutely love the soothing, natural-looking colors of the artificial sunrise and sunset, and I feel much better upon waking than I've when using my phone's alarm. We no longer use our phone alarms, and both of us wake up feeling more refreshed, and in a better state of mind than we have before.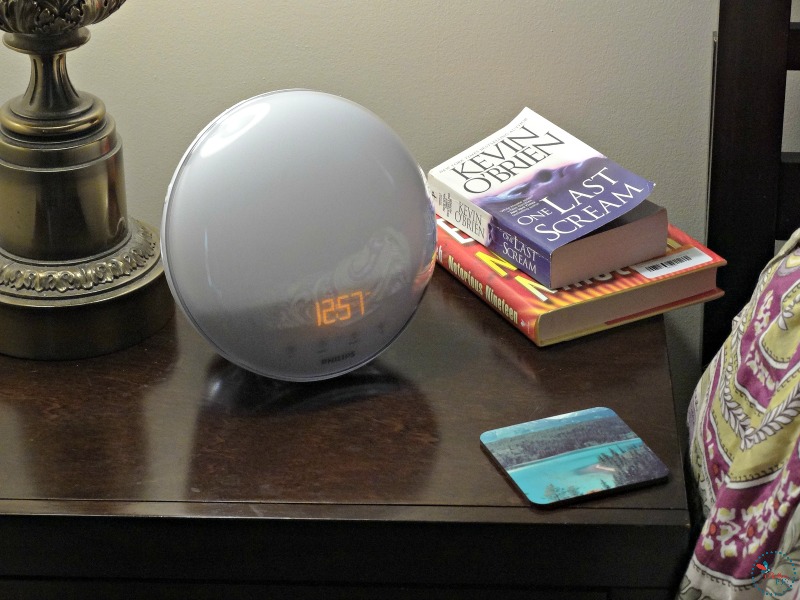 The Philips Wake-up Light retails for $169.99 at the Philips online store, or you can pick it up for $140 at Amazon.