PackageFromSanta.com – Make Christmas Even More Special with Personalized Packages AND VIDEOs from Santa!

Do you remember the magic of believing in Santa? The sheer excitement that made it so hard to fall asleep on Christmas Eve, and then that feeling of wonder when you saw the presents beneath the tree in the morning? This holiday season, bring that special Christmas magic to life for your child with PackageFromSanta.com.
Last year I shared about the wonderful gift Aniyah received from PackageFromSanta.com (read all about the unboxing below!). She loved it so much that we've decided to make it a holiday tradition. And this year, Santa himself sent her an extra special gift: a video, starring Aniyah herself! See it for yourself:
So what makes PackageFromSanta.com so special and set apart from any other company? THEY DO IT ALL (packages, letters, calls and videos from Santa and so much more…). Best of all, with EVERY Package From Santa sold comes one free call and one free video.
These personalized videos make for an adorable one-of-a-kind gift! As you can see, the movie quality was great and the story I chose was perfect! And if this storyline isn't one you think your child would relate to, there are several more from which to choose! The entire process is simple and takes just minutes to create. Then, once the elves are finished making it, you'll receive an email letting you know it is ready for reviewing and downloading.
Santa wants all parents to know this info so please watch this video below as well, and then keep reading to get a very special coupon code just for you!
As I mentioned above, last year, Aniyah received a package full of goodies from the North Pole. It was a super fun way to get ready for Christmas, and she loved it!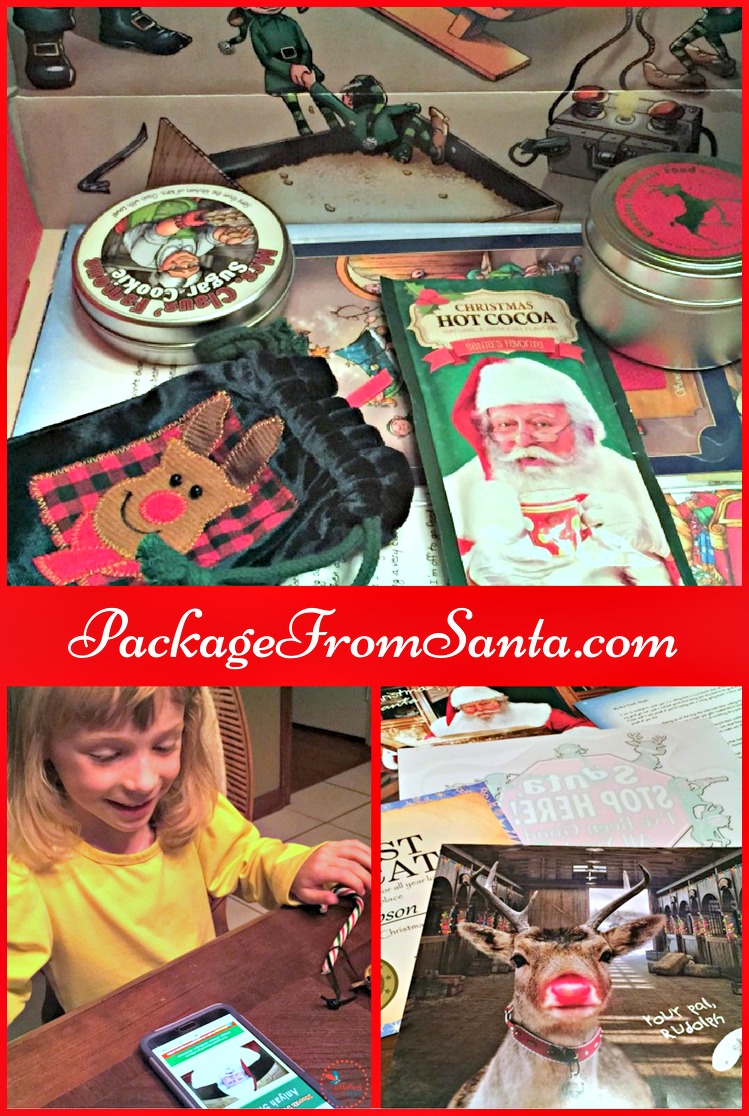 What child wouldn't love to get a personalized letter and a package of goodies directly from Santa at the North Pole? Well thanks to PackageFromSanta.com, your child can!
Choose from 3 unique packages full of authentic, Santa Claus goodies and personalized letters from Santa sent right to your child. Each package is carefully crafted, packed and sent to your child directly from the North Pole. Plus, they all come with a personalized phone call and a personalized video starring your child – absolutely free!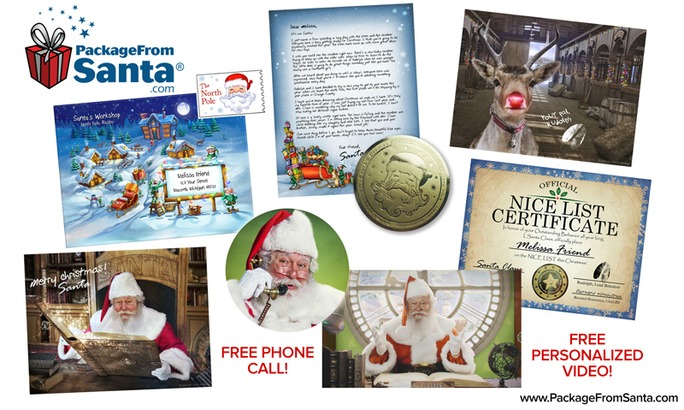 This is the first year that Aniyah is old enough to understand the concept of Santa and Christmas magic, so I decided to make the holiday even more magical by having PackageFromSanta.com send her the Platinum package. She was ecstatic! The package arrived addressed especially for her with a real Santa return address and genuine North pole stamp! Even the box was good quality and adorable – covered with pictures of elves and other childhood Christmas icons!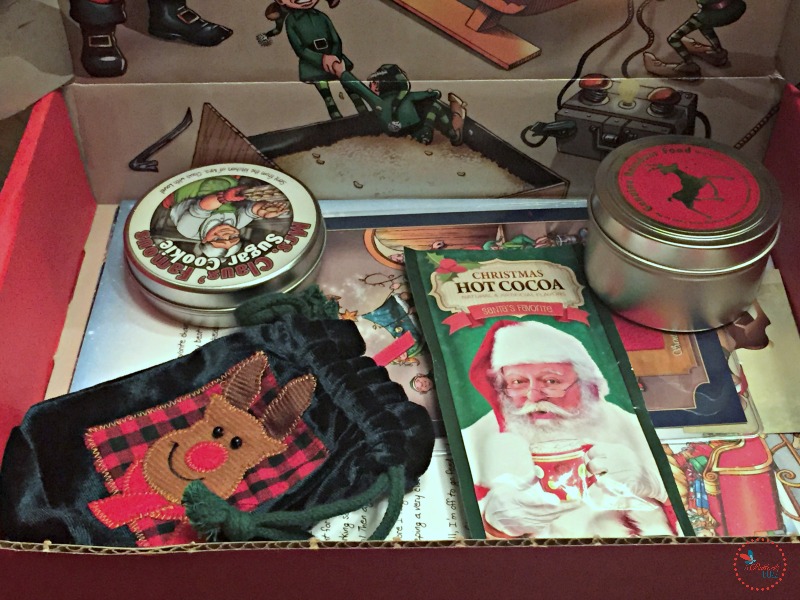 As soon as she opened the package, the first thing she saw was a Christmas-colored candy cane – which of course she wanted right then! Next she found a green velvet bag with a pretty little jingle bell inside, a small card from Rudolph, and a pack of Santa's Favorite Hot Cocoa Mix.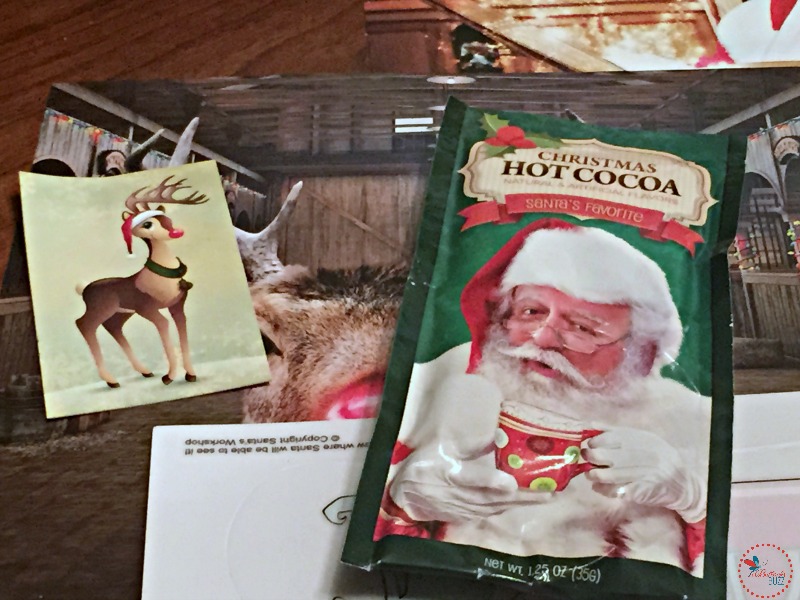 She then found a pretty little tin from Mrs. Claus in which there was a beautifully decorated sugar cookie complete with edible sparkles!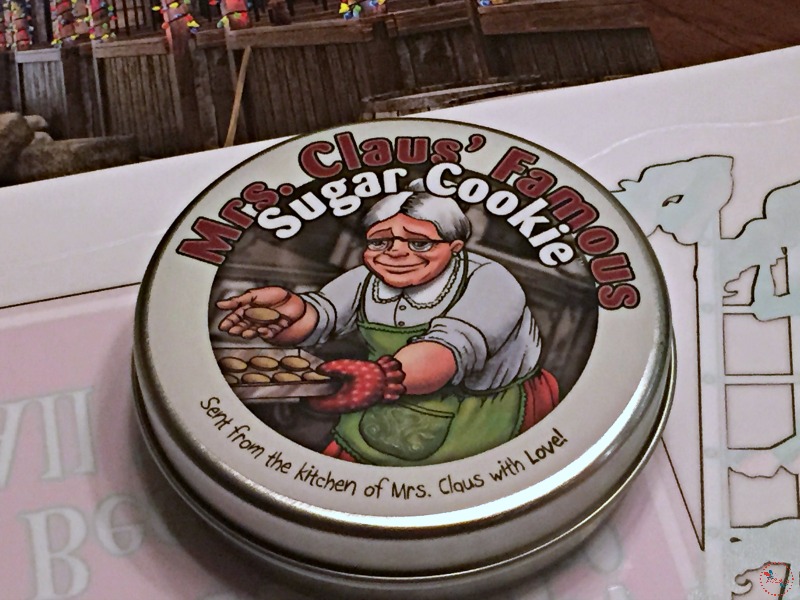 A tin full of reindeer food had her 'oooooh'-ing with awe…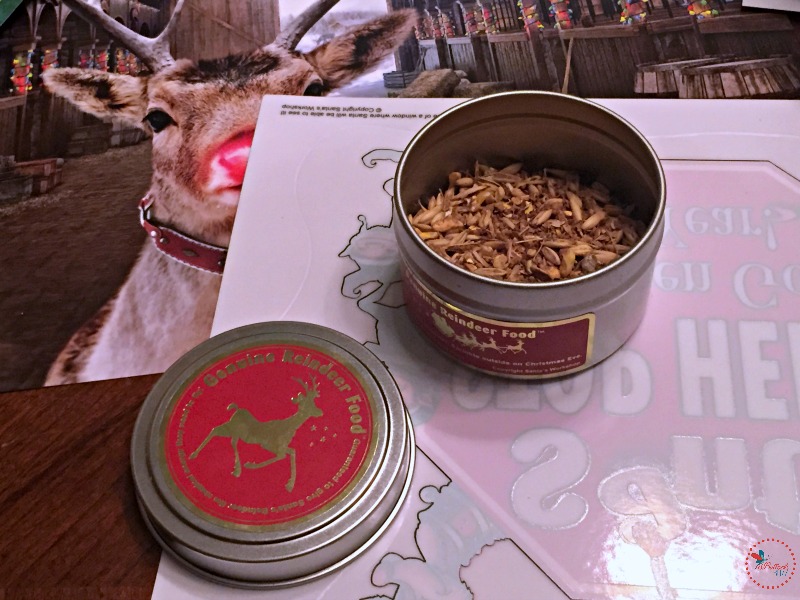 …while the personalized letter from Santa had her listening closely then grinning with delight!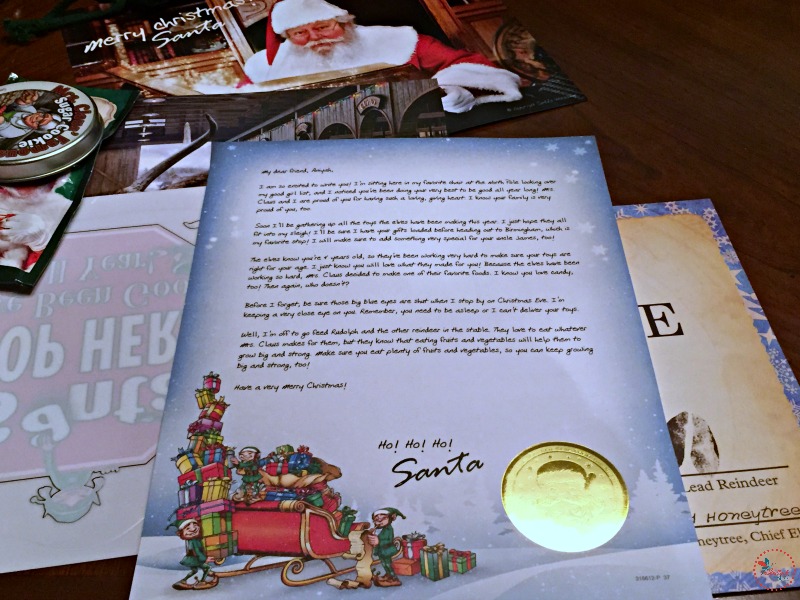 There was also specially framed piece of Santa's Magic Suit, a certificate assuring Aniyah that she was on the Nice List, an autographed picture from Santa, another from Rudolph, and even a sticker for the window reminding Santa to stop at her home!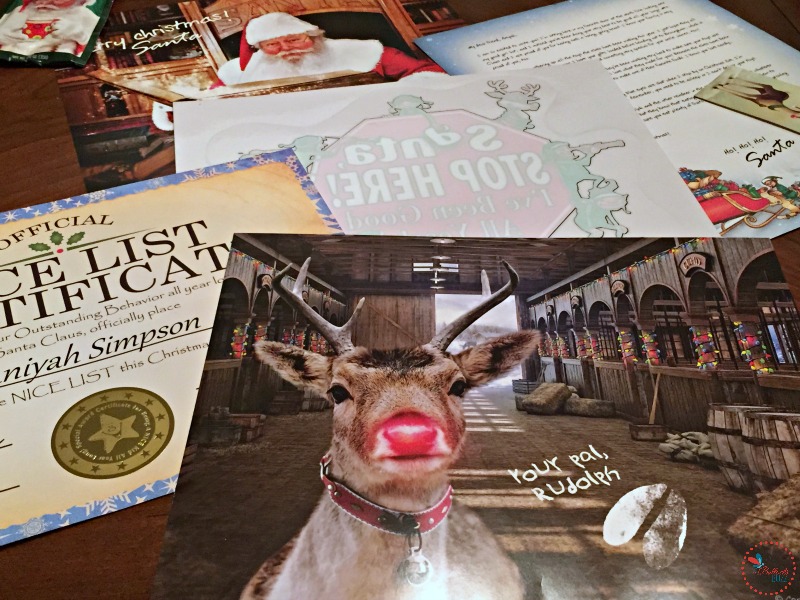 Aniyah absolutely loved her package, and she was thrilled with her video, too!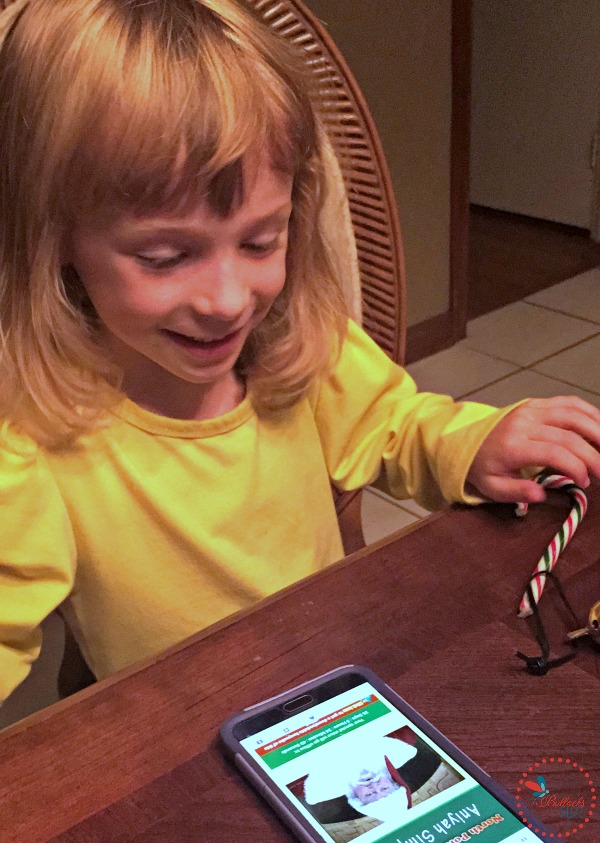 I was impressed with the quality of her package, and happy with her reaction! This wasn't a cheap package like the ones you see on so many copycat websites today. This is the real thing! And she still has her personalized phone call from Santa coming next week – I can't wait to see her reaction!
Just look at that smile on her face and listen to the joy in her voice!
Keep the magic alive for your child this year with PackageFromSanta.com. Remember, they have 3 different amazing packages from which to choose, and they all come with that awesome bonus video and phone call, too! And speaking of bonuses, here are two you don't want to miss…
Get a Free Printable Nice-List Guide from Santa Claus!
Encourage your child to remain on their best behavior during those hectic (and sugar laden) days leading up to Christmas with a personalized, high-quality, printable 100% FREE Nice-List Guide from Santa Claus. This adorable list includes your child's photo, name, and the top 10 behaviors needed to stay on Santa's Nice List! You can personalize your child's Nice-List Guide here – it only takes 60 seconds, and there is nothing to buy, now or ever. 🙂 But hurry, this is only available for a short time!
Promo Code for 25% Off PackageFromSanta.com
My loyal readers get an exclusive 25% discount on every Package From Santa (yes, even the Platinum Package)! Simply go to https://www.packagefromsanta.com and use the coupon code RED1832 to save 25% off every order!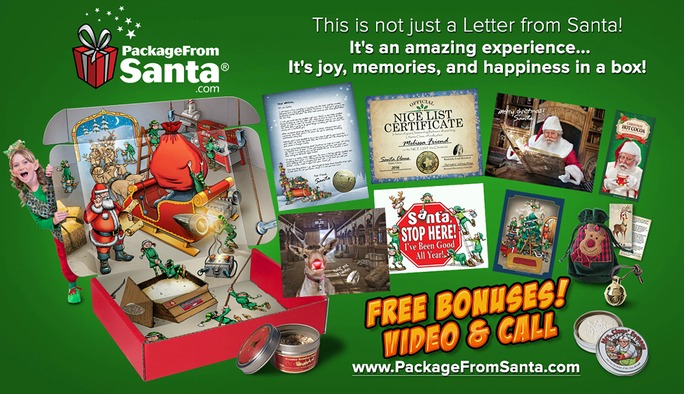 **Please Beware** of online Santa Letter copycats! Only PackageFromSanta.com has an A+ Rating with the Better Business Bureau and top-notch customer service for over 10 years. And don't forget Santa's Super-Satisfaction Guarantee: your child (and you!) must be absolutely delighted—100% thrilled in every way—or they will send you a prompt and cheerful refund, no questions asked (60 day money-back guarantee). Questions? The Christmas Cheer Team is happy to help! Simply call 866-894-4789.
What are some of the ways you keep the Christmas magic alive with your children?