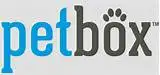 Tired of making multiple trips per month to the pet store only to discover that, once there, you are not sure which of the thousands of brands and products will provide the absolute best for your pet's needs? Give up going to the store and join one of the best monthly subscription box services for pets created by true pet lovers, PetBox. Recently our cat Sookie had the opportunity to discover just how amazing PetBox is when they sent a box for review.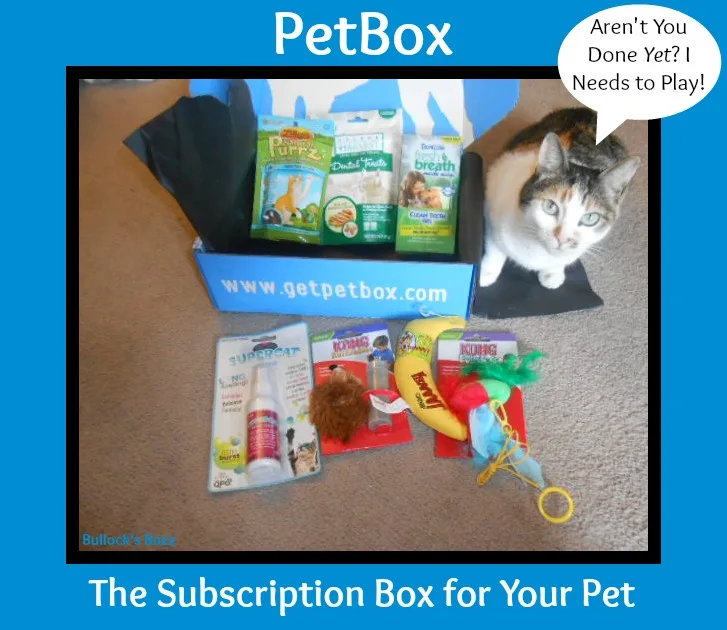 PetBox was created to help pet owners discover healthy, premium brands at below retail prices and have them delivered right to your home. While there are plenty of these monthly pet subscription boxes out there, several things set PetBox apart. First of all, you – not PetBox – get to choose what items go in your pet's monthly box, although you also have the option to be "surprised" each month with a collection of tailored products chosen by the PetBox team. All products offered are of premium quality, and instead of having thousands of different ones from which to choose, PetBox has simplified the process by carrying only the best, top brand products. Best of all, for each box shipped, PetBox feeds a rescue animal! They partner with a variety of shelters and rescue programs to care for neglected animals throughout the country.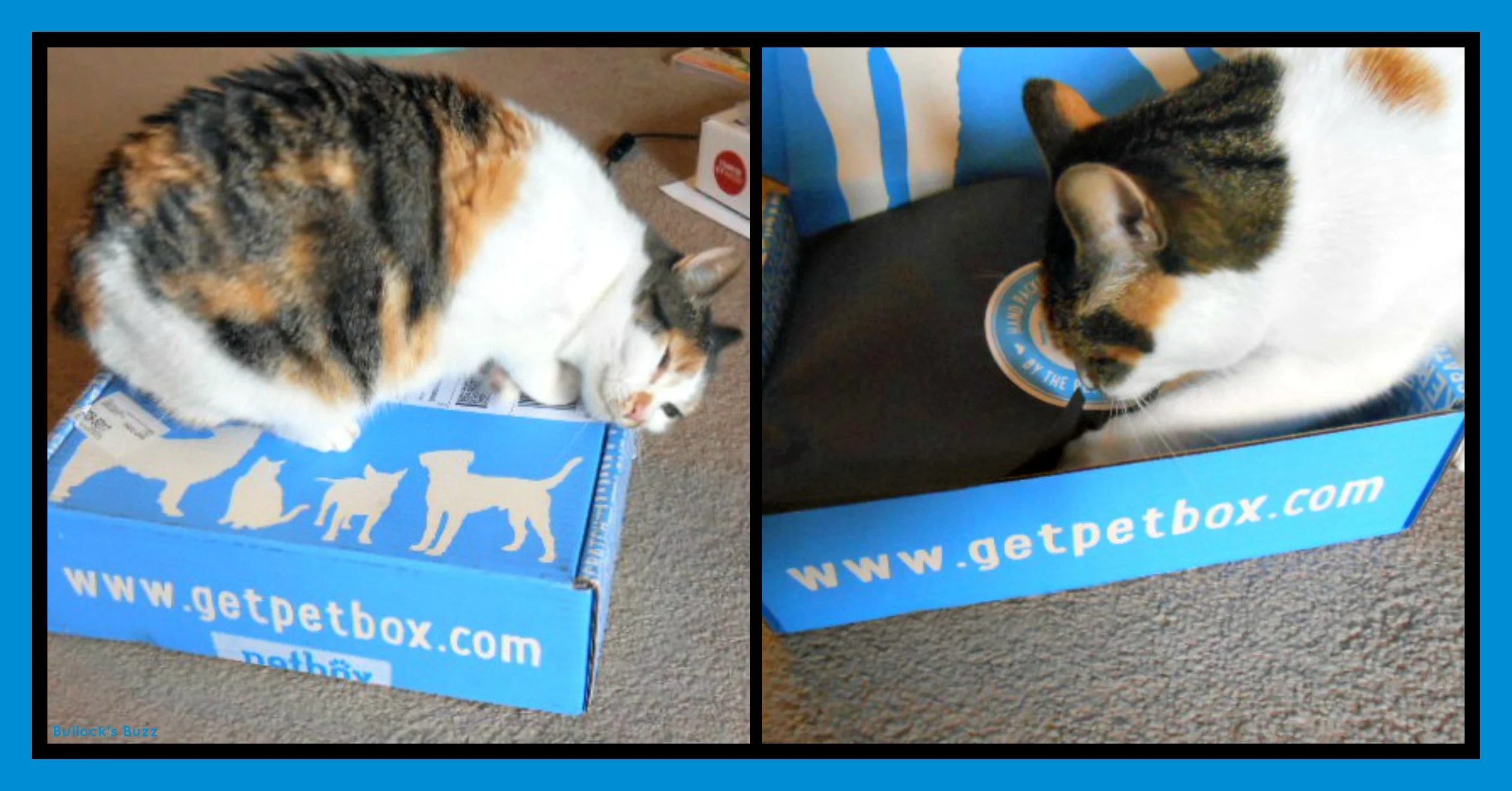 Sookie's box arrived within days, and she literally couldn't wait to see what was inside! She did her best to open the box herself by licking it, biting it, rubbing on it and finally laying on it, and then, once it was open, she just had to help unpack it! Check out what was inside!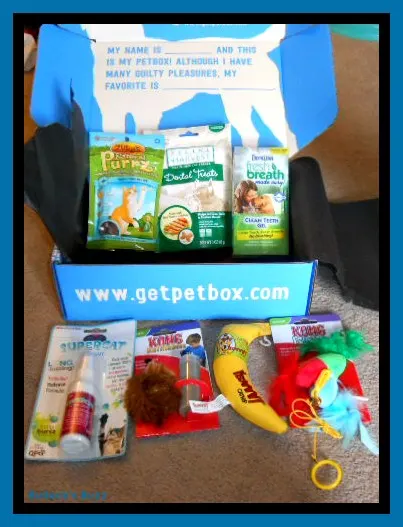 One 3 oz Bag of Zuke's Natural:Natural Purrz Soft Treats for Cats
First up is a full-sized bag of Zuke's Natural Purrz Treat for Cats in their Tasty Tuna Recipe flavor. These tender, z-bites (called so because each bite-sized morsel is shaped like the letter 'z') are more than just your basic treats since they are full of vitamins and minerals to help keep kitty healthy. Each individual treat is filled with real tuna, cranberries, and omega-rich fish oil, and must taste pretty good as Sookie begs for them daily.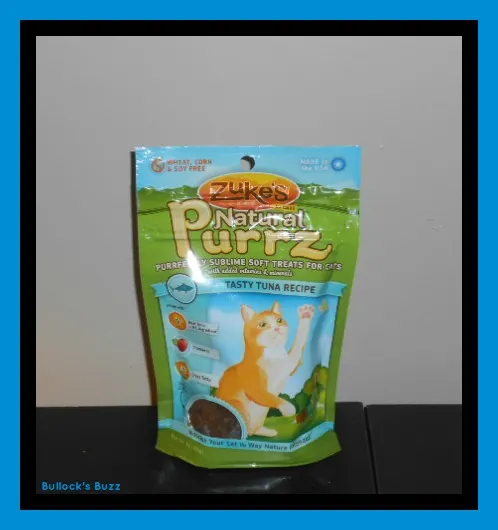 One 3 oz Bag of Feline Harvest Dental Treats (3oz)
Next is another full-size bag of treats, except these hard, comma-shaped treats are made to help reduce plaque and tartar build-up on your cat's teeth and freshen their breath. Made by Feline Harvest, these chicken-flavored dental treats are made with real chicken, and are gluten-free and grain-free. They also contain Taurine, which is a type of amino acid that is critical for normal vision, normal digestion, normal heart muscle function, to maintain normal pregnancy and fetal development, and to maintain a healthy immune system in cats. Sookie loves the way these treats taste, and I love that they are good for her teeth and overall health!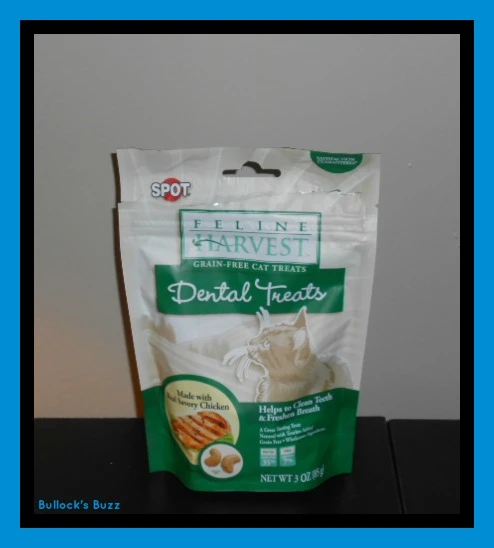 One Bottle of Tropiclean Fresh Breath Clean Teeth Gel (2 fl. oz.)
Also included is a full size bottle of Tropiclean Fresh Breath Clean Teeth Gel which is an easy natural solution to brushing your cat's teeth and gums. All you have to do is apply the gel directly to the cat's teeth once a day, and as your cat begin licking and licking (this is normal) the gel mixes with the saliva and coats all surfaces of the teeth and gums. Like many cats, Sookie does not appreciate me holding her mouth open, so I have to get my husband to hold her while I apply it; yet it is still much easier than trying to brush her teeth, and much cheaper than having it professionally done (although I do take her once a year). The gel has a pleasant minty smell, though I cannot tell you how it tastes. Sookie doesn't seem to despise it, and I have noticed a difference in that the yellow-color that forms on her teeth is almost gone!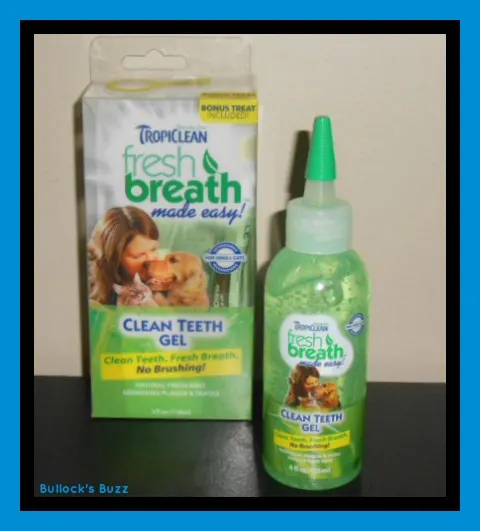 One 1.75 oz Bottle of Supercat Catnip Spray
As you can probably guess by the title, this Supercat Catnip Spray is a real treat for cats! Now you can spray the smell of catnip anywhere you please with this handy bottle. This clear spray is non-toxic and non-staining, and it uses Nano Burst Technology™ which means that the catnip bubbles continue to break open when areas that have been sprayed are buffed or scratched! I find it works very well for encouraging Sookie to use her scratching post instead of my dining room chair. I just spray a few squirts daily, and she is drawn to it like a moth towards the light. It also works great on her toys that are not catnip-filled, as well as the blanket she has claimed as hers. Although we haven't done this yet, I am hoping I can use it to entice her into her carrying cage when it's time for a trip to the vet.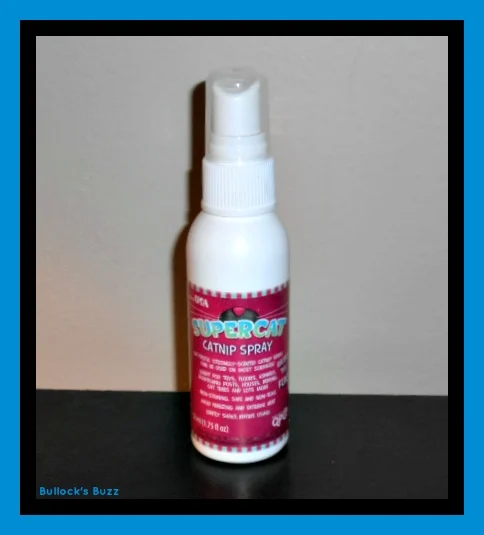 One Kong Refillable Hedgehog with Catnip
This is a super cute, soft toy hedgehog, that is part of the Kong Refillable collection. It is maybe 3" in length, and it comes with a good-sized tube of high quality catnip that practically guarantees hours of hyped-up, spastic fun! On the bottom is an opening where you stuff in the catnip, then it closes securely so none will fall out. Once filled, it becomes your cat's new best friend! It's the perfect size to chew on, kick and bat around, and its super soft fur makes it purrfect for cuddling with! Sookie plays with her new toy daily, and her favorite game is "throw it and if you're lucky I'll return it" which wears her (and us) out nicely before bed time, although due to the catnip, we make sure to play this a few hours before bedtime!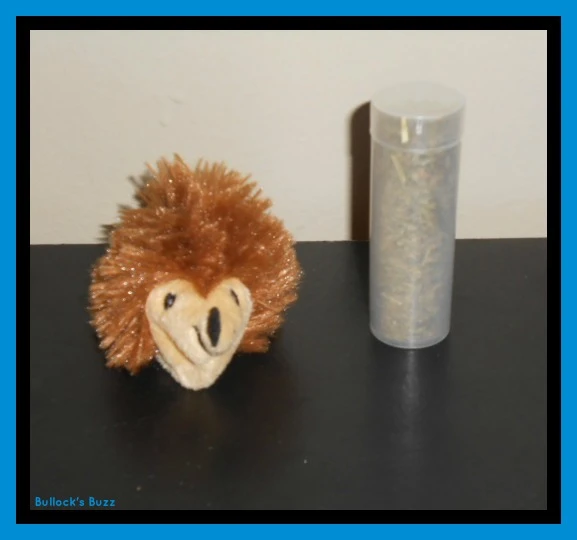 One Kong Flip Funster
Another Sookie – favorite, this cute toy is part of Kong's newer collection, the Cat Funster Finger teasers. These cute toys come with a bell, crinkle and catnip to encourage play. They also have a removable elastic string allows for both interactive play and individual play. The crinkle is what really gets Sookie, and it's hilarious to watch the feathers tickle her nose. We can spend hours playing together or watching her play on her own. And really it's more like three toys in one as when we have the string attached, Sookie likes to play both with both ends – the Flip Funster and the ring on the end of the string that we hold! She really plays rough with this toy sometimes (she is not declawed) and I am impressed with how well it (and her other Kong toy) is holding up!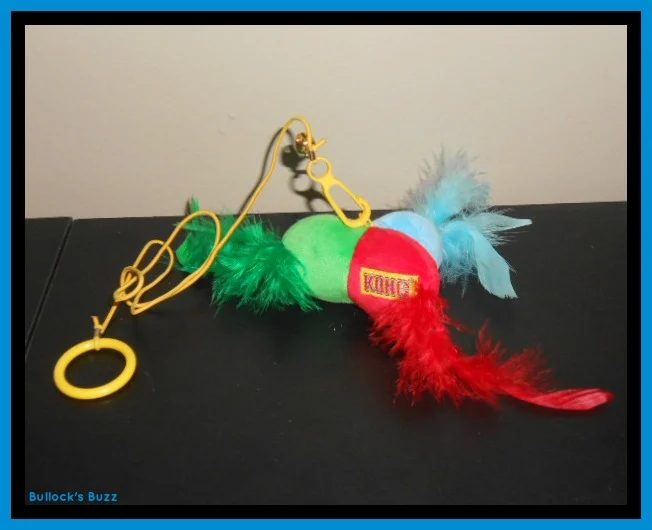 One Yeowww Catnip Yellow Banana Cat Toy
Also included in her PetBox was one Yeowww Catnip toy that resembles a big, yellow banana. All of Yeowww Catnip's toys are made in the USA and stuffed to the rim with their 100% organically grown catnip – no fillers or low-grade catnip used. At first I didn't think Sookie was going to play with the 7″ long yellow banana Yeowww Catnip Toy since it doesn't have any strings or feathers or dangling parts. Boy was I wrong! It turns out this is the perfect toy for her to wrap around and kick with her feet, bat around the room, pounce on a bite – she absolutely adores it! I have even caught her curled around the banana holding it in her paws as she napped! I am also impressed with how well it is holding up to her abuse!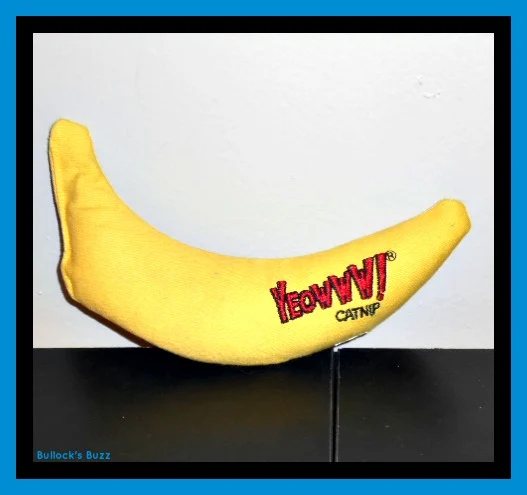 My Opinion of PetBox
Sookie loves it, therefore so do I! PetBox is truly a great deal! For just a small amount each month, not only do you get to avoid the crowds at the pet stores, but your pet gets top brand items delivered right to your home. plus, you will be helping an animal in need.
Sookie's Opinion: Purrrrrfect!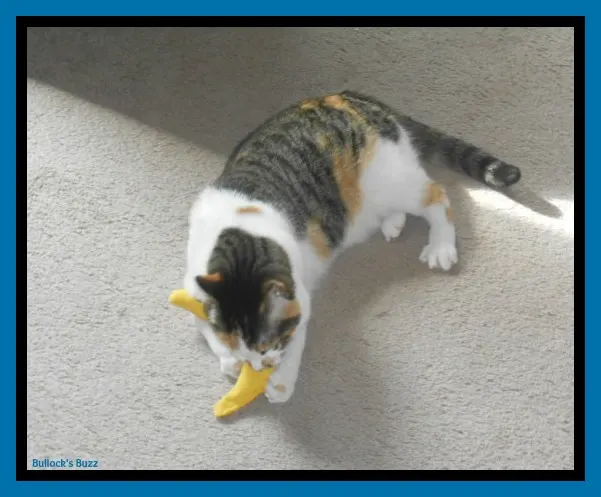 To join, simply visit PetBox online and follow the simple, on-screen instructions. The process takes little time and includes filling out a pet profile that is designed to help you shop for products that are tailored to the needs of your cat or dog. You will also select the plan that works best for you out of several ones offered. Prices depend on the length of the subscription you choose, and range from $29 a month and up. Each box, regardless of the plan you choose, will have $50 worth of full-size premium toys, treats, and accessories. Shipping is always free. So sign up for PetBox today and make you and your pet happy!
Be sure to connect with PetBox on both on Facebook and Twitter. And don't forget, PetBox is for cats and dogs both!