With so many choices of clip-on reading lights and night lights out there, it can be hard to find the ones that suit your needs. And weeding through hundreds if not thousands of reviews can cause even more uncertainty and confusion. Today I'm sharing my honest experience with two products made by Vont, an LED Clip-On Reading Light and plug-in Night Lights.
But before we begin, a quick note. Tose of you who have been following this blog for years, know you can find detailed descriptions of the products I review, along with my honest opinion of those products. And by honest, I mean the good, the bad, and the ugly. So, while I may have been provided products in exchange for my review, you don't have to worry about my opinion being influenced in any way. It won't be.
Now on to my review of the Vont LED Clip-On Reading Light and Vont Aura Night Lights.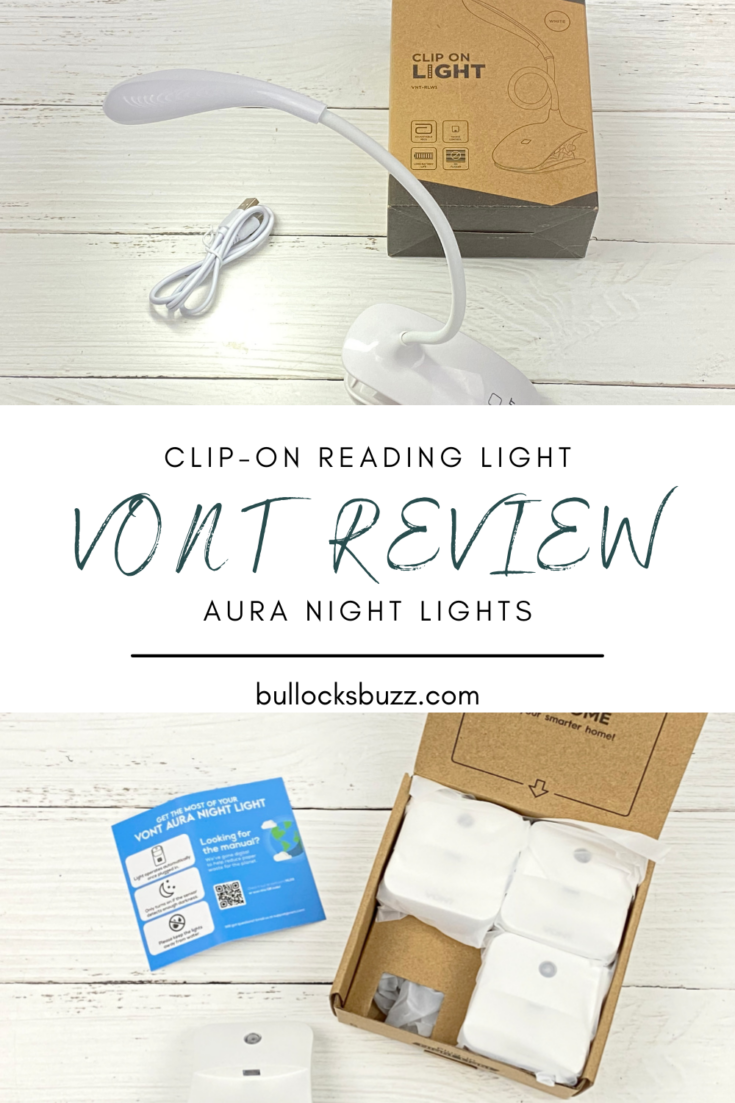 Who Is Vont?
Vont Innovations designs and manufactures smart devices for smarty homes, outdoors, and travel. Their goal is to create smart electronics to simplify your life.
In addition to this Clip-On Reading Lamp, Vont also makes home lighting products, outdoor lighting products, kitchen scales, and audio solutions such as a Bluetooth FM Transmitter for your car, headsets, and more.
Today, I'm sharing a review of two of their products: the LED Clip-On Reading Light and a package of Aura Plug-In Night Lights.
LED Clip-On Reading Light from Vont
Growing up, my dad would let us read in bed for 30 minutes before lights out. That is something that has stuck with me all through my life. In fact, curling up with a good book in bed is the only way I can fall asleep.
Since reading by the light of my bedside table lamp would keep my husband up, I've been using a clip-on reading light. However, when we moved a few months back, the light I was using somehow didn't make it to our new house. So, when I was offered the opportunity to try an LED Clip-On Light from Vont, I jumped at the chance.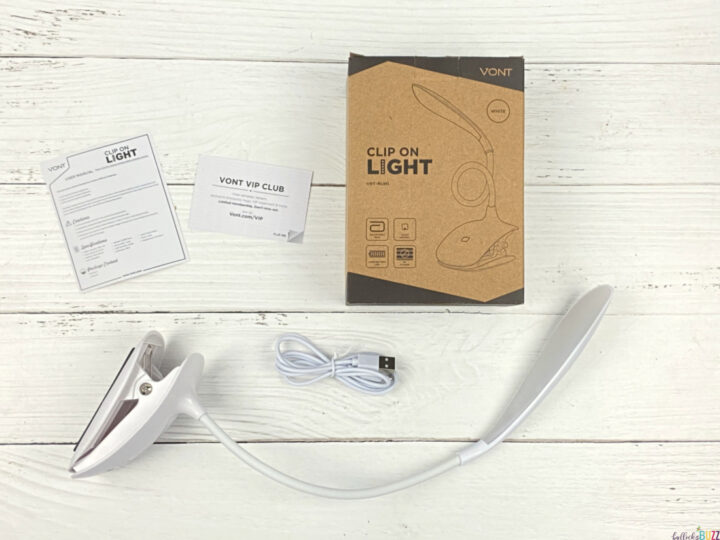 What's in the Box?
Ordered from Amazon, the light arrived quickly. Inside the box was the clip on light, a USB charging cord, and tiny User Manual.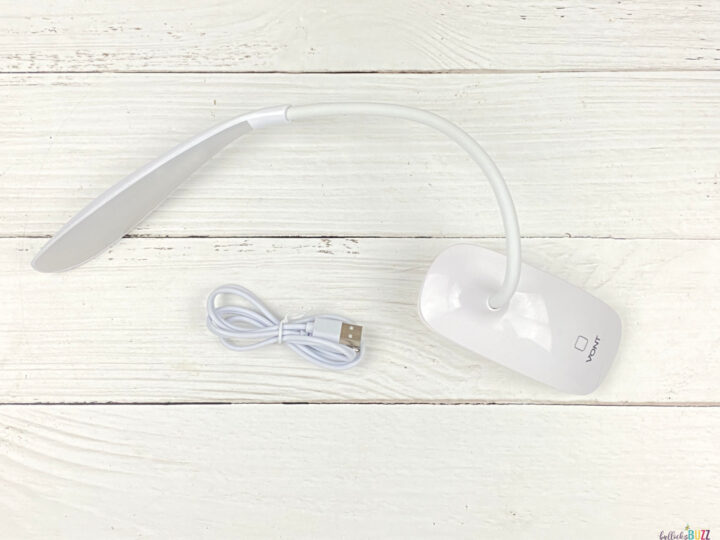 Design and Features
The Vont Clip-On Reading Light is a gooseneck light with lots of great features including:
made of high-quality materials meant to last.
16 high quality Eye Protection LEDs which are designed to enhance visual clarity and provide flicker-free light. The lights are also designed to eliminate glare tin order to reduce eye strain and increase productivity.
It comes with a USB Rechargeable Cord so you can power the light by charger, PC, or notebook.
3 levels of brightness which you can easily adjust with the tap of a finger.
360° Flexible Goose Neck – easily light up whatever space you need by aiming the light in any direction thanks to its flexible goose neck.
Wide clamp opening means you can clamp the light onto pretty much anything.
Longer battery life – the 1000mAh rechargeable battery will provide up to eight hours of light before you need to recharge.
Limited Lifetime Warranty – the light is warranted for life; covered against loss, theft, and defects in materials and workmanship for as long as you own the product. CE/RoHS certified.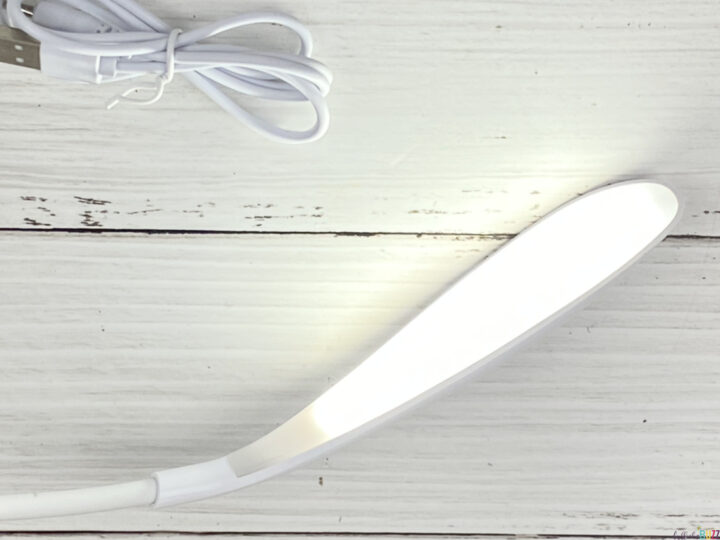 What I like
Over the years, I've had several different clip-on reading lights, and I have to say that this one from Vont is one of my favorites. It's lightweight, provides plenty of light, and can quickly be recharged. I can also easily take it with me when traveling as its flexible goose neck allows for easy folding and storage. It is also very affordable!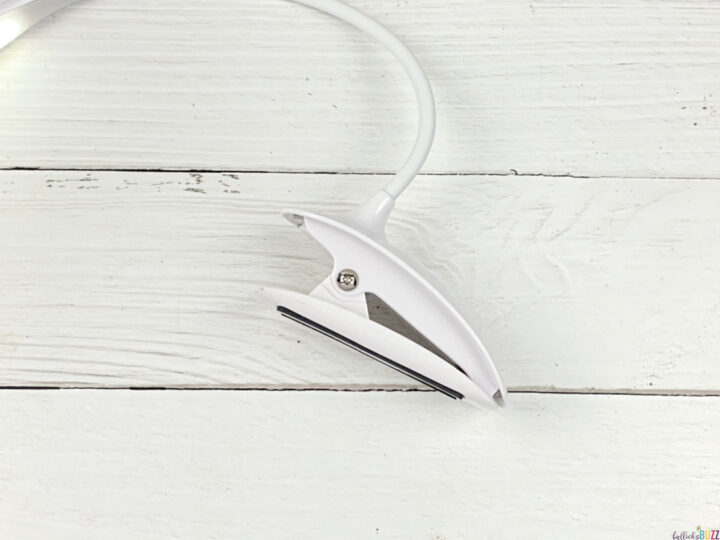 What I'd change
It is a bit larger than what I am used to, so when attached to a paperback book, it's a bit clumsy. For a hard back book, it's perfect.
In addition, it will not stay clipped on to certain things such as the edge of my headboard or the edge of my nightstand. However, I'm sure it depends on the amount of room you have to clip it on to certain surfaces.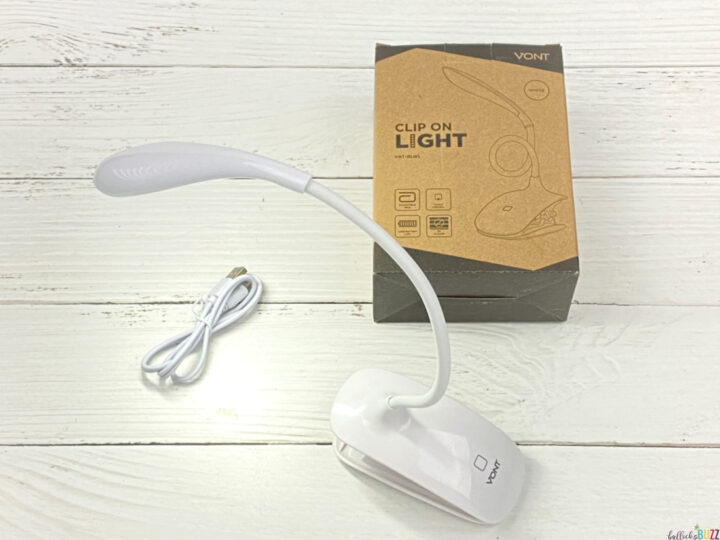 Final thoughts
This Vont Clip-On Reading Light is a cute little lighting accessory that provides plenty of light of reading and other tasks. I love that it has three different brightness levels, can be bent to whatever angle I need, and doesn't cause excessive glare.
Price: $11.99
Where to buy: Amazon or directly through the Vont website.
Source: The sample for this review was provided by Vont.
Vont 'Aura' LED Night Light (4 pack)
Once I turn my Vont Clip-On Reading Light off, I want the house DARK. Since it's just my husband and I, there's no need for us to leave any other lights on at night. We both sleep great in the pitch dark.
However, getting up to go to the restroom, or getting ready in the early morning when it's still dark outside can be a bit of a challenge. Especially in a new-to-us house. Nothing hurts like than kicking the foot of your dresser with your bare toe in the middle of the night!
Enter Aura LED Night Lights from Vont.
What's in the Box?
Also ordered from Amazon, I was impressed with how quickly the night lights arrived. Inside the box was small plug-in night lights and a card with a QR Code to an online user manual (to save paper – love it!).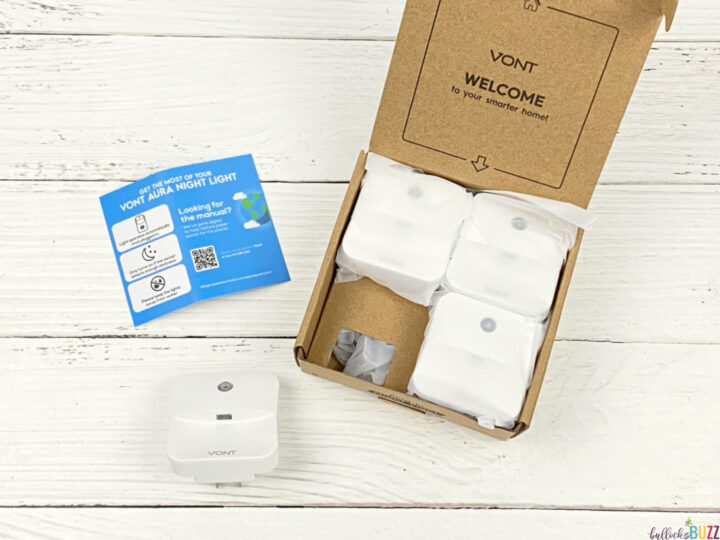 Design and Features
The Vont Plug-In Night Lights are nice and small, yet super powerful. Their specs include:
made of high-quality, durable materials that are designed to last.
material used is 100% ABS (Acrylonitrile Butadiene Styrene) which is fire resistant.
nice, compact size – each light measures just 2.36″D x 1.5″W x 2.36″H so they easily fit in small spaces and also will not block other outlets
a nice modern, minimalist design
each light has a Super Smart Dusk to Dawn Sensor (photoelectric sensor).
they put out the perfect amount of brightness allowing us to easily walk around the house without having to turn on any main lights.
the light they emit is a warm light that doesn't bother us at all when going to sleep or while we are asleep. sleeping.
Smart illumination – they will turn on automatically as they sense that the ambient light is becoming insufficient.
They intelligently adjust themselves throughout the night.
Energy efficicent – the LED night lights are super power efficient and long-lasting. with a life span of 10,000+ hours. No more changing bulbs.
Comes in eco-friendly packaging.
Limited Lifetime Warranty – the light is warranted for life; covered against loss, theft, and defects in materials and workmanship for as long as you own the product. CE/RoHS certified.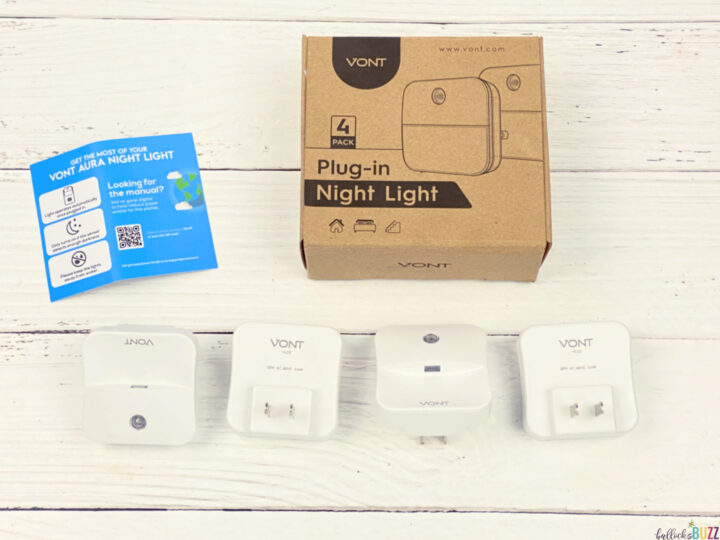 What I like
For the longest time we had some blue colored nightlights. And while I liked them, they didn't last as long as I had hoped because they stayed on all the time. I was going to get some more, but then I had the opportunity to try these night lights from Vont.
After using them for a few weeks, I have to say that I really like them! At first, I was worried they would be too bright, but I was wrong. The warm color prevents them from being so bright that they keep us up, yet they still provide enough light to easily see by. And they only come on at night!
Plus, I love their minimalist design and small, compact size.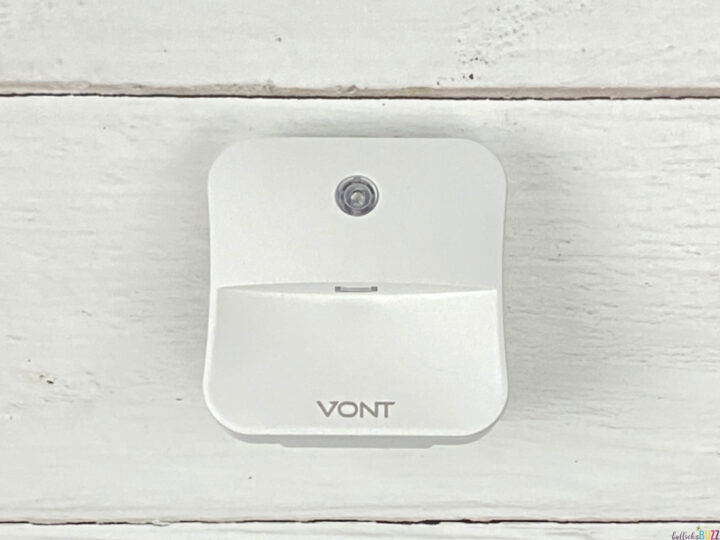 What I'd change
Nothing, I am very happy with these nightlights! However, I do wish I had ordered the ones that are activated by motion! Next time…
Final Thoughts
These Vont Plug-In Night Lights are a handy lighting accessory that works great. They only come on once they sense that the light in a room has faded, and they only light up a small area, providing just the amount of light you need to be able to walk through a dark room. They are ideal for the kitchen, hallway, bathroom, and even for children's rooms. I love that they come with four lights in a pack. And their price is very affordable.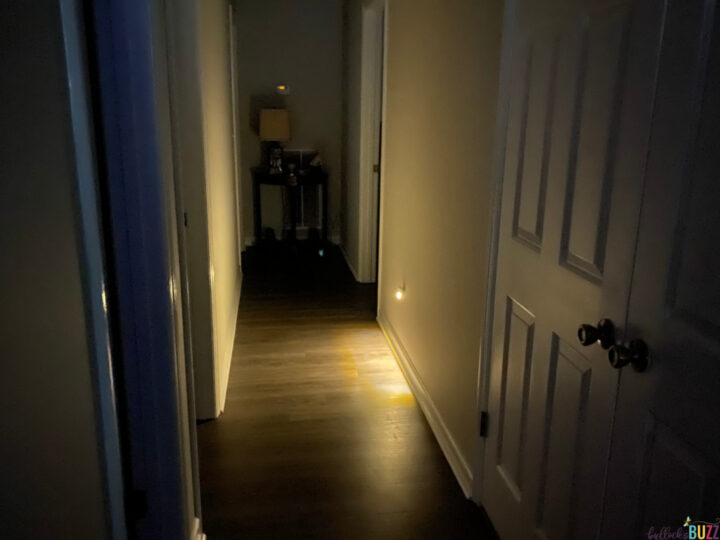 If you are looking for an effective and affordable set of small night lights, I definitely recommend these from Vont!
Price: $12.99
Where to buy: Amazon or directly through the Vont website.
Source: The sample for this review was provided by Vont.