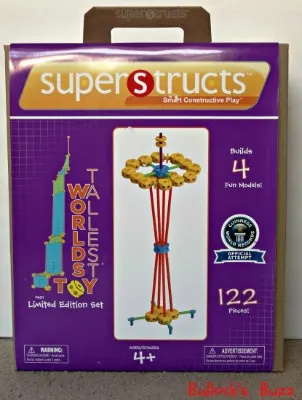 Growing up one of my favorite toys was Tinkertoys. I can remember having two or three sets and whenever it was too yucky to go outside, I'd get my sets out and work on building the world's tallest building or a castle for my Barbie. The sets would provide me with hours of constructive play, being limited only by my imagination (and the fact that they wouldn't bend very much for curves or rounded edges). Today, there are Superstructs by Waba Fun. Created by computer game designer David McKlosky, these innovative rod and connector style construction sets remind me of Tinkertoys except they are a hundred times better!
Each Superstucts set consists of a variety of vibrantly colored, PVA-free plastic rods and connector pieces, and several foam panels. It is these panels that make the award-winning Superstructs so unique. Made of a safe, durable EVA ( Ethylene Vinyl Acetate) foam, the panels are designed to 'pop' into place between the rods and connectors, adding a whole new dimension from which to build all sorts of 3D models. And since the foam is a "closed cell" foam, it is impervious to liquids, making the entire set top-shelf dishwasher safe!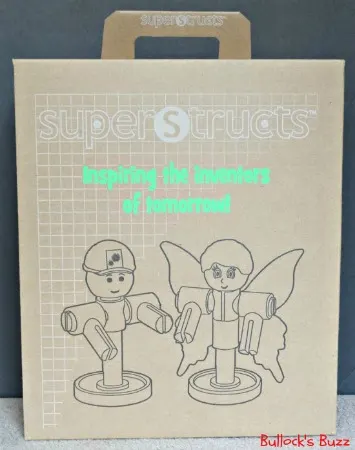 There are several different Superstructs kits ranging from rod and connector building kits like the Starter Set and the Super Set, to themed building kits such as the Flight Set for planes and the Wacky Machines for funny vehicles. There are also the pastel-colored Pinklets Sets such as The Fairy Garden and Lillies & Friends, as well as the Arc-a-Teks sets which enable your child to build their own creations from the Earth, Sky and Sea. Plus, you also have the option to create your own custom kit ordering the pieces you want from a selection of over 24,000 possible combinations!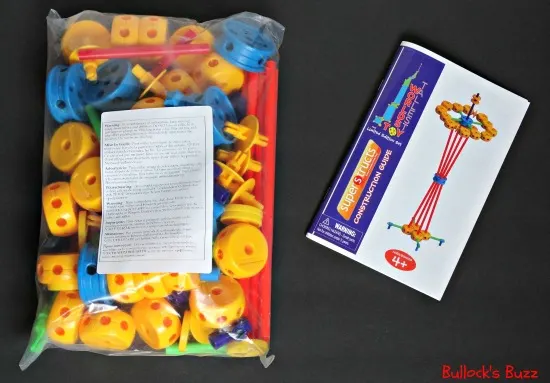 We were sent the "World's Tallest Toy" set, a limited edition kit that contains an assortment of 122 pieces and is labeled for children ages 4+. The pieces include several rods of varying lengths, two types of round connectors, and four of the foam panels. I love that the kit comes in a sturdy cardboard box with handles for storage, and that it includes a step-by-step construction manual with color pictures and easy-to-follow instructions. You can find even more creations to build, including step-by-step instructions, through the online Superstructs SuperBuilds Library of Creations!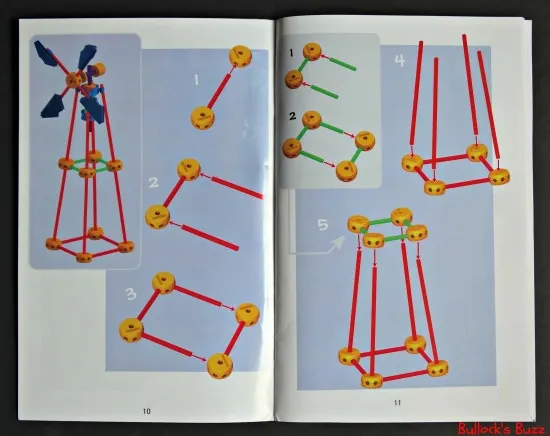 Although my stepson practically begged me to let him give this to his cousin whom he adores, we couldn't resist pulling the pieces out and seeing what we could create. We spent hours building all sorts of creations from the world's tallest building to the building seen in the picture below to funky cars and even eerie aliens! After all, with so many different pieces from which to choose, what we could build was limited only by our imaginations!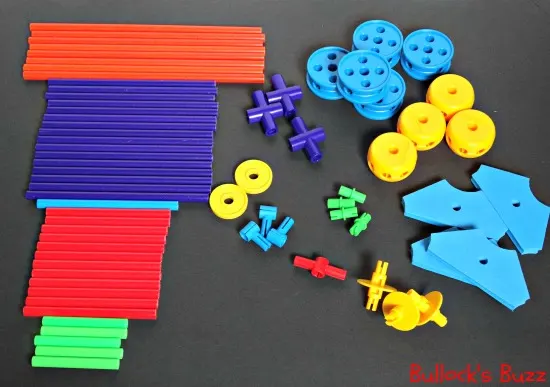 The rods and connectors are all quite sturdy and durable, and were easy to put together. The only bit of difficulty was when the tiny green connector pieces became deeply seated inside the yellow 'wheels', making it hard to pull them back apart. He wasn't able to pull them out on his own and had to ask for help. I am thinking that with use they will become a little less tight. Other than that, we both had a lot of fun playing with the Superstructs kit!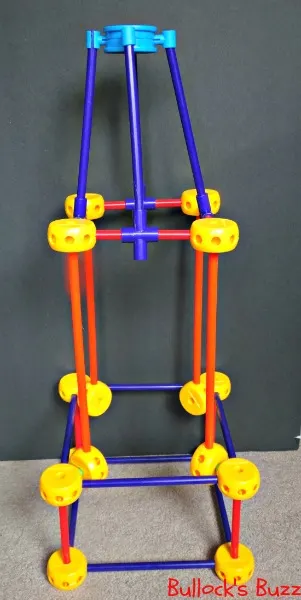 As a mother and a teacher, I can honestly say I like Superstructs for several reasons.First of all, the simple act of fitting the rods into the holes on the connector pieces is a great way for young children to improve their hand-eye coordination and their small motor skills. Deciding what to build and how to fit the pieces together to make that form take shape enforces both problem solving skills as well as several lessons in physics. Plus, Superstructs encourages children to use their imaginations, and to engage in pretend play. Not to mention the kits provide hours of good old-fashioned fun!
Superstructs have passed all toy safety standards set for in the US and Europe. Most sets are recommended for children ages 3 and up due to being a potential choking hazard. The World's Tallest Toy set will be available after September 20th and will retail for $54.99. To learn even more about Superstructs, be sure to visit WABA Fun's website!
"Disclaimer: I am a member of The Social Media Panel, LLC. who was given the opportunity to review this product. However, the brand or company has not influenced me in any way to provide any type of review other than my true and honest opinions. I am disclosing all information provided in this review according to the information provided in Federal Trade Commission's 16 CFR, Part 255: "Guides Concerning the Use of Endorsements and Testimonials in Advertising." I would like to extend my gratitude to Waba Fun for sponsoring this post.