Today's post on behalf of Nature's Science Vegan Omega-3 Supplements was sponsored by Brandbacker. All opinions are my own.
We've all heard it before. The warnings and consequences of having too much fat in our diets. But did you know that there is one type of fat you do not want to cut back on at all? One that you actually want to get more of? It's called omega-3, and I bet you have heard of it as well. But what exactly is omega-3 and why do we need it?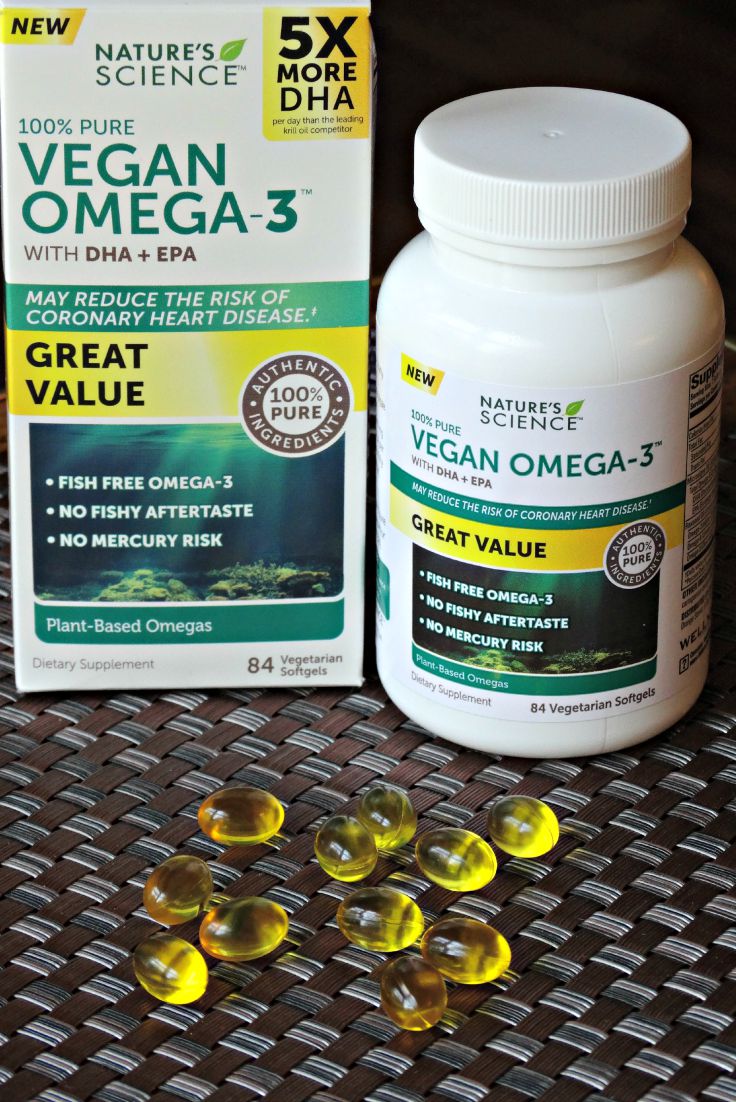 What Exactly Is Omega-3?
Omega-3 is actually a collective term that refers to three polyunsaturated fatty acids, including EPA (eicosapentaenic acid), DHA (docosahexanoic acid), and ALA (alpha-linolenic acid). They are often called "essential fatty acids" because our bodies do not naturally produce them. Instead, the omega-3s come from both animal and plant sources, most notably krill oil and fish oil. Marine animals such as fish and krill provide EPA and DHA, while flaxseed, chia, hemp, and a few other plants offer ALA. All together, these omega-3 fatty acids rank among the most important essential nutrients out there today.
Benefits of Omega 3
According to WebMD, omega 3 seems to have health benefits for every age – starting from before birth all the way through to old age. Not only does your body need omega-3 to function, but it also delivers some big health benefits including helping to protect against heart disease and lowering triglycerides. There is even some research showing that omega-3 may help with dozens of other conditions, too. Below are just a few of the possible health benefits that studies have shown omega-3 may provide.
Lowers blood pressure

Improves cholesterol by lowering triglycerides and elevating HDL (good cholesterol) levels

Slows the development of plaque buildup and blood clots in the arteries that lead to the brain

Reduces the chance of abnormal heart rhythm

Reduces the likelihood of heart attack and stroke

Lessens the chance of sudden cardiac death in people with heart disease

Improves joint health by reducing joint tenderness and stiffness associated with arthritis and osteoarthritis

Directly impacts brain development in infants

Helps alleviate depression

helps with children's behavior and learning disorders (DHA)

boosts fertility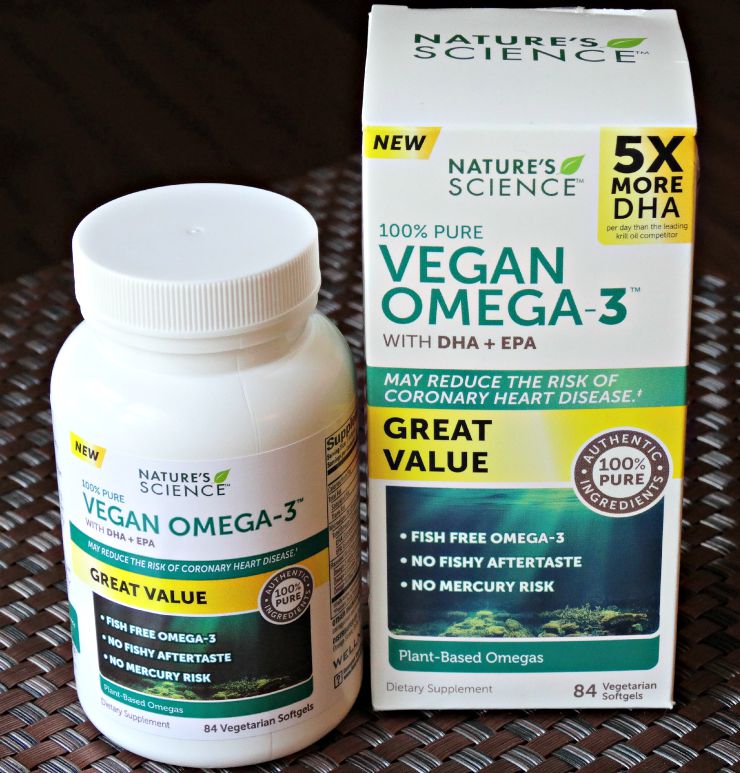 Nature's Science 100% Pure Vegan Omega-3 Supplement
Since our bodies do not naturally produce the omega-3 fatty acids, it is important to get them from food and supplements. Unfortunately, the typical American consumes far too few omega-3's. In fact, according to David C. Leopold, MD, the director of Integrative Medical Education at the Scripps Center for Integrative Medicine, "Pretty much everybody's diet is deficient in omega-3."
While there are many supplements out there, one thing you need to be aware of is the fact that some may only provide you with one or two of the omega 3's, instead of all 3. In the past I have tried several different supplements including fish oil and flaxseed oil. However, I soon discovered that the flaxseed oil was only giving me omega-3 in the form of ALA, and the fish oil was only providing me with EPA and DHA – plus the fish oil always left an awful fishy aftertaste in my mouth! Then I was offered the opportunity to try Nature's Science VEGAN OMEGA-3™ supplement through BrandBacker.
Nature's Science Vegan Omega-3 is a fish-free, plant-based supplement that provides all three types of omega-3 fatty acids. The DHA and EPA are derived from marine algae rather than fish, which not only makes this a vegan-friendly supplement, but also eliminates any fishy aftertaste and any risk of ingesting mercury. The omega-3 ALA is derived from flaxseed oil, along with omega-6 and omega-9 which are two more fatty acids beneficial for your health.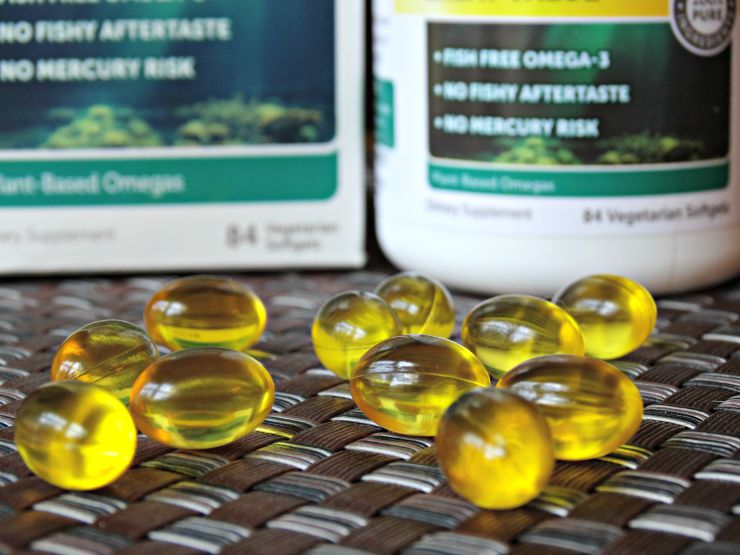 For the last several weeks I have been taking Nature's Science Vegan Omega-3 supplement, and have been quite happy with it. I love that the supplement contains 100% pure omega oil, and that I am getting all three of the Omega-3 fatty acids in each easy-to-swallow softgel! Plus the fact that I no longer have to deal with a fishy aftertaste is a huge bonus! The recommended serving is two softgels in the morning, and then two more later in the day. While I love that the softgels are not too large (making them easy to swallow), it has been a bit of a challenge to remember that second dose. I have found I remember better if I put them right next to whatever I am planning on eating for lunch that day. Oh, and did I mention that Nature's Science Vegan Omega-3 provides 5 times more DHA than krill oil?!
Where to Find Nature's Science Vegan Omega-3 + Money Saving Coupon
Want to give Nature's Science Vegan Omega-3 a try for yourself? Here's a great money-saving coupon for $3.50 off good from now through September 20! Nature's Science Vegan Omega-3 can be purchased online or at your favorite drugstore. Plus it comes with a 100% Money Back Guarantee! If you are not happy, simply return it to the place of purchase within 30 days, along with your receipt, for a refund.
Please remember to always discuss the use of any medication or supplement with your doctor.
Connect with Nature's Science: website