2014 Holiday Gift Guide – Please note, this post may contain Amazon affiliate links to make shopping easy. If you make a purchase through these links, I'll make a small bonus at no extra charge to you.
ThinkFun Games – Encouraging Learning Through Play
For the last two years, I have featured several games made by ThinkFun in my Holiday Gift Guides including my personal favorite, Laser Maze. Known for their innovative brain teasers, puzzles and logic games for both kids and adults, ThinkFun games literally combine play with thinking to help build and sharpen both reasoning and creative thinking skills. They have STEM games that will provide challenges in every area from math to verbal, memory to reasoning, and even visual perception. For children their games provide endless learning opportunities, for adults they challenge what you already know and keep your thinking and reasoning skills sharp, and for families they provide hours of fun, quality time spent together! This year, I cannot wait to share with you two of their latest games, Gravity Maze, and the game that has earned the title of the "Most Backed Game in KickStarter History", Robot Turtles.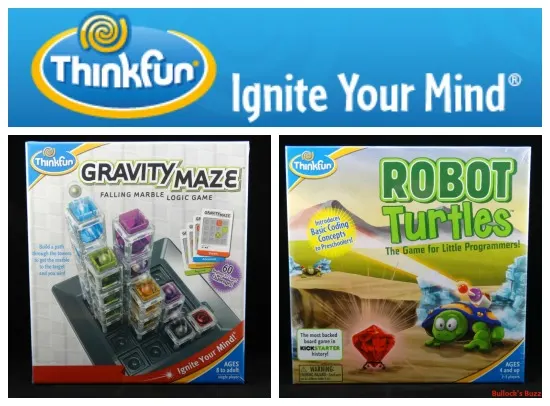 This post contains affiliate links.
Gravity Maze
Gravity Maze is a logic game that puts your visual perception and reasoning skills to the test using marbles, towers and gravity. Ideal for ages 8 to adult, it is a single player game whose object is to direct a marble through a 3 dimensional maze constructed of colorful, translucent towers using nothing but gravity, creativity and your intellect. Gravity Maze comes with one game grid, 9 Building Towers, a Target Tower, 3 marbles, 60 Challenge Cards ranging in skill from Beginner to Expert, and the instructions. It's a great game for building visual perception and reasoning skills, plus it is the winner of the "Best Toy" award from American Speciality Toy Retailing Association!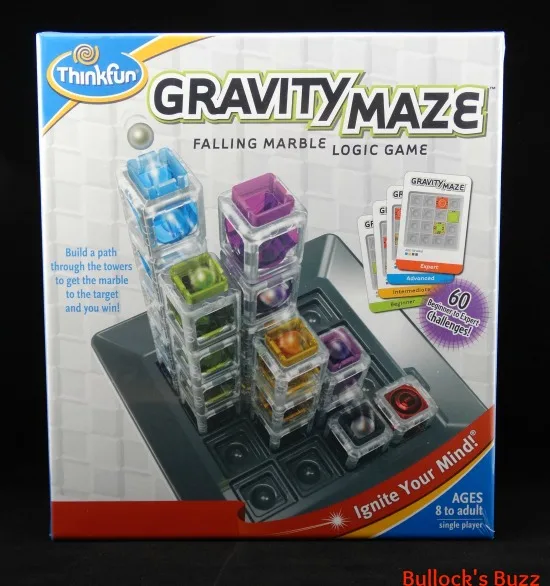 Here's how it works: using the included challenge cards, players place the towers (constructed of clear cubes) on the grid as indicated. The goal is to create a maze that will carry the marble from the Start Position to the Target Tower. The towers can be arranged in a wide variety of structures, but be sure to think carefully in order to create a path that will carry the marble to the target!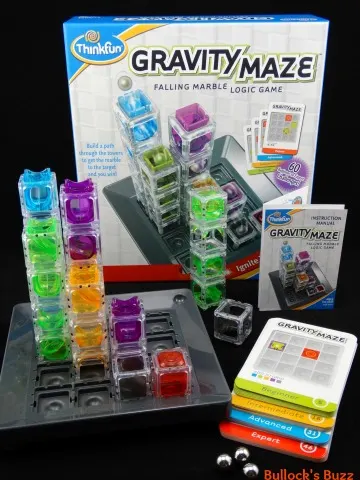 Gravity Maze is a fun and challenging way to increase abstract thinking skills, encourage creativity and teach your child all about the science of gravity. The game can provide hours of educational fun for both children and adults alike!
Robot Turtles
Robot Turtles is the latest addition to the ThinkFun family of games. Designed by dad Dan Shapiro, formerly of Google and Microsoft, to help teach preschoolers the basics behind programming, the game takes just a few seconds to learn and minutes to play. Ideal for children ages 4 and up, the game has four different levels of play to unlock: Basic Game Play, Obstacles and Lasers, Write Program and Function Frog – this make Robot Turtles a game that will grow with your child. It comes with a game board, 4 Robot Turtle Tiles (Pi, Beep, Dot and Pangle), 4 Jewel Tiles, 36 Obstacle Tiles, 4 Bug Tiles and 4 Code Card Decks with 44 cards in each.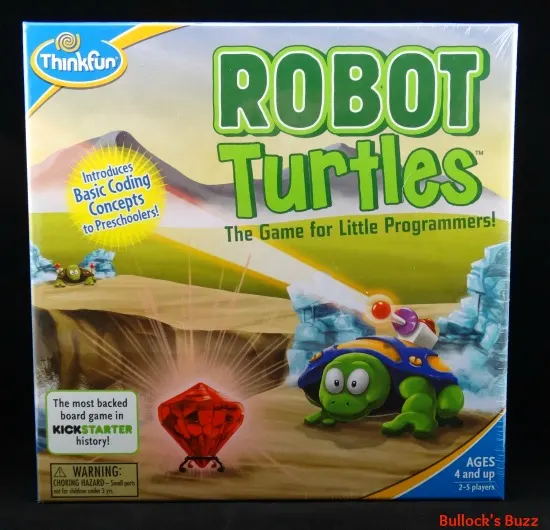 Here's how to play: two to five players can play, and the object of the game is to get the players' Turtle through the maze to the jewel. You begin by setting up the board to make a maze with the Turtle Tile in the corner and the Jewel Tile in the center. The child then plays by selecting the instruction cards (Code Cards) to "program' their Turtle to either turn right, turn left, or move forward in order to get around the different obstacles and through the maze to the jewel. For each card they choose to lay out, the adult player [acting as the computer doing what the programmer (the child) tells it] then executes each move selected by the child, all while making silly "computer" noises. This makes the game hilariously fun for even the youngest player! Once the player gets their Turtle to the Jewel, they win, and they unlock the next level of play! Check it out below!
Robot Turtles combines the family fun of board games with skills every child will need to know – especially in this computer-focused world. Since players are having to lay out a series of cards to figure out what order their turtle should move to get to the jewel, they are essentially creating a line of code that is then "run" when the adult navigates the board game, moving the pieces according to the player's card choices. In addition to teaching your child the fundamentals of programming – including code and function – Robot Turtles also helps sharpen directional skills, deductive reasoning, critical thinking skills, and more.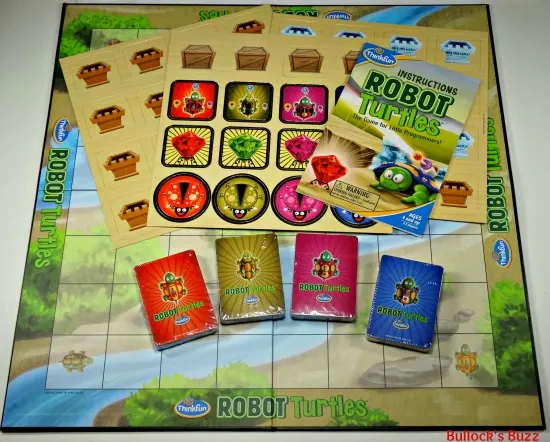 Pick up Gravity Maze
and Robot Turtles
on Amazon!