Disclosure of Material Connection: I received one or more of the products or services mentioned above for free in the hope that I would mention it on my blog. Regardless, I only recommend products or services I use personally and believe will be good for my readers. I am disclosing this in accordance with the Federal Trade Commission's 16 CFR, Part 255: "Guides Concerning the Use of Endorsements and Testimonials in Advertising."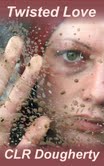 I have always had a love of books for as long as I can remember. It doesn't matter what kind of book, fiction or non-fiction, Mystery, Thrillers, Comedy, Romance…I can get lost for hours in a well-written book. And CLR Dougherty's Twisted Love is one of those books you will find hard to put down once you pick it up!
Synopsis:
In his twisted mind, he's offering Becky salvation, but she's only interested in escape. If she doesn't repent soon, he'll be forced to kill her, just like he killed the others. A psychotic, driven by the voice of God, he's determined to free the world from Satan's grip, one woman at a time. Sarah Regan is a hopeless drunk, but that's the least of her problems. Her second husband is not what he seems; she and her new spouse are capable of embracing only a twisted semblance of love. Her ex-husband wants custody of their teenage daughter, but her new husband has other plans for the girl, and Sarah needs the child support even though motherhood cramps her style. Share the anxiety; Twisted Love will keep you guessing right up until the end.
Twisted Love is the perfect title for this suspenseful thriller that keeps you turning page after page as you struggle to understand the truly twisted mind of a killer, witness a desperate alcoholic's version of warped love, and follow one woman's fight to escape the madman's mission of salvation before it is too late.
CLR Dougherty's writing reaches out and grabs you from the very first page. As he introduces us to each character, we quickly become immersed in their lives while he cleverly weaves them together to reveal a story where people may not be who they seem, and their individual desires may not follow what some perceive as the straight path of reality. Each character is so well developed they seem to come alive right off the pages as the reader learns more and is drawn deeper into the story, almost helpless to put the book down.
I truly like CLR Dougherty's writing style. His pace is perfect, and he draws you in deeper and deeper with every page you turn. At no point did my interest wane, instead as I got further along, my interest intensified until it was hard to put the book down for the night. He keeps you in suspense right up to the very unexpected ending; and in no way was it anti-climatic. To me, those are true signs of a great story!
If you are a fan of suspense and thrillers, Twisted Love is one story you will not want to miss! For more about the author and a list of his publication's, visit CLR Dougherty's website. CLR Dougherty's book is available in both print and as an e-book. Both the Kindle edition and the paperback version are available through Amazon, and you can also find it at many other online sites, as well as at your local bookstore.
I received this product for the purpose of review. Regardless, all opinions are 100% my own and remain true.