Looking for a healthy treat that will satisfy your sweet tooth without any guilt? Look no further than homemade 'sorbet'! Who doesn't love a bowl of refreshing sorbet on a hot summer day? Thanks to the Uber Appliance Sorbet Maker, making a delicious bowl of fruity 'sorbet' is a breeze!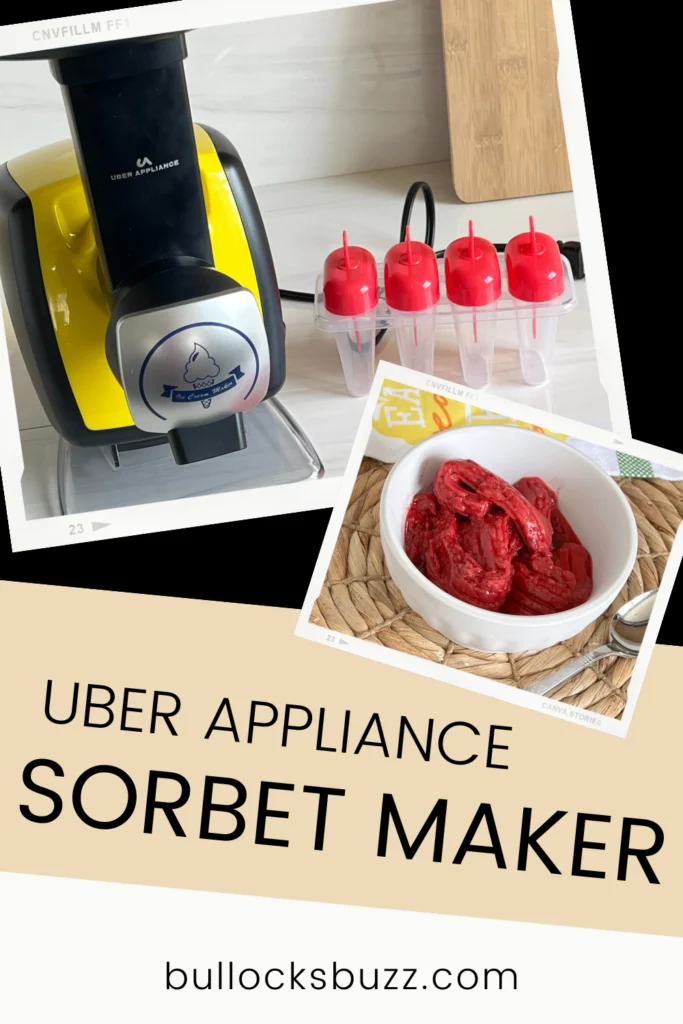 Uber Appliance was kind enough to send me a Sorbet Maker to try. And as a sorbet enthusiast, I couldn't wait to put this product to the test and share my experience with y'all. From its easy-to-use design to the delectable results it delivers, the Uber Sorbet Maker has left me impressed!
What Is Sorbet?
Before we get started, let's talk about sorbet. Technically sorbet is an intensely fruity refreshing frozen dessert that is made with just fruit and sugar. It's a touch less creamy and a little bit icier and harder than its cousin, sherbet (or sherbert) which is made with fruit, sugar, and dairy.
Since sorbet does not have any dairy, it is a perfect option for those who are lactose intolerant or dairy-free.
What the Uber Sorbet Maker does is take frozen fruit and turn it into a delightfully delicious dessert in just minutes.
It's a sinfully delicious dessert that has a silky smooth texture similar to soft-serve ice cream but without any of the guilt.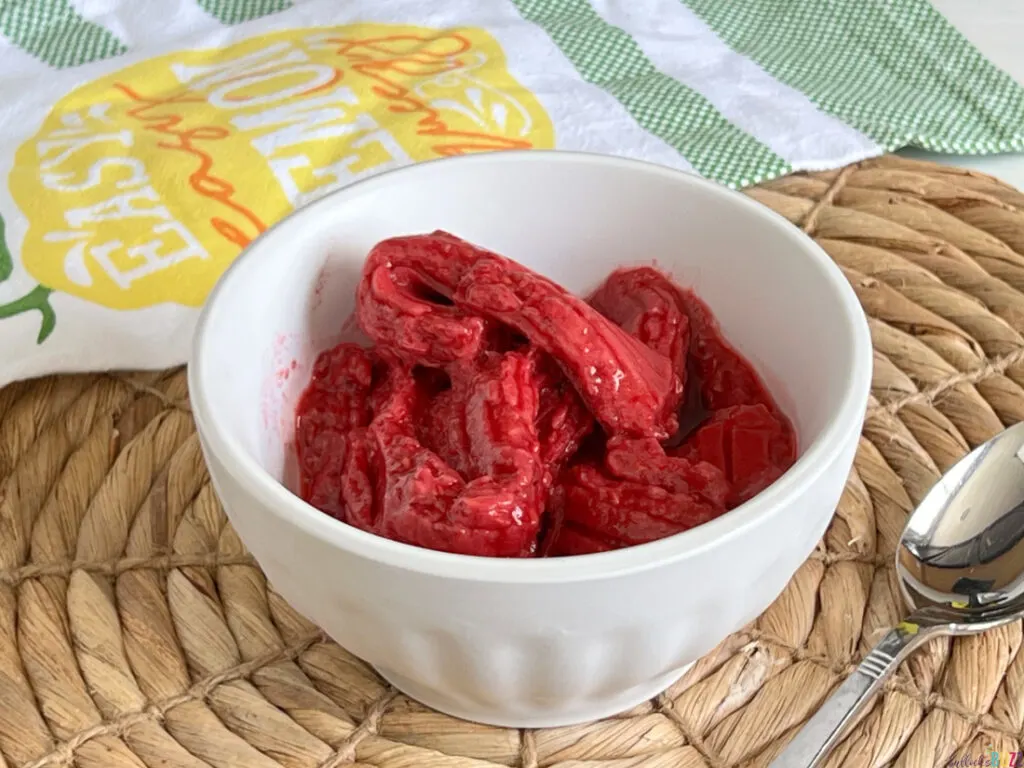 Product Description
The Uber Sorbet Maker is a compact and sleekly designed appliance that offers a fun and hassle-free way to create homemade healthy sorbets with natural ingredients.
It takes up little counter or cabinet space, standing about 13 inches high, 8 inches from front to back, and 5.5 inches wide.
And it features a powerful motor and a durable grinder that efficiently crushes and blends frozen fruits into a velvety smooth sorbet texture.
What's Included
Inside the box, you will find the sorbet maker, a user guide, and a cute little 4-piece popsicle mold. It also comes with a recipe booklet although mine was missing.
You do have to assemble it when you remove it from the box, but with mine that consisted of simply inserting the chute assembly and rotating it until it locked in place. You then add the overfill tray on top and you're ready to go.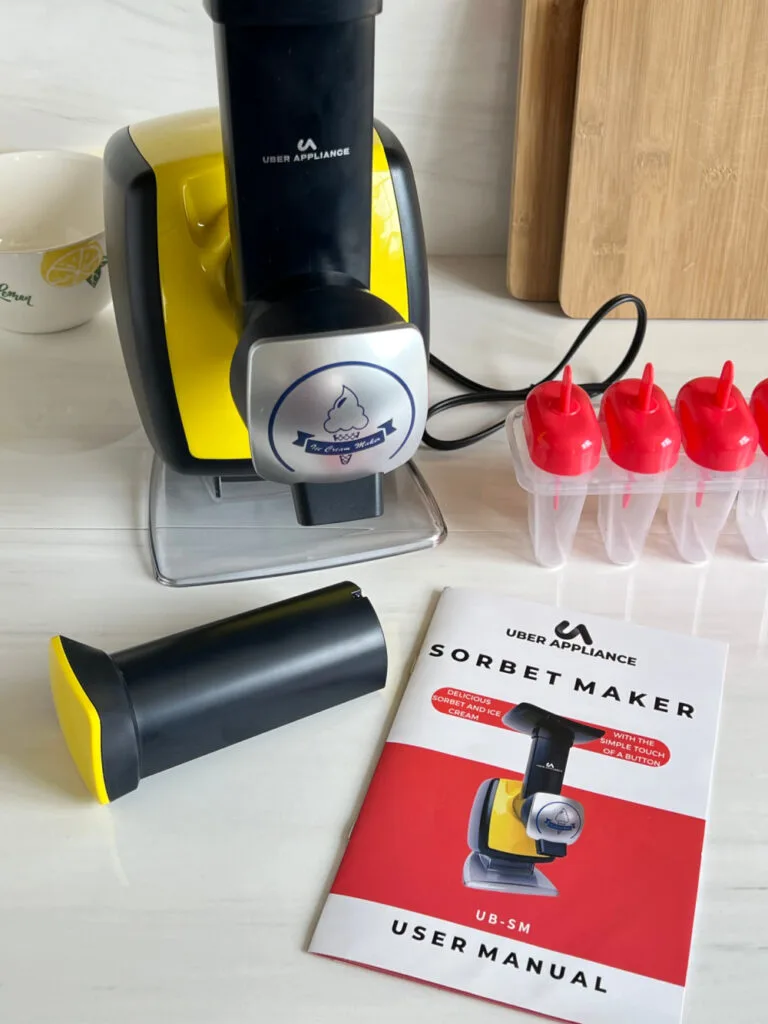 This same ease of assembly makes cleaning it pretty easy. You simply disassemble the chute, plunger, grinder, and overfill tray, wash, dry, and reassemble. The user manual explains exactly how to assemble and disassemble the sorbet maker with images if needed, but really, it's not hard work.
While the machine itself is not dishwasher safe, all of the parts that touch the fruit are including the chute, the grinder, the plunger, and the overfill tray. This makes cleaning a cinch!
How to Use + Raspberry Sorbet Recipe
Using the Uber Appliance Sorbet Maker is so simple! You start by freezing your favorite chopped fruits in advance; be it luscious strawberries, juicy cherries, tangy lemons, or any combination of your choice. Or you can use a bag of already-frozen fruit.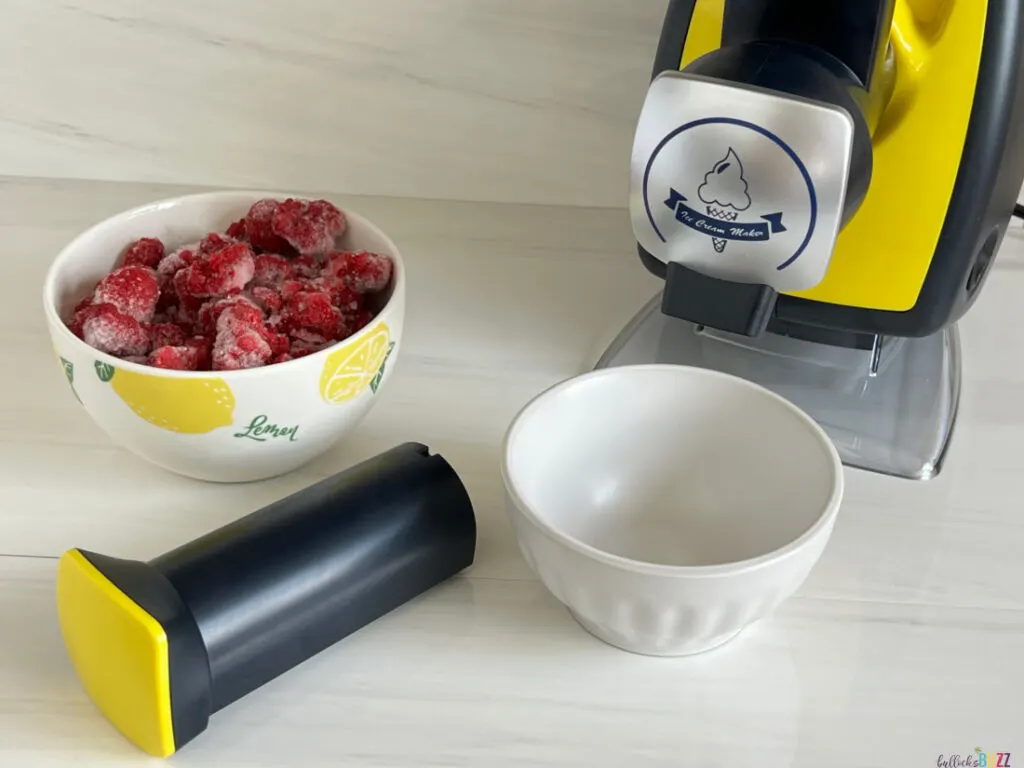 You don't want the fruit to be rock hard though, so if it is allow it to thaw for about 5 to 10 minutes before adding it to the machine. Once the fruits are ready, begin adding them to the sorbet maker's chute.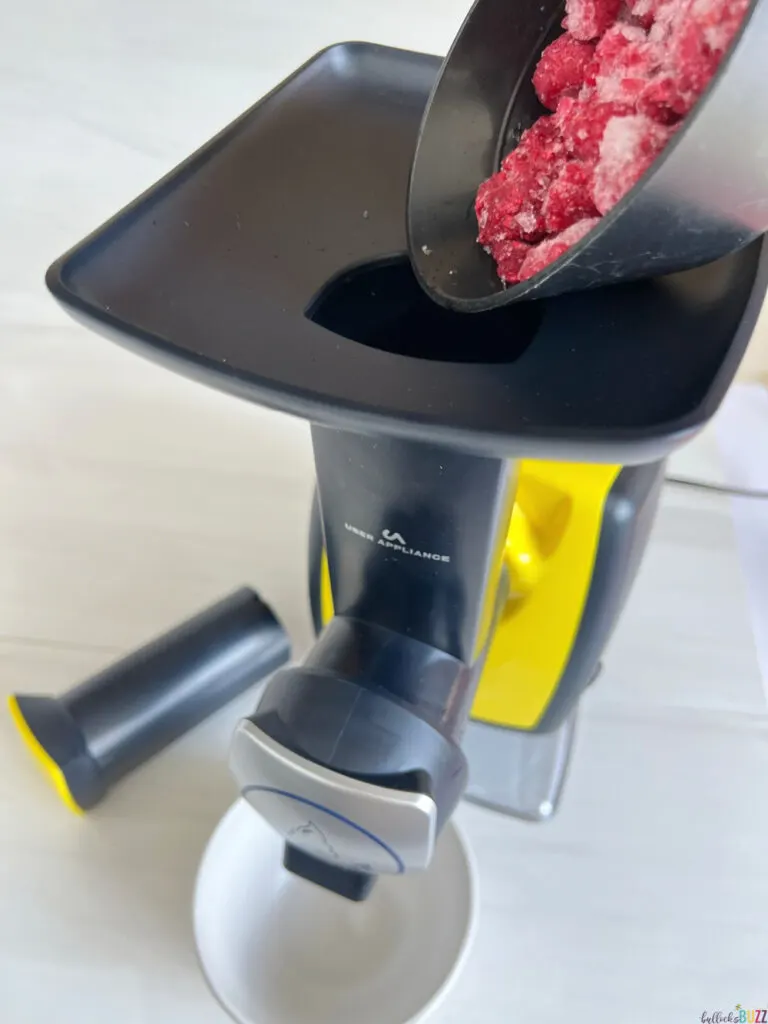 When the chute is full, turn on the machine, and then use the fruit pusher to help push the fruit through the grinder and out the spout.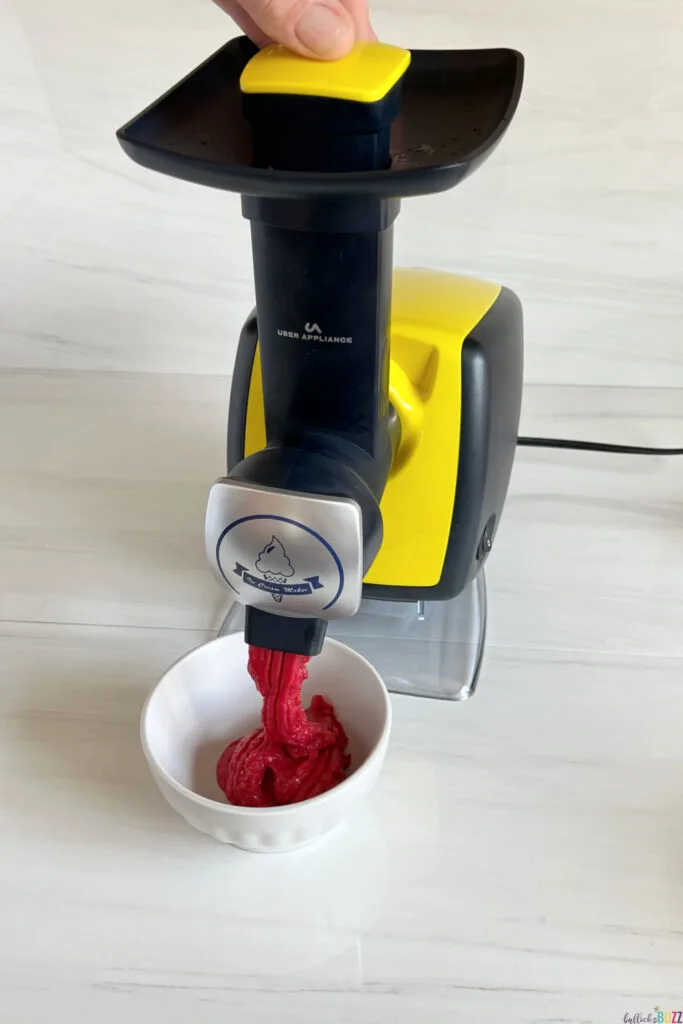 Within minutes, you'll have a bowl of refreshing and wholesome sorbet ready to be devoured!
Easy Raspberry Sorbet Recipe
The first recipe I made was raspberry sorbet. It turned out velvety smooth and SO delicious! Here is the recipe:
Ingredients:
2 cups frozen raspberries
tsp sugar – optional
Instructions
If using sugar to cut the tartness, sprinkle it over the semi-frozen raspberries before you add them to the Uber Sorbet Maker.
Place a bowl under the spout of the machine.
Fill the chute with the fruit, turn the machine on, and then use the plunger to push the raspberries down the chute.
Enjoy!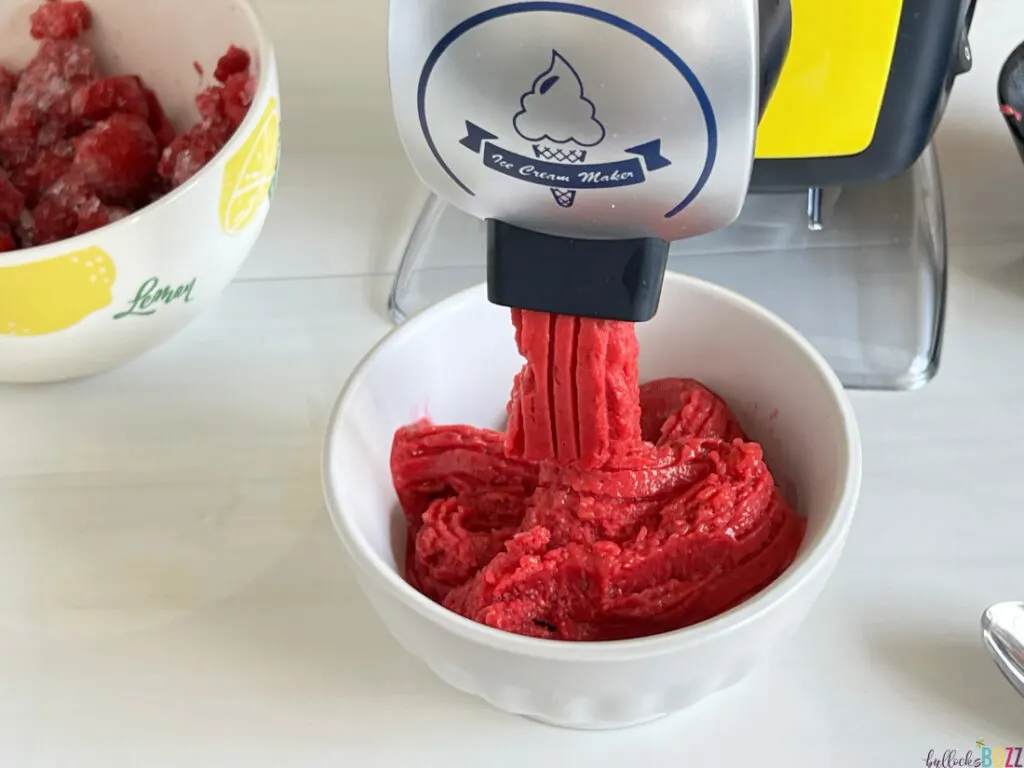 Can Uber Sorbet Maker Make Ice Cream?
Yes! Although I haven't tried it yet, according to Uber Appliance you can easily make soft-serve type ice cream in this machine. You simply add some Greek or regular yogurt to whatever other ingredients you feel like making.
For example, here is a recipe from the Uber Appliance website for Peanut Butter Banana Ice Cream:
Ingredients
two tablespoons of natural organic peanut butter
1 frozen peeled banana
two tablespoons of natural Greek yogurt
Instructions:
Let the frozen banana thaw a bit and then cut it into medium size chunks.
Mix the banana chunks with the natural peanut butter and place into the Sorbet Maker Chute and push down with the feed tube.
Add a little bit of Greek yogurt for a soft-serve consistency.
You can pretty much add any combination of ingredients you think of. I'm thinking mint chocolate chip, strawberry vanilla, and more!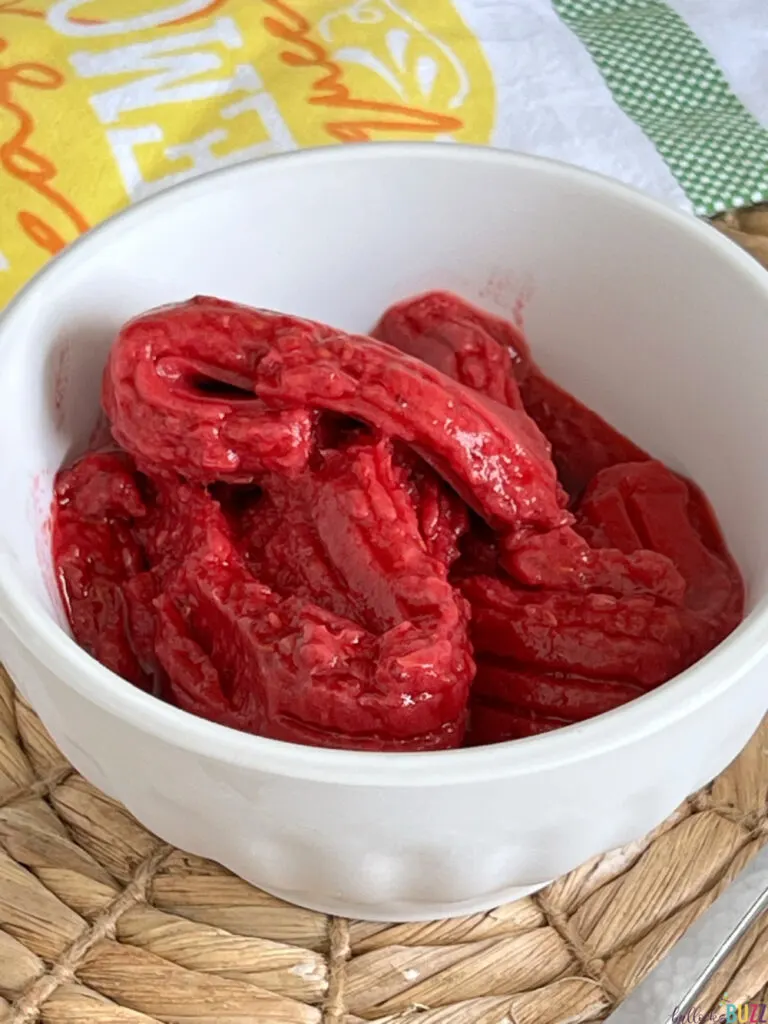 Why You Will Love the Uber Appliance Sorbet Maker
There are so many reasons you will love this machine.
Time-Saving Delights: Gone are the days of lengthy sorbet-making processes. The Uber Sorbet Maker transforms frozen fruits into a sumptuous dessert in a matter of minutes, perfect for satisfying impromptu sweet cravings or entertaining guests.
Healthier Indulgence: Say goodbye to store-bought sorbets loaded with artificial flavors, colorings, and preservatives. With this sorbet maker, you have full control over the ingredients, ensuring a healthier and tastier treat for you and your loved ones.
Dietary Delight: This healthy dessert maker is a dream come true for individuals following various dietary lifestyles. Whether you're a vegan, a vegetarian, on a keto diet, lactose intolerant, or simply seeking dairy-free options, this sorbet maker offers a delectable solution for all.
Versatile Flavors: The Uber Sorbet Maker encourages culinary experimentation. From classic fruit combinations to creative blends, the possibilities for crafting unique and lip-smacking sorbets are endless.
Compact Design: Its sleek and compact design ensures that it won't clutter your kitchen countertop, and it's also lightweight, making it portable for on-the-go sorbet adventures.
Fun Colors: The Uber Sorbet Maker comes in three fun colors to match your kitchen decor: red, yellow, and black.
The only thing I think they could improve is the fact that the machine is very lightweight and doesn't adhere to the counter. So while you don't have to exert much pressure when pressing the plunger, the machine can easily slide as you are making your fruity dessert. Some antiskid pads would solve this issue easily.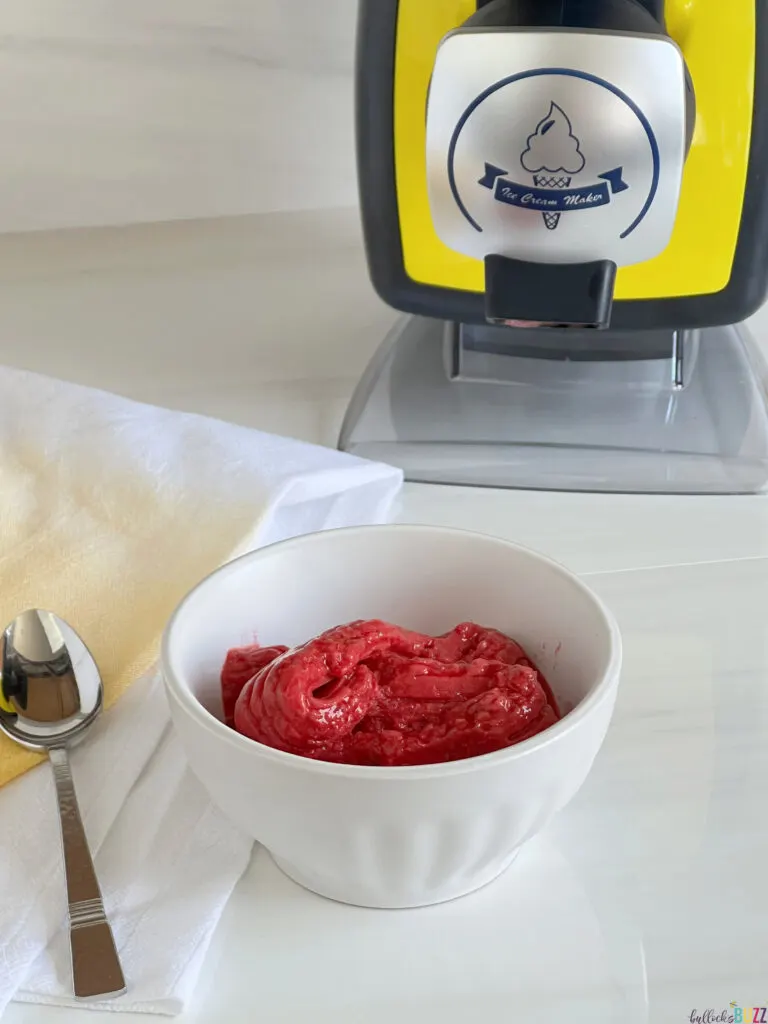 Sorbet Ideas and Tips
So Many Flavors!
Y'all the options are endless here. So far I have made sorbets from strawberries, pineapple, bananas, and raspberries. And they all turned out so delicious! I can't wait to try mango, kiwi, cantaloupe, watermelon, and blueberry.
Get Creative with Combinations and Add-Ins
You can get so creative with the recipes, too. Mix different fruits like blueberry and lemon, pineapple and cherry, strawberry, and banana, or even mango and strawberry. My favorite is a combination of blueberry, strawberry, and raspberry. YUM!
You could also try adding a dash of fresh lemon or lime juice, or topping your sorbet with nuts, cacao, chocolate chips, coconut, or anything else you desire!
Make It Soft Serve!
Yes, you can easily make a soft serve consistency, too. Just add a little bit of Greek yogurt or low-fat yogurt to your other ingredients.
Top it off with chocolate syrup, strawberry syrup, sprinkles, and so much more!
Add some mix-ins like Oreos, Reece's Peanut Butter Cups, chocolate chips, cookie dough, chopped pistachios, and many more.
Added Sweetness
Depending on the fruit you use, your sorbet may turn out too tart for some people's tastes, as it did with my raspberry sorbet. If this happens, you can always add sugar or honey.
I roll the chopped fruit in sugar before I add it to the chute. But you could also add some to the sorbet once it is made. It may not be as healthy as just fruit, but it sure makes it taste great!
Sorbet Popsicles
The Uber Appliance Sorbet Maker includes a set of popsicle molds, too! Simply fill the molds with whatever flavor sorbet you desire, then pop them back in the freezer until they harden into popsicle consistency!
You could also add in all sorts of mix-ins before refreezing the popsicles! I'm thinking chocolate chips, dried cranberries, cut-up pieces of other fruits, nuts, and more!
Where to Buy the Uber Appliance Sorbet Maker and Price
The Uber Sorbet Maker is available on the official Uber Appliances website and other major online retailers including Amazon, Walmart, Wayfair, and others. As of the date of this review, the product is priced at $99.99, which is a reasonable investment for a device that can elevate your dessert game.
Final Thoughts on Uber Sorbet Maker
The Uber Sorbet Maker has become my go-to kitchen companion when it comes to creating delicious, wholesome sorbets. Its simplicity, efficiency, and versatility have won me over, and I can't wait to continue experimenting with new flavor combinations.
Whether you're an aspiring home chef or simply a sorbet enthusiast, this fun little gadget will add a deliciously refreshing twist to your culinary adventures. So embrace the sweetness and indulge in the delightful world of homemade sorbets with the Uber Sorbet Maker!