Knowing the weather is something that we all pretty much need to know, especially when it comes to planning our day. And thanks to weather apps, we now have access to a wealth of insightful weather data at our fingertips. But how do you find the right? Read on…
You wake in the morning and look outside your bedroom window. It's a bright, beautiful, and sunny day. So you decide to go for a hike in the nearby mountains. Except the sky gets cloudier as you start getting ready. Fearing the possibility of rain, you decide to cancel your plan for the hike and spend the day indoors.
But then the day passes without any trace of precipitation. Sound familiar? Frustrating, isn't it?!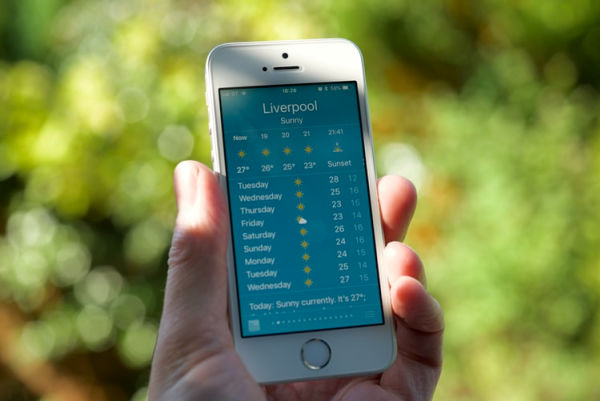 Dealing with the Volatile Weather
Global warming and climate change have drastically modified weather patterns across the globe. This, in turn, has led to the weather becoming increasingly unpredictable. Summers are longer, winters are warmer, and it can snow even in the Sahara Desert!
The good news is that weather forecasting technology has come a long way since its early days. You no longer have to solely rely on daily updates from the local weatherman.
Instead, modern weather intelligence platforms use a combination of Doppler radar, satellites, and artificial intelligence to accurately predict the weather. This, in turn, means you now have access to a wealth of insightful weather data at your fingertips.
But this has also led to an insurmountable rise in the number of weather apps available. In this blog, we'll delve deeper into the world of weather apps and discuss ways to find the right one. But let's first understand why you need one in your life.
Should You Use a Weather App?
Whether you're a student, busy parent, or an entrepreneur, you've likely used weather-related information to better plan your day. But before you start scouring for the best weather app, you should carefully analyze if and why you need it.
This is because you can use various platforms to check weather data and forecasts. For instance, many of these sites provide you with a wide array of useful weather information, including:
Temperature
Air quality index
Visibility index
Humidity level
Precipitation level
You can even monitor the pollen index in your area to prepare for allergy season. Also, you can check out the hourly breakdown to understand how metrics, such as temperature and precipitation, will vary throughout the day. So, if you can find all this information on a website, why should you still use a weather app?
The strongest motivator is convenience. New-age weather apps make it easy to access accurate weather data anytime, anywhere. Also, they provide you with real-time updates and alerts to help you plan your day. Whether you're planning a cross-country road trip or a picnic in your backyard, weather apps come in handy.
Moreover, the use of weather apps isn't just limited to your personal life. For instance, if you're a wedding photographer, you can use them to select the right location for a shoot based on the weather. Likewise, drone operators can use weather data to find the right time for flying their devices.
The best part is that weather apps provide a wide range of benefits for businesses too. If you're a business owner, you can use these apps to:
Ensure employee safety
Improve resource allocation
Optimize seasonal marketing campaigns
They also provide you with timely updates about extreme weather. This, in turn, means you'll be better prepared to maintain business continuity in the event of natural calamities, such as hurricanes and blizzards.
How to Choose the Right Weather App?
So, now that you've realized the immense potential of weather apps, you can't wait to hit your phone's app store. But the broad spectrum of weather apps available on the internet will overwhelm you. Here are a few things you should consider before installing one on your phone:
1. Features
While some apps only provide you with basic temperature and cloud cover data, others include useful insights about seasonal allergies and flu outbreaks. You'll even find weather apps that give you access to information about COVID-19 cases in your neighborhood.
It's a good idea to prepare a list of essential features you need. Next, look for options that closely fit the bill. Even if an app provides additional features, carefully assess if and how you're going to utilize them.
2. Interface
If you have to scroll through an app and swipe multiple times before finding basic temperature and rain details, it's likely not the ideal choice. Once you've shortlisted a few weather apps, check out their interfaces to determine whether they're user-friendly and intuitive.
3. Reporting
Weather apps provide information in various formats, including push notifications, in-app notifications, and real-time updates. Some even let you set alerts for various weather events. Make sure you check out the reporting options available on the shortlisted apps before finalizing your decision.
4. Accuracy
The one thing you'd want from a weather app is access to accurate weather predictions. However, these apps use different types of technology, which, in turn, can affect their accuracy. Find out what resources and tech a particular app uses to collect weather data. Also, check whether it utilizes AI and machine learning to generate weather forecasts.
What factors do you consider when choosing the right weather app for your needs? Share your suggestions in the comments section below.