This Valentine's Day renew the romance in your relationship with a weekend getaway at the new Hotel Indigo Tuscaloosa, in historic downtown Tuscaloosa, Alabama.
Hotel Indigo Tuscaloosa – Our Anniversary Stay
After 6 years of marriage, my husband and I have reached that comfortable place in our marriage, but with work, choes, bills, kids and everything else involved in daily life, keeping the romance alive can be a bit of challenge.
And finding the time to take that cruise or go on that week-long vacation can be even harder. Which is why when Hotel Indigo Tuscaloosa offered us a weekend away, my husband and I jumped at the chance – especially since our 6-year anniversary was that weekend!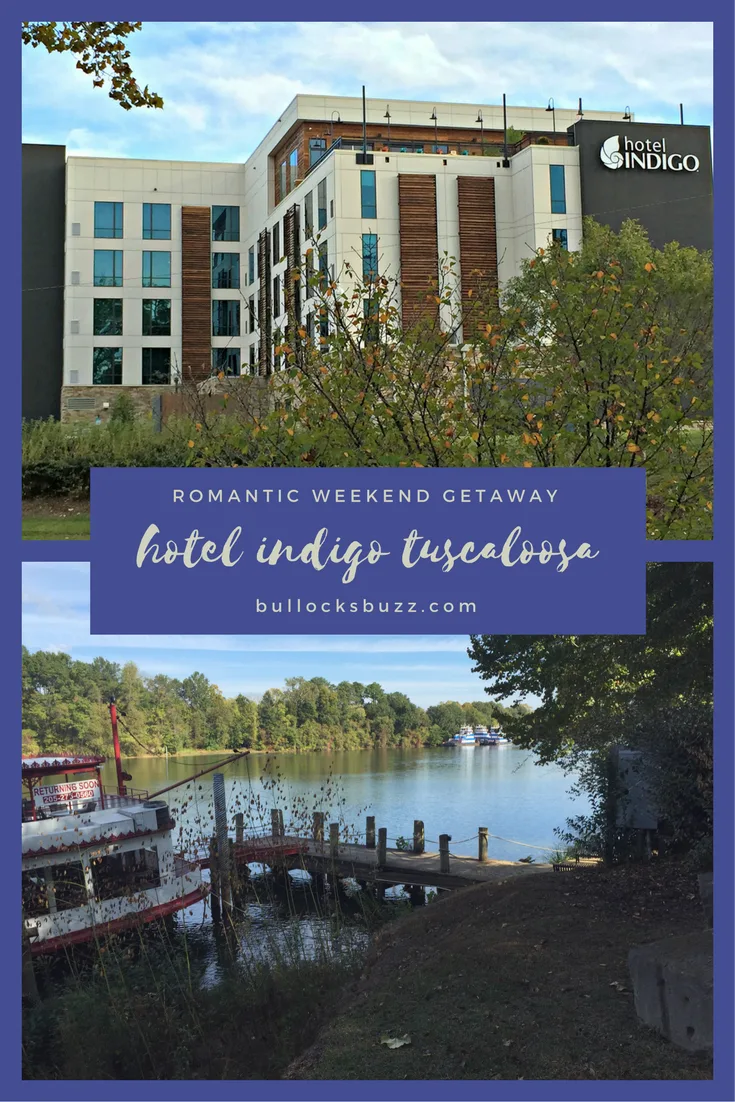 Nestled in historic downtown Tuscaloosa, along the southern bank of the Black Warrior River, the Hotel Indigo Tuscaloosa is at the center of it all. The Riverwalk, restaurants, shopping, night clubs and more are all just a short walk or quick drive away. And if you're in town for a 'Bama game, it's just a hop and a skip from Bryant Denny Stadium. Yet despite its popular location, the hotel itself is quiet and relaxing.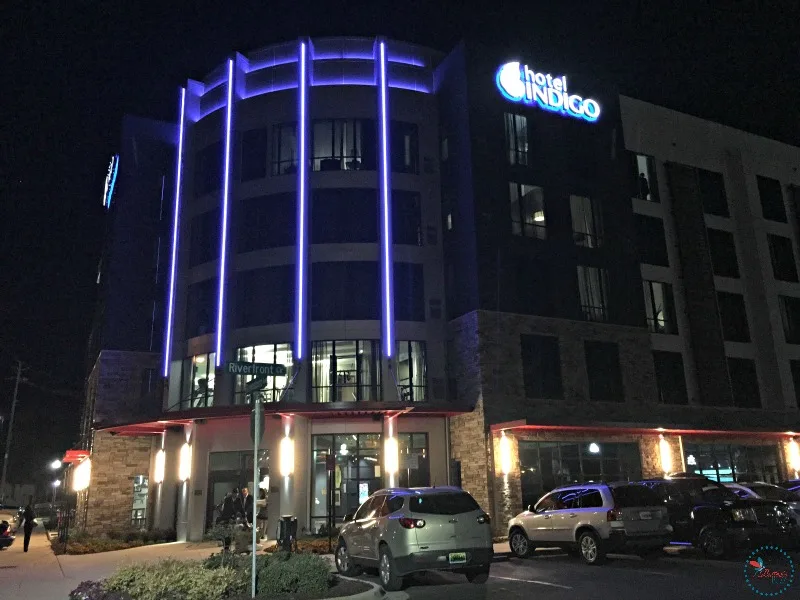 As soon as we walked in the front door, I realized we were in for a special treat. Immediately we were warmly greeted by the lady at the front desk with a big smile, a hug and a heartfelt 'Happy Anniversary'!
Looking around the spacious lobby, I was struck by the spectacular decor. Like all Hotel Indigo's, the decor and styling is unique to the locations and cities they're in. Each boutique hotel takes inspiration from their local neighborhood which is reflected in everything from the decor and styling to the food and drinks they serve.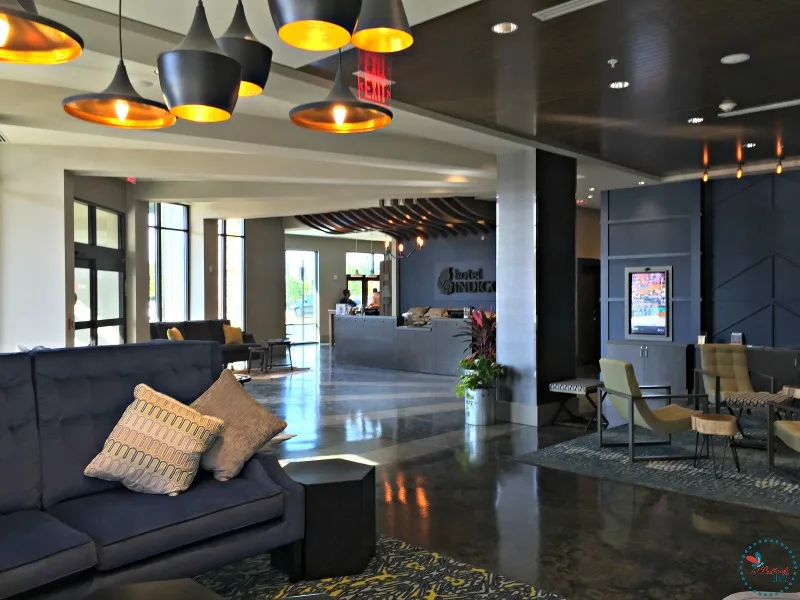 Local artwork hung on the walls, and the warm, rich color pallete gave the lobby a relaxing and welcoming air. Inviting little seating nooks were placed all around.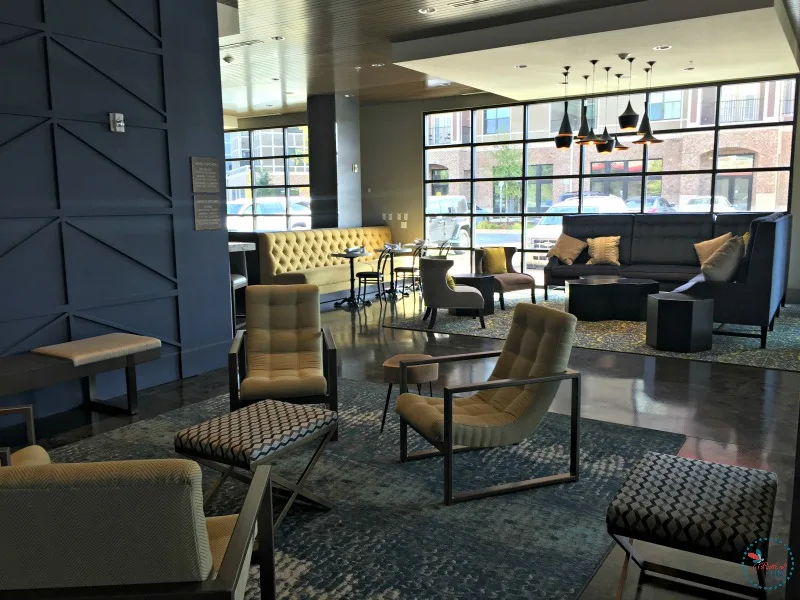 On one side of the lobby is a small grab and go market where you can find all the essentials you could need from energy drinks and coffee, to ice cream and cookies. There was also great selection of local artisan foods and sauces, as well as little travel size necessities too!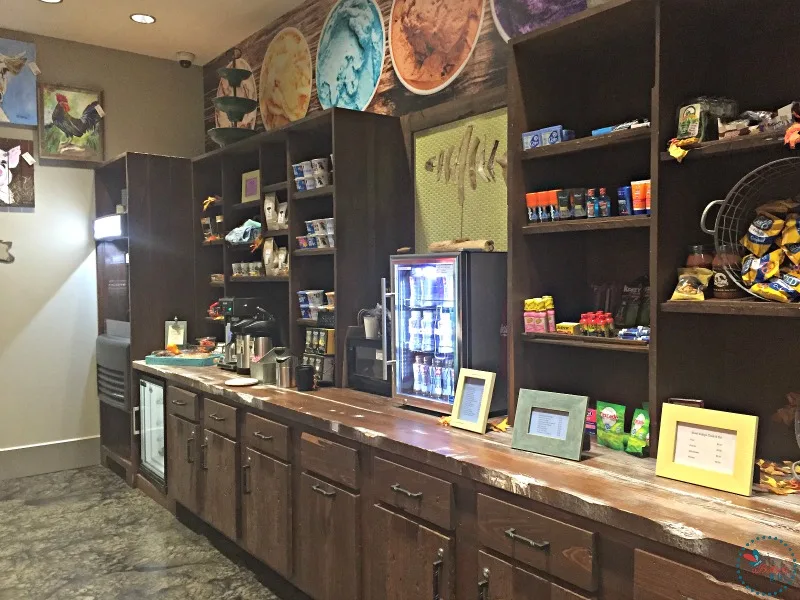 On the other side of the lobby is Shoals Kitchen, which serves breakfast and dinner. Their menu is gourmet, offering a wonderful variety of foods including many local Southern favorites. (Our second night there my husband and I enjoyed one of the most delicious meals we've had while dining out).
You can either enjoy your food at one of their extra comfy tables, or have it delivered to your room. And speaking of rooms, I couldn't wait to see ours!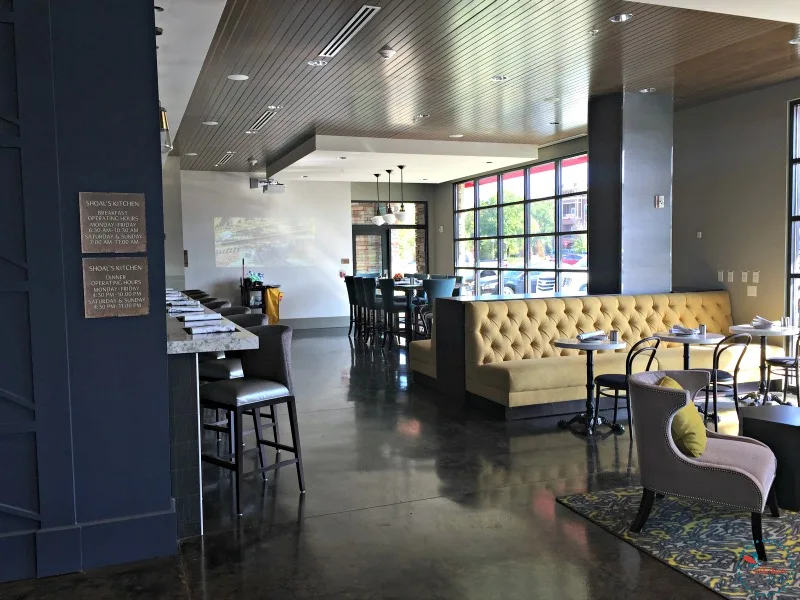 Our Room
The Hotel Indigo Tuscaloosa offers a variety of room types and suites, all equipped with the most modern amenities. Our room was one of their King Rooms with a view of the river. Opening the door, we walked into a room that was modern, bright and welcoming.
Filled with contemporary furnishings, including a large desk and workstation and king-sized bed, there was also a large-screen LCD TV, a Keurig coffee station, and high-speed Internet access.
A comfortable chair provided a great place to sit and read, or gaze out the window at the green grass, flowing river and ancient oak trees scattered along the riverbank.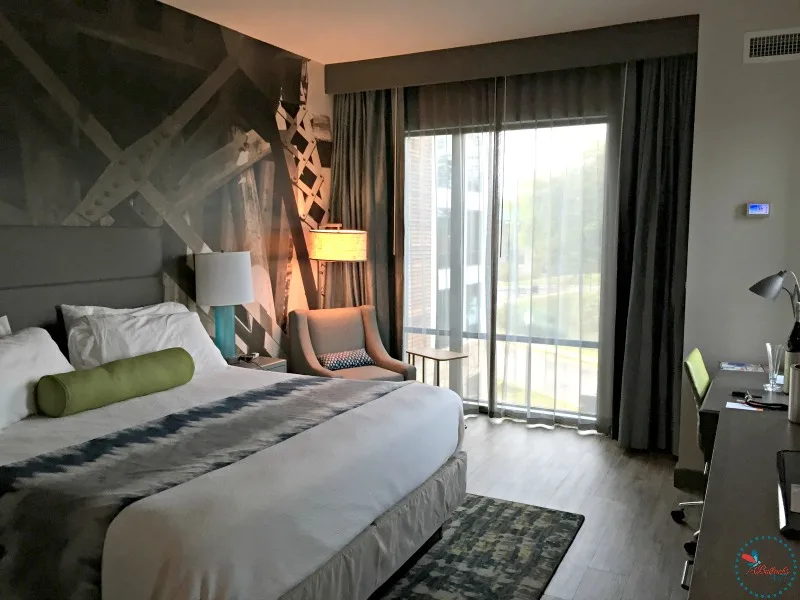 The spa-inspired bathroom was large and airy, featuring contemporary Kohler fixtures, a hairdryer, plush robes, and my personal favorite, Aveda bath products! I loved the large round mirror framed in with a soft, natural-hued light quite unlike those harsh lights you find in most hotels.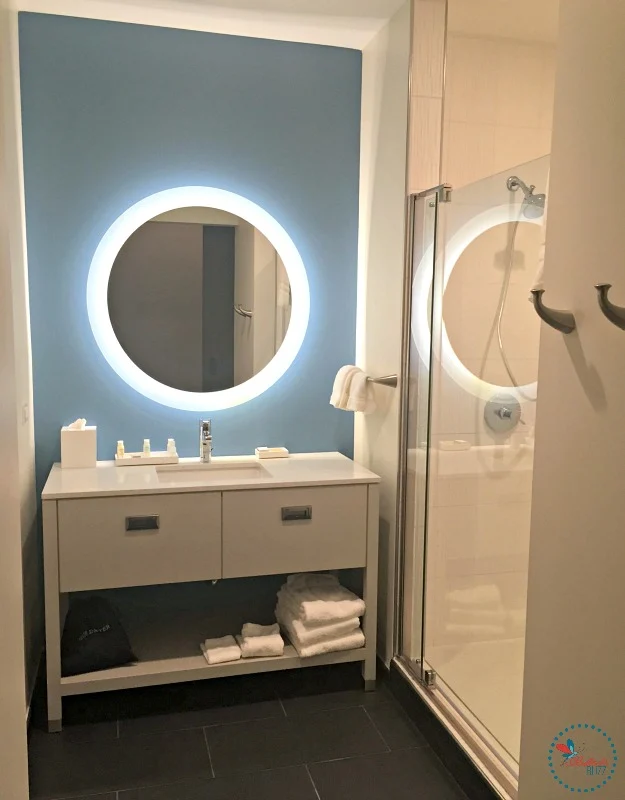 Aside from the river view and the incredibly comfy bed, one of my favorite features of our room was the accent wall behind the bed. Featuring a gigantic, blown-up photograph that reminds me of old iron railroad trestles and the bridge that crosses the river behind the hotel, the wall serves as a prime example of how the Hotel Indigo incorporates the local neighborhood into their decor.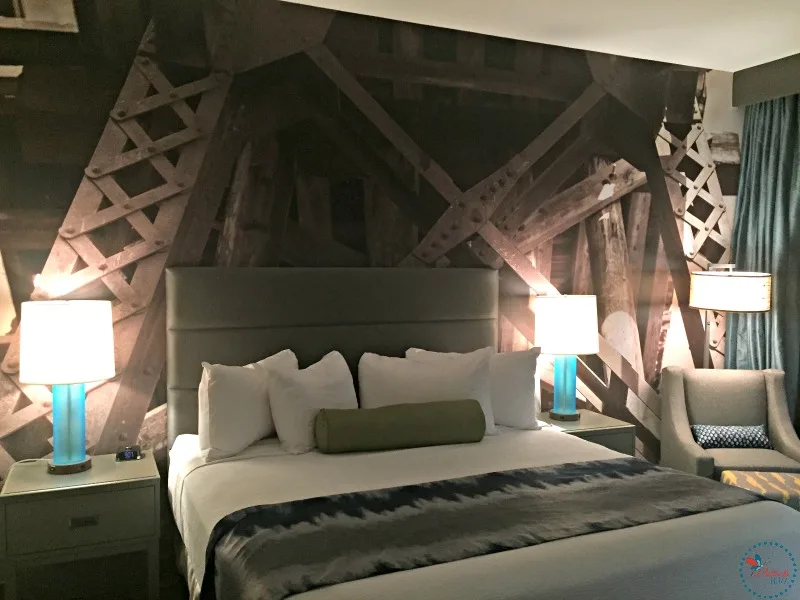 After taking in the gorgeous decor, my eyes fell upon a gift the hotel had provided for our anniversary – a bottle of sparkling wine and two glasses along with a personalized note wishing us a wonderful anniversary and stay. It really made us feel welcome and special, adding to the already welcoming and homey atmosphere of the Hotel Indigo Tuscaloosa!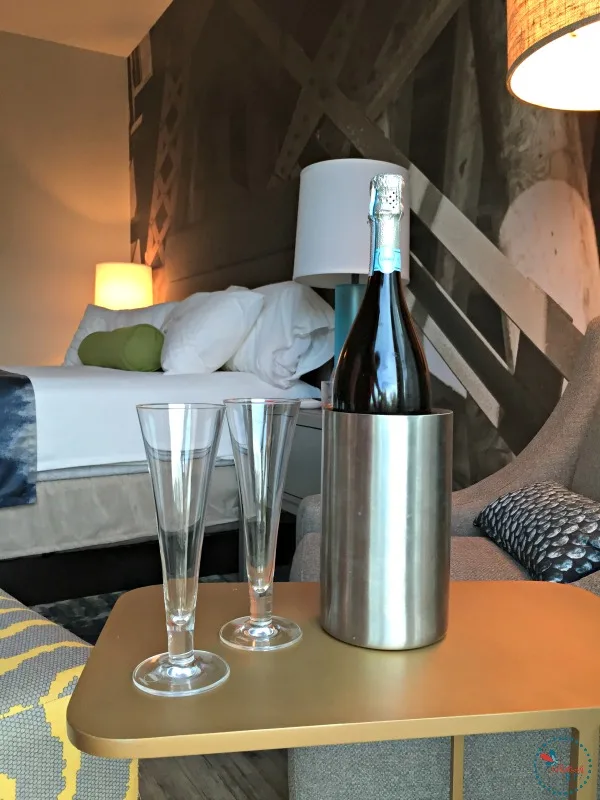 Food and Entertainment
After unpacking, my husband and I decided to enjoy a sunset drink at The Lookout. Located on the 5th floor, The Lookout is the only rooftop bar in Tuscaloosa. It offers both indoor and outdoor seating, as well as some amazing views of the Black Warrior River.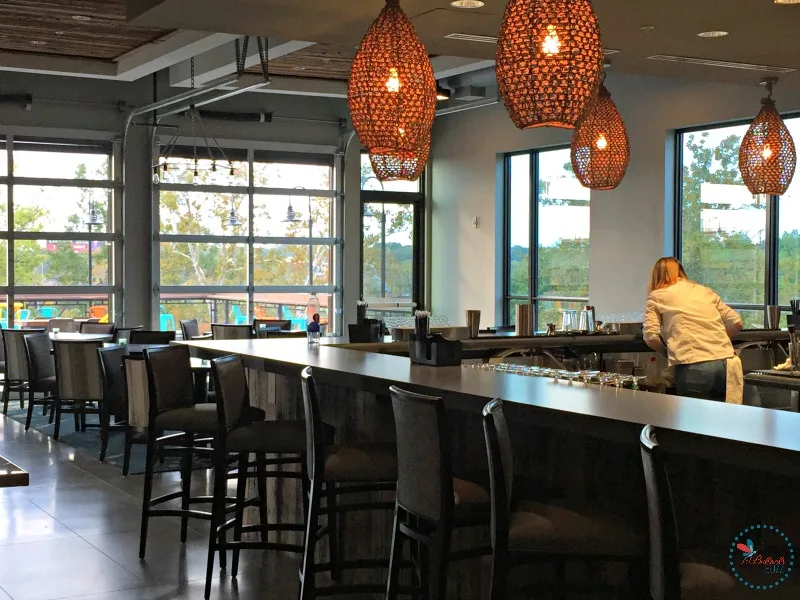 It's a great atmosphere with a fully stocked bar, occasional live music, local craft beer, and a spectacular view of the sunset. And for a bonus, when bands come to play at the amphitheater, you can hear them perfectly while enjoying a drink!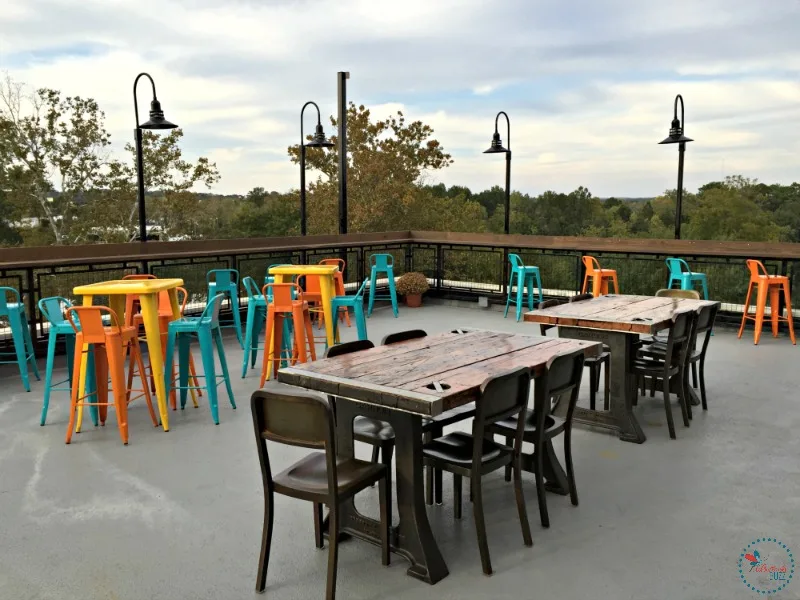 From there we headed out for dinner. Since the Hotel Indigo is so conveniently located, you're just a short walk or drive to the newest hot spot, downtown Tuscaloosa. There you will find an amazing selection of restaurants, bars and shops. There were so many different cuisines from which to choose it was hard to decide!
Activities and Attractions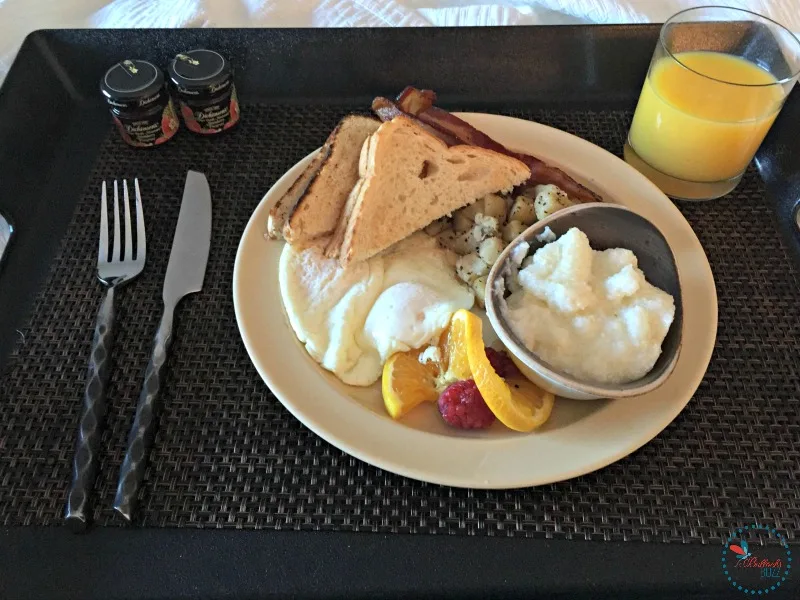 The next morning, we ordered room service and enjoyed a delicious breakfast in bed from Shoal's Kitchen. Afterwards, we headed outside to enjoy some much-missed "us-time". At the Hotel Indigo Tuscaloosa, you are literally just steps from the river.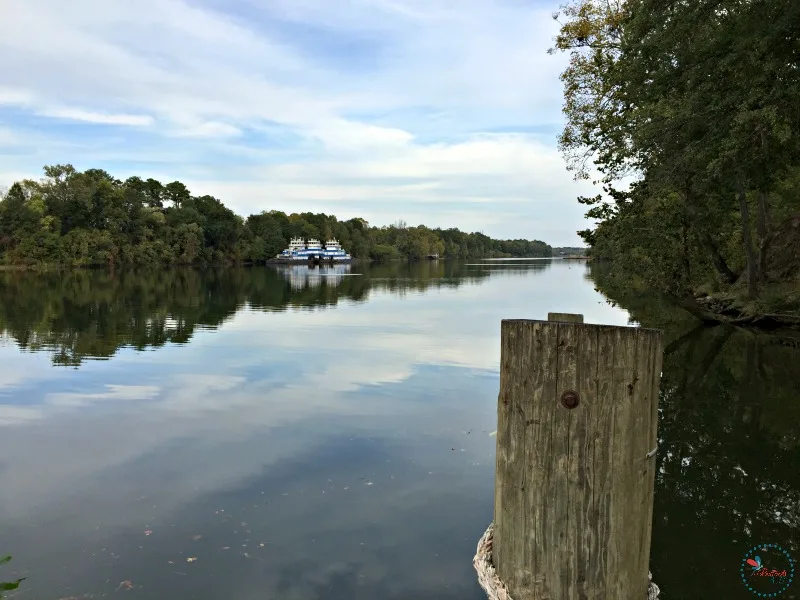 You can head outside for a peaceful walk or bike ride (the hotel has bikes you can use!) along the miles of paths next to the river, take a boat ride, or just sit on a bench and enjoy the view. And if you want a romantic nighttime stroll alongside the river, the entire area is very well-lit at night.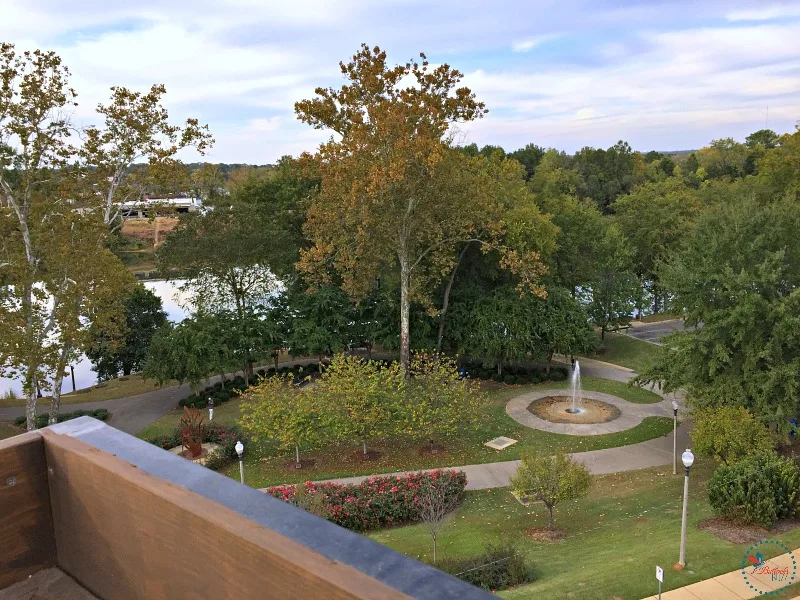 There is also plenty to do in the city of Tuscaloosa. Head on over to shop at the new River Market or the crafters' favorite Makers Market. Or check out the Tuscaloosa Museum of Arts, the Alabama Museum of Natural History, Capitol Park, or the University of Alabama.
There are also dozens of restaurants and shops throughout the town! If you need more ideas of what to do or where to eat, located in the lobby of the Hotel Indigo is an online guide listing everything Tuscaloosa has to offer.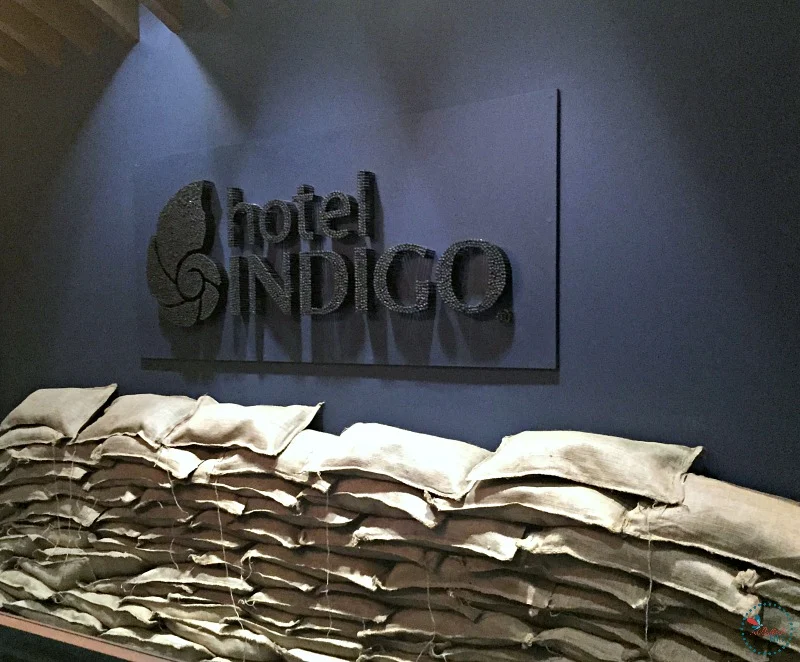 The Hotel Indigo Tuscaloosa is by far, the cutest boutique hotel I have stayed at. Throughout our stay, everyone on the staff warm, friendly and helpful, and made a point to make us feel right at home. The room was comfortable and quiet, the food was amazing, and the location offered countless opportunities for dining and entertainment. The whole experience was one to remember.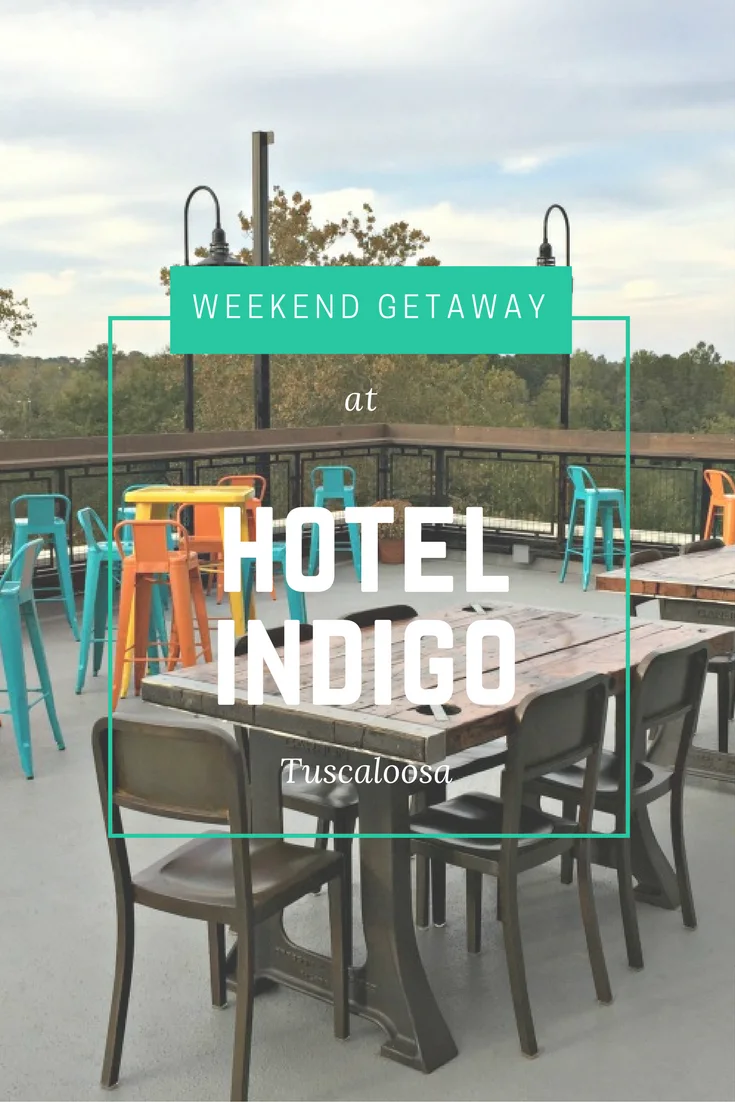 Whether in town for business, a game, or a romantic getaway, next time you are in Tuscaloosa, Alabama, make sure to book your stay at the Hotel Indigo!
Hotel: Hotel Indigo Downtown Tuscaloosa
Location: 111 Greensboro Ave, Tuscaloosa, AL 35401
Phone: 205.469.1660
Hotel Indigo is a part of the IHG brand.
*Thanks so much Hotel Indigo for hosting us! Even though this post is sponsored, all opinions are my own.