Few traditions are as quintessentially British as the enjoyment of tea, often accompanied by an array of delectable treats. However, for people unfamiliar with the tradition, the question of what are the differences between afternoon tea and high tea often arises.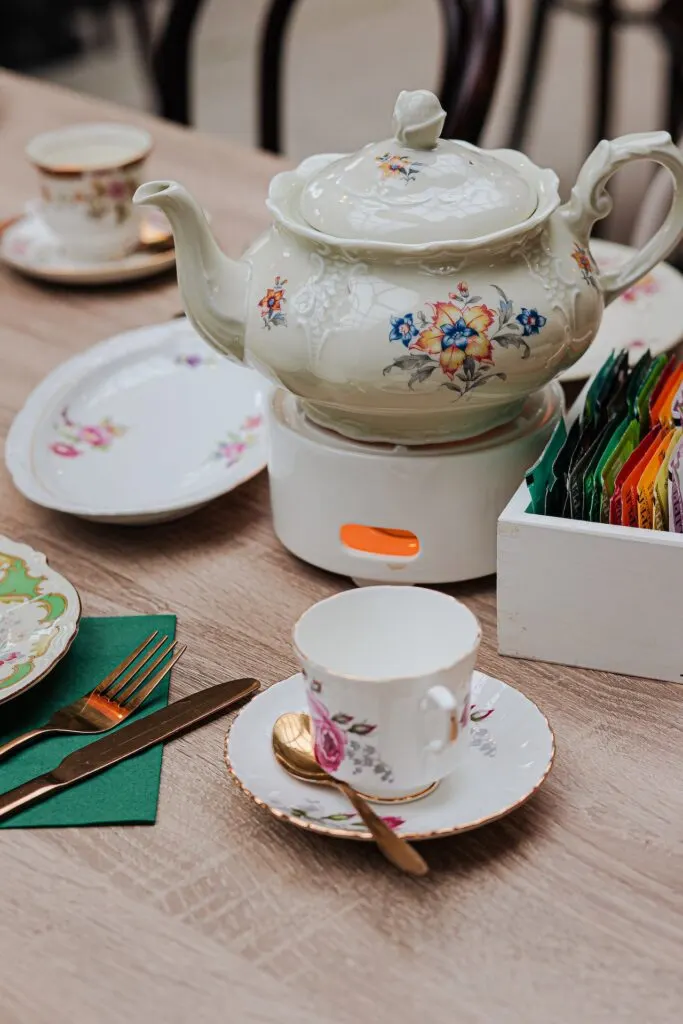 While both involve tea consumption, their origins, settings, menus, and cultural nuances differ significantly. Unlocking the secrets of afternoon tea will help you understand the distinctions between it and high tea.
So today we will explore the differences between afternoon tea and high tea, to shed light on these cherished customs.
Afternoon Tea: The Elegant Affair
Origins
Afternoon tea, sometimes referred to as "tea," originates in 19th-century England. It was popularized by Anna, the Duchess of Bedford, who is said to have introduced the custom to stave off hunger between lunch and the late Victorian dinner, typically served around 8 or 9 PM.
Setting
This is traditionally served in elegant surroundings, often in tearooms, hotels, or historic mansions. It is a leisurely and refined affair, typically enjoyed between 3 PM and 5 PM.
Menu
The menu for afternoon tea is a delightful assortment of finger sandwiches, scones with clotted cream and jam, and a variety of dainty pastries and cakes. The emphasis is on light, sweet, and delicate flavors.
Tea Selection
A wide range of premium loose-leaf teas, such as Earl Grey, Darjeeling, or Assam, is offered during afternoon tea. It's customary to use fine China and elegant teapots, and the drink is typically brewed and served in individual pots.
Cultural Nuance
This tea is often associated with an upper-class and aristocratic tradition, reflecting an indulgent and leisurely lifestyle. It's an opportunity for socializing and enjoying the finer things in life.
High Tea: A Hearty Supper
Now let's take a look at high tea, further explaining the differences between afternoon tea and high tea.
Origins
High tea, on the other hand, has working-class roots in Britain. It originated in the 18th century. It was initially known as "meat tea" or "high tea" because it was typically enjoyed at a high dining table instead of the low tea tables used in the afternoon tradition.
Setting
High tea is a more substantial meal often enjoyed in homes or a casual, family-oriented setting. It's typically served between 5 PM and 7 PM.
Menu
Unlike the dainty offerings of afternoon tea, the high tea menu is heartier and includes dishes like meat pies, quiches, sausage rolls, baked beans on toast, and other savory items. While it may include cakes and pastries, these are often less elaborate than those served at afternoon tea.
Tea Selection
While tea is still a central component,, the selection is generally more limited than afternoon tea. Stronger and more robust teas, such as black tea blends or builder's tea, are often preferred.
Cultural Nuance
High tea has a more practical and working-class connotation. It was initially a substantial evening meal for laborers, offering a satisfying way to end the day. Today, high tea is more about comfort and simplicity.
Final Thoughts on The Differences Between Afternoon Tea and High Tea
In summary, the main differences between afternoon tea and high tea are their origins, settings, menus, tea selections, and cultural associations. Afternoon tea is an elegant and leisurely tradition with upper-class refinement, featuring delicate treats served in upscale settings.
In contrast, high tea is a heartier and more practical meal, often enjoyed in casual settings, reflecting a working-class heritage. Both customs offer their own unique charm and can be appreciated for the distinct experiences they provide, whether you seek elegance and indulgence or comfort and sustenance.