Everyone has at least one person in their life who is a hardcore Potterhead. If you are looking for some great Harry Potter gifts, then you are on the right page. Today I'm sharing some of the best Harry Potter gifts for die-hard Potter fans. Whether they love the books and can recite quotes easily, or they adore the movies and know every BTS story, you will not be disappointed.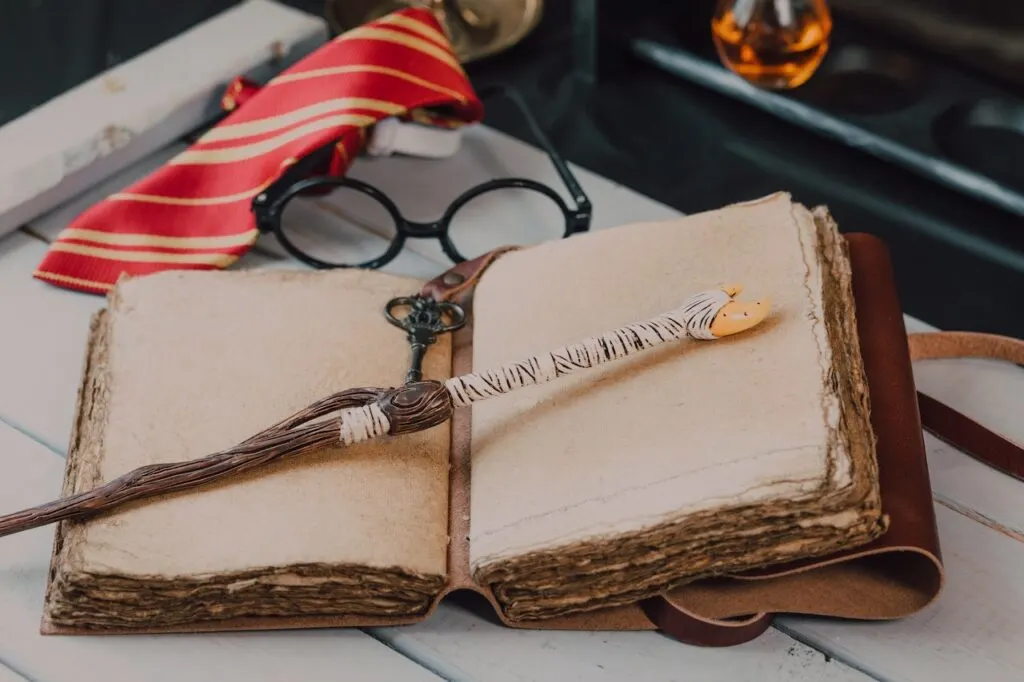 Harry Potter's beauty is that everyone loves it, from children to adults. Finding gifts or memorabilia for people of all ages is a breeze thanks to this guide.
Before you start looking for the best Harry Potter gifts, you first need to do a bit of sleuthing. First, you should determine which character is their favorite. Also, knowing which of the four houses—Gryffindor, Hufflepuff, Slytherin, or Ravenclaw—the recipient identifies with. Knowing these two facts is essential if you want your gift to stand out.
Here is the list of the best Harry Potter gifts or memorabilia.
Harry Glasses' Hoodie
RGOSME has come up with premium hoodies with Harry's glasses embossed on them. For a Harry Potter lover, this hoodie is a reminder of their favorite character. Also, it is practical and comes in three colors: red, gray, and black. This comfortable and warm hoodie is ideal for adults or teens.
Harry Potter Candles
Find Harry Potter candles for them related to a specific house and color. You can buy a single candle according to the book's house. Or get a combo of candles for all four houses. It is an incredible gift that they can use to relax after a hectic day. Or enjoy dinner with a little magic. Look for organic Harry Potter candles.
Official Harry Potter Baking Book
Is the giftee a baker who also loves Harry Potter? Then this gift sounds perfect for them. The book by Joanna Farrow has over 40 recipes inspired by books and movies. In this book, you will find recipes for Hagrid rock cake, Hogwarts crest pies, and more. A perfect gift for Easter or Christmas.
Custom Wizard Illustration
Having a custom illustration in wizarding attire is a dream come true for many. On Etsy, you can find the option to get a custom illustration mailed or printed. You can frame it. One can get at least six people's illustrations. That allows a whole family portrait. You only need to tell them about the color of their eyes and the house they are related to.
Limited Harry Potter Watch from Fossil.
Want something magical that stays with them always? Buy a Fossil watch for your giftee. It is a limited edition watch from Fossil with the Hogwarts house crest. The watch uses goldstone stainless steel. It also has a date window to ensure your giftee is always on time for their meetings or obligations.
Socks with Hogwarts Design
Just like Dobby, a kid will love these socks. If your giftee is a small kid, try giving them these colorful Harry Potter socks. You can buy them online from Macy's or stores worldwide. They come in pairs, and the designs resemble each Hogwarts house.
Engraved Cooking Essentials
A cook friend of yours will love Harry Potter engraved cooking utensils. The material is bamboo, so it is safe and easy to clean. Having the correct tools that make you happy is the key to good food. So, buy them for your friend or family member.
Phoenix-Inspired planter
Phoenix Bird was integral to the Harry Potter books. A Potterhead who also loves greenery will adore this gift. Go to PB Teen. Here you will find this planter and other décor items from the series. It looks unique and adds charm to your place.
Hermione's Time-Turner necklace
Know a girl whose idol is Hermione? Then they will love this replica time-turner necklace Hermione wore in 'The Prisoner of Azkaban.' The best part about the gift is the glass display box it comes in. So, even if they aren't wearing it, they can put it in the box and show it off.
Harry Potter Magic Caster Wand
Last but not least on our list of the best Harry Potter gifts is the Harry Potter Caster Wand. Perfect for any aspiring wizard, the Harry Potter: Magic Caster Wand is an awesome, motion-activated smart connected wand that uses a mobile app to connect to compatible smart devices in your home.
Your practicing wizard can turn lights off and on, change the channel and even turn on the alarm with a simple spell.
Final Thoughts on the Best Harry Potter Gifts
Harry Potter is not just a book or movie series. It is a feeling, and people love it for various reasons. With so many HP-related gifts coming every year, there is no shortage of related gifts. So, find the perfect one for Harry Potter fans and make their day special.