Easy to cook, always delicious, and guaranteed family favorites, I'm sure you'll love these 3 easy Dutch oven recipes as much as I do!
A Dutch oven is probably the most adaptable piece of cookware you need in your kitchen. Able to create perfect fried, browned, braised, stewed, or even baked dishes, no home is complete without a Dutch oven.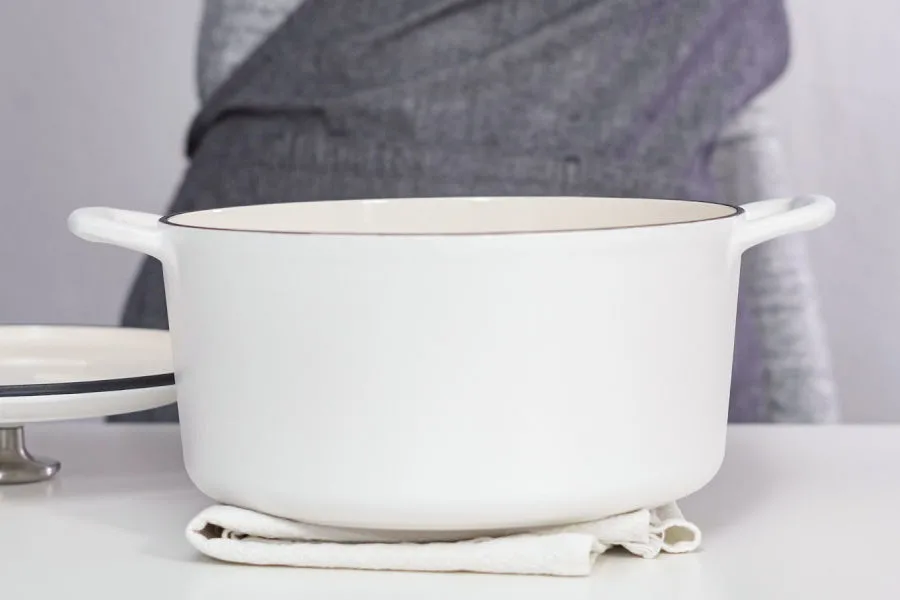 What Is The Best Thing to Cook in a Dutch Oven?
If you're struggling for inspiration for Dutch oven recipes, here are 3 of my absolute favorite dishes you can try at home. Easy to cook, always delicious, and guaranteed family favorites, I'm sure you'll love these Dutch Oven recipes as much as I do!
1. Wine-Braised Short Ribs Recipe
If you liked my Slow Cooker Country Ribs recipe, then you will love this Dutch oven recipe!
Ingredients
5lb bone-in beef short ribs, cut crosswise into 2" pieces
Pinch kosher salt and freshly ground black pepper
3 tbsp vegetable oil
3 medium onions, chipped
3 medium carrots, peeled and chopped
2 celery stalks, chopped
3 tbsp all-purpose flour
1 tbsp tomato paste
750ml dry red wine (preferably Cabernet Sauvignon)
10 sprigs fresh flat-leaf parsley
8 sprigs fresh thyme
4 sprigs fresh oregano
2 sprigs fresh rosemary
2 fresh or dried bay leaves
1 head garlic, halved crosswise
4 cups low-salt beef stock
Braised Ribs Dutch Oven Recipe Instructions
Preheat oven to 350°F and heat the vegetable oil in a large Dutch oven over medium-high.
Season ribs generously with salt and pepper.
Work in 2 batches, browning the short ribs on all sides (approximately 8 minutes per batch), then transfer to a plate.
Reserve 3 tbsp drippings in the Dutch oven and drain the rest.
Add carrots, celery, and onions to the pot on medium-high, stirring often, until onions are browned (approximately 5 minutes).
Add flour and tomato paste and cook, occasionally stirring, until everything is well combined and a deep red color (2-3 minutes).
Slowly stir in the wine, then add the short ribs with any juices.
Bring everything to a boil, lower to medium heat, and simmer until the wine has reduced by half (approximately 25 minutes).
Add all the herbs and garlic to the pot, then stir in the stock.
Bring the pot to a boil, then cover and transfer to the oven.
Cook in the oven for approximately 2 – 2 ½ hours or until the ribs are tender.
Transfer ribs to a platter and then strain the sauce into a measuring cup, discarding the surface fat.
Season sauce liberally with salt and pepper to taste, then serve in shallow bowls with mashed potato.
2. Dutch Oven Mac and Cheese Recipe
Ingredients
1lb dried short pasta (we recommend macaroni)
1 ½ cups whole or 2% milk, divided
2 tbsp all-purpose flour
2-3 cups shredded cheese (we like cheddar, Monterey Jack, and Colby combined)
1 tsp kosher salt
¼ tsp powdered mustard
Optional extras, cook first:
Ham
Cooked bacon
Onions
Peas
Mushrooms
Peppers
Broccoli
Cauliflower
Mac and Cheese Dutch Oven Recipe Instructions
Follow the package instructions to cook pasta until al dente, drain, and set aside.
Warm 1 cup of milk in a medium saucepan on medium heat.
Place the remaining ½ cup of milk with the flour in a small bowl, whisk together until no lumps remain.
Once steam starts to rise from the warming milk, whisk in the milk/flour mixture gently until the milk turns the consistency of heavy cream (4-5 minutes).
Turn the heat to low and mix in the cheese, 1 handful at a time.
Add the salt and mustard and keep stirring until the cheese has melted and the sauce is creamy.
Pour ½ of the cheese sauce over the pasta in a large serving bowl, stirring to evenly coat.
Pour over the remaining cheese sauce and any optional extras, stirring to combine.
3. Whole Roasted Chicken Dutch Oven Recipe
Ingredients
1 whole chicken
½ onion, chopped
3 carrots, chopped
2 celery stalks, chopped
Butter
1 bay leaf
1 sprig fresh rosemary, whole
Olive oil
Salt
Pepper
Paprika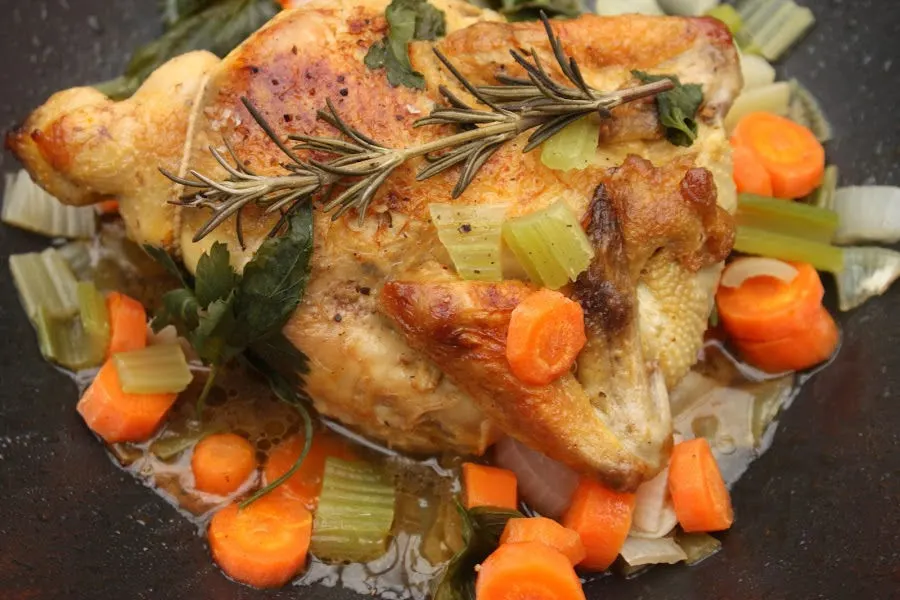 Instructions
Preheat oven to 375'.
Drizzle a little olive oil on the bottom of your Dutch oven.
Rinse the whole chicken with cold water and pat dry, then sprinkle some salt, pepper, and paprika on all sides.
Place your chicken breast-side-up in the Dutch oven.
Pat butter all over the chicken, then place the vegetables, rosemary sprig, and a bay leaf around it in the pot.
Set the lid on the Dutch oven, then position it in the oven to cook for approximately 1½ hours until the chicken's internal temperature reads 185'F.
Take the lid off and allow the chicken to brown for a further 5-10 minutes.
Remove from the oven. Allow the chicken to rest for a moment before serving with your favorite sides.
Final Notes on Cooking with a Dutch Oven
These recipes should help you see how versatile your Dutch oven can be and are only the start when it comes to the range of delicious meals you can make in this cookpot! A world of cooking possibilities awaits!