This tofu sandwich is made to please everyone. The tofu is crunchy and full of flavor, and you can add any toppings you like. It makes for a fabulous lunch or dinner. It's hearty, healthy, and vegan. What's not to love?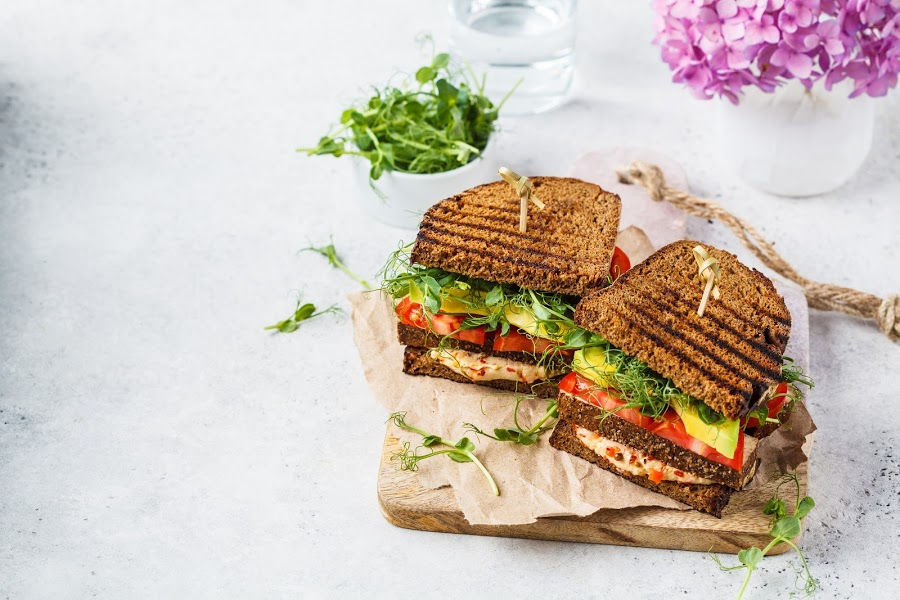 This vegan tofu sandwich recipe will serve 5 hungry people.
Ingredients
1 package of firm or extra-firm tofu (14 ounces)
2 teaspoons + 3 teaspoons olive oil, separated
1 tablespoon of soy sauce or tamari (tamari if you eat gluten-free)
1/2 cup all-purpose flour
1/2 teaspoon garlic powder
1/2 teaspoon onion powder
1/2 cup plant-based milk, any kind (without added sugar or sweeteners)
1 1/2 cups Panko breadcrumbs
Salt and pepper
Hamburger buns, rolls, pita bread, or another type of bread (gluten-free if you wish)
Optional toppings: avocado, sprouts, hummus, tomato, pickles, ketchup, Thousand Island dressing, mustard, mayonnaise, coleslaw, kimchi
Instructions
Press Tofu to Remove Moisture
The first thing you'll want to do is to press your tofu to get out any excess moisture. You can do this while preparing the other ingredients.
If you have a tofu press, this should take about 5 minutes. Simply put your tofu into the press and leave it to drain.
Alternatively, remove your tofu from the packaging and drain the water. Wrap the block of tofu in a clean towel and place it in a colander in your sink or in a bowl to allow it to drain. Place a heavy weight on top of your wrapped tofu, and leave to drain for at least 30 minutes.
Slice Your Tofu
Once your tofu has drained, pat it dry and cut it into thin slices. One 14-ounce packet of tofu should yield ten slices – so 2 per sandwich.
Brown the Tofu
In order to get super crispy tofu, I started out by lightly browning the tofu. You only want to cook it long enough to infuse that salty flavor into the tofu before breading it.
To do this, place a large pan over medium heat and add about 1.5 to 2 teaspoons of olive oil. Once the oil is hot, carefully add your tofu slices and cook them for just a few minutes until each side is starting to brown. This should take about 5 or 6 minutes.
Add in the soy sauce or tamari, and let the slices cook for another 30 seconds. Flip the pieces over and cook for 30 more seconds before removing them from the pan. Allow the tofu cool down for a few minutes while you prepare the next set of ingredients.
Combine Seasonings
Now in a medium-sized bowl, mix together the flour, onion powder, and garlic powder. Pour in the plant-based milk and mix – you should get a nice batter with no lumps.
Spread the Panko breadcrumbs onto a shallow dish or a large plate, and sprinkle a bit of salt and ground black pepper evenly over the top. You want the salt and pepper to season the breadcrumbs evenly.
Breading the Tofu
Now using your hands or a basting brush, lightly coat the tofu slices with the batter on both sides. You only want a thin, even coating.
Now you can either fry or bake your tofu slices.
Fry or Bake The Tofu
To fry the tofu slice, place a large frypan or skillet over medium heat with about 3 teaspoons of olive oil. Add the tofu slices and cook them till each side is crispy and brown – about 8 minutes per side.
To bake your tofu, preheat the oven to 400 degrees F. Place the tofu slices on a baking sheet and bake for 15 to 20 minutes, making sure to turn them halfway through so that each side is crispy and brown.
Assemble the Tofu Sandwiches
Now all that's left in this delicious tofu sandwich recipe is to assemble the sandwiches. I usually add two slices of crispy tofu per sandwich, then top with my chosen sauces and other condiments.
Be sure to enjoy your tofu sandwiches while the tofu is still hot!
Easy Delicious Tofu Sandwich FAQs
Here are some common question people ask about this tofu sandwich recipe. If your question isn't here, feel free to leave it in the comments, and I'll do my best to answer.
Do I have to use Panko breadcrumbs?
You don't have to use Panko breadcrumbs for this recipe, but they do make all the difference. Panko breadcrumbs are typical in Asian cooking, and they are made using the white part of the bread. They are perfect for making breaded recipes healthier since they soak up less oil.
If you can't find Panko breadcrumbs, you can make your own quite easily.
What can I serve on the side with my tofu sandwiches?
There are all sorts of yummy foods you can pair with this easy tofu sandwich! Some tasty side dishes could be:
A tomato and basil salad
Slices of avocado drizzled with a light vinaigrette
A marinated kale salad, or other green salad
Steamed or roasted veggies such as a mixture of eggplant, carrots, zucchini, onions, and sweet peppers
Marinated artichokes and sweet peppers
Sautéed mushrooms and onions
Why do I have to use firm tofu for this tofu sandwich recipe?
Firm or extra-firm tofu is best for this recipe rather than other types of tofu because it will not fall apart as you toast the slices.
Medium or soft tofu is best used when the tofu doesn't need to hold its shape. You can blend soft tofu, for example, with spices and other ingredients to make delicious salad dressings or different sauces. But for this particular tofu sandiwch recipe, I recommend using firm or extra firm tofu.