Stove not working? Washing machine's on the fritz? Then maybe it's time to go and buy new kitchen appliances. Because we know exactly how painstakingly difficult it is to buy new stuff, we have prepared a small and, why not, amusing list of mistakes to avoid when buying kitchen appliances. So, sit back, relax, and start taking notes, because it's about to get really interesting.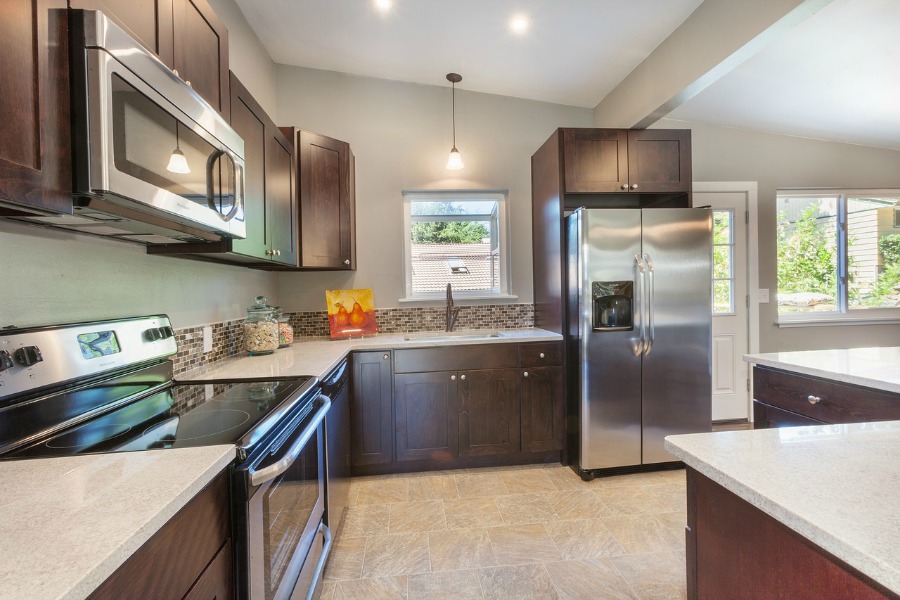 1. Impulse-Buying
You've probably heard this one before – boy goes shopping, boy falls in love with an LCD-display fridge, boy buys fridge, and then goes home wondering what came over him. Basically, this is a textbook example of impulse-buying – the more features it has, the more you're tempted to take it home. Our advice is to take one step back, have a breather, and think things through.
Probably the best thing to ask yourself is: "do I really need this?" If you spend too much time thinking about an appropriate answer, then you should definitely leave it there.
Instead of buying something just because it looks great and has tons of features, you should reconsider your needs. Kitchen appliances are called that for a reason – you use them to prepare, cook, and store food. Not listen to music or watch tv on. Thus, they need to be reliable, durable, and pocket-friendly.
2. Not Checking the Details
Now, the thing we like to look for when doing some shopping is energy labels. More specifically, kitchen appliances that are both energy- and cost-efficient. It's never too late or too early to go green. Another thing to keep in mind is patience. You're bound to find the same machine at half the price during discount periods such as Black Friday.
One more thing to keep in mind – warranty. Some kitchen appliances come with a limited warranty (2, 5 or 10 years depending on the manufacturer). If you really want to make a difference, search for one that comes with a lifetime warranty.
For instance, even though the Hoshizaki ice maker is a rather dispensable kitchen appliance compared to a fridge or a dishwasher, it comes with a lifetime warranty and free installation. This means that, even though your fridge might break, you'll always have your ice maker.
3. Not measuring your kitchen
One of the most common mistakes homeowners make when buying kitchen appliances is to disregard the space. Of course, it's very tempting to go to the store and eye-measure the machine. Don't!
Even if the soon-to-be-your fridge seems like it would fit that space next to the window, chances are it doesn't. So, before doing something you'll later come to regret, grab that measuring tape and write down the measurements. It takes just a few minutes, and it will spare you the trouble – and the time – of having to go through the store's return policy.
4. Not Considering Maintenance Costs
Just because something is cheap, it doesn't mean your grandchildren will get to continue using it. Cheap kitchen appliances have one major caveat – repair and maintenance costs. And while we are on the topic of repair, before buying the appliance you're looking at, it would be a good idea to ask the salesperson about authorized repair shops. We know that this is the last thing on your mind right now, but it's always better to be safe than sorry.
Another thing to consider when buying kitchen appliances is what happens to the appliance when the repairs and whatnots are no longer covered by the warranty. The best practice would be to call an authorized technician for regular maintenance. That and looking for an appliance that comes with a lifetime warranty.
5. Not Haggling when Buying Kitchen Appliances
This one requires a little bit of deviousness and tons of research. We don't need to tell you what "haggling" means. But we could mention the fact that you can pull it off – even when it comes to buying kitchen appliances. Here's what you will need to do. Take some time and do a little research on the product you want. Check for price variations, sales, coupons and other special offers. It doesn't matter how small or big the discounts are.
Once you've done your research, head on out to your store of choice and talk to the salesperson. When you're about to make a decision, tell him/her that the price is a little bit out of the range of your budget. If there's no reaction, say that you will go and buy the kitchen appliance from the competition because they have better prices.
If you play your cards just right, chances are that you'll walk out of the store with the product you want at a great price!
6. Looks Hardly Matter in Appliances
Just because a fridge or dishwasher looks good, doesn't mean that it will work good. When shopping for and buying kitchen appliances try to find a balance between aesthetics and utility. More specifically, you don't have to buy the 'ugliest' oven just because it has all the stuff you want.
You should also always keep an eye on your kitchen's color palette. It would be a good idea to buy something that matches the room and the other things you have in there. Still, it doesn't hurt to add a splash of color in order to break up the monotony, either.
Conclusion
As you can see, picking the best and buying kitchen appliances is very easy when you know what to do, say, and look for. Don't forget about asking other people for advice and to always look for bargains instead of buying whole.