The holiday gift-buying season is here and it's in full swing! If you have a Ram owner or lover in your life, or if you're one yourself, this guide aims to share some of the best gifts for Ram truck owners this year. Best of all, many of these products are made right here in America, so you can feel good about your purchase as you support the local and small business community.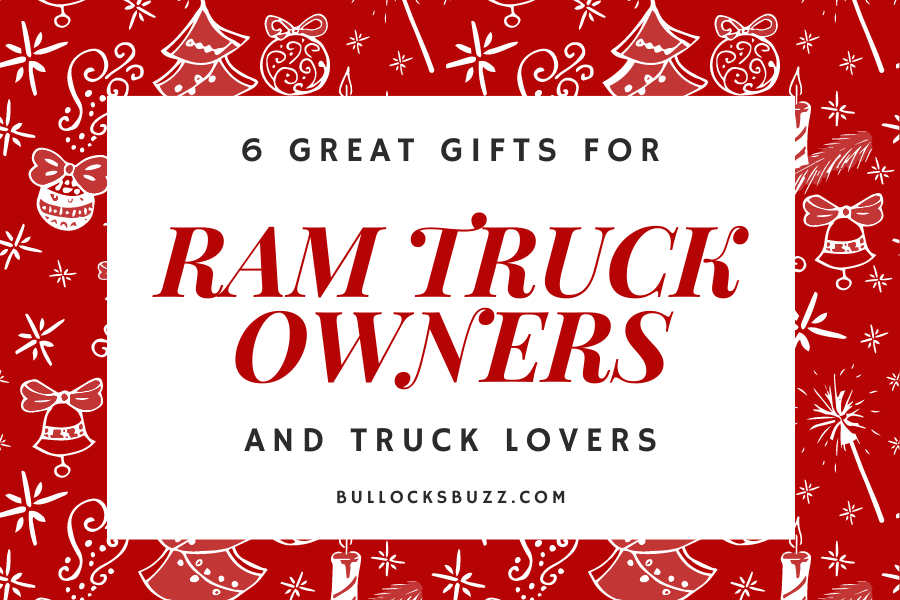 RAM TRUCKER HATS AND SHIRTS
A great gift for Ram truck owners is a RAM hat or t-shirt. Not only is this a cost-effective gift idea, but it's a gift idea that will work for any age group. Both kids and adults who admire the Ram will love this gift idea.
Look for hats and shirts that have detailed logos and graphics like this one from the Trenz Shirt Company whose graphic t-shirts are printed in the USA with state of the art equipment that ensures vibrant colors and lasting durability.
SEAT COVERS
Keep them warm on bitterly cold days, and their truck seats protected with a gift of custom Ram seat covers. Available in a nice selection of colors, Ram truck seat covers can be found and/or ordered directly through the dealership or in lots of stores online and off.
Usually in the range of $40 – $160, seat covers are a fun way to further customize a truck, plus they'll protect the seats for years to come.
RAM NERF BARS
Nerf bars, or also known as side steps or step bars, make for a nice upgrade and gift for Ram truck owners. They are also a great way to add style and functionality to the truck. Most range in price from $150 to $300.
Nerf bars come in a variety of colors and styles including chrome, black powder-coated, and stainless steel, and chrome. There are also several different styles and shapes such as oval steps, tube steps, and even LED lighted steps. This makes it easier to choose according to the truck color and style.
CARGO LIGHTS
For the Ram lover that enjoys gadgets and tech for their truck, Cargo Lights are a wonderful gift idea! These lights are the perfect way to tweak their ride while providing a useful feature. After all, if you've ever had to load or unload a truck in the dark, you know how difficult it can be to find every last thing – especially while trying to hold or prop up a flashlight.
A cargo light will illuminate anything you need to find inside the truck bed. Plus, it just looks good! Best of all, cargo lights can be quite affordable with prices ranging from right under $100 up to $150 or more.
RAM TOOL KIT
Another great gift for Ram truck owners is a tool kit. A truck is just not the same without a tool kit. In fact, a tool kit is one of the most important parts of any vehicle. While some vehicles come with their own basic tool kit, there are lots of other tool kits on the market that can prove to be the best gift for any truck owner.
The type of tool kit totally depends upon whichever one you choose. There are Tire Repair Tool kits, Automotive Replacement Chassis Body Lift Kits, Lug Wrench kits, Suspension Tool kits, and so many more. Of course, knowing the type of tools your truck-owner uses on a daily basis or needs will make deciding a bit easier.
Another idea is to get the person a truck bed box for them to keep their tools safe and secure in their truck. These come in all sorts of sizes and styles ranging from ones that are bolted to the bed of the truck to toolboxes that simply sit in the bed. The price will depend on the brand, style, and size.
A RAM OF THEIR OWN
Last, but not least, the one thing the Ram owner or lover may need in their life is a Ram of their own! Whether it's an upgrade to a newer model or their first Ram ever, head on over to San Marcos DCJR of San Marcos, Texas where you can find a great selection of new and used Rams to fit pretty much any budget.
FINAL THOUGHTS ON GIFT IDEAS FOR RAM TRUCK OWNERS
Ram fully owners understand Guts and Glory; and these gifts for Ram truck owners and lovers will match their enthusiasm for these quintessential American trucks.