During the holiday season, we are all bound to do a little Christmas decor shopping, and sometimes, it can break the bank. Christmas decor can be quite expensive! If you are looking to save some money on your Christmas decor this year, why not make some of these handmade Christmas ornaments ideas?
What better way to spend the holiday season than to make DIY Christmas ornaments with your family? Not only is this activity a great bonding moment, but it is easy and fun.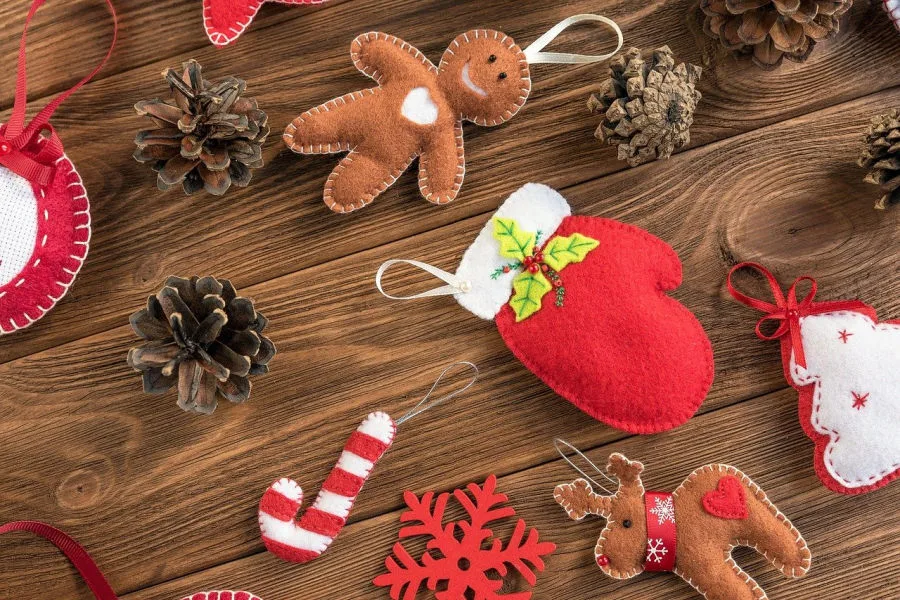 Making your own ornaments is also sustainable. If you have plastic bottles, old and used paper, and craft materials lying around, this is the perfect upcycling activity!
And, if you are out of supplies, you can head over to RebatesMe.com and take advantage of a Staples promo code so that you can buy craft supplies at a discount!
Here are three fun handmade Christmas ornament ideas you can create with very few materials you most likely already have at home.
Clothespin Ornament
First up on the list of easy handmade Christmas ornament ideas is to make a clothespin ornament. If you have wooden clothespins that haven't been used or are just lying around the laundry room, use them to make this DIY clothespin ornament. They are quick, easy, and lend a rustic feel to your Christmas tree.
Supplies to Make a Clothespin Ornament
Mini Clothespins
Super Glue
Gold Twine
Green and Red Paint
How to Make a Clothespin Ornament
First, you will need to paint 7 of the clothespins red and 7 green. Once the paint has dried, glue them all back to back to create a round ornament. Next, attach gold twine and let the glue dry. Hang your handmade Christmas ornament idea once it has dried.
Decoupage Paper Handmade Christmas Ornament Idea
Have any leftover colored paper lying around the house? What about some old ball ornaments? If you do, this is the perfect handmade Christmas ornament idea for you. The best part? It looks cute and store-bought too!
Supplies to Make a Decoupage Paper Ornament
Colored Paper
Mod Podge or Glue and Water mixture
Paint Brush
Tiny Piece of Fabric
Scissors
Old Ball Ornament
Hot Glue and Glue gun
Instructions
First, you will need to tear up the different colored paper into small pieces. Next, prepare your Mod Podge, You can do this by mixingm glue and water together in a small bowl, or you can simple buy a bottle of Mod Podge at the store and add some to a bowl.
Then, using a paintbrush, lightly coat the old ball ornament with the mod podge and then stick the pieces of colored paper all over the ornament. Add another coat of Mod Podge on top, and continue until the entire ornament is covered.
Once it has dried, cut up a tiny piece of fabric to place over the old ornament cap attached to the ball. Use hot-glue to attach the fabric to the cap. Once this has dried, you can hang your handmade ornament.
Wood Slice Ornament
Looking for a more personalized ornament that gives off a rustic feel? This handmade Christmas ornament idea for a wood slice ornament is super easy and cute. Plus, it makes a great gift to give to a relative or friend too!
Supplies to Make a Wood Slice Ornament
Pre-Sliced Wood
Mod Podge
Paint Brush
Twine
Photos of Family or Friends
Sticker Decals
Instructions
Begin by making holes at the top of the wood slices to thread a piece of yarn or string through, Next, cut photos of you and your family or your friends- making sure that they will fit on the wood perfectly. Then, using a paintbrush, add a thin coat of Mod Podge to the backside of the photo and stick it onto the wooden piece. Allow to dry completely.
Once dried, you can add sticker decals such as letters or numbers and add a greeting on the other side of the ornament. Lastly, attach twine or string to the ornament and hang it on the tree.