With the holidays looming and the freezing temperatures of winter right around the corner, our thoughts are focusing more than usual on ways to save money. We live in a house that was built in the 50's. It still has the original thin, multi-pane windows and lightweight wood doors. Needless to say you can feel a draft every time you walk by a window or door. Thankfully both the windows and doors are being replaced in a couple of weeks! Even if you have energy-efficient windows and doors, there are still several things you can do to help conserve heat and lower your energy costs this winter.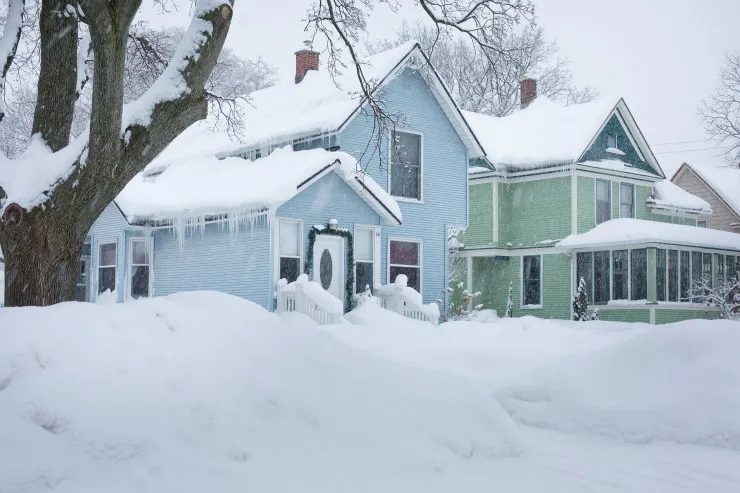 Stop Drafts Around Your Doors
For the doors, replacing the weather-stripping is a great way to reduce any drafts and heat loss; including the door that leads to the basement or garage. If there is still a bit of a draft, a rolled towel, or other custom-made draft blocker will do a great job preventing cold air from entering and warm air from escaping. Finally, keep the doors closed to rooms you infrequently use.
Keep Heat From Escaping Through Windows
Investing in some blackout or energy-saving curtains is another way to prevent heat loss from windows and help lower your energy costs. And speaking of curtains, keeping them open during the day to let the sun in, and then closing them at night, also helps. If you live where it constantly stays below freezing, adding a roll of window film is another way you can keep heat inside your home.
Fireplace Damper and Ventilation Fans
A fireplace can be another great way to heat your home, but it can also be one way you are losing heat. Make sure the damper is securely closed whenever the fireplace is not in use. If you have glass doors, close those as well when not in use.
In addition, the ventilation fans found in the bathroom and above the kitchen range should always be cut off as soon as they have done their job. Did you know that these fans can pull out a houseful of warmed air in just 1 to 2 hours!
Clean and Replace Air Filters
Changing your air filter on a regular basis can help save on energy costs, too. You should always check your air filter every month, especially during the months of heavy use. A dirty filter can inhibit the flow of air, slowing it down, and making the system use more energy in order to maintain a steady temperature. Having a clean filter also helps remove dust and other allergens that can cause health problems such as asthma, allergies and other respiratory illnesses.
Adjust Your Thermostat
Another great way to help lower your energy costs is to adjust your thermostat. A good rule of thumb is to set your thermostat to 68° during the winter. Try to keep the temperature steady, and don't continuously cut it up and down. Also, turn it down when you are away during the day or if you leave town. Another option is to consider installing a programmable thermostat where you can set it to lower temperatures at night and while everyone is away from home. If you have one, a programmable thermostat is another great way to save money of energy costs throughout the year.
Maintain Your HVAC System
An HVAC system need regular cleaning and maintenance in order to work at its best. A poorly maintained system can cause your energy bill to be sky-high, not to mention save you money in repair costs. Set up an appointment with a licensed HVAC company to do this regular maintenance at least twice a year. A technician will come and check your thermostat settings, your system controls, the duct work, and will also tighten all electrical connections, lubricate all moving parts, and more.
Featured image via Flickr
What are some of the ways you lower your energy costs in your home?